racing news /

Caviar Begins Journey
07/06/12

Black Caviar is on her way to Britain this week as she begins the journey to take part in the Diamond Jubilee Stakes at Royal Ascot.

Black Caviar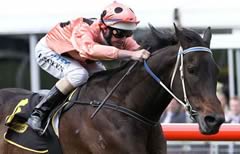 After becoming one of the legends of Australian racing, those interested in NoveltyBetting note how the horse is to take part in one of the most famous British horse races and it has got many punters extremely excited.
With 21 victories from as many races, this horse really is quite something and the background team will be hopeful that all the travelling is worth it come 23rd June.
Arriving in Britain on Friday, Caviar is a massive favourite for the race and will even receiving plenty of backing to win by five lengths or more.
Explaining the situation, a Coral spokesperson said: "Confirmed challengers to Black Caviar in the Diamond Jubilee Stakes look few and far between at this stage, and we can envisage her blowing the opposition away on her first start outside of Australia."
"Sprinters from Down Under have proved their worth in Britain in recent years, but Black Caviar brings with her form that is far superior to the likes of Choisir, Takeover Target, Miss Andretti and Scenic Blast, and as far as we're concerned it's not if she wins, but a question of how far she wins by."
As for the journey Black Caviar is undertaking, David Robson – who is heading the transportation of the sprinter – has said that plenty of planning has been involved.
He said: "It is a long flight all the way through so the transits are good in some way because they open the cargo door so there is a possibility of cross-ventilation going through and at the same time they feed and water the horses."
"On an average horses can lose up to 5kg on travel depending on how well the horse travelled."
"But a horse like Black Caviar can bounce back in the first week. It will take a bit of time to acclimatise coming from Australia in the southern hemisphere where it is closer to winter and being in England where the weather is fairly decent. It'll probably take a week to recover fully."
Overall, a lot of effort has gone in to get this horse to compete in the Diamond Jubilee Stakes and it will be interesting to see how things pan out. It certainly adds an extra spice to the occasion and has got people talking about the race weeks in advance.