Black Caviar - Aussie Sensation
08/06/12
Black Caviar is the extraordinary Australian mare who has won all 21 races that she has contested, setting a new modern-day international record for the top level of Flat racing.
Black Caviar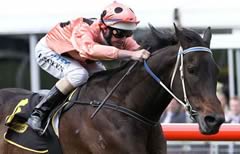 She arrived in England ahead of an attempt to record a 22nd consecutive career win in the Group 1 Diamond Jubilee Stakes at Ascot on June 23.
Peter Moody's charge will be staying at Jane Chapple-Hyam's Newmarket yard during her British sojourn, along with her fellow international raiders.
Here are 21 facts about her, one for each of her victories:
1. She is the greatest sprinter in the world and the second highest-rated horse on the planet behind the British-trained miler, Frankel. Both horses are set to race in QIPCO British Champions Series races during Royal Ascot, with Frankel targeting the Queen Anne Stakes over a mile on the first day, Tuesday 19 June, and Black Caviar the Diamond Jubilee Stakes over six furlongs on the final day, Saturday 23 June. Black Caviar is then expected to contest the Darley July Cup at Newmarket on Saturday 14 July.
2. The undisputed queen of the turf collected her 20th straight victory in the Sportingbet Classic at Morphetville on 28 April 2012, beating the previous Australasian record of 19 straight wins set by both Desert Gold (1915-1917) and Gloaming (1919-1921) almost 100 years ago.
3. That 20th victory also broke the modern day international record for the top level of thoroughbred racing set by the brilliant USA-trained mare, Zenyatta, who scored 19 consecutive wins before tasting defeat in her 20th and final start. Black Caviar subsequently made it 21 out of 21 in the Distinctive Homes Goodwood at Morphetville on 12 May.
4. Her fastest 200m (one furlong) split is 9.98sec between the 600m & 400m in the 2012 Lightning Stakes (her 19th win). She's the first horse in Australia to break 10secs for a furlong in an official thoroughbred race, giving her a top speed of 72.14km/h or 45.09mph.
5. Eleven of her 21 victories have been in Group 1 races, the highest class of thoroughbred race, and she has won over five furlongs (1,000 metres) five times, six furlongs (1,200 metres) 15 times and seven furlongs (1,400 metres) once. However, she has never run outside Australia before, so testing herself against the best in Europe on her next start at Royal Ascot is a very brave step to take for her connections and will secure her international superstar status forever if she is successful.
6. Black Caviar cost 210,000 Australian dollars (about £132,000 at today's rates) and she has now won over £3.6 million in prize money with a potentially very lucrative breeding career ahead of her once she retires. To illustrate this, her half-sister (by the sire Redoute's Choice) just sold for 2.6 million Australian dollars (£1.64m) at the Inglis Easter Yearling Sale – a record price for a yearling filly in Australia.
7. She has won her 21 races by a combined total of exactly 70 lengths – about 560 feet or 170 metres, or the equivalent of about 13 London buses!
8. She has started odds-on favourite in the betting on every occasion except her first ever race on 18 April 2009 at Flemington in Melbourne. The shortest price she started at was 1/33 meaning that if you had put £33 on her to win, your return would have been just £34! The local totalisator has taken numerous $100,000+ bets on her, the biggest being $200,000 at $1.04 when she won the Sportingbet Classic to record her 20th win – the punter's profit was just $8,000. She is currently available with British bookmakers at 4/9 for the Diamond Jubilee Stakes and a huge number of Australians are expected to back her.
9. She is trained by Peter Moody at his stable at Caulfield racecourse in Victoria, Australia.
10. Luke Nolen has been her jockey in 18 of her 21 races, missing only her first two starts (when she was ridden by 16-year-old apprentice Jarrad Noske) and her first Group 1 victory in the Patinack Farm Classic in November 2010 (when Ben Melham was in the saddle as Nolen was suspended).
11. Black Caviar is owned by a group of life-long friends, Colin and Jannene Madden, Gary and Kerryn Wilkie and Neil Werrett, several of whom go right back to nursery school. They came up with the idea of buying a racehorse when enjoying their annual holiday together on a houseboat on the Murray River, not far from Adelaide. Neil Werrett knew Peter Moody, who, as it happens, had just come back from the sales with a big black yearling filly. They agreed to buy her, adding two others to their syndicate to spread the costs – Jannene Madden's sister, Pam Hawkes, and another friend, David Taylor.
12. The wife of part-owner, David Taylor, was dead against her husband buying a share of the horse, so he had to do it behind her back – a brave move that paid off big-time and all is forgiven now!
13. Aussie Rules football star, Dale Thomas, who plays for top AFL team Collingwood, had a bet with David Taylor that Black Caviar wouldn't win 20 consecutive races. Thomas has now fulfilled the terms of the bet by having an image of Black Caviar tattoed on his backside!
14. It was part-owner Pam Hawkes who came up with the Black Caviar's name. The seafood lover explained: "Black Caviar's grandmother was called Scandanavia. Helsinge, the name of her mother, is in Scandanavia and that's where the salmon live. It made sense." She added: "Besides my husband and children, Black Caviar is the best thing that has ever happened to me. It is a dream come true to have this beautiful horse."
15. It was Gary and Kerryn Wilkie's daughter who came up with the jockey's very appropriate colours – salmon pink with black dots to represent the caviar! Gary said about Black Caviar: "You can't imagine it. It's a little surreal. You see the way she affects people, this animal we have equity in, and you just think, 'How lucky am I'?"
16. When Black Caviar is running, racedays become something of a logistics challenge. The owners, their families and extended friends regularly push the number of attendees up to over 60, but that's nothing compared with the party that will be at Royal Ascot on 23 June when she is due to contest her next race, the Diamond Jubilee Stakes. It will number over 150 people!
17. Black Caviar, who was bottle fed as a foal, was born on 18 August 2006 – her sire (father) is Bel Esprit and her dam (mother) Helsinge. She is known in her stable as Nelly.
18. Her height is 16.2 hands (5 foot 4.8 inches or 164.6 centimetres).
19. She loves swimming and going to the beach.
20. She has a massive fan base in Australia, where she is revered as the greatest racehorse since the legendary Phar Lap died 80 years ago, and her own range of merchandise, from T shirts and baseball caps to ties and key rings. One of her fans made a 30+ hour round trip from Chicago to see her record her 18th victory at Caulfield, staying in Australia for only 24 hours, while thousands of Australians are expected to go racing when she runs in the UK.
21. After her British foray, she will return to Australia to be prepared for the all-important Spring Carnival in Melbourne, where her legions of fans will be looking forward to welcoming "The Wonder from Down Under" back to Australian racing.