Veteran Hello Bud Wins Becher Chase
08/12/12
1 Hello Bud 14/1
2 Join Together 5/1
3 Big Fella Thanks 7/1
4 Swing Bill 20/1
16 ran Distances: nk, 1¾l, nse
TIME 7m 22.20s (slow by 44.20s)
Trainer Nigel Twiston-Davies and his jockey son Sam enjoyed an emotional success with 14-year-old Hello Bud in the Betfred Becher Handicap Chase.
Hello Bud


© racing-images.co.uk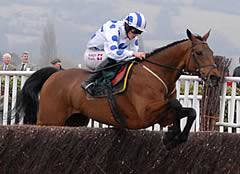 14/1 chance Hello Bud, who also won the Betfred Becher Handicap Chase in 2010, held on by a neck from the fast finishing Join Together.

Sam said: "Hello Bud is a legend of a horse. He is my favourite - I would not ride him every day at home - Gemma who looks after him does - but I get the pleasure of riding him a fair bit.

"You would never believe he was 14 - it is a shame he is not actually eight. He is unreal - he just loves jumping. I cannot tell you how much this horse means to me - he means more than anything else - he is unbelievable.

"I love this horse more than anything else in the world - almost on a par with my mum and dad. Hello Bud is the best thing that has ever happened to our family and the best thing that has happened this season. His heart is so big, he jumps for fun and goes on any ground. He just keeps galloping. He was out on his head in the last half-furlong and just kept digging in, digging in. He is just unbelievable - I cannot explain how good he is.

"The race panned out exactly as I hoped it would. Hello Bud is a lot cleverer than I am - I just went a gallop that I thought I could maintain - and he just kept galloping and grinding. The last half-furlong seemed to take forever but he kept pulling that little bit more out and how well did he jump? He is different class.

"Everywhere I went, I was always trying to take a pull on him. Every time that something got to my girths, I thought that we would go on a stride and, when we got a little lead again, take another pull. I was trying to get as many breathers into him as I could.I wasn't trying to get many long ones - I wanted to go from A to B as economically as possible. I can't explain how lucky we are to have him and it's an honour to ride a horse like this in a race like this.

"He got headed at Becher's Brook but I was thinking that it was a very long way from home. Having ridden him so many times and been beaten round here before - I remember my first Grand National riding him and I jumped upsides Denis O'Regan and he said that it was a long way from home and that we should sit still for a bit. It has stuck in my head ever since so I tried to sit still today and go a gallop that I could maintain.

"I can't explain how much this horse means to me and he is an absolute legend. I was nearly crying on the run-in - I was shouting and roaring at him. I could hear everyone coming at me and all of the crowd. He keeps sticking his head out and I can't believe how lucky I am to ride him.

"I haven't spoken to Nigel but this has to be the perfect end for him. You can go to cross country races at Cheltenham but this is what Aintree is all about - horses like him that love the game, love the jumping and love the mud.

"He has brought us together as a family and hopefully now he go out into a field with Baby Run and they can have a nice time together."

Nigel said: "I don't know if retirement beckons for Hello Bud - there is the Grand National or the Topham to think about.

"He beat an awful lot of the younger horses here quite well - it was remarkable performance and very exciting. People say retire, retire but does he look or fell old - no he doesn't. When horses are enjoying themselves like that, what else do you do. He carried Sam to the last and was only asked after then. That must be a horse having a nice time.

"Hello Bud has been absolutely incredible and I feel very sorry for his owner, Seamus Murphy - the Irish banks closed him down and hence why Hello Bud is now mine. Seamus Murphy is a great supporter and I hope he will bounce back one day. Seamus gave the horse to me so I am very grateful. It was just awful watching from the final fence - any way we won it. Let's see what happens with Hello Bud - he is so special and it would be a shame to just put him in a field.

"Hello Bud has given us a lot of pleasure - fifth in the Grand National in 2010 and seventh last year. He won this race two years ago and unseated the jockey last year - on this form he would have won then as well. The jockey is only six years older than he horse."
Betfred Becher Handicap Chase
£110,000 added, 6yo plus, 3m 2f, Class 1
16 ran
Going: Soft (Good to Soft in places, National Heavy)
Position

Horse
Trainer
Jockey
Weight
Starting Price
Beaten Distance
1

Hello Bud
N A Twiston-Davies
S Twiston-Davies
10st 0lbs
14 - 1
Winner
2

Join Together
P F Nicholls
D A Jacob
11st 4lbs
5 - 1
Neck
3

Big Fella Thanks
T R George
P J Brennan
11st 1lbs
7 - 1
1 3/4 length
4

Swing Bill
D Pipe
Conor O'Farrell
10st 12lbs
20 - 1
Nose
5

In Compliance
D T Hughes
N P Madden
10st 4lbs
10 - 1
3/4 length
6

Gullible Gordon
P Bowen
Ryan Mania
10st 0lbs
25 - 1
12 lengths
7

Poker De Sivola
Ferdy Murphy
J Reveley
10st 6lbs
25 - 1
7 lengths
PulledUp

Ballabriggs
D McCain Jnr
J M Maguire
11st 12lbs
10 - 1

Fell

Problema Tic
D Pipe
T Scudamore
10st 12lbs
8 - 1

PulledUp

West End Rocker
A King
R Thornton
10st 12lbs
4 - 1

Fell

Mumbles Head
P Bowen
T J O'Brien
10st 10lbs
16 - 1

UnseatedRider

Any Currency
M Keighley
Aidan Coleman
10st 4lbs
12 - 1

PulledUp

Midnight Haze
K C Bailey
D C Costello
10st 4lbs
16 - 1

Fell

Fabalu
D McCain Jnr
Brian Harding
10st 1lbs
20 - 1

PulledUp

Minella Theatre
Mrs L Hill
David Bass
10st 0lbs
16 - 1

PulledUp

Ballyvesey
P Bowen
J E Moore
10st 0lbs
33 - 1