National Glory at Last for McCoy
10/04/10
1 (6) Don't Push It 10/1 (JF)
2 (4) Black Apalachi 14/1
3 (23) State of Play 16/1
4 (22) Big Fella Thanks 10/1 (JF)
After 14 failed attempts at the John Smith's Grand National and the same number of jockeys' championships, the most-successful jump rider of all time Tony McCoy finally landed his sport's most-famous prize.
Don't Push It


© racing-images.co.uk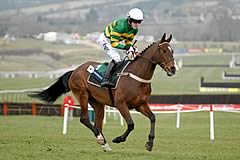 McCoy was confident from a mile into this year's race aboard Don't Push It that he would be successful and he eventually came home five lengths clear of Black Apalachi.
"The only good thing going into the race was that (owner) J P (McManus) had had more failed attempts than me!" jocked McCoy. "It was the perfect race and he jumped well all the way.
"I had four horses to choose from but ruled two of them out a couple of weeks ago and Jonjo (O'Neill) more or less put me on Don't Push It. If truth be told my trainer put me on the right horse.
"He ran well in November at Cheltenham under top weight and that had always been at the back of my mind. He has always had ability but is mentally unstable so the two of us get on well together!
"I'm the biggest dreamer in the world, I dream every day, and for the past five or six years I've dreamt that I'd win the National. I got a bit down so this year I decided to enjoy myself.
"I hadn't gone more than a mile and I wouldn't have swapped my position for anything, and I don't just mean horses. He had just totally taken to it. He's sometimes been too intelligent but today he totally used his brain the right way. He made a couple of mistakes but that was my fault as much as the horse and who cares.
"I've won a few other races that nobody knows but everyone on the street knows the Grand National, it's the people's race and from a jockey's perspective that's why it's important. At least that I can think that I've sort of done alright as a jockey now.
"My daughter (Eve) is more into Ruby Walsh than me. I thought at Christmas that it was because he looked like Santa but she still talks a lot about Ruby. But hopefully this win should give her something to be proud about in years to come.
"J P is the greatest supporter this game will ever had and it's probably only Jonjo and me who know how much every horse, whether at Plumpton on a Monday or at Cheltenham, means to him. There have been plenty of horses that I've suggested we should move on but he said to keep them and he's often been right. "
Position

Horse
Trainer
Jockey
Weight
Starting Price
Beaten Distance
1

Don't Push It
Jonjo O'Neill
A P McCoy
11st 5lbs
10 - 1
Winner
2

Black Apalachi
D T Hughes
Denis O'Regan
11st 6lbs
14 - 1
5 lengths
3

State of Play
Evan Williams
Paul Moloney
10st 11lbs
16 - 1
20 lengths
4

Big Fella Thanks
P F Nicholls
B J Geraghty
10st 12lbs
10 - 1
3 lengths
5

Hello Bud
N A Twiston-Davies
Mr S Twiston-Davies
10st 6lbs
20 - 1
7 lengths
6

Snowy Morning
W P Mullins
D J Casey
10st 13lbs
14 - 1
1 1/2 length
7

Character Building
J J Quinn
Miss N Carberry
10st 11lbs
16 - 1
Neck
8

Cloudy Lane
D McCain Jnr
J M Maguire
11st 3lbs
25 - 1
12 lengths
9

Tricky Trickster
P F Nicholls
R Johnson
11st 4lbs
16 - 1
3/4 length
10

Joe Lively
C L Tizzard
J Tizzard
11st 6lbs
33 - 1
Short Head
11

Cerium
Paul Murphy
D N Russell
10st 5lbs
50 - 1
distance
12

Comply Or Die
D Pipe
T J Murphy
11st 5lbs
12 - 1
8 lengths
13

Piraya
D Pipe
J W Farrelly
10st 7lbs
100 - 1
distance
14

Preists Leap
T G O'Leary
P T Enright
11st 0lbs
100 - 1
distance
Brought Down

Vic Venturi
D T Hughes
R Loughran
11st 6lbs
25 - 1

Brought Down

Backstage
G Elliott
D J Condon
11st 0lbs
25 - 1

Fell

Irish Raptor
N A Twiston-Davies
P J Brennan
10st 7lbs
33 - 1

Fell

Eric's Charm
O Sherwood
W Hutchinson
10st 9lbs
33 - 1

Fell

Arbor Supreme
W P Mullins
Paul Townend
10st 8lbs
16 - 1

Fell

Made In Taipan
T Mullins
N P Madden
11st 4lbs
100 - 1

Fell

Mon Mome
Miss V Williams
A Coleman
11st 7lbs
14 - 1

Fell

Pablo Du Charmil
D Pipe
Danny Cook
11st 2lbs
100 - 1

Fell

Madison Du Berlais
D Pipe
T Scudamore
11st 10lbs
50 - 1

Fell

Maljimar
Nick Williams
D Jacob
10st 8lbs
33 - 1

Fell

Palypso De Creek
C E Longsdon
T Siddall
10st 6lbs
66 - 1

Fell

Ballyfitz
N A Twiston-Davies
David England
10st 9lbs
50 - 1

Fell

My Will
P F Nicholls
Nick Scholfield
11st 2lbs
20 - 1

Fell

Can't Buy Time
Jonjo O'Neill
R P McLernon
10st 13lbs
33 - 1

PulledUp

Flintoff
Miss V Williams
A Tinkler
10st 5lbs
50 - 1

PulledUp

Ollie Magern
N A Twiston-Davies
T Molloy
10st 9lbs
100 - 1

PulledUp

Dream Alliance
P J Hobbs
T J O'Brien
11st 3lbs
16 - 1

PulledUp

Conna Castle
J J Mangan
S W Flanagan
10st 9lbs
100 - 1

PulledUp

Ballyholland
C A McBratney
A J McNamara
11st 0lbs
25 - 1

PulledUp

Niche Market
R H Buckler
Harry Skelton
11st 4lbs
16 - 1

PulledUp

Beat The Boys
N A Twiston-Davies
B Hughes
11st 0lbs
25 - 1

RefusedToRace

King Johns Castle
A L T Moore
P Carberry
10st 9lbs
28 - 1

UnseatedRider

Nozic
P F Nicholls
L Treadwell
11st 3lbs
40 - 1

UnseatedRider

Royal Rosa
J Howard Johnson
K Renwick
10st 5lbs
66 - 1

UnseatedRider

Ellerslie George
Nick Mitchell
Christian Williams
10st 10lbs
66 - 1

UnseatedRider

The Package
D Pipe
G Lee
10st 7lbs
14 - 1

DON'T PUSH IT (IRE) - The 10/1Jt-Fav WINNER
b g Old Vic - Sheìs No Laugh Ben (USA) (Alleged (USA))
10-11-05 Form: 3/11/1211F5/1F0/P82271-423P1 Owner: J P McManus
Breeder: Dominick Vallely Trainer: Jonjo O'Neill Jockey: Tony McCoy
Don't Push It began his career in the 2004/05 season, finishing a promising third in a Warwick bumper, and duly won on his only two starts the following season in a Market Rasen bumper and a Haydock novices' hurdle. Sent over fences the following season, he got off the mark at Southwell before finding only the mighty Denman too good in a novices' chase at Cheltenham in November, 2006. Further wins at Cheltenham and Chepstow followed and he was still in contention when falling two out in the 2007 Arkle Chase at the Cheltenham Festival. He took advantage of his lower hurdles ratings when landing the Listed Silver Trophy at Chepstow on his seasonal reappearance in the 2007/08 season, but disappointed on his two subsequent outings that season. Last season started disappointingly, but he progressed to take second behind Big Buck's in a hurdle race at Cheltenham in January, 2009, and rounded off the campaign with a fine victory in the John Smith's Handicap Chase over three miles and a furlong of the Mildmay course at Aintree on Grand National day. He has had four outings so far this season. He began the current campaign by taking fourth in the Grade Two Old Roan Chase at Aintree and then stayed on well to take second to Galant Nuit, beaten half a length, in a Grade Three handicap chase at Cheltenham in November. A bad mistake at the last cost him all chance of success in a handicap chase at Warwick in December, while he disappointed on his latest outing when pulling up in the Pertemps Final Handicap Hurdle at the Cheltenham Festival.
Race Record: Starts: 23; Wins: 8 ; 2nd: 4; 3rd: 2; Win & Place Prize Money: £653,390