Cloudy Lane Takes Hunters Title
12/04/12
1 Cloudy Lane 4/1 Jt Fav
2 Roulez Cool 14/1
3 Herons Well 33/1
4 Keenan's Future
26 ran
The McCain family's wonderful Aintree record was further embellished today when Cloudy Lane won the John Smith's Fox Hunters' Chase.
Cloudy Lane (right)


© racing-images.co.uk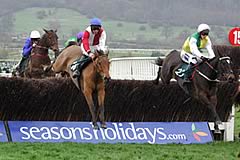 Rider Richard Harding, wearing the colours of Trevor Hemmings, drove the 12-year-old home by two and three-quarter lengths from Roulez Cool, while Herons Well was two and a quarter lengths back in third.
Winning trainer Donald McCain said: "That was marvellous. He was the first horse I had for Trevor Hemmings having taken him over from Dad [Ginger] and he's won us a Kim Muir, Grimthorpe, Tommy Whittle, Peter Marsh, Red Square Final - it's been marvellous. Everything we wanted him to do he's done.
"He missed last season and we didn't know what to do with him, but then we decided on the hunter chase route and he's won this.
"What do you do with an old horse? He's like a four-year-old at home although I wasn't happy with him at the beginning of the week when his blood was wrong and my head girl has done a wonderful job with him. She sorted him out and it's great to see the old horse back.
"He didn't get the run of the race at Cheltenham [when sixth in the Christie's Foxhunter Chase] and we made sure we got him out and racing today, and when he got there they weren't going mad up front and he enjoyed himself. They started racing down the back a bit but Richard bided his time and the horse's ears were pricked in the home straight.
"I wouldn't think he'll run again this season, but he may well be back next year. Aintree is special to us and to have a winner here is wonderful, especially for Trevor Hemmings who has been so supportive of us."
Harding said: "I gave him a breather turning in, and he idled in front, but he jumped for fun and really loved it. I've been around here a few times and been beaten each time, so it's wonderful to win the race."
Position

Horse
Trainer
Jockey
Weight
Starting Price
Beaten Distance
1

Cloudy Lane
D McCain Jnr
Mr R O Harding
12st 0lbs
4 - 1
Winner
2

Roulez Cool
R Waley-Cohen
Mr S Waley-Cohen
12st 0lbs
14 - 1
2 3/4 lengths
3

Herons Well
Miss R Curtis
Mr Josh Halley
12st 0lbs
33 - 1
2 1/4 lengths
4

Keenan's Future
S Rea
Mr R Hodges
12st 0lbs
25 - 1
1 1/2 length
5

Fresh Air And Fun
A Ralph
Mr L R Payter
12st 0lbs
25 - 1
3 1/2 lengths
6

Sizing America
P Rich
Mr A J Berry
12st 0lbs
50 - 1
3 1/2 lengths
7

My Way de Solzen
Gabe Mahon
Mr W Biddick
12st 0lbs
8 - 1
8 lengths
8

Boxer Georg
W P Mullins
Mr P W Mullins
12st 0lbs
17 - 2
Neck
9

Teddy's Reflection
Ian Williams
Mr J Hodson
12st 0lbs
66 - 1
1 length
10

Emergency Cover
N W Padfield
Miss G Andrews
12st 0lbs
100 - 1
11 lengths
11

Eleazar
Mrs L Wadham
Mr M G Nolan
12st 0lbs
50 - 1
4 lengths
12

Silver Adonis
Dr R D P Newland
Mr T Weston
12st 0lbs
16 - 1
3 1/4 lengths
13

Bow School
Mrs A C Hamilton
Mr W Kinsey
12st 0lbs
33 - 1
Nose
Fell

Blackstaff
Mrs J Williams
Miss E Kelly
12st 0lbs
66 - 1

Fell

Gwanako
P F Nicholls
Mr James Cowley
12st 0lbs
4 - 1

UnseatedRider

Harps Counsel
J K Magee
Mr S F Magee
12st 0lbs
100 - 1

UnseatedRider

Island Life
S Flook
Mr R Jarrett
12st 0lbs
12 - 1

UnseatedRider

Kildonnan
Mrs F Brewer
Mr G Brewer
12st 0lbs
200 - 1

Fell

King Of The Road
Mrs J Ackner
Mr Matthew Hampton
12st 0lbs
150 - 1

PulledUp

Launde
C Gordon
Mr A Ward-Thomas
12st 0lbs
100 - 1

UnseatedRider

Offshore Account
Mrs T L Bailey
Mr Nicholas Sutton
12st 0lbs
14 - 1

Fell

Presentandcorrect
T F Sage
Mr M Wall
12st 0lbs
40 - 1

Fell

Sheriff Hutton
Oliver Greenall
Mr O Greenall
12st 0lbs
33 - 1

Fell

The Polomoche
M Foley
Mr Sam Painting
12st 0lbs
14 - 1

Fell

Unowatimeen
J J O'Shea
Miss Samantha Drake
12st 0lbs
33 - 1

Fell

William Butler
C Gordon
Mr P York
12st 0lbs
100 - 1

GINGER'S INFLUENCE
Trevor Hemmings, the owner of the winner Cloudy Lane in the John Smith's Fox Hunters' Chase, said: "It's marvellous to win, especially over the big fences. As small as Cloudy Lane is, he jumps those fences superbly.
"Someone has to take over from Ginger, so I am helping out with the young son. If he needs a telling off, he rings me now!"
Donald McCain added: "Aintree is special to us as a family, so to have a winner here is wonderful.
"Mr Hemmings has supported me since my first season and it's magic to repay people like him. Cloudy Lane was my first horse for him.
"To see Ginger looking down on me as well, it's a bit special."
SAM'S COOL WITH SECOND
Sam Waley-Cohen added to his excellent record over the Grand National fences with his runner-up spot on Roulez Cool in the John Smith's Fox Hunters Chase.
Waley-Cohen has won this race twice before, captured a Topham Chase and finished second on Oscar Time in last year's John Smith's Grand National.
"If you have the right horse," he said, "this course is a lot of fun. If not, it can be a horror show. But Roulez Cool gave me a great spin today.
"It did take him a while to get going; he didn't really help me at the first few and I had to be quite positive with him. But once he got into his rhythm, he was fine.
"He does stay well, but he's only had a couple of runs this season and he just ran out of petrol on the run-in."
Home-bred Roulez Cool is trained by Waley-Cohen's father Robert at the family yard near Banbury in Oxfordshire. "Donald McCain and Trevor Hemmings in front of us again!" said Waley-Cohen snr, referring to the victory of Ballabriggs in last year's John Smith's Grand National.
"I actually thought he was going to finish third, but he rallied.
"This is not quite in the same league as Long Run and the Cheltenham Gold Cup but it is still great fun and gives us all huge pleasure, especially with a horse we bred ourselves."
HERONS WELL GIVES HIS YOUNG RIDER A THRILL
Josh Halley has forged a good partnership with his father's Herons Well, winning a hunter chase at Fontwell last year and running at both Cheltenham and Aintree in each of the last two seasons. By far their most thrilling result to date was today's third place finish in the John Smith's Fox Hunters' Chase.
The young rider, whose father John is Coolmore's vet, said: "That was terrific. He got a bit outpaced down the back and it didn't really suit his jumping. He's getting older but when he started passing horses he really picked up.
"Jumping the last I didn't think I could catch them but the more horses he passed the better he got. I'm delighted with him."