Little Josh Strikes Gold in Paddy Power
13/11/10
1 Little Josh 20/1
2 Dancing Tornado 20/1
3 Long Run 2/1F
4 Mad Max 15/2
NR: Gonebeyondrecall (IRE), Rory Boy (USA)
18 ran Distances: 2¾l, 2l, 12l
TIME 5m 12.26s (slow by 12.26s)
Nigel Twiston-Davies' Little Josh, an eight-year-old who carried the colours of owner Tony Bloom, led throughout to land the £150,000 Paddy Power Gold Cup at odds of 20/1, and to complete the Twiston-Davies family's delight he was ridden by Nigel's 18-year-old son, Sam.
Little Josh


© racing-images.co.uk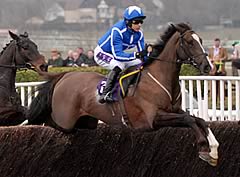 It was a third win in the contest for the yard, which also sent out Tipping Tim to win in 1992 and Imperial Commander in 2008.
Often a reserved man, Twiston-Davies Snr did not hold back in his praise for the ride Sam gave Little Josh, who beat Dancing Tornado and favourite Long Run by two and three-quarters of a length and two lengths.
The trainer said: "For a young man aged 18 and two weeks to come out and kick a horse into every fence like that takes some balls. A lot of people would doubt you could make all round there, but he did, and he jumped from fence to fence, putting in some pretty big leaps.
"It was a good front-running ride. He gave him a little bit of a breather going down the back and then kicked again and everyone else was struggling. Quite superb. It's twice as good when my son is riding - it has to be. I feel sorry for Paddy [stable jockey Paddy Brennan] but he can't ride two horses, and having won the Cathcart Chase at the Festival on Pigeon [Island] he had to ride him.
"He [Sam] did everything right and it was there for all to see. When they make the running like that you think, 'will he last', but the boy knows more than I do.
"There's so much more responsibility when your son is riding. If Paddy rides you say, 'well there you are', but when your son rides it's different. Owners are kind enough to let him ride their horses, but if he mucks up I feel responsible. When it goes right there's nothing better.
"It's been great to win the Paddy Power in the past, but when your son is on board it goes to the top of the pile.
"We'll probably come back for the former Boylesports race [now known as the December Gold Cup] at the next meeting here and Sam will keep the ride. It's early days for the horse and he wasn't carrying much weight - Imperial Commander was well up the weights and I don't think he's as good as him, but where there's life there's hope.
"The horse has jumped quite poorly in the past, so I just said to Sam, 'keep asking and asking him at the fences' and he did. I've not seen anyone throw a horse at a fence like he did. His win on Baby Run at the Festival [in the Christies' Foxhunter Chase] probably just tops this because he's my horse."
The winning jockey said: "He's an unbelievable horse and he likes to be ridden in that way. He jumps and travels so well. I was a bit surprised at the last because I thought Long Run or one of the Irish horses would come to get me but all I had to do was kick for home. I'm enjoying every minute, and want to ride as many winners as possible."
Position

Horse
Trainer
Jockey
Weight
Starting Price
Beaten Distance
1

Little Josh
N A Twiston-Davies
S Twiston-Davies
10st 8lbs
20 - 1
Winner
2

Dancing Tornado
M Hourigan
A P Heskin
10st 4lbs
20 - 1
2 3/4 lengths
3

Long Run
N J Henderson
Mr S Waley-Cohen
11st 6lbs
2 - 1
2 lengths
4

Mad Max
N J Henderson
B J Geraghty
11st 5lbs
15 - 2
12 lengths
5

Poquelin
P F Nicholls
Ian Popham
11st 12lbs
14 - 1
6 lengths
6

Great Endeavour
D Pipe
T J Murphy
10st 4lbs
5 - 1
2 1/4 lengths
7

Sunnyhillboy
Jonjo O'Neill
R P McLernon
10st 1lbs
12 - 1
3 3/4 lengths
8

Edgbriar
P R Webber
D Elsworth
10st 7lbs
33 - 1
4 1/2 lengths
9

Pigeon Island
N A Twiston-Davies
P J Brennan
10st 0lbs
25 - 1
1 1/2 length
10

Catch Me
E J O'Grady
Andrew J McNamara
10st 5lbs
10 - 1
1 1/2 length
11

Passato
Miss J S Davis
J E Moore
10st 1lbs
66 - 1
14 lengths
12

Finger Onthe Pulse
T J Taaffe
A P McCoy
10st 11lbs
18 - 1
5 lengths
13

The Sawyer
R H Buckler
Nathan Sweeney
10st 8lbs
25 - 1
6 lengths
Fell

Tchico Polos
P F Nicholls
N Fehily
11st 1lbs
20 - 1

Fell

Gwanako
P F Nicholls
Nick Scholfield
10st 10lbs
33 - 1

PulledUp

Can't Buy Time
Jonjo O'Neill
D C Costello
10st 7lbs
50 - 1

PulledUp

Awesome George
A King
Charlie Huxley
10st 0lbs
33 - 1

PulledUp

Door Boy
J Howard Johnson
B Hughes
10st 0lbs
40 - 1

NonRunner

Gonebeyondrecall
N F Glynn
A E Lynch
10st 0lbs
-

NonRunner

Rory Boy
N A Twiston-Davies
Non Runner
10st 0lbs
-

TORNADO DANCES HOME FOR SECOND PLACE
Adrian Heskin marked himself down as a young jockey to follow when winning the bet365 Gold Cup in April and he again earned plenty of praise from trainer Michael Hourigan as he steered Dancing Tornado into second place in the Paddy Power Gold Cup.
The young Irishman took his time aboard the nine-year-old and weaved his way through to only lose out to the front-running Little Josh by two and three-quarter lengths.
Hourigan said: "He has ridden exactly the way I told him to and deserves plenty of credit for that.
"Adrian is a promising young fellow and I have been saying that for a year and a half.
"The horse can take quite a pull so we decided to hold him up and we knew they would go off fast in front here.
"He has ran well, jumped well and I think we will bring him back here next month for the equivalent race."
NO EXCUSES FROM HENDERSON AND WALEY-COHEN
Trainer Nicky Henderson and jockey Sam Waley-Cohen offered no excuses after Long Run, the strongly-backed 2/1 favourite (from 7/2 in the morning), could fare no better than third in the Paddy Power Gold, beaten four and three-quarter lengths by Little Josh.
Long Run


© racing-images.co.uk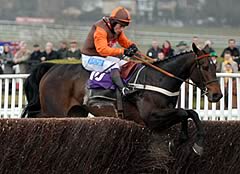 Waley-Cohen said: "There are no excuses - we were beaten fair and square on the day.
"He jumped well for the most part. Although he did get close to a couple, that's the nature of a race like this.
"We were simply beaten by a better horse and hats off to the winner."
Henderson, who also saddled the fourth home Mad Max, added: "They have both run great races although obviously we got beat.
"They both had big weights and it was a typical cut and thrust handicap chase.
"I don't see any reason to change the plan with Long Run and he will go to Kempton for the King George now, although I doubt Kauto Star will be quaking in his boots.
"You might just say that Long Run has shown his best form on flatter tracks, although that might be clutching at straws.
"We didn't really have a plan for Mad Max after today. He probably would have preferred better going and has finished quite tired.
"They should both improve a bit for that, although I'm not going to say they will improve by two stone because obviously they won't."
PADDY POWER REACTION TO GOLD CUP RESULT
Commenting on the 20/1 success of Little Josh in the Paddy Power Gold Cup, Paddy Power himself said: "Nigel Twiston-Davies owed us a result in the Paddy Power Gold Cup having previously saddled two very well-backed winners.
"Long Run was battered like a North Sea cod by punters, who could well be eating fish and chips instead of caviar tonight."