Allegretto Brings Ryan Moore Triple Glory
02/08/07
1st 1 Allegretto 8/1
2nd 15 Veracity 10/1
3rd 8 Finalmente 16/1
Jockey Ryan Moore made it three wins from three rides today after completing a 395/1 treble when landing the feature ABN AMRO Goodwood Cup aboard the Cheveley Park Stud-owned filly Allegretto.

Allegretto


© racing-images.co.uk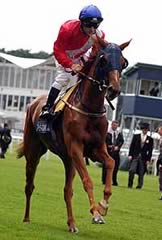 Moore waited patiently before asking his mount for her effort close to home, prevailing by half a length from Veracity.

"She's a tough, game filly," said Cheveley Park Stud's managing director Chris Richardson. "We put a visor on to wake her up at Sandown when she won the Henry II Stakes but at Ascot last time I don't think she stayed but she just pulled the bit and didn't let go.

"After Ascot we thought that if she could come here and win that would be her swansong - she'd have won two Group 2s and could come back to the stud.

"There's nothing of her but she has a fantastic pedigree and is a lovely mare for the future."
Moore added: "They went a good pace and she's very honest - she got stuck in and is so game. She stayed well and the stronger pace suited her.

"I was a bit further back than I'd planned because they went very fast but she switched off and I gave her a chance to come good and she made good headway in the straight.

"I came wide because the horses on the inside were dying, that's just the way the race panned out.

"She was very lazy last year and we put the visor on, but she's not been like that this year - she has really progressed from three to four. I think the visor probably buzzed her up too much ar Ascot.

"It's my first treble at Glorious Goodwood and to ride the winner of any race here is nice but three in a day is great.

"I've been getting good rides and riding for people like Sir Michael Stoute and Richard Hannon I should be riding winners, shouldn't I? But winning the championship is not possible this year but I'd like to get to 100 winners."
Coral Pritchard-Gordon, partner of winning trainer Sir Michael Stoute, added: "She's done it really nicely when she was asked to quicken and Ryan has given her such a relaxed ride."

LEGER NEXT FOR VERACITY
Veracity, the only three-year-old in today's ABN AMRO Goodwood Cup, beat all bar one rival in his bid for victory. His rider Philip Robinson put up 1lb overweight.

Allegretto proved half a length too good, but Veracity did not let his connections down, fighting right to the line and holding third-placed Finalmente by three-quarters of a length.

Michael Jarvis, who trains the runner-up for Sheikh Mohammed, said: "He's a dour stayer. We are delighted with him.

"It's a tough race for three-year-olds and not too many run it - although they used to. I wanted to run this horse in the Ebor, but even though he's on a mark of 95 he probably wouldn't get in, so we ran here instead.

"With Sheikh Mohammed's agreement he'll now run in the St Leger [sponsored by Ladbrokes]. It's a shorter trip, but Doncaster has a long straight so the track should suit him. He's improving all the time and has come on since Ascot."
Veracity was given a 16-1 quote for the St Leger by the sponsors, while Paddy Power offer 14-1.

Neville Callaghan is now eyeing the Doncaster Cup for Finalmente, who today wore cheekpieces for the first time. Callaghan said: "Had the race been over two and a quarter miles it would have suited us better, because he stays so well.

"He's run a great race - fourth in the Gold Cup and now third here is very good. He wore cheekpieces, not because he's ungenuine, but we felt we might have to be in front from a long way out. He's as genuine as the day is long."

FAVOURITE DISAPPOINTS IN THE ABN AMRO GOODWOOD CUP
Geordieland, the 6/4 favourite for the ABN AMRO Goodwood Cup, came with a good run in the straight only to find no extra from a furlong and a half out.

He finished fifth and his trainer Jamie Osborne commented: "I am very disappointed. Jamie (Spencer) said Geordieland was a bit keen through the race.

"The horse relaxed better at Ascot - and I don't think he ever really found a rhythm and relaxed here properly and he paid for it in the last furlong."

PAST WINNER DISTINCTION RETURNS PROMISINGLY
Distinction, the 2005 winner and off the course for over a year, raced prominently until fading to finish seventh.

His rider Jimmy Fortune commented: "He has run a nice race - they probably went a bit steady for him. He had every chance two and a half furlongs out and just got tired."
Coral Pritchard-Gordon, trainer Sir Michael Stoute's partner, added: "We were thrilled with him because he seems to have shown his old sparkle but just got tired which you would expect on this ground."
3.25pm ABN AMRO GOODWOOD CUP
Class 1, Group 2, £100,000 Guaranteed. For 3yo+, 2m. Weights: 3yo colts & geldings 8st 4lb; fillies 8st 1lb; 4yo+ colts & geldings 9st 5lb; fillies 9st 2lb. Penalties: after September 1, 2006, a winner of a Group 2 race 3lb; of a Group1 race 5lb (races won at 2yo not to count for penalties). Weight for age: 3yo from 4yo+ 15lb. Penalty Values: 1st: £56,780; 2nd: £21,520; 3rd: £10,770; 4th: £5,370; 5th: £2,690; 6th: £1,350
1) ALLEGRETTO (Cheveley Park Stud) Sir Michael Stoute 4-9-05 Ryan Moore [11] 8/1
2) VERACITY (Sheikh Mohammed) Michael Jarvis 3-8-05 (1lb ow) Philip Robinson [7] 10/1
3) FINALMENTE (Edward Kirtland) Neville Callaghan p5-9-05 Johnny Murtagh [4] 16/1
4) BALKAN KNIGHT (Raymond Tooth) David Elsworth 7-9-05 John Egan [5]
5) GEORDIELAND (Mountgrange Stud) Jamie Osborne 6-9-05 Jamie Spencer [8] 6/4 F
6) TUNGSTEN STRIKE (John Connolly) Amanda Perrett 6-9-05 Darryll Holland [9]
7) DISTINCTION (Highclere Thoroughbred Racing Ltd) Sir Michael Stoute 8-9-05 Jimmy Fortune [1]
8) BULWARK (Hesmonds Stud) Amanda Perrett eb5-9-05 Jim Crowley [12]
9) LAND 'N STARS (Paul Blows) Richard Fahey 7-9-05 Paul Doe [13]
10) FALPIASE (Andrea & Graham Wylie) Howard Johnson 5-9-05 Eddie Ahern [2]
11) GREENWICH MEANTIME (K Lee, D Barlow, B Crumbley & L Rutherford) Richard Fahey 7-9-05 Paul Hanagan [14]
12) FOXHAVEN (Ann Jenkins) Patrick Chamings 5-9-05 Neil Callan [6]
13) BADDAM (Noel Martin) Mick Channon 5-9-05 Ian Mongan [10]
14) RAYHANI (Sheikh Ahmed Al Maktoum ) Marcus Tregoning 4-9-05 Martin Dwyer [3]
15) BAIZICALLY (Mountgrange Stud) Jamie Osborne 4-9-05 Tom Queally [15]
15 ran
Time: 3m 25.61s Distances: .5, .75, 5, 1.75, 2.5, .5, nk, 1, nk, .5, 2.5, 6, dist, dist
Breeder: Kirsten Rausing & Airlie Stud Breeding: ch f Galileo (IRE) - Alleluia (Caerleon)
Tote Win: £10.40 Places: £3.00; £3.10; £5.70 Exacta: £128.30
Winning trainer:-Name: Stoute, Sir Michael Ronald Date of birth:22/10/45 Date of first licence: 1972 First Winner: Sandal, Newmarket, April 28, 1972, Turn Of The Lands Handicap. Previous Occupation: Served with Pat Rohan, Doug Smith and Tom Jones British Classic wins: (13) 1000 Guineas (1989 Musical Bliss, 2003 Russian Rhythm), 2000 Guineas (1985 Shadeed, 1988 Doyoun, 1997 Entrepreneur, 2000 King's Best, 2001 Golan), Vodafone Derby (1981 Shergar, 1986 Shahrastani, 2003 Kris Kin, 2004 North Light), Vodafone Oaks (1978 Fair Salinia, 1987 Unite) Other big race wins: Irish 2,000 Guineas (1989 Shaadi), Irish 1,000 Guineas (1986 Sonic Lady), Irish Derby (1981 -Shergar, 1983 Shareef Dancer, 1986 Shahrastani), Irish Oaks (1978 Fair Salinia, 1986 Colorspin, 1987 Unite, 1988 Melodist, 1995 Pure Grain, 2000 Petrushka), Champion Stakes (2000 Kalanisi), Cheveley Park Stakes (1980 Marwell; 1994 Gay Gallanta; 2000 Regal Rose), Vodafone Coronation Cup (1992 Saddler's Hall, 1993 Opera House, 1997 Singspiel, 2000 Daliapour), Coral-Eclipse (1993 Opera House; 1994 Ezzoud;1997 Pilsudski, 2001 Medicean), Dubai World Cup (Singspiel 1997), Falmouth Stakes (1983 Royal Heroine, 1986 and 1987 Sonic Lady, 1998 Lovers Knot), Fillies' Mile (1985 Untold), Grand Prix de Saint-Cloud (2007 Mountain High), Japan Cup (1996 Singspiel, 1997 Pilsudski), Juddmonte International Stakes (1993 & 1994 Ezzoud; 1997 Singspiel; 2006 Notnowcato), July Cup (1981 Marwell; 1986 Green Desert; 1987 Ajdal), King George VI and Queen Elizabeth Diamond Stakes (1981 Shergar; 1993 Opera House, 2002 Golan), Vodafone Nassau Stakes (1977 Temple First, 1984 Optimistic Lass, 1990 Kartajana, 1994 Hawajiss, 2002 Islington, 2003 Russian Rhythm, 2004 Favourable Terms), Prix de l'Opera (1983 Royal Heroine, 1985 Bella Colora, 2000 Petrushka, 2003 Zee Zee Top), Queen Elizabeth II Stakes (1985 Shadeed; 1987 Milligram; 1989 Zilzal), Racing Post Trophy (2000 Dilshaan), Stanley Leisure Sprint Cup (1986 Green Desert; 1987 Ajdal), Sussex Stakes (1986 Sonic Lady; 1989 Zilzal; 1998 Among Men), Yorkshire Oaks (1978 Fair Salinia; 1985 Sally Brown; 1986 Untold; 1990 Hellenic; 1995 Pure Grain, 2000 Petrushka, 2002 and 2003 Islington) Wins in a season (1984-2006): 96: 120: 76: 105: 99: 116: 78: 83: 74: 65: 109: 73: 73: 84: 79: 81: 91: 75: 104: 115: 87: 95; 107 Horses in training (1985-2007): 145: 142: 142: 170: 186: 191: n\a: 171: 147: 157 : 159: 159: 162: 162: 173: 190: 185: 181: 190: 184: 189: n/a; n/a Wins in 2007: 59 Royal Ascot Wins: 56 First Royal Ascot winner: Etienne Gerard (June 15, 1977 - Jersey Stakes) Trains at Freemason Lodge, Newmarket First Goodwood winner: Alphadamus (July 31, 1973 - Stewards' Cup) Total Goodwood Wins: 131 (60 at July Meeting)
Winning Jockey :- Name: Moore, Ryan Lee Born: September 18, 1983 Other Details: Apprenticed to Richard Hannon having previously been with his father Gary at Woodingdean in Brighton. Champion jockey for the first time in 2006 with 180 winners. Suffered a complex fracture of his right arm in a fall at Lingfield on March 16, 2007, and missed three months of the season. First winner: Mersey Beat (Land Rover Defender Amateur Riders' Handicap Hurdle, Towcester, May 15, 2000) First Group One Win: Notnowcato (2006 Juddmonte International Stakes) Major Wins: Celebration Mile (2005 Chic); totesport Cesarewitch (2002 Miss Fara); Dubai International Airport World Trophy (2004, 2005 The Tatling); Coral-Eclipse Stakes (2007 Notnowcato); Fred Darling Stakes (2006 Nasheej); Further Flight Stakes (2006 Frank Sonata); Geoffrey Freer Stakes (2006 Admiral's Cruise); Henry II Stakes (2006 Tungsten Strike); Juddmonte International Stakes (2006 Notnowcato); Lancashire Oaks (2006 Allegretto); Mill Reef Stakes (2004 Galeota); Skybet York Stakes (2006 Best Alibi); Steventon Stakes (2006 Tam Lin); totesport.com Winter Hill Stakes (2006 Tam Lin), £250,000 Tattersalls October Auction Stakes (2006 Caldra), ABN AMRO Goodwood Cup (2007 Allegretto) Number of Wins 2002-06: 39; 59 (champion apprentice); 132; 120; 180 (champion jockey) Wins in 2007: 44 First Goodwood win: Barbason (The News Amateur Riders' H'cap, June 9, 2000) Goodwood winners: 45 (8 at July Meeting)