Glorious Goodwood
Ramonti Seals Blue-Letter Day for Godolophin
01/08/07
1st 5 Ramonti 9/2
2nd 7 Excellent Art 15/8
3rd 3 Jeremy 7/2
Ramonti held off the late challenge of Excellent Art to take the Group 1 BGC Sussex Stakes and complete a memorable big-race double for Godolphin, following Rio De La Planta's victory in the Group 2 Veuve Clicquot Vintage Stakes.

Ramonti (Frankie Dettori left) holding off Turtle Bowl (Olivier Peslier) in the Queen Anne Stakes at Royal Ascot (19-06-07)
© racing-images.co.uk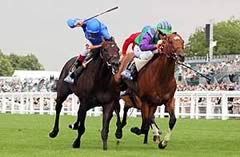 Ramonti had been Godolphin's first British Group 1 winner since August 2005 when winning the Queen Anne Stakes at Royal Ascot in June and trainer Saeed bin Suroor was delighted with the stable's return to form.

"Our horses are flying now and I'm really pleased with them," said bin Suroor. "After his last piece of work, he was fresh and kicking and I thought he would run a big race today.

"He worked nicely when we had him in Dubai but he was a different horse as soon as he worked on grass when he came to Newmarket. I talked to Simon (Crisford) and said I thought we should go to a Group 1 so we went for the Lockinge.

"There was a question mark about whether we went there but after he finished second we said we'll keep him to that company.

"He's a very honest horse who gives everything, which is what you need in these races.

"Hopefully, we can have some fun with him next year and if he stays sound and healthy I hope he'll stay in training next season. If he's alright after this then the Queen Elizabeth II Stakes (Ascot, September 29) is a likely target."
Godolphin's racing manager Simon Crisford added: "We're delighted, especially as he has been holding his form so well.
"I think he will get a mile and a quarter and I'd imagine we'll keep him to a mile for the QEII though. He hit the front from a long way out today and was always there for late chaser to try and take him on."
Frankie Dettori treated racegoers to a flying dismount after landing the 7.9/1 double and was in jubilant mood after scoring on the Italian-bred Ramonti.

"Come on the Italians! It was a really good effort and he's won two Group 1s in England now so I don't think you can improve on that," said Dettori. "He's a real fighter which counts for a lot.

"I've been away for two weeks and had a great time with my family but I've missed this enormously - the racetrack is where I want to be.

"I had great hopes for today. This year we have been a bit light on quality but there is nothing you can do - we can only do what we can with the horses we have got.

"Ramonti has proved a model of consistency during his career with us and he showed that the Queen Anne is not a fluke.

"It was a very strong race today and I didn't want it to turn into a sprint so I said that anyone with the legs to do it could try and get past me."

Race 3 - BGC Sussex Stakes - Placed Quotes
O'BRIEN, STOUTE AND DE KOCK PLEASED
Trainers Aidan O'Brien, Sir Michael Stoute and Mike de Kock expressed their satisfaction after their charges had finished second, third and fourth respectively in the Group One BGC Sussex Stakes.

Excellent Art, 15/8 favourite, was finishing like a train to take second, beaten just a head by the winner Ramonti.

Aidan O'Brien said: "We are delighted. He has run a great race.

"He was getting there and closing with every stride.

"That was his first time against older horses and it was a proper run race. He will have learnt a lot today, he has never been as quick as that in his life.

"All the top mile races are open to him. He stays a mile well."
Jeremy was a further length and three quarters back in third and his trainer Sir Michael Stoute said: "That was another good, sound performance from Jeremy.

"I am very happy with him."
South African challenger Asiatic Boy ran a great race to finish fourth on his first start in Britain and his trainer Mike de Kock was pleased.

He said: "That was a satisfactory run after four months off the track.

"I think the lack of experience and the lack of a recent run counted against him today.
"He will improve for today.

"You also have to remember that was his first run on turf today. It is a very different way of running to the dirt which he is used to - we can't complain.

"I will have to discuss it with his owner (Sheikh Mohammed bin Khalifa) but I would think he will go for the Juddmonte International now. That was always the plan and I don't see any reason why we should change it."
3.30pm BGC SUSSEX STAKES
Class 1, Group 1, £300,000 guaranteed, 1m, for 3-y-o+; Weights: 3-y-o colts and geldings 9st; fillies 8st 11lb; 4-y-o+ colts and geldings 9st 7lb; fillies 9st 4lb; Weight for age: 3 from 4-y-o+ 7lb; Entries: 51 pay £1,000; 1st Forfeit: 24 pay £1,500; Confirmed: 9 pay £500; Penalty value 1st: £170,340; 2nd: £64,560; 3rd: £32,310; 4th: £16,110; 5th: £8,070; 6th: £4,050
1 RAMONTI (Godolphin) Saeed bin Suroor 5-9-07 Frankie Dettori [8] 9/2
2 EXCELLENT ART (Sue Magnier, Michael Tabor, Derrick Smith, Matthew Green) Aidan O'Brien IRE 3-9-00 Jamie Spencer [7] 15/8 F
3 JEREMY (Betty Moran) Sir Michael Stoute 4-9-07 Ryan Moore [4] 7/2
4 ASIATIC BOY (Sheikh Mohammed bin Khalifa & Club ISM) Mike de Kock SA 4-9-07 Weichong Marwing [2]
5 ARCHIPENKO (Michael Tabor & Sue Magnier) Aidan O'Brien IRE 3-9-00 David McCabe [6]
6 DECADO (Mrs C O'Flynn, F Sheehy, D O'Flynn) Kevin Prendergast IRE 4-9-07 Declan McDonogh [3]
7 MUNADDAM (Hamdan Al Maktoum) Ed Dunlop 5-9-07 Richard Hills [5]
8 TRINITY COLLEGE (Sue Magnier, Michael Tabor & Derrick Smith) Aidan O'Brien IRE 3-9-00 Johnny Murtagh [1]
8 ran
Time: 1m 37.62s
Distances: hd, 1.75, sh, 5, 1, 6, 1
Breeder: S.P.A. Siba
Breeding: b h Martino Alonso (IRE) - Fosca (USA) (El Gran Senor (USA))
Totes: Win £3.80; Places £1.20, £1.30, £1.50; Exacta £12.10
Winning trainer:-Name: bin Suroor, Saeed Date of Birth: November 16, 1968 Trains at Newmarket for Godolphin, the racing entity of Sheikh Mohammed, whose horses winter in Dubai and race worldwide. First Winner In England: Classic Cliche (Dante Stakes, May 17, 1995, York) British Classic wins: (11) Stan James 2000 Guineas (1996 Mark of Esteem, 1999 Island Sands), Stan James 1000 Guineas (1998 Cape Verdi, 2002 Kazzia), Vodafone Oaks (1995 Moonshell; 2002 Kazzia); Vodafone Derby (1995 Lammtarra); Ladbrokes St Leger (1995 Classic Cliche; 1998 Nedawi; 1999 Mutafaweq; 2004 Rule Of Law) Other major wins include: Gold Cup (1996 Classic Cliche; 1998 Kayf Tara, 2000 Kayf Tara, 2004 Papineau), Eclipse (1995,1996 Halling; 1998 Daylami; 2004 Refuse To Bend), Juddmonte International Stakes (1995 & 1996 Halling, 2001 Sakhee, 2004 Sulamani), King George VI and Queen Elizabeth Diamond Stakes (1995 Lammtarra; 1997 & 1998 Swain, 1999 Daylami, 2004 Doyen), Lockinge Stakes (1998 Cape Cross, 1999 Fly To The Stars, 2000 Aljabr), Nunthorpe Stakes (1995 So Factual), Prince of Wales's Stakes (1998 Faithful Son, 2000 Dubai Millennium, 2001 Fantastic Light, 2002 Grandera), Queen Elizabeth II Stakes (1996 Mark Of Esteem, 1999 Dubai Millennium, 2001 Summoner), Queen Anne Stakes (2003 Dubai Destination), Stanley Leisure Sprint Cup (1999 Diktat), Sussex Stakes (1999 Aljabr, 2001 Noverre, 2007 Ramonti), Tattersalls Gold Cup (2001 Fantastic Light), Vodafone Coronation Cup (1999 Daylami, 2001 Mutafaweq) Canada: Canadian International Stakes (2000 Mutafaweq, 2004 Sulamani) France: Prix du Jockey Club (2005 Shamardal), Poule d'Essai des Poulains (1995 Vettori; 2000 Bachir; 2001 Noverre, 2005 Shamardal), Prix de l'Arc de Triomphe (1995 Lammtarra, 2001 Sakhee, 2002 Marienbard); Prix de la Foret (2006 Caradak); Prix du Moulin de Longchamp (2001 Slickly, 2006 Librettist), Prix de la Salamandre (1998 Aljabr), Prix Jean Prat (1998 Almutawakel), Prix Maurice de Gheest (1999 Diktat), Prix d'Ispahan (1996 Halling, 2002 Best Of The Bests), Prix Vermeille (2003 Mezzo Soprano), Prix Jacques le Marois (1999 Dubai Millennium, 2000 Muhtathir, 2006 Librettist) Germany: Deutschland preis (2000 Mutafaweq, 2002 Marienbard), Grosser Bugatti Preis von Baden (2002 Marienbard, 2003 Mamool), Grosser Dallmayr Preis (2001 Kutub), Rheinland-Pokal der Sparkasse Koln Bonn (2006 Cherry Mix), Preis Von Europa (2001 Kutub, 2003 Mamool) Hong Kong: Hong Kong Cup (2000 Fantastic Light), Hong Kong Mile (2004 Firebreak) Ireland: Irish St Leger (1998 & 1999 Kayf Tara), Irish Champion Stakes (1994 Cezanne; 1998 Swain, 1999 Daylami, 2001 Fantastic Light, 2002 Grandera), Irish 2000 Guineas (2000 Bachir, 2005 Dubawi) Italy: Derby Italiano (1998 Central Park, 1999 Mukhalif), Gran Premio di Milano (2003 Leadership), Gran Premio Del Jockey Club (2001 Kutub, 2005 Cherry Mix), Premio Vittorio Di Capua (2001 and 2002 Slickly, 2004 Ancient World) Japan: Yasuda Kinen (1995 Heart Lake, Keio Hai Spring Cup (1996 Heart Lake), Singapore: Singapore Airlines International Cup (2002 Grandera) UAE: Dubai World Cup (2000 Dubai Millennium, 2002 Street Cry, 2003 Moon Ballad, 2006 Electrocutionist), Dubai Sheema Classic (2003 Sulamani) United States: American Oaks (2002 Jilbab), Arlington Million (2003 Sulamani), Beldame Stakes (2002 Imperial Gesture), Beverley D Stakes (2004 Crimson Palace), Breeders Cup Turf (1999 Daylami, 2001 Fantastic Light), Flower Bowl Invitational Stakes (2002 Kazzia), Gazelle Handicap (2002 Imperial Gesture), Man O' War Stakes (1998 Daylami; 2000 Fantastic Light), Ruffian Handicap (2005 Stellar Jayne), San Juan Capistrano Invitational Handicap (1995 Red Bishop), Stephen Foster Handicap (2002 Street Cry), Turf Classic Invitational (2003 Sulamani) Wins in a season in Britain (1995-2006): 14: 48: 41: 38: 41: 22: 24: 21: 23: 115: 78; 70 Wins in 2007: 25 First Royal Ascot win: So Factual (June 22, 1995 - Cork and Orrery Stakes) Royal Ascot wins (28) Total Goodwood wins: 54 (16 at July Meeting) Other details: Champion trainer 1996, 1998, 1999, 2004. Completed full set of classic wins after Cape Verdi's victory in the 1998 1000 Guineas.
Winning jockey:-Name: Dettori, Lanfranco.Born: 15/12/70 in Milan, Italy First winner: Rif (Turin, Italy, November 16, 1986), First British winner: Lizzy Hare (Goodwood June 9, 1987) First Success: Rif (Turin, Italy, November 16, 1986) Other Achievements: Received Bill Shoemaker Award for outstanding performance by a jockey at 2006 Breeders' Cup at Churchill Downs British Classic wins; (12) Vodafone Derby (2007 Authorized), Vodafone Oaks (1994 Balanchine, 1995 Moonshell, 2002 Kazzia); St Leger (1995 Classic Cliche, 1996 Shantou, 2005 Scorpion, 2007 Sixties Icon), 2000 Guineas (1996 Mark of Esteem, 1999 Island Sands), 1000 Guineas (1998 Cape Verdi, 2002 Kazzia) Irish Classic wins: Irish Oaks (2001 Lailani, 2003 Vintage Tipple), Irish Derby (1994 Balanchine), Irish 2000 Guineas (2000 Bachir, 2005 Dubawi), Irish St Leger (1999 Kayf Tara) French Classic wins: Prix du Jockey-Club (1992 Polytain, 2005 Shamardal, 2007 Lawman), Poule d'Essai des Poulains (1995 Vettori, 2000 Bachir, 2005 Shamardal), Prix Diane Hermes (2007 West Wind) Other major wins include: Cheveley Park Stakes (2000 Regal Rose, 2003 Carry On Katie), Coral-Eclipse Stakes (1998 Daylami; 2004 Refuse To Bend), GNER Doncaster Cup (2006 Sergeant Cecil), Fillies' Mile (1990 Shamshir, 1999 Teggiano, 2000 Crystal Music), Haydock Sprint Cup (1999 Diktat); Juddmonte International (1996 Halling, 1997 Singspiel, 2001 Sakhee), King George VI and Queen Elizabeth Diamond Stakes (1995 Lammtarra, 1998 Swain,1999 Daylami, 2004 Doyen), Lockinge Stakes (2000 Aljabr), Middle Park Stakes (1996 Bahamian Bounty, 1998 Lujain, 2006 Dutch Art), Nunthorpe Stakes (1993 Lochsong, 1995 So Factual, 1998 Lochangel), Queen Elizabeth II Stakes (1990 Markofdistinction; 1996 Mark of Esteem, 1999 Dubai Millennium), Racing Post Trophy (2006 Authorixed), Sussex Stakes (1991 Second Set, 1999 Aljabr, 2001 Noverre, 2007 Ramonti); Vodafone Coronation Cup (1996 Swain, 1997 Singspiel, 1999 Daylami, 2001 Mutafaweq), Yorkshire Oaks (1994 Only Royale), Vodafone Nassau Stakes (2001 Lailani, 2006 Ouija Board) Dubai: Dubai World Cup (2000 Dubai Millennium, 2003 Moon Ballad, 2006 Electrocutionist) France: Grand Prix de Saint-Cloud (2005 Alkaased), Prix Vermeille (2003 Mezzo Soprano), Prix de l'Abbaye (1993, 1994 Lochsong, 2004 Var), Prix d'Ispahan (1996 Halling, 2002 Best Of The Bests), Prix Jacques le Marois (1999 Dubai Millennium, 2000 Muhtathir, 2006 Librettist), Prix de la Foret (2006 Caradak); Prix de la Salamandre (1998 Aljabr); Prix Maurice de Gheest (1999 Diktat); Prix Jean Prat (1995 Torrential, 1997 Starborough, 1998 Almutawakel), Prix du Cadran (2006 Sergeant Cecil), Prix Marcel Boussac (1996 Ryafan, 2001 Sulk), Prix de l'Arc de Triomphe (1995 Lammtarra, 2001 Sakhee, 2002 Marienbard), Prix du Moulin (2001 Slickly, 2006 Librettist) Germany: Deutsches Derby (1991 Temporal), Grosser Preis Von Baden (2002 Marienbard) Ireland: Irish Champion Stakes (1998 Swain, 1999 Daylami, 2001 Fantastic Light, 2002 Grandera) Japan: Japan Cup (1996 Singspiel, 2002 Falbrav, 2005 Alkaased) North America: Breeders' Cup Filly & Mare Turf (2006 Ouija Board), Breeders' Cup Juvenile (2004 Wilko), Breeders' Cup Mile (1994 Barathea), Breeders' Cup Turf (1999 Daylami, 2006 Red Rocks), Canadian International Stakes (2000 Mutafaweq) Wins 1987-2006: 8, 22, 75^, 141, 94, 101, 149, 233*, 216*, 123, 176, 132, 132, 47, 94, 69, 101, 195*, 87, 131 ^Champion apprentice *Champion jockey Wins in 2007: 34 Royal Ascot wins: (39) First Royal Ascot win: Queen Anne Stakes (June 19, 1990 Markofdistinction) Leading rider at Royal Ascot: 1997(4 wins); 1998(7 wins); 1999 (4 wins); 2003 (3 wins); 2004 (6 wins) First Goodwood Win: Lizzy Hare (Birdless Grove Handicap, June 9, 1987) Total Goodwood wins: 149 (46 at July Meeting)