Kingsgate Native Back With A Bang in The Audi Stakes
30/07/09
1 (7) Kingsgate Native 7/1
2 (15) Total Gallery 16/1
3 (6) Inxile 8/1
Back to his very best, Kingsgate Native (Ryan Moore) shot clear inside the final furlong to win the Audi stakes most impressively.


© racing-images.co.uk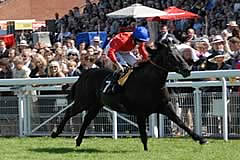 Dual Group 1 winner Kingsgate Native offered some compensation to his new owners after a short-lived spell at stud by bouncing back to form to win the five-furlong Audi Stakes.
Having been purchased by Cheveley Park Stud for stallion duties last season, the son of Mujadil covered 32 mares earlier this year and got none of them in foal, leaving David and Patricia Thompson with little option but to put him back into training, this time with their senior trainer Sir Michael Stoute.
"We gave him a chance at stud and it didn't work," said Chris Richardson, managing director of Cheveley Park Stud. "We were concerned that having done a different job it might be difficult for him to go back into training but he's come back and he's done what he's done.
"Obviously, it was disappointing and extremely frustrating that he could not fulfil his committment at stud as he had great support from the breeders but luckily we had this option.
"He's only four and there will be the option to review the situation with veterinary advice later in the year but I think that from what we have been told and the reports, that it is highly unlikely that he will be a stallion."
Referring to Kingsgate Native's comeback run at Royal Ascot, in which he finished near the rear of the Golden Jubilee Stakes field, he said: "There were other excuses at Ascot. He'd been off for a while and I think he took his time to get his muscle tone back. It was a tough race today - it was a like a Group 1. I know it was only a Group 3 but there were an awful lot of good horses in there.
"Ryan said he was a little concerned about the ground but that the horse showed a great turn of foot and he was delighted. Full marks to Sir Michael Stoute and his team - it's fantastic to see him bounce back and it's some compensation for the investment in him."
Asked about future plans for the colt, Richardson added: "He's in all the big races and we'll see how he comes out of this and hopefully we'll see him to to compete in and win some more top races.
"I think was 33 years ago that Music Boy won this race and that was one of the Thompsons' first sprinters so it's nice to come back and win it again."
Moore added: "He travelled really well and I didn't have much room for a couple of strides but, when half a gap appeared, he quickened up really well and he put the race to bed very quickly.

"I think that he has always been quite a highly-strung horse and covering mares wouldn't have quietened him down so the staff have done a really good job to get him back to win a Group race.

"He gave me a really good feel and I think that we were probably in the right place but he couldn't have been more impressive.
"When Sir Michael started training, he was known as the sprint king - he won the Ayr Gold Cup a couple of times - and he didn't want that tag so he started getting Classic horses but he can obviously do the job with whatever he has got."
Position

Horse
Trainer
Jockey
Weight
Starting Price
Beaten Distance
1

Kingsgate Native
Sir Michael Stoute
R L Moore
9st 0lbs
7 - 1
Winner
2

Total Gallery
J S Moore
R Hughes
8st 10lbs
16 - 1
2 3/4 lengths
3

Inxile
D Nicholls
A Nicholls
9st 0lbs
8 - 1
1 1/2 length
4

Borderlescott
R Bastiman
P Cosgrave
9st 0lbs
9 - 4
Short Head
5

Dandy Man
S bin Suroor
L Dettori
9st 0lbs
16 - 1
Short Head
6

Rowe Park
Mrs L C Jewell
S Drowne
9st 0lbs
28 - 1
1 length
7

Spin Cycle
B Smart
R Mullen
8st 10lbs
33 - 1
Neck
8

Equiano
B W Hills
M Hills
9st 0lbs
14 - 1
Nose
9

Reverence
E J Alston
E Ahern
9st 0lbs
40 - 1
Head
10

Sugar Free
T Stack
W Lordan
8st 7lbs
16 - 1
1 length
11

Moorhouse Lad
B Smart
T Eaves
9st 0lbs
12 - 1
2 1/4 lengths
12

Fat Boy
P W Chapple-Hyam
J Fortune
9st 0lbs
20 - 1
Neck
13

Ialysos
L M Cumani
G Mosse
9st 5lbs
6 - 1
1/2 length
14

Matsunosuke
A B Coogan
Luke Morris
9st 0lbs
66 - 1
1/2 length
15

Siren's Gift
A M Balding
William Buick
8st 11lbs
33 - 1
3 1/2 lengths
16

Jargelle
K A Ryan
A Munro
8st 7lbs
66 - 1
11 lengths
17

Rievaulx World
K A Ryan
N Callan
8st 10lbs
66 - 1
4 1/2 lengths
NonRunner

Mythical Border
J Noseda
T P Queally
8st 7lbs


GALLERY WILL BE GROUP 1 PERFORMER NEXT YEAR
Trainer Stan Moore expects three-year-old Total Gallery to develop into a top-class sprinter next year after his excellent second to Kingsgate Native in the Group 3 Audi Stakes.
"I'm delighted with him, he ran a great race for a three-year-old, and it was a good performance, although an even better one by the winner," said Moore. "We had been thinking of going for some big races at the backend but as he's still three I think we might pick some lesser ones this year and mind him for next season.
"Richard (Hughes) said he will be a Group 1 horse and I think he is going to be awesome next season, the world will be his oyster. He's got a big frame to fill and five or six furlongs come the same to him, it doesn't matter."
Inxile ran well in third and Alex Greaves, wife of trainer David Nicholls, said: "It was a fine performance from the winner. We got a bit unlucky when we wanted a run but you have to expect that in five-furlong sprints.
"He's a good traveller so could go to France or Ireland again, he's in the Flying Five at the Curragh so that could be an option.
"All of our's are hitting the target and running well and we'd settle for a win in the Bluesquare.com Stewards' Cup on Saturday."