Finjaan Bounces Back in Betfair Cup
28/07/09
1 (8) Finjaan 5/1
2 (2) Balthazaar's Gift 25/1
3 (7) Regal Parade 16/1
An emotional Marcus Tregoning welcomed back Finjaan after the three-year-old gave him a welcome big-race success in the Group 2 Betfair Cup.
Finjaan


© racing-images.co.uk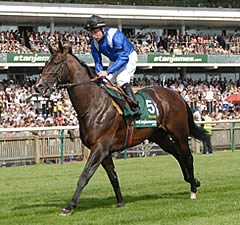 The victory was just the fourth of the year for Tregoning, whose stable has been shut down for six weeks with a virus, and he is now hoping to make hay in the second half of the season.

"It's lovely to win here, this has always been our Ascot," said Tregoning. "My predecessor Dick Hern was always very disappointed if he left this meeting without a winner and I'm the same - Goodwood is one of my favourite places to win a race and the horses have just come right in time.

"I knew it would come right in the end if the owners stood by and gave me a chance and Sheikh Hamdan has a lot of experience with many different trainers.

"You have to have patience and wait until they are right, you can't just shove out runners for the sake of it - if you do that you hurt someone else's horse.

"It has been worse than a nightmare. The problems started in May and it couldn't have been worse. Some of my horses started running moderately and the blood tests and everything else came back prefect, which was the really annoying thing. Then they started getting the red tracheas so obviously we had a viral problem and it has taken a while to get over it. They have come right just in time thankfully
"We've had a rheino virus, it affects the respiratory system and if you're not careful you get a secondary infection which we avoided because we looked after them.

"I reckon we shut down for six weeks and it's been a hugely frustrating time - I should have gone off and taken a holiday but just didn't do anything and sat at home watching the horses.

"Nobody died but it's important to fire in winners, especially from a financial point of view, because we want to be buying horses in the autumn and if you don't have winners the owners are reluctant to do that.

"Tadgh (O'Shea) had done the last three or four pieces of work on this horse and he was brimming in confidence. It was a very difficult choice for (Hamdan Al Maktoum's first jockey) Richard Hills but his father's horses have been in great form and it would have been difficult for him to desert Ouqba. But Richard will be on board next time.

"I was worried watching the race about what was going on with Dream Eater, who was all over the place. We'll have long discussions with his owner about where to go, maybe the Hungerford Stakes although he may even go sprinting as I'm keen to go down that route eventually.
"The horse has not been totally straightforward because he is quite highly strung but he has improved as he goes on.

"We might think about Longchamp in October for a few of the horses. We haven't anything for the Arc but might have a look at some of the other races, it's a few years since Mubtaker was second in the Arc.

"Very often, you look at this horse and he is so relaxed and settled - he's had a nice time today and hopefully he can go on from here. Goodwood's magic to me and you always get a good crowd and they are very welcoming. I am very found of the course and have had some good times here. Hopefully, the winners will come along thick and fast now."
O'Shea added: "It's working out fantastic being second jockey to Sheikh Hamdan and it's great to be able to ride in these big races. This is a very good horse, he deserves to be winning these races and the form was there in the book.

"I rode him in the Guineas and I felt that he would definitely get seven furlongs but I just didn't want to set him alight too far out on him and maybe falter in the last 150 yards.

"I believed strongly that he would get the trip but I just wanted to play my cards late rather than get there too soon. The way he settled today, you would probably have to say he would get a mile. He gave me an absolute peach of a ride and dropped his head from the word go. It was a good honest gallop and this is probably his best trip in a strongly run race."
Owner Hamdan Al Maktoum added: "He surprised me a bit today but the jockey was very pleased when he worked. I hadn't seen the horse for six weeks and just before the race I said to the trainer that the horse seemed to be carrying a bit of condition but he said to me that he was spot on. We might see if he is good enough for a Group 1 now.
"When the trainer had a winner on Sunday, I said to him that I was glad he had shaken the dust from his back!"
Position

Horse
Trainer
Jockey
Weight
Starting Price
Beaten Distance
1

Finjaan
M P Tregoning
T P O'Shea
8st 9lbs
5 - 1
Winner
2

Balthazaar's Gift
C G Cox
A Kirby
9st 2lbs
25 - 1
1/2 length
3

Regal Parade
D Nicholls
A Nicholls
9st 2lbs
16 - 1
1 length
4

Dream Eater
A M Balding
William Buick
9st 2lbs
16 - 1
1 1/2 length
5

Express Wish
J Noseda
R Hughes
9st 2lbs
33 - 1
Neck
6

Ouqba
B W Hills
R Hills
8st 9lbs
6 - 1
3/4 length
7

J J The Jet Plane
M F De Kock
K Shea
9st 2lbs
4 - 1
1 length
8

Main Aim
Sir Michael Stoute
R L Moore
9st 2lbs
6 - 5
3 1/4 lengths
NonRunner

Asset
S bin Suroor
Doubtful
9st 2lbs


COX DELIGHTED AS GIFT KEEPS GIVING

Filling the places in the Betfair Cup were two long-priced horses, Balthazaar's Gift, who started at 25/1 and Regal Parade, a 16/1 shot.

Clive Cox is the sixth trainer of Balthazaar's Gift, who finished just half a length behind the winner Finjaan, after Kevin Ryan, Tom George, Nick Littmoden, Luca Cumani and Rod Simpson but he is nevertheless thrilled to have the consistent six-year-old son of Xaar in his Lambourn stable.

Cox, who is enjoying a tremendous season, said: "That was a fantastic run. We haven't had him for long - he came to us back in May in lovely condition from Rod Simpson, who did a great job and won with him in Dubai.

"He's just one of those horses who gets under your skin. He's a superstar and I'm delighted to have him."
Dandy Nicholls, trainer of third-placed Regal Parade, said: "I thought we'd won but it's a tough race and they're tough horses. He just keeps going from strength to strength and getting better. The second horse (Balthazaar's Gift) we beat at Chester and he's done the reverse to us today and just got our horse at the end."
He added: "He's entered in loads of races. He travels well and looks well and he owes me nothing."