Opinion Poll Crowned Goodwood Cup King
28/07/11
1 Opinion Poll 9/2 Fav
2 Lost In The Moment 11/1
3 Blue Bajan 20/1
4 Fox Hunt
NR: Allied Powers (IRE)
15 ran Distances: hd, nk, nse
TIME 3m 23.85s (slow by 1.85s)
Frankie Dettori's fractured toe prevented the crowd favourite from performing a trademark flying dismount but failed to hinder his capacity in the saddle as he drove the Mahmood Al Zarooni-trained Opinion Poll to victory in the Group Two Artemis Goodwood Cup.
Opinion Poll


© racing-images.co.uk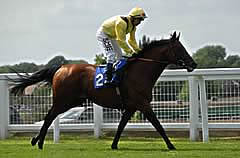 Godolphin's number one rider pointed to his toe, bruised and swollen as a result of the hairline fracture suffered in his fall from Rewilding at Ascot on Saturday, and apologised to the expectant crowd gathered around the winner's enclosure before sliding carefully out of the saddle.
Asked if he would have taken this week off to recuperate had it not been Glorious Goodwood, he replied: "Most definitely."
The Italian rode a patient race in the two-mile contest aboard the 9/2 favourite, runner-up in the Ascot Gold Cup on his previous start, as Overturn opened up a wide lead from the turn into the straight. Opinion Poll gradually wore down that rival and kept the rest of the pursuing pack at bay to score by a head from another Godolphin horse, the Saeed bin Suroor-trained Lost In The Moment.
Dettori continued: "He is an honest horse, who never runs a bad race. He was second in the Gold Cup and I think the ground was fairly quick enough for him but he has a lot of courage and is a very hard horse to pass.
"We went very fast and this horse is quite lazy, so I couldn't take the chance of going through them, so I took him on the outside and got him going in plenty of time. As it happened, I was there plenty early enough and he started to put the brakes on a bit but luckily the line was just there for me."
Al Zarooni said: "I like Goodwood, it is one of England's most famous racecourses so I am very happy to win a race here and I am very happy for the team that we have won a Group Two cup race.
"Frankie said to me, 'I will win the race, I know the horse very well and he will stay'. Frankie is always good in the big races, even when he is injured. He did brilliant, he was very patient. We have a good horse and a good jockey, with that you can win the race.
"He is a tough horse and he always does his best. Frankie gave him a nice relaxed time in the beginning of the race and he came through in the end.
"The Melbourne Cup is an idea but I will have to go back to His Highness Sheikh Mohammed and racing manager Simon Crisford because they know more about the races in England and what will be suitable for him - I am inexperienced.
"His Highness is very smart so he decides to put in two trainers and the results are good for Godolphin. To me, it doesn't matter if I win or Saeed (bin Suroor) wins, I want Godolphin to win races."
Simon Crisford, Godolphin racing manager, said: "I think that it was a fantastic race. Opinion Poll has got plenty of class but we were slightly worried that the ground might be a bit too quick for him. He has got a lot of class and finished off the race really well.
"Lost In The Moment came from a long way back and we told William to ride him cold and come through tired and beaten horses, which he did. He was a bit unlucky with his trip but I think that we have two lovely stayers and two really good horses for the European campaign.
"His Highness Sheikh Mohammed is committed equally to both stables and it has worked out really well. There is a lot of friendly rivalry between the two stables.
"All credit to Frankie. He has a small hairline fracture in his toe but it is not preventing him from riding every bit as well as he can. He would have hated to miss Goodwood - we all love Glorious Goodwood - so he did everything he could to get back.
"Opinion will stick to this trip and we will have a look at the big feature races but, when we get to the autumn with the soft ground, I would imagine that the two-mile race at Ascot on Champions' Day will be his aim. It's a valuable contest and he is likely to get his ground.
"Lost In The Moment is off a handy weight in the Ebor so we will look at that for him. Saeed is looking forward to seeing Poet's Voice, who will be back later on this month but both him and Mahmood work for the same company, and that's the main point. If one can't win, they want the other stable to win because it's very important that Godolphin itself performs well at the top level.
"Frankie is a great ambassador for the sport and people have paid a lot of money to come to the races today. Obviously he is a great showman and a great attraction as well as the horses."
Following an inquiry, the stewards found that the victorious Dettori was in breach of Schedule (B)6 Part 2, in that he had used his whip with excessive frequency. He was suspended for two days (Thursday, August 11 and Saturday August 12)
Position

Horse
Trainer
Jockey
Weight
Starting Price
Beaten Distance
1

Opinion Poll
M Al Zarooni
L Dettori
9st 7lbs
9 - 2
Winner
2

Lost In The Moment
S bin Suroor
William Buick
9st 7lbs
11 - 1
Head
3

Blue Bajan
D O'Meara
D Tudhope
9st 10lbs
20 - 1
Neck
4

Fox Hunt
M Johnston
S De Sousa
9st 7lbs
5 - 1
Nose
5

Bergo
G L Moore
R L Moore
9st 7lbs
22 - 1
1 3/4 length
6

Aaim To Prosper
B J Meehan
Louis-Philippe Beuzelin
9st 7lbs
28 - 1
1/2 length
7

Overturn
D McCain Jnr
R Hughes
9st 7lbs
8 - 1
1/2 length
8

Manighar
L M Cumani
K Fallon
9st 7lbs
7 - 1
1 1/4 length
9

Chiberta King
A M Balding
J Fortune
9st 7lbs
12 - 1
2 1/4 lengths
10

Red Cadeaux
E A L Dunlop
T G McLaughlin
9st 7lbs
10 - 1
13 lengths
11

Swingkeel
J Dunlop
T E Durcan
9st 7lbs
40 - 1
2 3/4 lengths
12

Montaff
M R Channon
J H Bowman
9st 7lbs
16 - 1
2 3/4 lengths
13

Electrolyser
C G Cox
A Kirby
9st 7lbs
20 - 1
Neck
14

Tastahil
B W Hills
R Hills
9st 7lbs
12 - 1
4 lengths
15

Geordieland
J A Osborne
Jim Crowley
9st 7lbs
33 - 1
55 lengths
NonRunner

Allied Powers
M L W Bell
J P Spencer
9st 7lbs
-

LOST BY A MOMENT

Godolphin's second string Lost In The Moment, trained by Saeed bin Suroor, failed by a head to defeat the same owner's Opinion Poll, from Mahmood Al Zarooni's stable, when flying at the finish of the Artemis Goodwood Cup.

"He ran a huge race," said bin Suroor of the runner-up. "For a second I thought he had won. I told the jockey to sit in behind and relax the horse because it was a new trip for him. He came from a long way back but very nearly won. The ground was right for him today and we thought we would try him at this distance. He could go for the Ebor (in which he has 9st 5lb) at York now."

Nine-year-old Blue Bajan was a neck behind in third and trainer David O'Meara said: "He ran a tremendous race and the 3lb penalty was probably the undoing of him. He's nine but he's in the form of his life and will go for the Lonsdale Cup at York now. He was disappointing in the Gold Cup at Ascot last month because the ground was too soft for him."