racing news /

Dunaden Denies Red Cadeaux in Melbourne Cup
01/11/11

1 Dunaden 15/2
2 Red Cadeaux 30/1
3 Lucas Cranach 12/1
4 Americain 4/1F
NR: Mourayan (IRE)
23 ran Distances: nse, 1¼l, nk
TIME 3m 20.84s

French raider Dunaden just pipped British runner Red Cadeaux in a thrilling finish to the Emirates Melbourne Cup at Flemington Park.

Dunaden wins by a nose over Red Cadeaux in the closest finish of the Cup's history.
© www.heraldsun.com.au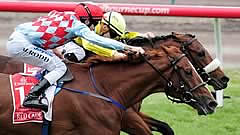 The Mikel Delzangles-trained runner was racing neck and neck with Ed Dunlop's Red Cadeaux and the pair flashed past the post together to force a photo. However, Christophe Lemaire just edged in front aboard Dunaden at the line to deny Michael Rodd on Red Cadeaux.
Delzangles said: "I'm still shaking. It's amazing. I thought I was beaten so it's even better."
Lemaire only stepped in for the ride at the last minute after Craig Williams was ruled out of the race through suspension. Williams rode Dunaden to win the Geelong Cup in his prep race earlier this month and Delzangles paid tribute to his efforts.
The handler added: "I would like to have a thought for Craig Williams who should have been on the horse. He did a great job in preparation for the horse and he has been a gentleman. I want to thank all the people we have met here who have helped us."
Lemaire said: "They went very slowly in the beginning but on the back straight we started to go a bit faster and I was always confident. The horse in front of me was going really well and it brought me to the front very easily.
"I was a bit anxious after the line. A rider on a pony told me they thought I had won and then when I turned the corner back towards the stands, everyone was applauding me.
"Two years ago I had a fall before Arc weekend and I missed winning four Group One races, all because of my collarbone, so I know what it is like to watch in your armchair.
"Emotionally I think this is the second best moment in my career. The first was winning the Prix de Diane, because all my family were there and I was on a big favourite called Divine Proportions."
DUNLOP DISAPPOINTED WITH CUP DEFEAT
Ed Dunlop was understandably disappointed after Red Cadeaux was edged out in a photo in the Emirates Melbourne Cup by Dunaden.
However, the trainer is already thinking about a return trip in 2012 with the five-year-old.
The handler said: "I thought beforehand that he wouldn't like the ground but that was a fantastic run. I was watching it with Luca Cumani and he thought I'd got it on the nod but the best I thought we'd got would have been a dead heat."
He added: "He got a lovely run into the straight and the jockey has given him a great ride. We don't like to be second but I've come all the way down here for the first time so you have to be delighted. If he's OK, we'll be back next year."
Red Cadeaux lost out by a nose in the photo, the closest verdict in 151 runnings of the race.
Cumani saddled two in the race with Manighar claiming fifth place while Drunken Sailor was 12th, but the Newmarket handler was left ruing his luck after his other possible Bauer was balloted out of the race at the final declaration stage.
The trainer said: "We'll just have to come back again next year. If Bauer had been in the field, he would have been close. Manighar galloped all the way to the line but Drunken Sailor didn't seem to get home and this isn't the right trip for him."
Saeed Bin Suroor also fielded two in the race with Lost In The Moment finishing sixth and Modun a lacklustre last of the 23 runners. He said: "Lost In The Moment ran well, for a second I thought he might be getting there but it didn't quite happen. I'm disappointed with Modun. He was too keen and didn't stay the trip."
Mark Johnston's Fox Hunt was seventh with his other runner Jukebox Jury finishing 20th. Brian Ellison was another trainer to be double-handed but Moyenne Corniche and Saptapadi could muster no better than 15th and 16th respectively.
Jockey Gerald Mosse thought the favourite Americain had perhaps paid the price for being saddled with an extra 3.5 kg this time, and reflected: "I would say the ground was a bit fast for him, as well as the weight. I was never really comfortable and he didn't travel through the race as well as he can, but he always tries his best."