Starspangledbanner Takes Darley July Cup
09/07/10
1 Starspangledbanner 2/1F
2 Equiano 12/1
3 Alverta 66/1
Starspangledbanner won his second consecutive Group One race when taking the highlight of the Champagne Lanson July Festival, the £400,000 Darley July Cup. This was also the second race in the Global Sprint Challenge that the four-year-old Choisir colt had collected following his Golden Jubilee success at Royal Ascot last month. This was a third victory in the Darley July Cup for trainer Aidan O'Brien, following the triumphs of Stravinsky (1999) and Mozart (2001).
Drawn in stall 11, Johnny Murtagh bought Starspangledbanner over to the far rail (for which he incurred the wrath of the stewards and picked up a six-day ban for careless riding) and the colt showed tremendous courage as he overhauled long-time leader Equiano, scoring by a neck in 1m 09.81s, fractionally outside the course record of 1m 09.50s.

Speaking after the race, trainer Aidan O'Brien emphasised that Starspangledbanner was unlike any other horse to have passed through his hands.

The master of Ballydoyle said: "It is very unusual for a horse to have so much speed but to be so courageous at the same time.

"He runs all the way and is unbelievably tenacious. He is very brave.

"All the signs showed us that he had improved since Royal Ascot and in his last piece of work, he covered four furlongs in 45 seconds. He is just an incredible horse.
"When he first came to Ballydoyle, we couldn't believe he had won over a mile in Australia. He was an incredible horse before we got him and we have been privileged to have him.
"There was more pressure today than at Royal Ascot - there was more for us to lose - although we felt he had come forward since Ascot and Colm who rides him every day felt he was in good order.

"Mentally this horse is just brilliant. His reflexes are amazing. He just comes out of the gates and goes into top gear. His reflex muscles are just so fast - I think it must be genetic.
"From day one, we knew he was a very different sort of horse. I just couldn't believe he had won over a mile in Australia, as he has quarter horse type speed."
The big question that now has to be answered is whether Starspangledbanner stays in training at Ballydoyle and contests the leading sprints remaining in 2010, or whether he heads to Australia to take up stud duties. It is also a decision which has to be taken fast, as if the colt is going to head to Australia he needs to go into quarantine - with the deadline being midnight tonight.

O'Brien continued: "When he first came to us, the intention was just to go to Ascot and then he would go to stud. But he is just so special and it will hard to find another one like him. There will now be a big debate over the next few hours as to whether we keep him or whether he goes to Australia. I am sure the lads in Australia would love him, but we would love to keep him too.

"We feel privileged to have him - it is our job to prepare horses and it is what you get up in the morning to do, but we also have to recognise that it is a business too."
Position

Horse
Trainer
Jockey
Weight
Starting Price
Beaten Distance
1

Starspangledbanner
A P O'Brien
J P Murtagh
9st 5lbs
2 - 1
Winner
2

Equiano
B W Hills
M Hills
9st 5lbs
12 - 1
Neck
3

Alverta
Paul Messara
Tye Angland
9st 2lbs
66 - 1
3/4 length
4

Kingsgate Native
Sir Michael Stoute
R L Moore
9st 5lbs
14 - 1
3/4 length
5

Fleeting Spirit
J Noseda
L Dettori
9st 2lbs
7 - 2
1/2 length
6

Varenar
A De Royer Dupre
G Mosse
9st 5lbs
16 - 1
1/2 length
7

Society Rock
J R Fanshawe
P Cosgrave
8st 13lbs
16 - 1
2 1/2 lengths
8

Balthazaar's Gift
C G Cox
P Robinson
9st 5lbs
66 - 1
1 length
9

Marchand D'or
M Delzangles
D Bonilla
9st 5lbs
16 - 1
1/2 length
10

Nicconi
D Hayes
D M Oliver
9st 5lbs
17 - 2
1 length
11

Prime Defender
B W Hills
R Winston
9st 5lbs
50 - 1
2 1/4 lengths
12

Kinsale King
C O'Callaghan
K Fallon
9st 5lbs
7 - 1
Head
13

Showcasing
J H M Gosden
William Buick
8st 13lbs
28 - 1
6 lengths
14

Serious Attitude
Rae Guest
J Fortune
9st 2lbs
66 - 1
Neck
Johnny Murtagh, the winning jockey on Starspangledbanner in the Darley July Cup, gave his initial reaction following the race.

He said: "Not many horses complete the Ascot-Newmarket double and you need to tough and resilient. This lad has got that - he's got plenty of guts, he's hardy - and he's got loads of speed.

"I thought that going to the far rail would help my horse - they wouldn't be all getting a lead off me so they had to make their own minds up. It was a nice move and probably helped win the race.

"He kicks well. Some Australian horses don't come up the hill well but this lad does. He's brave, hardy and thank God he has won again."
The stewards found that his Murtagh's manoeuver had caused interference to Prime Defender, Kingsgate Native, Serious Attitude and in turn Showcasing. The stewards held that this was due to careless riding by Murtagh in that he made his move when insufficiently clear. The ban takes effect on Friday, July 23 through to Wednesday, July 28, inclusive.

Starspangledbanner's victory was the 11th time the Golden Jubilee Stakes/Darley July Cup double has been completed in the same year since 1945. The other horses to complete the double were Les Arcs (2006), Owington (1994), Polish Patriot (1991), Thatching (1979), Saritamer (1974), Parsimony (1972), Tudor Music (1969), Tin Whistle (1960) and Right Boy (1958 and 1959).

Aidan O'Brien, interviewed on Racing UK by Lydia Hislop, said about Starspangledbanner: "He's a very natural horse and we didn't learn anything really between York and Ascot. He was a very good horse before he came to us - he was a Group One winner over six furlongs and a mile. I couldn't believe that he was a Group One winner over a mile showing that kind of pace.

"When we ran him at York he was just ready to start after doing a lot of travelling. So he came forward from York and we were very happy with him from Ascot to today.

"The lads have done a wonderful job with him at home - Andrew and Colm, who rides him everyday - but obviously he was a very special horse in Australia.

"The stalls were towards the far rail so if Johnny was going to jump and be in front, the natural way was to go to the closest rail. I think that is what he did and I didn't know what happened.
"I thought that when Johnny jumped on him and went to the rail that he was clear at the time, but I didn't see it but I am not sure.
"It's always nonsense and people make a big thing about track biases - track biases are dated really. The fastest horses are going to be where the fastest pace is and, in this day and age, the people that run the track, like Michael Prosser here, are exceptional and the difference is very marginal.

"We walk the track because it is our job to look at everything - to see where the wind is coming from - when we come racing it is our work. We have to try and find out as much as we can about everything. It's our job, it's something that we enjoy doing and it is never a disadvantage.

"Johnny is an unbelievably experienced brilliant jockey and he has everything worked out in his head. It's never a disadvantage to be near a rail and the rails were on that side.
"I didn't see the race but it looks like to me that he jumped and, when he was in front, he just went slightly left, which is what he is entitled to do when there was no other horse there. I didn't see the race but that is how I imagine it was and that was my first impression.
"The horse has to go into quarantine at 12 o'clock tonight if he is going to Australia and obviously that is a decision that has to be made. We are all hoping that he is going to stay but the decision is not ours - we will put our ha'penny into it and this is what we love doing.

"When you get a horse like that you feel very privileged to have him so we are going to be fighting to keep him but the decision will be made later."
HILLS AND MESSARA HAVE ONLY PRAISE
Equiano


© racing-images.co.uk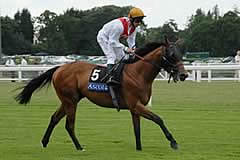 Equiano came tantalisingly close to a third Group One victory in the Darley July Cup only outgunned by the Aidan O'Brien-trained hotshot Starspangledbanner in the final furlong. The Barry Hill-trained Equiano, a 12/1 shot, was beaten by a neck.

Although Equiano has never won over six furlongs in Britain, Hills had not doubt that it wasn't a stamina issue. "He's out of a mare by Ela-mana-mou and he certainly gets six furlongs, don't worry about that. I think he's just been beaten by a slightly better horse. There no excuses.

"I thought he ran a marvellous race, probably a career best. We'll go to York now for the Nunthorpe, that the obvious route," said Hills.
Alverta was very much the unsung Australian. Having finished only 14th in the Golden Jubilee Stakes at Royal Ascot, the mare had few friends in the market and started at 66/1. Paul Messara explained though, that the seven-year-old had not found the journey to England easy.

"We brought her over two and a half weeks before Ascot, but she had it tough on the way over and lost a lot of weight on the trip - 45 kilos. So that told on her.

"I wasn't expecting them to go where they went I thought it would be on the other side - considering the pattern of the day. So she was left out on her own in the middle, so that was a really great effort by her - we're all really, really pleased with it.