Master Minded Gives Tingle Creek Master Class
11/12/10
1 Master Minded 10/11F
2 Petit Robin 6/1
3 Somersby 13/2
NR: Twist Magic (FR)
9 ran Distances: 8l, ½l, 12l
TIME 4m 1.20s (slow by 2.20s)
Master Minded looked back to his imperious best with a sumptuous performance in the Keith Prowse Hospitality Tingle Creek Chase at Cheltenham.
Master Minded


© racing-images.co.uk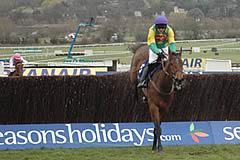 The race was run at a fierce gallop, with Petit Robin still in front coming down the hill and travelling well enough, while Noel Fehily was biding his time in the saddle on the favourite.
The dual Champion Chase hero engaged top gear rounding the final bend and fairly sprinted clear to win as he liked as the 10-11 market leader, beating Petit Robin by eight lengths, with Somersby third.
Fehily, whose return to action at Cheltenham on Friday after a wrist injury had been in doubt until 11th-hour clearance from the authorities, said: "That was brilliant - it's been a fairly trying week, but it has all paid off. He's electric, he jumped brilliantly again today.
"There was so much pace on early and I was slightly worried at one stage, but I was so sure they had gone too fast and so I sat for a while.
"He really picked them up. He's very good and has so much class. He was brilliant over the last, he's such a good jumper."
Delighted trainer Paul Nicholls said: "He had a breathing operation in the summer as I was convinced that is what was stopping him. It has made a big difference to him.
"I was really nervous beforehand, but it's great to have him back. He's improved enormously since Ascot - and to be fair I needed to see him put two runs together. Now he has come back and won twice like that, I'm a lot more confident ahead of the Champion Chase.
"What he will do now is have a little break and then go for the Victor Chandler at Ascot at the end of January. After that he'll go straight to the Champion Chase, he won't run anywhere else.
"It was a fantastic ride from Noel, he saw they had gone too fast but he was patient and knew what he was doing. I'm really pleased with that and it's great for all the team at home."
Position

Horse
Trainer
Jockey
Weight
Starting Price
Beaten Distance
1

Master Minded
P F Nicholls
N Fehily
11st 7lbs
10 - 11
Winner
2

Petit Robin
N J Henderson
B J Geraghty
11st 7lbs
6 - 1
8 lengths
3

Somersby
Miss H C Knight
Hadden Frost
11st 7lbs
13 - 2
1/2 length
4

I'm So Lucky
D Pipe
T Scudamore
11st 7lbs
22 - 1
12 lengths
5

Gauvain
Nick Williams
D Jacob
11st 7lbs
11 - 2
3/4 length
6

Mahogany Blaze
N A Twiston-Davies
S Twiston-Davies
11st 7lbs
40 - 1
2 3/4 lengths
7

Kalahari King
Ferdy Murphy
G Lee
11st 7lbs
9 - 1
7 lengths
8

Oiseau de Nuit
C L Tizzard
J Tizzard
11st 7lbs
66 - 1
6 lengths
9

Kinkeel
A W Carroll
E Dehdashti
11st 7lbs
250 - 1
distance
NonRunner

Twist Magic
P F Nicholls
S Thomas
11st 7lbs
-