PIPE NOW SIX BEHIND WALWYN'S RECORD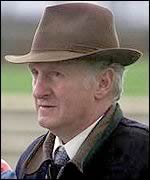 Martin Pipe
Following another two victories at The Festival in 2005, the record-breaking Martin Pipe is just half a dozen wins behind the late Fulke Walwyn in the list of most successful trainers at jump racing's biggest event.
Walwyn trained 40 Festival winners in a 40-year period between 1946 and 1986 victories but last season Pipe moved on to 34 successes following success for Contraband in the Irish Independent Arkle Trophy and Fontanesi in the Vincent O'Brien County Hurdle. The Somerset handler's inaugural Festival success came with Baron Blakeney in the 1981 JCB Triumph Hurdle.
Pipe is in turn six winners clear of his nearest current rival Nicky Henderson (28 winners), who enjoyed three successes at The Festival in 2005 and is now the joint third most successful trainer at The Festival.
Pipe and Henderson are some way clear of their rivals, with Irish handler Edward O'Grady (17 winners) the only other current trainer to have managed a dozen or more successes at The Festival.
THE MOST SUCCESSFUL TRAINERS OF ALL-TIME AT THE FESTIVAL
40 Fulke Walwyn (Winners from 1946-86)
34 Martin Pipe (1981- )
28 Nicky Henderson (1985- )
28 Fred Winter (1970-88)
26 Tom Dreaper IRE (1946-71)
25 Fred Rimell (1948-81)
23 Vincent O'Brien IRE (1948-59)
23 Bob Turnell (1956-80)
22 Ivor Anthony (1930-52)
19 George Beeby (1930-59)
17 David Nicholson (1986-99)
17 Edward O'Grady IRE (1974- )
15 Harry Brown (1920-38)
15 Tom Coulthwaite (1911-36)
15 Tom Rimell (1927-49)
14 Dan Moore IRE (1953-79)
13 Jack Anthony (1929-50)
13 Tim Forster (1963-98)
12 Peter Easterby (1967-86)
12 John Edwards (1969-94)
12 Tom Jones (1965-78)

(NB Trainers of some of the earliest winners were not recorded)
THE MOST SUCCESSFUL CURRENT TRAINERS AT THE FESTIVAL
34 Martin Pipe
28 Nicky Henderson
17 Edward O'Grady IRE
10 Paul Nicholls
10 Jonjo O'Neill
9 David Elsworth
9 Philip Hobbs
9 Willie Mullins IRE
7 Henrietta Knight
7 Nigel Twiston-Davies
6 Francois Doumen
6 Arthur Moore IRE
6 Oliver Sherwood
5 Jessica Harrington IRE
5 Dessie Hughes IRE
5 Mouse Morris IRE
5 Aidan O'Brien IRE

THE RACING POST LEADING TRAINER AWARD
The Racing Post is sponsoring the Leading Trainer Award for the first time in 2006 and this year should be as exciting as ever with trainers representing Great Britain, Ireland and France aiming for the prize.
Last year's leading trainer was Howard Johnson, who landed the spoils courtesy of the efforts of Arcalis, No Refuge and Inglis Drever.
Martin Pipe, Nicky Henderson, Philip Hobbs, Jonjo O'Neill and Paul Nicholls are again to be respected and will be fighting to finish The Festival 2006 as the most successful trainer while the challenge from Ireland is always strong.
The Award will be decided on the number of winners trained over the four days with prize money taken into consideration in the event of a tie.
Past Winners Of The Racing Post Leading Trainer Award (Number of Wins)
2005: Howard Johnson (3)
2004: Paul Nicholls (4)
2003: Jonjo O'Neill (3)
2002: Martin Pipe (3)
2001: Cancelled
2000: Nicky Henderson (4)
1999: Paul Nicholls (3)
1998: Martin Pipe (4)
1997: Martin Pipe (4)
1996: Ferdy Murphy, Edward O'Grady, Martin Pipe (2)
1995: David Nicholson (3)
1994: David Nicholson, Edward O'Grady, Martin Pipe (2)
1993: Nicky Henderson, Martin Pipe, Nigel Twiston-Davies (2)
1992: Nicky Henderson, David Nicholson, Simon Sherwood (2)
1991: Martin Pipe (3)
1990: Nicky Henderson (2)
1989: Toby Balding, John Edwards, David Elsworth, Josh Gifford, Martin Pipe (2)
1988: Josh Gifford (3)
1987: Toby Balding, Nicky Henderson, Fred Winter (2)
1986: Nicky Henderson (3)
1985: Nicky Henderson (3)
1984: Michael Dickinson (3)
1983: Michael Dickinson (3)
1982: Michael Dickinson, Fulke Walwyn (2)
1981: Peter Easterby (3)
1980: John Edwards, Edward O'Grady, Bob Turnell, Fred Winter (2)