Sea The New Star
02/05/09
1st (16) Sea The Stars 8/1
2nd (3) Delegator 3/1 (Fav)
3rd (6) Gan Amhras 15/2
Sea The Stars


© racing-images.co.uk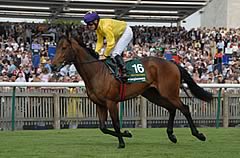 Sea The Stars lit up the Rowley Mile to land the 2009 stanjames.com 2000 Guineas in spectacular style.
Always travelling supremely well on the stands' side, the Cape Cross colt ran on strongly to record a length and a half victory over 3/1 favourite Delegator.
The winner, an 8/1 chance, is the latest foal out of the outstanding broodmare Urban Sea who herself won the 1993 Arc de Triomphe. Among Urban Sea's earlier progeny are the 2001 Derby winner Galileo.
This was a first stanjames.com 2000 Guineas success for Irish trainer John Oxx and was only his second runner in the Classic. For the jockey Michael Kinane this was a fourth success following Tirol (1990), Entrepreneur (1997) and King Of Kings (1998).
John Oxx said: "That was great. He travelled well throughout the race, as did Delegator on the other side of the track. He was travelling well from a long way out and just showed his inexperience going into the dip. The rising ground then really helped him. When he picked up, I knew he would be hard to beat as I knew he would run right to the end.
"We have always liked him. This year we also had Arazan as a possible Guineas horse and we fancied both but the ground came against Arazan.
"The ground came in this horse's favour and I thought we had a good each-way chance today. He is a similar horse to Azamour in many ways (who finished third in this race in 2004).
"The Derby will now be his next race. It was a bit of a rush to get him here today as he had a viral infection and didn't work well on soft ground last week. Now we have five weeks to freshen him up before Epsom.
"With Guineas winners there is always a debate as to whether they will stay in the Derby and looking at his pedigree, you could look at it either way. I think he has a fair chance of getting the trip and time will tell. He is a very good horse and has speed, which you need at Epsom.
"It means everything to have horses as good as this. I am delighted for his owners, they were unable to be here today but I know this will mean a lot to them.
"This horse has got everything and has a real presence in the yard. Horses like this get you out of bed in the morning. "
Oxx is always a picture of calm but confessed: "I am like a like a duck floating on a lake - a picture of calm on the top but under the water the legs are moving frantically!"
John Clark, racing manager to owners the Tsui family added: "Ling Tsui owned Urban Sea, who sadly died earlier this year. For the last eight years of her life Urban Sea boarded at the Irish National Stud.
"The family were unable to come today as Ling is in Vancouver, Christopher is in Malaysia and David is in Hong Kong. However, this will mean a lot to them and they will be coming to Epsom."
THE WINNING JOCKEY - MICK KINANE
49-year-old Mick Kinane, riding his fourth winner of the stanjames.com 2000 Guineas, was a happy man. He said: "Sea The Stars did not jump well as he was looking up at the starter - he was sort of half asleep.
"Then he was straight into his stride, quickly and beautifully. He travelled very well and was always going like the winner. I had a bit in reserve when Delegator came to challenge.
"All his life he has done everything easily. He is only going to get better after a race like that and with further racing. He will get quicker, more wise and hardened. He can only improve.
"I have had a good belief in this horse from when I sat on him first in May last year. He was a big gangly colt then and from that day I have been looking forward to the day that he matures - it has kept me really alive.
"He has done it well today - he coasted through the race and I was always going to win. We had a few hiccups prior with a temperature and whatever and we had to chase him a bit to get him here - we were just worried that it might have left its mark.
"He worked indifferently in midweek on heavy ground and we were worried until we worked him on a better surface on Thursday morning and he felt great and I said he had to be here.
"He is going to be a ride over a longer trip. He is a lovely balanced horse - I don't know if he is going to stay but he has all the qualities that a top horse has to have.
"He has a great nature and Epsom won't faze him as an occasion and he is going to be a great ride there.
"I want to win the Derby on him now. He has won this Classic which in turn is a Classic trial for the Derby. There is a shade of doubt about a son of Cape Cross getting a mile and a half but everything out of Urban Sea has had stamina - Galileo was one of them and Black Sam Bellamy another. She has been a hell of a mare and probably a bit more influential that the sire.
"I was surprised last year when John legged me up on Sea The Stars and told me he was a half-brother to Galileo - I said he should be a Ballydoyle!
"I have been excited about him since that day. The older you get, everyone is waiting for you to fall over and I am not ready to do that yet. I am really looking forward to this year. John is a lovely man to work for and it suits me well. We work off the same hymn sheet."
Position

Horse
Trainer
Jockey
Weight
Starting Price
Beaten Distance
1

Sea The Stars
J M Oxx
M J Kinane
9st 0lbs
8 - 1
Winner
2

Delegator
B J Meehan
J P Spencer
9st 0lbs
3 - 1
1 1/2 length
3

Gan Amhras
J S Bolger
K J Manning
9st 0lbs
15 - 2
3/4 length
4

Rip Van Winkle
A P O'Brien
J Murtagh
9st 0lbs
9 - 2
Neck
5

Mastercraftsman
A P O'Brien
P J Smullen
9st 0lbs
7 - 1
1 3/4 length
6

Evasive
Sir Michael Stoute
R L Moore
9st 0lbs
13 - 2
Head
7

Pure Poetry
R Hannon
R Hughes
9st 0lbs
66 - 1
1 3/4 length
8

Monitor Closely
P W Chapple-Hyam
A Munro
9st 0lbs
28 - 1
1/2 length
9

Finjaan
M P Tregoning
T P O'Shea
9st 0lbs
25 - 1
2 lengths
10

Ocean's Minstrel
J Ryan
J M O'Dwyer
9st 0lbs
100 - 1
1 1/4 length
11

Ouqba
B W Hills
R Hills
9st 0lbs
25 - 1
1 length
12

Lord Shanakill
K R Burke
Jim Crowley
9st 0lbs
14 - 1
6 lengths
13

Ashram
S Suroor
L Dettori
9st 0lbs
16 - 1
1 1/4 length
14

Cityscape
R Charlton
S Drowne
9st 0lbs
16 - 1
5 lengths
15

Imperial Guest
G G Margarson
J F Egan
9st 0lbs
150 - 1
distance
NonRunner

Zafisio
R Curtis

9st 0lbs


NonRunner

On Our Way
H R A Cecil
T P Queally
9st 0lbs


SEA THE STARS (IRE) - THE 8/1 WINNER
3 b c Cape Cross (IRE) - Urban Sea (USA) (Miswaki (USA))
3-9-00 Form: 411-1 Owner: Christopher Tsui
Trainer: John Oxx IRE Jockey: Michael Kinane Breeder: Sunderlands Holdings Ltd
Sea The Stars
A half-brother to the outstanding dual Derby winner and champion sire Galileo, Sea The Stars was bred by the Tsui Family's Sunderland Holdings Ltd and is owned by Christopher Tsui. Sea The Stars' dam Urban Sea won the Prix de l'Arc de Triomphe in 1993 in the colours of Christopher's father David and she subsequently became one of the most successful broodmares of the modern era with eight Black Type winners to her name. She died in 2009. Sea The Stars ran fourth on debut in a seven-furlong maiden at the Curragh in July before winning next time out in softer conditions at Leopardstown the following month. His final juvenile start came in the Group Two Beresford Stakes back at the Curragh at the end of September in which he beat stable-mate Mourayan. He won the stanjames.com 2000 Guineas in great style today.
Race Record: Starts: 4; 1st: 3; 2nd: 0; 3rd: 0; Win & Place Money: £311,612
FAVOURITE BRAVE IN DEFEAT AS DELEGATOR BEATEN BY STAR
Delegator


© racing-images.co.uk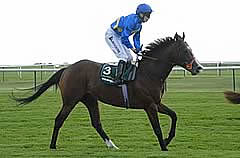 After an impressive win in the banshahousestables.com Craven Stakes, Delegator was a worthy favourite on the day in the stanjames.com 2000 Guineas but he found one too good in the form of Irish raider Sea The Stars.
Looking deflated but nonetheless happy with the 3/1 shot's run, trainer Brian Meehan said: "I'm very pleased with him. He battled well and has run a very good race.
"I've no complaints. He's proved he's top class and that's what we thought so we can only be delighted with him."
Jockey Jamie Spencer added: "He's run a massive race and there are no excuses.
" I could have wished for good ground - it got a bit quick for him between the two-furlong pole and the furlong marker."
GUINEAS THIRD LIKELY TO TARGET DERBY
Gan Amhras


© racing-images.co.uk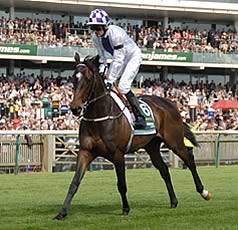 Gan Amhras, who finished third in the stanjames.com 2000 Guineas, is likely to be aimed at the Derby at Epsom Downs on the first Saturday in June.
Trainer Jim Bolger said: "Kevin Manning is certain that Gan Amhras will be suited by going a bit further and the race today was a Derby trial for him."
Two of the last three Derby winners have run previously in the stanjames.com 2000 Guineas. Both New Approach, trained by Bolger, and Sir Percy finished second in Newmarket Classic before winning at Epsom Downs in 2008 and 2006 respectively.
BOOKMAKERS CUT SEA THE STARS FOR THE DERBY
Corals went the top price of 5/1 (from 10/1) about Sea The Stars for the Derby at Epsom Downs next month while Sky Bet offered 9/2.
Ladbrokes and Blue Square were more impressed at 5/2, with other bookmakers in between.