Special Duty Wins 1000 Guineas After Enquiry
02/05/10
1 (18) Special Duty 9/2 (F)
1 (7) Jacqueline Quest 66/1
3 (4) Gile Na Greine 25/1
French raider Special Duty won the StanJames.com 1000 Guineas in dramatic circumstances after being awarded the race following a stewards' enquiry.
Special Duty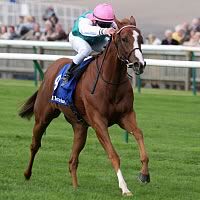 Prince Khalid Abdulla's Special Duty finished a nose behind 66/1 chance Jacqueline Quest, trained by Henry Cecil, but after an enquiry into interference she received the race.
It was the first time since the 1980 2000 Guineas (when Nureyev was disqualified and Abdulla's Known Fact was promoted to first) that the result of a Classic has been decided in the stewards' room and winning trainer Criquette Head-Maarek admitted that the circumstances of her success were far from ideal.
"Stephane (Pasquier) said she would have won if it was not for the other horse hanging into her. That filly drifted and drifted but I don't like to win a race like this," said Head-Maarek.
"I think she proved today that she was the best and in our country she would have kept the race but I never thought they would stand the other filly down in this country. I never thought about objecting, I have never objected in my life.
"I suppose the other filly's connections will be very annoyed and you always like to win a race truly but I'm very happy. There is someone up there looking down, a French God! She is a great filly and has a heart as big as herself.
"She had a bad winter and I wasn't worried that she was beaten in her prep. We had to be 100 per cent today but she was beaten in the prep by two fillies trained in south-west France where the weather had been warmer.
"She'll go back in the tunnel tonight and we've got two weeks this year until the French Guineas and so maybe we could do that. I will have to speak to the Prince and see what he thinks."
Pasquier added: "She was very relaxed behind and showed a superb turn of foot. I deserved to win and she has proved what a good filly she is today.
"It is difficult to win a race like this and I would prefer to win properly, this is a different sensation but she definitely deserved it. I'm just happy for my filly and she showed something special today.
"My big question before the race was whether she stayed the trip and today she showed she did."
This was the trainer's fourth StanJames.com 1000 Guineas success. The French have taken both StanJames.com-sponsored Guineas this year following Makfi's success in the 2000 Guineas yesterday and this was the first time since 1900 that this has happened and probably ever.
Position

Horse
Trainer
Jockey
Weight
Starting Price
Beaten Distance
1 (Disqualified)

Jacqueline Quest
H R A Cecil
T P Queally
9st 0lbs
66 - 1
Winner
2

Special Duty
Mme C Head-Maarek
S Pasquier
9st 0lbs
9 - 2
Nose
3

Gile Na Greine
J S Bolger
K J Manning
9st 0lbs
25 - 1
Head
4

Sent From Heaven
B W Hills
M Hills
9st 0lbs
33 - 1
1/2 length
5

Distinctive
B Smart
T Eaves
9st 0lbs
66 - 1
5 lengths
6

Music Show
M R Channon
R L Moore
9st 0lbs
7 - 1
3/4 length
7

Rumoush
M P Tregoning
R Hills
9st 0lbs
7 - 1
3/4 length
8

Habaayib
E A L Dunlop
T P O'Shea
9st 0lbs
40 - 1
4 lengths
9

Blue Maiden
P J McBride
J P Spencer
9st 0lbs
12 - 1
1 3/4 length
10

Lady Darshaan
J S Moore
William Buick
9st 0lbs
25 - 1
2 1/4 lengths
11

Pollenator
R Hannon
R Hughes
9st 0lbs
8 - 1
5 lengths
12

Seta
L M Cumani
K Fallon
9st 0lbs
13 - 2
1 length
13

Pipette
A M Balding
J Fortune
9st 0lbs
12 - 1
2 1/2 lengths
14

Nurture
R M Beckett
Jim Crowley
9st 0lbs
40 - 1
3 1/4 lengths
15

Devoted To You
A P O'Brien
J Murtagh
9st 0lbs
11 - 1
3 1/2 lengths
16

Hibaayeb
S bin Suroor
L Dettori
9st 0lbs
12 - 1
Short Head
17

Misheer
C E Brittain
N Callan
9st 0lbs
28 - 1
11 lengths
NonRunner

Puff
R M Beckett
Jim Crowley
9st 0lbs


CECIL TAKES IT ON THE CHIN
Henry Cecil paid tribute to the connections of Special Duty following the demotion of Jacqueline Quest to second place in the StanJames.com 1000 Guineas.
Cecil, who would have won his seventh renewal of the Classic if Jacqueline Quest had kept the race, said: "If our filly took Special Duty across the course, then Special Duty deserved to win. Jacqueline Quest ran really well and is improving.
"Maybe I will get my own back at Royal Ascot. I am pleased for Criquette and the Prince (Khalid Abdullah, owner of Special Duty) but I would obviously rather have won the race myself."
NUNNELEY EXPLAINS WHY THE RACE HAD TO GO TO SPECIAL DUTY
Stipendiary Steward William Nunneley, explained the reasoning behind the reversal of the placings by the stewards. He said: "The question we had to consider is whether Special Duty lost her chance of winning due to interference.
"We looked at the film and Jacqueline Quest drifted right. They touched and she continued to go across. Tom Queally had his whip in his left hand and Jacqueline Quest continued to drift.
"The distance was a nose, which is just a pixel on the photograph. It was not a hard decision for us to make in that it was that small a margin.
"We have suspended Tom Queally for three days (May 16 to 18) for careless riding.
"It is unfortunate when things like this happen but we have to administer the rules as we would with any race."
JACQUELINE ON A QUEST FOR ASCOT GLORY AFTER GUINEAS HEARTBREAK
"We'll try to get our revenge at Ascot," a defiant Henry Cecil told owner Noel Martin seconds after the announcement that the finishing positions of the first two fillies home in the StanJames.com 1000 Guineas had been reversed.
With Jacqueline Quest having been led in to the winner's position, Cecil had said as he waited for the result of the stewards' enquiry: "I didn't think she'd get the trip and she's only really just come to hand. It was Noel's (Martin, owner) decision to run her and I just didn't think she'd get the mile. I still don't think she's quite there yet. She'll be a lovely filly for the Coronation (Stakes at Royal Ascot).
"All credit to Noel. He was right and I was wrong. I'm always wrong. I didn't think this would be her day."
Owner Noel Martin said: "I was convinced she could do it with the way she won last year and ran in the trial. I thought if we held her up a bit maybe she'd get the mile. She's bred to get the trip.

"Nothing's 100 per cent but I got the idea in my head that maybe she could do it. Maybe has turned into reality. I always thought a lot of the horse. I named her after my wife who died two years ago. We waited a long time to find the right one."
On hearing the result of the enquiry, Martin added: "She was first past the post and she's still the winner to me."
QUEALLY TAKES STEWARDS' DECISION WITH GOOD GRACE
Tom Queally reacted to losing the StanJames.com 1,000 Guineas, which would have been his first Classic victory, in the stewards' room with admirable equanimity, saying: "When I saw the photo finish I was a bit surprised and then delighted. I didn't think I'd lose it in the stewards' room even though you can't count your chickens before they hatch."
Jacqueline Quest was first past the post with Queally aboard, finishing just a nose ahead of the eventual winner Special Duty.
He continued: "It's obviously disappointing but it's not a tragedy. There are far worse things going on in the world. You can't dwell on the past or get bogged down by defeats or bad days. Of course it was a bad day and I'm so sorry for the owner but the filly that won the race is obviously very good and best of luck to them with her.
"I'm sure something good will come out of it, maybe even at Ascot, but she's run really well. If I go around with a long face it won't achieve anything. We just have to look ahead to the next time. Hopefully I'll be in the position when we're on top again."
Kevin Manning, rider of third-placed Gile Na Greine said: "She has run a very good race. She hit a flat spot going into the dip but was putting in her best work over the last 100 yards."
Her trainer Jim Bolger added: "A mile is the bare minimum for her and I wish the race was over nine furlongs. She stays well and could go for the Musidora at York. She could be an Oaks filly.
"She probably ran as well as her sister (runner-up Cuis Ghaire) last year."
BEATEN JOCKEY QUOTES FROM THE StanJames.com 1000 GUINEAS
Michael Hills, jockey of the fourth, Sent From Heaven, said: "She has run a blinder. It was a marvellous performance because we have struggled because of the cold weather and she is not really at her peak at the moment."
Richard Hills rider of seventh-placed Rumoush said: "We travelled to halfway and then hit a little bit of a flat spot but stayed on at the end."
Tadhg O'Shea rider of eighth-placed Habaayib said: "I got a lovely run through the race she travelled well. She was close enough and good enough, but is possibly better at a furlong shorter. She has definitely trained on and there are some lovely races to be won with her."
Kieren Fallon jockey of 12th-placed Seta said: "I was in the wrong place - we were a mile behind and never had a chance to make up the ground from there. She will be back."
Jim Crowley jockey of Nurture, who came 14th, said: " I'm not disappointed - it was her first run of the year and I'm sure she will come on for it and maybe over a bit further."
Johnny Murtagh rider of Devoted To You, who came 15th, said: "She ran badly, I can't explain it I was gone by halfway. I couldn't blame the ground as she was never on the bridal."
Frankie Dettori rider of the 16th Hibaayeb said: "A mile is far too sharp for as she needs a trip."
Neil Callan rider of the last placed Misheer said: "She has too much natural speed. She ran a bit gassy early on then dropped her head half way, but these are championship races and you need to conserve it- not use it early."
Site dedicated to the first three year old Classic of the British flat racing season. Includes information on past winners, entries, runner form, trainer and jockey stats and latest betting odds and market movers.