Hedgehunter Wins John Smith's Grand National
09/04/05
Ruby Walsh was the punters pal again as he gave the favourite Hedgehunter a masterful ride to make amends for last year's last-fence fall. He hunted up the leaders just off the pace throughout before taking it up with three to jump, and from then on was always in command.
Hedgehunter


© racing-images.co.uk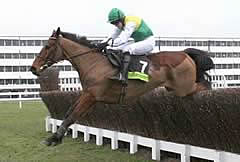 He had the luxury of a look round at the elbow before sauntering home clear of Royal Auclair, Simply Gifted and It takes Time, with Carrie Ford a gallant fifth on Forest Gunner. Once again though, the race managed to elude Tony McCoy who was leading the field when hampered by a loose horse at Bechers. The champion was unseated and made to rue his luck once again.

Of the other fancied runners, Strong Resolve made a mistake at the water and was never able to recover, while Double Honour was prominent when falling, and Gold Cup second Take The Stand suffered the same fate. However, 21 of the 40 that set out made it safely back, with Nil Desperandum 6th, Innox 7th, Heroes Collonges 8th, Just In Debt 9th and Amberleigh House 10th, notable finishers.

Ruby Walsh also won the National on Papillon in 2000 and has many more years left to add to that brace of victories in the world's most famous race.

4.10pm THE 2005 JOHN SMITH'S GRAND NATIONAL
Class A, Grade Three , £700,000 Guaranteed, 4m 4f. For 6yo+, which are allotted a rating of 110 or more. Minimum weight: 10st. Penalty Values: 1st: £406,000; 2nd: £154,000; 3rd: £77,000; 4th: £35,000; 5th: £17,500; 6th: £10,500

1) HEDGEHUNTER (Trevor Hemmings) Willie Mullins IRE 9-11-01 Ruby Walsh 7/1 Fav

2) ROYAL AUCLAIR (Clive Smith) Paul Nicholls t8-11-10 Christian Williams 40/1

3) SIMPLY GIFTED (Steve Hammond) Jonjo O'Neill 10-10-06 Brian Harding 66/1

4) IT TAKES TIME (David Johnson) Martin Pipe 11-10-11 Timmy Murphy 18/1

5) FOREST GUNNER (John Gilsenan) Richard Ford 11-10-07 Carrie Ford

6) NIL DESPERANDUM (Mike Shone) Franes Crowley IRE 8-10-11 Jim Culloty

7) INNOX (J P McManus) Francois Doumen FR b9-10-06 Robert Thornton

8) HEROS COLLONGES (John Hales) Paul Nicholls 10-10-11 J P McNamara

9) JUST IN DEBT (Bill Hazledean) Martin Todhunter 9-10-07 Tony Dobbin

10) AMBERLEIGH HOUSE (Halewood International Ltd) Ginger McCain 13-11-03 Graham Lee

11) BINDAREE (Raymond Mould) Nigel Twiston-Davies 11-11-03 Carl Llewellyn

12) IZNOGOUD (Country Stores & Avalon Surfcing) Martin Pipe 9-10-09 Tom Scudamore

13) POLAR RED (Lady Clarke) Martin Pipe 8-10-08 Tom Malone

14) JOLY BEY (David Dunsdon) Nick Gifford t8-10-10 Mr David Dunsdon

15) L'AVENTURE (Chris Harriman) Paul Nicholls tb6-10-05 Robbie McNally

16) MONTY'S PASS (Dee Racing Syndicate) Jimmy Mangan IRE 12-11-06 Barry Geraghty

17) STRONG RESOLVE (Fair City Flyers) Lucinda Russell 9-10-06 Peter Buchanan

18) SPOT THEDIFFERENCE (J P McManus) Enda Bolger IRE 12-10-07 Robbie Power

19) ARCTIC COPPER (Grand Alliance Racing Club) Noel Meade IRE p11-10-06 Davy Russell

20) EUROPA (Trevor Hemmings) Ferdy Murphy 9-10-06 Jason Maguire

21) SHAMAWAN (J P McManus) Jonjo O'Neill 10-10-06 Shay Barry

F1) LORD ATTERBURY (David Johnson) Martin Pipe 9-10-06 Mark Bradburne

UR 1) FRENCHMAN'S CREEK (Rory Sweet & Panda Christie) Hughie Morrison 11-10-09 Jimmy McCarthy

UR 2) RISK ACCESSOR (J P McManus) Christy Roche IRE t10-11-04 Alan Crowe

UR2) BALLYCASSIDY (Roddy Owen & Paul Fullager) Peter Bowen 10-11-05 Seamus Durack

UR 9 NATIVE EMPEROR (Jonathan, Jeremy & S R Hitchins) Jonjo O'Neill t9-10-05 Dominic Elsworth

F10) MERCHANTS FRIEND (Magic Moments) Charlie Mann p10-10-06 Noel Fehily

UR 15) TAKE THE STAND (The Courters) Peter Bowen 9-11-05 Leighton Aspell

F20) FOLY PLEASANT (Nick Shutts) Karen Marks t11-11-00 Andrew Thornton

UR 21) DOUBLE HONOUR (The 4th Middleham Partnership) Philip Hobbs b7-10-08 Paddy Brennan

F22) AD HOC (Sir Robert Ogden) Paul Nicholls 11-10-12 Joe Tizzard

UR 22) MARCUS DU BERLAIS (Marcus Beresford) Arthur Moore IRE 8-10-05 Barry Cash

REF 22) BALLYBOUGH RASHER (B D R Partnership) Howard Johnson 10-11-04 Alan Dempsey

REF 22) CLAN ROYAL (J P McManus) Jonjo O'Neill 10-10-11 Tony McCoy

PU BEF 27) COLNEL RAYBURN (Thatch (Ferns) Racing Syndicate) Paul Nolan IRE 9-10-07 Paul Carberry

PU BEF 19) JAKARI (The Earl Cadogan) Henry Daly 8-10-10 Richard Johnson

PU BEF 28) FONDMORT (Bill Brown) Nicky Henderson 9-11-06 Mick Fitzgerald

PU BEF13) ASTONVILLE (Fergus Wilson) Michael Scudamore 11-10-13 Brian Crowley

PU BEF 21) LE COUDRAY (J P McManus) Christy Roche IRE t11-11-12 Conor O'Dwyer

PU BEF 28) GLENELLY GALE (Frank Bradley) Arthur Moore IRE 11-10-11 Mr Tom Greenall

40 ran Non-Runner: Turnium (Vet's Certificate) - replaced by first reserve Native Emperor

Time 9 20.80s, no reported injuries to any horses or riders,

Breeder: J A Keogh Breeding: b g Montelimar (USA) - Aderedw Tote Win: £8 Places: £2.60, £13.10, £13.40, £4.70 Exacta: £612.70 Dist: Distances, 14, hd, 4, 9, 0.5, 11, 3.5, 2.5, 5, 1.5, 1, 1.25, 9, 15, 5, 6, 16, 17, 21, 19 S39.

HEDGEHUNTER (IRE) FACTFILE
9 b g Montelimar (USA) - Aberedw (IRE) (Caerwent)

9-10-12 Form: 2222/242621/223102/431F-024061
Owner: Trevor Hemmings
Trainer: Willie Mullins IRE Breeder: J A Keogh Jockey: Ruby Walsh

Hedgehunter
Few horses can match the consistency of Hedgehunter, who has finished in the first four on 20 of his 26 starts. His career began in February, 2001, in bumpers with four seconds. He started the 2001/2002 campaign over hurdles, adding another '2' to his form figures when going down by five lengths to Goss in a maiden event at Punchestown in November, 2001. He mixed hurdling with another couple of bumper runs and it was on his 10th start that he registered a first success when coming home 20 lengths clear on heavy ground in a Clonmel maiden hurdle in February, 2002. He was sent chasing in the 2002/03 season and his form has progressed to a new level over the larger obstacles. Two seconds and a third in novice and beginners' chases were followed by an 11-length win in the Grand National Trial Handicap at Punchestown on February 2, 2003, and he then travelled to Cheltenham for the four-mile National Hunt Chase where he was going exceptionally well before a mistake two out almost brought him down. That season was rounded off by finishing three-and-a-half lengths second to stablemate Rule Supreme in the Colm McEvoy Auctioneers Handicap Chase at Punchestown. Last season began with a second visit to Britain when finishing a good fourth to Strong Flow in the Hennessy Cognac Gold Cup at Newbury and continued with third place, 23 lengths behind Bindaree, in the Coral Welsh National at Chepstow on December 27 before an eight-length win in the Thyestes Handicap Chase at Gowran Park on January 22. He then headed for the John Smith's Grand National and ran a game from the front, looking assured of at least a place when falling at the last. This season his first five races came over hurdles, with his best effort being a second at Thurles in December. Last time out he returned to fences and put himself firmly in the picture for another crack at the John Smith's Grand National when landing the Grade Three Bobbyjo Chase at Leopardstown on February 19, proving a length and a half too strong for Pizarro. Race Record: Starts: 26; Wins: 4; 2nd: 11; 3rd: 2; Win & Place Prize Money: Ù108,558

Trevor Hemmings
Trevor Hemmings boasts a classic rags to riches story. Hailing from Lancashire, he began life as a bricklayer's apprentice and rapidly worked his way up the Pontins holiday business to the extent that he was able to sell it on to Scottish & Newcastle in exchange for a significant share holding in S & N. He is no longer an S & N director, although he still has a substantial stake. He is also a major shareholder in Arena Leisure Plc, which owns Folkestone, Lingfield, Southwell, Wolverhampton and Windsor racecourses and manages Doncaster and Worcester. Arena is also a major shareholder in the At The Races company that owns some of British racing's media rights. Hemmings' many other interests include Blackpool Tower and the Winter Gardens, where he is behind plans to develop the 'Las Vegas of the North.' His empire also includes hotels, a wallpaper business and in June, 2000, another company in which he has a major share, Rodime Plc, paid Ù161 million for the Littlewoods pools business, which includes the bookmaker Bet Direct. He was said to be worth Ù730 million in the 2005 Sunday Times Rich List. In recent years he has stepped up his involvement in racing and a big ambition for the locally-born Hemmings is to emulate his mentor Fred Pontin, owner of the 1971 National hero Specify. His first winner came on the Flat in 1985 but Hemmings now brings on young stock at Gleadhill House Stud, managed by former trainer Mick Meagher, at his base at Chorley in Lancashire, and at his Monymusk Stud in Co Cork. Sadly one of Hemmings' best horses, Young Kenny, whom he purchased in the summer of 2000, sustained an injury and had to be put down when competing in the 2001 De Vere Gold Cup at Haydock and he purchased leading hope Beau for an undisclosed sum a few days before the 2002 race - only to see the horse unseat Carl Llewellyn at the 14th fence. His horses are split between Sue Smith, Nicky Henderson, Henrietta Knight, Nicky Richards, Henry Daly, Willie Mullins, Jonjo O'Neill, Peter Beaumont, Ferdy Murphy, Chris Grant and with Eric Alston on the Flat while he has predominantly younger stock with Eugene O'Sullivan in Ireland. Hemmings resides in the Channel Islands and is said to have paid Ù12 million for the Ballavodan estate on the Isle Of Man. Grand National Record (since 1980): 1992 Rubika (14th); 2000 The Last Fling (7th); Esprit De Cotte (Fell 22nd); 2001 The Last Fling (UR 5th), Esprit De Cotte (UR 11th); 2002 Goguenard (Fell 1st), Beau (UR 14th); 2003 Southern Star (14th), Chives (PU bef 12th); 2004 Artic Jack (Fell 1st), Southern Star (PU bef 9th), Hedgehunter (Fell 30th)

Willie Mullins IRE
Born September 15, 1956, Willie Mullins was six-times amateur champion rider in Ireland and his major successes in the saddle included the 1983 John Smith's Fox Hunters' Chase at Aintree on Atha Cliath. He hails from one of Ireland's most famous racing families, the son of Paddy Mullins, the now retired outstanding all-round trainer, whose most famous star will always be Dawn Run, winner of the 1984 Champion Hurdle and Cheltenham Gold Cup two years later. Willie Mullins rode and trained Wither Or Which to win the 1996 Weatherbys Champion Bumper, the Cheltenham Festival race in which he has saddled five winners (also Florida Pearl 1997, Alexander Banquet 1998, Joe Cullen 2000 and Missed That this year). His best horse to date has been Florida Pearl, who has been placed in two Cheltenham Gold Cups, won the 1998 Royal & SunAlliance Chase, the 1999, 2000, 2001 and 2004 Irish Hennessy Cognac Gold Cups as well as the 2001 King George VI Chase and the 2002 Betfair Bowl at Aintree. Mullins, who began training in 1988, has around 100 horses at his Closutton yard at Bagenalstown in Co Carlow and his first John Smith's Grand National runner as a trainer, Micko's Dream, fell at the first in 2000 although as a jockey his rides included The Ladys Master, who ran out in 1983, and Hazy Dawn, who fell at the sixth the following year. The loquacious Mullins, a former chairman of the Irish Trainers' Federation, enjoyed success at the 2002 Cheltenham Festival with Scolardy in the JCB Triumph Hurdle. Unfortunately later in the year Mullins' second contestant in the John Smith's Grand National, Alexander Banquet, unseated Barry Geraghty at the sixth obstacle, although the trainer did gain compensation with Florida Pearl's victory in that year's Betfair Bowl. He also suffered heartache in 2004 when Hedgehunter departed at the final fence in the John Smith's Grand National when looking assured of a place. Mullins saddled Rule Supreme to win the Royal & SunAlliance Chase at the 2004 Cheltenham Festival and sent out the same horse to win the Irish Hennessy in 2005. John Smith's Grand National Record: 2000 Micko's Dream (Fell 1st); 2002 Alexander Banquet (UR 6th), 2004 Alexander Banquet (Fell 18th); Hedgehunter (Fell 30th)

Ruby Walsh
Born May 14, 1979, and based in Co. Kildare, Ireland, he is the son of 11-times Irish amateur champion jockey, Ted Walsh, who is now an established trainer and television pundit. Ruby is the second of Walsh's four children, and is associated with the powerful stables of Willie Mullins in Ireland and Paul Nicholls in Britain, having spent time with Noel Meade and Aidan O'Brien. Walsh coasted home as the champion Irish National Hunt jockey in 1998/99 in his first season as a professional rider, winning 96 races in the process, and regained the title in 2000/2001 with 85 successes. He had previously followed in his father's footsteps, finishing champion amateur jockey at the age of 19 despite still studying for his Leaving Certificate. He was injured in a fall in October, 1999, in the Czech Republic, fracturing a leg which kept him out for five months until March, 2000, and less than a month later won the John Smith's Grand National on his first ride in the race on Papillon, trained by his father. Later in the same month Walsh picked up a Grand National double when partnering Commanche Court to victory in the Irish equivalent. He finished fourth on Papillon after remounting in the 2001 John Smith's Grand National and was again fourth last year on Kingsmark. Walsh, who is based in Ireland but flies over to partner most of Nicholls's runners, was leading rider at last season's Cheltenham Festival, where his successes were headed by Azertyuiop in the Queen Mother Champion Chase. This season he has ridden 100 winners in Ireland for the first time as well as winning the Welsh Grand National on Silver Birch, Thisthatandtother in the Daily Telegraph Chase, the Game Spirit Chase on Azertyuiop and the Peterborough Chase on Le Roi Miguel. Grand National Record: 2000 PAPILLON (1st); 2001 Papillon (4th); 2002 Kingsmark (4th); 2003 Shotgun Willy (PU bef 22nd).