What the Jockeys said
09/04/05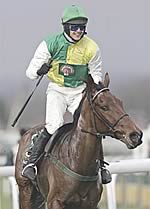 Ruby Walsh (Hedgehunter, 1st): "He gave Valentines first time a fair old clout, but after that he was going super all the way. I thought to myself that whatever happens I wouldn't move until the elbow. When we got there, away he went - brilliant."
Christian Williams (Royal Auclair, 2nd): "It was a great first Grand National ride. All he wants to do when he goes out there is please you. It was great performance under 11st 10lb as well."
Brian Harding (Simply Gifted, 3rd): "He jumped like a buck and gave me the most brilliant ride. He never missed a fence. It was a terrific buzz."
Timmy Murphy (It Takes Time, 4th): "I am delighted and he tried his heart out. I could not have wished for better. They went a sensible enough pace and he couldn't have run any better."
Carrie Ford (Forest Gunner, 5th): "It was brilliant to get round, and it was only at the last that we found out that he didn't stay, but guts and determination saw him through to the end."
Robert Thornton (Innox, 7th): "He gave me a cracking ride and jumping three out I thought I would be in the first four. But he did not quite see it out."
JP McNamara (Heros Collonges, 8th): "He gave his all and gave me a great ride. He is so intelligent for a big horse."
Tony Dobbin (Just In Debt, 9th): "I had a brilliant ride and three out I thought we were in with a great chance but he didn't get home."
Graham Lee (Amberleigh House, 10th): "All credit to the horse as he was a year older. We never looked like getting to the leaders. But he ran a great race."
Tom Scudamore (Iznogoud, 12th): "I got round but he just took time to get going again after making a mistake at the first. He scared himself there but warmed to the task and jumped well on the final circuit."
Tom Malone (Polar Red, 13th): "That was my first ride in the race and it was the thrill of my life. The horse gave me so much confidence but his stamina was tested."
David Dunsdon (Joly Bey, 14th): "I thought we were going to win at Becher's (the second time) but he just ran out of gas."
Barry Geraghty (Monty's Pass, 16th): "I don't think the horse was a 100 per cent and I was a bit worried that he wasn't right behind. He jumped alright but just flattened out, which may be age, but I'm not making any excuses."
Davy Russell (Arctic Copper, 19th): "I had a great spin but he didn't last as long as I would have liked."
Mark Bradburne (Lord Atterbury, fell 1st): "He didn't get high enough and that was it."
Jimmy McCarthy (Frenchman's Creek, unseated 1st): "He seemed to jump well enough but left his foot in the back of it and that was that."
Seamus Durack (Ballycassidy, unseated rider 2nd): "He was going to put in a short one, but slipped into it and we landed on top of the fence."
Dominic Elsworth (Native Emperor, unseated rider 9th): "He was never really travelling."
Noel Fehily (Merchants Friend, fell 10th): "He jumped great up until the 10th where he fell and I got kicked on the back of the head but it is nothing serious."
Brian Crowley (Astonville, pulled up before 13th): "He lost his action and I had to pull him up."
Leighton Aspell (Take The Stand, unseated 15th): "I had a good ride until he came down, which was disappointing as if he had been going badly it would have been a lucky escape but he was going well. He got it wrong and that was that. I was still travelling well but who knows what would have happened?"
Richard Johnson (Jakari, pulled up before 19th): "He gave me a good ride. He nearly knuckled over at the first and probably just frightened himself a bit. We'll try again next year."
Andrew Thornton (Foly Pleasant, fell 20th): "He was going alright and his jumping was grand, but he just left his hind legs in and sprawled on landing."
Joe Tizzard (Ad Hoc, fell 22nd): "He was travelling well and jumping great until he fell."
Barry Cash (Marcus Du Berlais, unseated rider 22nd): "A horse fell in front of us and he ducked away to avoid it and I fell off."
Tony McCoy (Clan Royal, carried out 22nd): "He was always jumping well and travelling well but when we got going to Becher's for the second time I could see the loose horses in front of me. They seemed to be going one way or the other but basically to the right, so I went to the left to try and avoid them and they then turned left and cut right across me."
Mick Fitzgerald (Fondmort, pulled up 28th): "He gave me the best ride I have ever had around here. He just did not stay."
Tom Greenall (Glenelly Gale, pulled up before 28th): "It was a great thrill but he just did not last home and we pulled up."