3.15pm totesport CHELTENHAM GOLD CUP
Kicking King


© racing-images.co.uk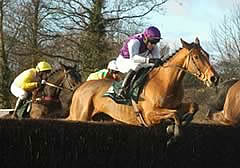 Class A, Grade One, £365,980 Guaranteed. For 5yo+, 3m 2.5f. Weights: 5yo 11st; 6yo+ 11st 10lb. Allowances: mares 7lb. Penalty Values: 1st: £212,268.40; 2nd: £80,515.60; 3rd: £40,257.80; 4th: £18,299; 5th: £9,149.50; 6th: £5,489.70
1) KICKING KING (Conor Clarkson) Tom Taaffe IRE 7-11-10 Barry Geraghty 4/1 Fav
2) TAKE THE STAND (The Courters) Peter Bowen 9-11-10 Tony Dobbin 25/1
3) SIR REMBRANDT (Alan Hordle) Robert Alner 9-11-10 Andrew Thornton 12/1
4) ROYAL AUCLAIR (Clive Smith) Paul Nicholls t8-11-10 Christian Williams
5) GREY ABBEY (The Roper Family & Norman Furness) Howard Johnson 11-11-10 Graham Lee
6) STRONG FLOW (Barry Marshall) Paul Nicholls 8-11-10 Ruby Walsh
7) CELESTIAL GOLD (David Johnson) Martin Pipe 7-11-10 Timmy Murphy
8) BALLYCASSIDY (R Owen & P Fullager) Peter Bowen 9-11-10 Seamus Durack
9) THEREALBANDIT (David Johnson) Martin Pipe 8-11-10 Tony McCoy
10) ASTONVILLE (Fergus Wilson) Michael Scudamore 11-11-10 Tom Scudamore
F 17) PIZARRO (Edward Wallace) Edward O'Grady IRE v1 8-11-10 Davy Russell
PU) BEEF OR SALMON (Joe Craig) Michael Hourigan IRE 9-11-10 Paul Carberry
PU) TIUTCHEV (The Liars Poker Partnership) Martin Pipe 12-11-10 Robert Thornton
PU) TRUCKERS TAVERN (Mrs M B Scholey) Ferdy Murphy t10-11-10 Brian Harding
PU) VENN OTTERY (Oliver Carter) Martin Pipe t10-11-10 Jamie Moore
15 ran Non-Runner: Rule Supreme (Vetís Certificate)
Breeder: Sunnyhill Stud Breeding: b g Old Vic - Fairy Blaze (IRE) (Good Thyne)
Dist: 5, 8, nk, 9, 1.25, .5, 14, 11, dist
Tote Win: £4.40 Places: £2.30; £6.20; £2.80 Exacta: £131.90
Winning Trainer: Tom Taaffe Big Race Wins include: Byrne Group Plc Novicesí Hurdle (2003 Kicking King); Arkle Perpetual Challenge Cup Novicesí Chase (2004 Kicking King); Champion Chase (2004 Kicking King); John Durkan Memorial Punchestown Chase (2004 Kicking King); King George VI Chase (2004 Kicking King) Background: Former jockey, following father Pat into the saddle, who rode 400 winners. His father partnered Arkle to his three victories in the totesportsport Cheltenham Gold Cup in 1964, 1965 and 1966 and won the race again as a jockey on Fort Leney in 1968. Pat also won chasingís Blue Riband as a trainer with Captain Christy in 1974 Cheltenham Festival Wins (1): totesport Cheltenham Gold Cup (2005 Kicking King)
Winning Jockey: Barry Geraghty Born: September 16, 1979 Background: one of six children from a "horse-mad" family in Drumree. His father Tucker was a useful amateur rider and trains a few horses in addition to his riding school and livery yard while his brothers Ross and Norman are both jockeys. The former won the 2002 Irish Grand National on The Bunny Boiler, while Norman is an amateur who doubles as a farrier. Barry has a background in pony racing, riding his last winner in that arena in September, 1996, before becoming apprenticed to Noel Meade that month and having his first ride the following month. Based: Drumree, County Meath, Ireland First Winner: Stagalier (EBF Maresí Maiden Hurdle, Down Royal, January 29, 1997) Cheltenham Festival Wins (9): Irish Independent Arkle Chase (2002 Moscow Flyer), William Hill Trophy Chase (2003 Youlneverwalkalone), Pertemps Final (2003 Inching Closer), Queen Mother Champion Chase (2003, 2005 Moscow Flyer), JCB Triumph Hurdle (2003 Spectroscope), County Hurdle (2003 Spirit Leader), Ladbrokes World Hurdle (2004 Irisís Gift) Big Race Wins: Grand National (2003 Montyís Pass), Midlands Grand National (1998 Miss Orchestra), Melling Chase (2004 Moscow Flyer), Royal Bond Novicesí Hurdle (1999 Moscow Flyer), Evening Herald Champion Novicesí Hurdle (2000 Moscow Flyer), Intervet Trophy (2002 Stormez), Paddy Power Gold Cup (2002 Cyfor Malta), Vodafone Gold Cup (2004 Isio), Tingle Creek Chase (2003 & 2004 Moscow Flyer) Wins in Britain in 2002/3-2003/4: 26; 13 Wins This Season (In Britain): 9 Second win of The Festival 2005
INITIAL WINNING QUOTES RACE THREE
totesport CHELTENHAM GOLD CUP
Winning jockey Barry Geraghty said: "I am lucky enough to be in a position to compare winning this race with winning the Champion Chase. I think I can safely say that I am fortunate enough to be riding the two best chasers in racing. He is some tool. He was running away all the time and he jumped brilliantly over the last three. He is only seven years old and full of scope -- you only have to look at him."
Kicking Kingís trainer Tom Taaffe said: "there was never an anxious moment for me through the race; in fact he has really pissed up. I told Barry not to take it up until fairly late and I think his biggest problem was restraining the horse until the final circuit.
"We had our bad moment when it looked as if the horse might not be able to run, and when I told Conor (Clarkson, the winnerís owner) he was in his car. He said that he did not move the car for two hours and just sat there, crying.I didnít decide to come here. The horse told me because he was so well. At one time things were in tatters but we persevered. It is very good to have my name up there alongside my fatherís among the Gold Cup winners."
Kicking Kingís lad Shane Malony said: "this is the happiest day of our lives. Just being here is something marvellous and my heart goes out to the connections of horses like Best Mate and Kingscliff who were not able to run. We have been here since Monday and everything has gone according to plan. Barry has ridden him and Tom has ridden him. I knew when he was popping away going out on to the course that everything was going to be alright."
Conor Clarkson, Kicking Kingís owner, said: "the sun is shining on us today and my nerves were much better than they were at Kempton. It is a bonus just being over here, I feel so lucky and to have won is an unbelievable feeling, a great moment.
"I remember when Tom rang me to say that the horse would not be able to run. I was driving on the motorway in Spain and after I had pulled over to the side it was two hours before I was able to manoeuvre the car back on to the road again.
"I would hope that he would run again this year but he is a young horse and we donít want to overface him. But there is more than a month till Punchestown and weíll have to see.
"I feel sorry for Best Mateís connections that he wasnít able to run. He is a great champion and it would be a privilege to run against him. Hopefully Best Mate will be back next year and it would be an honour to take him on."
TAAFFE IS KING OF CHELTENHAM AGAIN
The name of Taaffe, forever associated with the great Arkle, joined the totesport Cheltenham Gold Cup roll of honour when Kicking King ran out a brilliant five-length winner of steeplechasingís ultimate prize.
Tom Taaffe, whose father Pat rode Arkle, trained Kicking King and said: "He really showed his class and jumped brilliantly today. My main worry was that Barry would take a tug with a circuit to go as he was travelling so well.
"I can say it now, I donít think this was the highest class Gold Cup ever but you still have to run round and jump. I donít think there was as much pace as normal today and Grey Abbey maybe didnít go as fast as he could in front.
"Itís fair to say my legs were shaking when he jumped the last but I always said heíd get the trip and he certainly did. We rode him at Kempton to see if heíd stay and if he hadnít made a mistake at the last he would have won by 10 lengths.
"I hope you (the press) will listen to me now, Iíve been saying what class he has ever since he won his bumper as a four-year-old at Leopardstown. Itís all pretty easy for me as he has so much class.
"Iím delighted that the Taaffe name is back on the roll of honour and the party starts now and it wonít be stopping for a few weeks.
"Iím very sorry for Best Mateísí connections that he couldnít run but if anyone was going to stop him is was the Taaffe name, especially to protect Arkle.
"My son Pat was born the day this horse won at Leopardstown and I said that now we had the new Pat Taaffe we just needed the new Arkle.
"If he goes anywhere this season it would be to Punchestown, heís not really had a race today."
Kicking King was announced an absentee from the big race just over a fortnight ago after a dirty scope and re-entered the totesport Cheltenham Gold Cup pciture a few days later.
"It was the horse that told me he wanted to come here as he was so well," added Taaffe. "He wasnít a runner two and a half weeks ago but he told me in the paddock that he wanted to do something. I rode him myself at home, then schooled him and decided that if he scoped well then he could run. I had thought about using antibiotics but decided to let nature take its course."
Jockey Barry Geraghty added: "Heís a machine, at three miles or two furlongs further heís shown heís the best there is. Heís got pace, he jumps and he stays. Heís only seven and is going to be a serious horse next year, please God he can come back and do it all again.
"There was no rush to make a move, he jumped the last three brilliantly and just dossed a bit when he hit the front. I just dropped him in as I had no worries about the trip. Heíd have beaten Best Mate today."
BOOKMAKER REACTION TO THE GOLD CUP
Ladbrokes make Kicking King 4-1 favourite for a repeatin the 2006 totesport Cheltenham Gold Cup. They then go 8 Best Mate, 14 Kingscliff and 25 bar.
Paddy Power offer 4 Kicking King and 7 Best Mate for next yearís Gold Cup and 14-1 about Take The Stand for the Grand National. Cashmans quote Kicking King at 4-1, with Best Mate a point longer and 14 bar.
More totesport Cheltenham Gold Cup quotes - the press conference
Barry Geraghty, the winning jockey, said: "I was surprised to hear that Kicking King was written off (for the Gold Cup) so early.
"I was in Dubai at the time and was hoping, with over a fortnight to go, that things would improve. There was improvement.
"It was last Sunday week when I was going to Leopardstown that I heard from Tom and he sounded fairly confident.
"Today the only things I had concerns about was that he had scoped badly and whether he would settle as he likes to jump - taking on his fences. He jumps brilliantly.
"But he settled great when I dropped him in early - getting a great lead off Strong Flow. The whole problem with a horse like him is if you jump really well you pass slower horses and they get too keen.
"Strong Flow is such a good jumper that this did not happen - so Kicking King was not outjumping him which helped my cause.
"I had a great ride throughout he race - he has so much scope and so much class.
"Hopefully, if everything stays right with the horse - he avoids injuries etc - and he can come here in 12 months time without any hiccups, hopefully he can do it again.
"He is getting really professional at his job. I have had an unbelievable week - my father, brother and my girlfriend were all in tears and that brings a tear to your own eyes - they are the people watching you and they are hoping, praying and dreaming for you. To see them so emotional really brings it home.
"I am probably one of the better losers - things go wrong - thatís it. As long as the horse is OK, like Moscow Flyer last year, you look to the next thing and get over it."
DOBBIN SECOND AGAIN
Tony Dobbin, second on 66/1 shot Go Ballistic in 1999, once again finished runner -up on an outsider when taking the runner-up spot on 25/1 shot Take The Stand.
Dobbin said: "No one likes being second but its the Gold Cup. He was an outsider but ran a brilliant race.
"There were no doubts about his stamina but all respect to the winner - heís an absolute king - he just picked up and went away from me a very good horse."
"I was a bit closer on Go Ballistic when See More Business caught me on the run-in. One day maybe my name will be on the Gold Cup!
"On form, he would have a chance in the Grand National but his jumping will be more under pressure there. He made a few mistakes in the first mile today but got it together after that."
TAKE THE STAND LOVES GROUND
Take The Stand found just Kicking King five lengths too strong in the totesport Cheltenham Gold Cup.
Peter Bowen said: "Heís run a blinder - Iím gutted to be second but itís brilliant and the winner is a very good horse.
"At the end of the race I hoped that he was going to win it - he didnít jump too well at the beginning of the race but he warmed up as the race went along.
"I am delighted to win £80,000 for second as he only cost around £20,000 out of Ian Williamsís yard at Doncaster about two years ago.
"The ground definitely helped and he is a stone/20lb better on good ground - all of his last few runs have been on soft ground.
"He might go for the Grand National now - we will see how he comes out of this. The winner was just a little bit too good and our fellowís few mistakes donít help as every mistake takes a bit out of you. If only he got his act together!
"These were my first two runners in the totesport Cheltenham Gold Cup and Ballycassidy is fine - he has only just come right and who knows what would have happened three weeks later.
"Heíll probably go to Aintree too for the Grand National or the Topham Chase.
"There are a husband and wife [the Courters] who own Take The Stand.
"I thought that he would run a good race - I know it was in the summer but he won the Summer National easily and in the Welsh National he was cantering with 11st 12lb before falling - I didnít think that any of the other runners would have run this well in that race."
Take The Standís jockey Tony Dobbin added: "I thought that we might be able to snatch it because of the stamina doubts over Kicking King but the winner is a class horse."
Third-placed Sir Rembrandt finished a further eight lengths adrift.
Trainer Robert Alner said: "He made no mistakes and was up in the vanguard all the time.
"I was so delighted with him the whole way around and he had to fight the whole of the way up the run-in to get third - God willing heíll be back here next year.
"All credit to the winner, a marvellous and great performance, especially to bring him back after the scare. Who knows, I might have Kingscliff back next year.
"But I have no excuses - I mentioned the ground before the race and Sir Rembrandt copes with wetter ground better than most. I think that was the best race that heís ever run and Iím looking forward to next year.
"Andrew [Thornton, jockey] was ecstatic - he thought that the pace was a bit slower than last year and that is why he let him stroll on down the back. That is right up with his best form.
"Thatís probably it for the season although he is in the Grand National."
More totesport Cheltenham Gold Cup quotes
GREY ABBEY MAY CONTINUE AFTER FINE GOLD CUP RUN
Grey Abbey, whose participation in the totesport Cheltenham Gold Cup was in doubt until this morning, made much of the running and rallied up the hill to finish fifth.
The grey, who had leg problems and would have preferred soft ground, delighted jockey Graham Lee who said: "He cannot have tried any harder or have jumped any better.
"He just needs more juice in the ground to slow the others down more than anything else.
"He finished well up the hill - he has run a cracker."
Trainer Howard Johnson commented: "The way the ground was his performance was unreal. I cannot believe how he has run with the problems he has had - what a horse to come back up the hill like that.
"It will be a hard decision about his future - I will talk to the owners and Graham Lee. I am feeling better than I did before the race. I have been worried about Grey Abbey all week which is why I have not been very well.
"We will take him back home and see how he is before deciding whether to retire him or not."
Martin Pipe, the trainer of Celestial Gold, commented: "He finished sixth and probably didnít see out the trip - that is what Timmy (Murphy) said."
The owner David Johnson added: "That was disappointing - he should have done better on form - he may not have stayed."
Paul Carberry said that his mount Beef Or Salmon had never really recovered from a mistake at the first.
MULTIPLE WINNERS OF THE totesport CHELTENHAM GOLD CUP
FIVE WINS
GOLDEN MILLER
YEAR AGE/WT JOCKEY TRAINER OWNER SP RAN
1932 5-11-05 Ted Leader Basil Briscoe Dorothy Paget 13/2 6
1933 6-12-00 Billy Stott Basil Briscoe Dorothy Paget 4/7F 7
1934 7-12-00 Gerry Wilson Basil Briscoe Dorothy Paget 6/5F 7
1935 8-12-00 Gerry Wilson Basil Briscoe Dorothy Paget 1/2F 5
1936 9-12-00 Evan Williams Owen Anthony Dorothy Paget 21/20F 6
THREE WINS
BEST MATE
YEAR AGE/WT JOCKEY TRAINER OWNER SP RAN
2002 7-12-00 Jim Culloty Henrietta Knight Jim Lewis 7/1 18
2003 8-12-00 Jim Culloty Henrietta Knight Jim Lewis 13/8F 15
2004 9-12-00 Jim Culloty Henrietta Knight Jim Lewis 8/11F 10
ARKLE
YEAR AGE/WT JOCKEY TRAINER OWNER SP RAN
1964 7-12-00 Pat Taaffe Tom Dreaper IRE Anne, Duchess of Westminster 7/4 4
1965 8-12-00 Pat Taaffe Tom Dreaper IRE Anne, Duchess of Westminster 3/10F 4
1966 9-12-00 Pat Taaffe Tom Dreaper IRE Anne, Duchess of Westminster 1/10F 5
COTTAGE RAKE
YEAR AGE/WT JOCKEY TRAINER OWNER SP RAN
1948 9-12-00 Aubrey Brabazon Vincent O'Brien IRE Frank Vickerman 10/1 12
1949 10-12-00 Aubrey Brabazon Vincent O'Brien IRE Frank Vickerman 4/6F 6
1950 11-12-00 Aubrey Brabazon Vincent O'Brien IRE Frank Vickerman 5/6F 6
TWO WINS
L'ESCARGOT
YEAR AGE/WT JOCKEY TRAINER OWNER SP RAN
1970 7-12-00 Tommy Carberry Dan Moore IRE Raymond Guest 33/1 12
1971 8-12-00 Tommy Carberry Dan Moore IRE Raymond Guest 7/2JF 8
EASTER HERO
YEAR AGE/WT JOCKEY TRAINER OWNER SP RAN
1929 9-12-00 Dick Rees Jack Anthony John Hay Whitney 7/4F 10
1930 10-12-00 Tommy Cullinan Jack Anthony John Hay Whitney 8/11F 4
totesport CHELTENHAM GOLD CUP FACTS
1. The totesport Cheltenham Gold Cup is the most valuable non-handicap chase in Britain. The total prize money for the 2005 running will be £350,000.
2. The first Cheltenham Gold Cup was a three-mile Flat race in 1819, won by a Mr Bodenham's Spectre. The chase as we now know it was introduced in 1924, and won that year by Red Splash. The winning prize money was just £700.
3. Golden Miller holds the record for the most Gold Cup victories, with five consecutive wins from 1932-36. The race is fiercely competitive - so much so that before Best Mate in 2002, 2003 and 2004, the last horse to win more than once was L'Escargot in 1970 and 1971.
4. Golden Miller's owner, Dorothy Paget, is also the most successful owner in the race with an amazing seven victories, with Roman Hackle (1940) and Mont Tremblant (1952) adding to Golden Miller's five wins.
5. The most successful trainer is Tom Dreaper, who won five Gold Cups with three separate horses, namely Prince Regent (1946), Arkle (1964-66) and Fort Leney (1968).
6. Tony McCoy's Smurfit Champion Hurdle/totesport Cheltenham Gold Cup double in 1997 on Make A Stand and Mr Mulligan was the 11th time that the big-race double has been landed by one jockey in the same year. The other jockeys to have achieved the feat were Dick Rees (1929), Tom Cullinan (1930), Ted Leader (1932), Bill Stott (1933), Gerry Wilson (1935), Aubrey Brabazon (1949 and 1950), Tim Molony (1953), Fred Winter (1961) and Norman Williamson (1995).
7. Alderbrook and Master Oats in 1995 enabled Norman Williamson and Kim Bailey to join a very select group of jockey and trainer partnerships who have won both the Champion Hurdle and Gold Cup in the same year. The other partnerships were Tom Cullinan and Jack Anthony in 1930, Ted Leader and Basil Briscoe in 1932, Bill Stott and Basil Briscoe in 1933, and Aubrey Brabazon and Vincent O'Brien in both 1949 and 1950.
8. Dawn Run is the only horse to have won both the Champion Hurdle and Gold Cup. She was successful in 1984 and 1986 respectively.
9. The longest-priced winner of the Gold Cup is Norton's Coin, who started at 100/1 in 1990, while the shortest-priced winner was Arkle, the 1/10 favourite in 1966.
10. The last grey Gold Cup winner was Desert Orchid in 1989.
11. totesport has sponsored the Cheltenham Gold Cup since 1980.
12. In the Gold Cup's history only six horses have won more than once, and the most recent of them is Best Mate in 2002, 2003 and 2004. The others were L'Escargot (1970/71) Easter Hero (1929/30), Golden Miller (1932/33/34/35/36), Cottage Rake (1948/49/50) and Arkle (1964/65/66). Their successes were all in consecutive years.
13. The last 23 runnings have seen eight 9-year-olds, seven 8-year-olds, five 10-year-olds and three 7-year-olds be successful. The last horse over the age of 10 to win was 12-year-old What A Myth in 1969.
14. Only six of the last 23 favourites have justified the market confidence - Best Mate in 2003 and 2004, Master Oats in 1995, Desert Orchid in 1989, Dawn Run in 1986 and Bregawn in 1983. Five of the last six favourites have reached the frame or won - See More Business was fourth in 2000, Florida Pearl third in 1999 and Dorans Pride third in 1998.
15. The two Irish-trained winners in the last 23 runnings were Imperial Call in 1996 and Dawn Run 10 years before that. Irish-trained horses did better between 1946 and 1977 when 16 successes were achieved. The only French–trained winner was The Fellow in 1994 while there has also been a Welsh-trained victor in Norton's Coin (1990).