John Smith's Grand National Handicap Chase (grade 3)
1. Numbersixvalverde 11/1
2. Hedgehunter 5/1 jf
3. Clan Royal 5/1 jf
4. Nil Desperandum 33/1
5. Risk Accessor
6. Puntal
7. Joes Edge
8. Inca Trail
9. Forest Gunner
distances 6, 1 1/4, sh, dist, 16, 2½, 22, 3½
NUMBERSIXVALVERDE WINS THE NATIONAL
Numbersixvalverde added the John Smith's Grand National to his win in last season's Irish Grand National with a foot-perfect performance to win the 2006 John Smith's Grand National in the hands of Niall "Slippers" Madden for owner Bernard Carroll and trainer Martin Brassil.
A delighted Brassil said afterwards: "That was just unbelievable - if you had wrote the script it could not have been better.
"You would never had thought that this was Niall's first ride over the fences - he has ridden the perfect race. He has just hunted him round for the first circuit and then got him into the race on the second circuit.
"This horse has bundles of stamina and is a very sound jumper - I thought he was just the right type of horse to go well around Aintree, even though he was only still a novice last season.
"I've had great support from Bernard Carroll and everyone connected with the horse throughout his career.
"I really just can't believe it."
Niall "Slippers" Madden having his first ride over the Grand National fences, said afterwards: "That was brilliant.
"He's given a dream ride all the way round and has given me the perfect ride.
"It was just perfect – he was always going well and had a good position all the way.
"It is just magic. I could imagine anything being better."
When asked when he thought he had the race won, Madden replied: "For quite a while!"
Successful owner Bernard Carroll said: "I couldn't speak when we won the Irish National and this is even worse!
"I thought the Irish have done very well in this race recently and I'm very lucky in life too."
Mr Carroll's daughter Roisin added: "I was so much thinking when he might win, I was praying!"
INIITIAL WINNING QUOTES
The winning jockey Niall (Slippers) Madden said: "It was brilliant - I had a dream ride the whole way round. He jumped great.
"I wasn't sure I'd won until I crossed the line though. This means everything to me. The race worked out perfect - it is just magic."
The winning trainer Martin Brassil said: "I've tried to imagine winning this race since I was a boy but I couldn't. It's magic. It was just like watching a movie out there. Niall gave him a fabulous ride - never panicked and took his time, letting the horse pop around. It is hard to believe really.
"I have only been to Aintree once and that was in 1982 when Ben Nevis won - I had a ride in an amateur chase. The fences were awesome then and there are still big enough. I don't have a great sense of direction when it comes to roads but at least the horse did not have the same problem.
"It is great for young Niall as he is a fabulous jockey - he has got such a good relationship with that horse. He believes in the horse and never panics.
"The horse was on the bridle and could not have been in a better position throughout. He popped away - he never does anything extravagant which is really what you need in a race like this - he is a sensible jumper.
"The rain last night was a help as it just deadened the ground a bit and stamina came into - otherwise the second and third might have quickened up on better ground."
Press Conference Quotes
Jockey Niall Madden had a dream first John Smith's Grand National ride when winning jump racing's biggest prize aboard Numbersixvalverde and the 20-year-old, nicknamed 'Slippers', was grateful for advice from his father, former jockey 'Boots'.
"I walked the course with Dad before racing and he told me to just hunt around in the first circuit and to not be in a rush," said Madden. "When I was upsides Clan Royal and Hedgehunter I knew that if I carried on going well I would have a real chance because he is so tough.
"Although I was in a better position first (before the false start) time than second time around the race went very well for me and he's an oh so clever jumper."
For Co Clare-born owner Bernard Carroll, this was the culmination of more than 30 years of racehorse ownership. Numbersixvalverde is named after the owner's house in Portugal.
"I had my first horse in 1975, a mare called Melody Music, who was trained by Christy Grassick and won six races," recalled Carroll. "I'd had horses with Martin's brother John, including the Ladbroke Hurdle winner How's The Boss, and we're all neighbours from Clare.
"I've been very lucky with horses and with Martin in general. I missed his Irish National win but I was never in danger of not being here today, my wife and daughters made sure of that. A lot of coinage was spent by them in Manchester yesterday so I can use the prize money.
"A lot of jar was drunk last night and I would think even more will be drunk tonight. We won't ever know when it's Monday. But I couldn't watch the race today, I get absolutely terrified.
"When we were thinking of a name for this horse, we were lying on the beach at Valverde in Portugal and thought why not name him after our place there - it's just a cheap house in Portugal! I tend to work seven days a week for four weeks and then have a week off."
Trainer Martin Brassil, who has just 25 horses, added: "I'm just a small trainer and lucky to have a horse like this. My hands were shaking so much that I missed a lot of the first circuit.
"But after last night's rain I knew the ground would be on the dead side and if he didn't fall he'd have a chance. I knew he was capable of doing it, four and a half miles on dead ground was ready made for him.
"I originally got him when Mark Dwyer called me after seeing him advertised in the Racing Post and asked me to go and have a look at the horse. We liked him and bought him privately and I'm delighted for Bernard, who has had horses with me since he started training.
"After winning the Irish National last year I thought we might be lucky enough to have an Aintree horse and this race has always been special. Everyone knows this race, the people that only ever have one bet do it in this race. It's a great feeling.
"Niall was super today, I wanted him to avoid trouble at all costs and he never panicked. I think the ground might have just undone Hedgehunter - it was a help to me rather than him.
"It was not good for the heart, I will have to have a few valves checked after this weekend."
Hedgehunter is Held
Hedgehunter


© racing-images.co.uk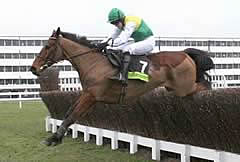 Hedgehunter couldn't quite pull off a second successive win in the John Smith's Grand National, but his trainer Willie Mullins was thrilled to have come so close, coming home six lengths back in second.
"I'm delighted, it was a great run. For a long time as they came up the straight, I thought he might do it. I thought that Ruby [Walsh] might have had a little bit in reserve and I wondered if the other one had gone too soon," said Mullins.
The overnight rain, which softened the ground, was not what the stable had been hoping for. "Giving 18lb [to Numbersixvalverde] on this ground was too much. The rain wasn't a help, but we take what we get. It was great for Martin Brassil to win with Numbersixvalverde." said Mullins.
Ruby Walsh, who rode the horse, also thought that the soft ground was a negative. "The ground was just too dead for my liking. " said Walsh.
Mullins is hopeful that Hedgehunter could come back and challenge again next year. "He just seems to love this place, he comes alive at Aintree," he said.
Clan Royal


© racing-images.co.uk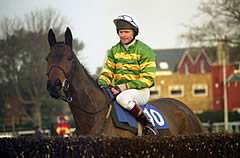 Jonjo O'Neill had two horses in the first five home, Clan Royal in third and Risk Accessor in fifth, and was pleased with both of them. "Both ran brilliantly. Crossing the Melling Road there were half a dozen in with a real chance and it was very exciting for me to have two of them.
"Clan Royal had every chance three out, but as the race panned out I could see that he couldn't get there," said O'Neill.
J P McManus, who owns Clan Royal, had been surprised how well the horse had stayed on; "He showed good heart by the way he came back on the run-in," he said
Clan Royal made mistakes. "He always does," said the trainer. The worst mistake was at the 19th.
"He got in a bit tight and did well to stand up. But if you can jump all those fences without making a mistake, you'd be very lucky," said his jockey, Tony McCoy.
Francis Crowley, who trained the fourth placed Nil Desperandum, also thought the ground had gone against them. "We would have liked the ground a little bit quicker. He didn't like it down the back straight where it was a little bit tacky. A bit faster and he would have had a great chance to win," she said.
JOCKEYS QUOTES
Christian Williams (Royal Auclair - F1) said: "I crashed out at the first, we were unlucky - the National is only once a year:
Brian Harding (Inca Trail - 8th) said: "He jumped fantastic, a little bit too keen and just didn't get home on ground that was a litle bit too tacky for him. He gave me a great ride"
Davy Russell (Joes Edge - 7th) said: "He ran it blinder, it was brilliant, we had a great run and travelled well. It's the world's best race."
Mick Fitzgerald (Juveigneur - F1) said: "It was great to the first, we were travelling well, that's about it!"
Robert Thornton (Innox - F1) said: "He overjumped at the first, it was an unlucky fall."
Dominic Elsworth (Ross Comm - F4) said: "We fell at the fourth, we were going well until then."
John Cullen (Colonel Rayburn - PU27) said: "He just got tired and I pulled him up."
Keith Mercer (Haut de Gamme - F20) said: "He was on empty."
Jamie Moore (Le Duc - UR8) said: "He jumped the first few fences grand, before I was unseated. It was too early to tell."
Barry Geraghty (Puntal - 6th) said: "He's given me a great ride and he's run a great race considering it was his first race in 18 months. He took a blow on the 2nd circuit and then he's kept on again."
Ballycassidy


© racing-images.co.uk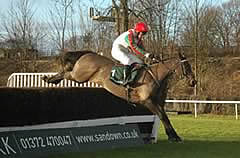 Leighton Aspell (Ballycassidy - leading when fell 25th): "He deserved to get round. He's only a small horse. He'd been in front a long time and was still jumping well. Who knows where we'd have finished?"
Tom Scudamore (Iznogoud - PU 27th): "I pulled up after three out. It was too soft for him."
Jason Maguire (Lord Of Illusion - pulled up 17th): "He was great out the gate, but a bit keen early on. He jumped very well, but he bled going to the Chair so I pulled him up."
Stephen Craine (Ebony Light - fell 5th): "He travelled well, but then stood off one too far and didn't get enough height. I think I've done a collarbone."
Paul Carberry (Sir Oj - fell 22nd): "He was a bit launchy at a few of them, then his back end came up and he just rolled slowly over."
Andrew McNamara (Rince Ri - refused 27th) : "I had a great spin. I just let him pick away in his own time. A horse fell into the ditch in front of him and he refused."
Richard McGrath (First Gold - unseated 23rd): "I had an excellent ride. He was good all the way, but he just got tired, and I was just trying to fill his lungs when he made a mistake."
Dominic Elsworth (Ross Comm - fell 4th): "He just put down on me at the fourth."
David Casey (Jack High - unseated 15th): "He gave me a great ride until leaving his legs behind at Becher's."
Conor O'Dwyer (Native Upmanship - refused 27th): "There was a lot of shouting at the start and the starter didn't hear me shouting no. I lost 15 or 20 lengths. It made the difference between getting round, because he had to make up the ground and finally got tired. He jumped super and gave me a super ride."
Marcus Foley (Iris Royal - PU 17th): "He jumped very well, but the ground was too tacky. He made a slow jump at the water and I pulled him up after that - I didn't want to put him on his head."
Joe Tizzard (Cornish Rebel - PU 19th): "I pulled him up at the second fence second time around."
Liam Heard (Le Roi Miguel - PU 19th): "I pulled him up at the second fence, second time around after a lovely spin. He didn't put a foot wrong, but didn't get the trip."
Pat Buchanan (Thyneandthyneagain - Fell 1st): "I had a clear run to the first, but he landed a bit steep and knuckled over."
Nina Carberry (Forest Gunner - 9th): "That was absolutely brilliant. I loved every minute of it. It has given me the bug and I cannot wait for some more. He got a bit tired in the ground, but that was normal for him and he is 12 now. It was great fun to get round."
Rodi Greene (Whispered Secret - unseated 1st): "He landed very steep and his head dropped. I only had one stirrup then, and that was it."
Sam Thomas (Silver Birch - Fell 15th): "He's given me a great ride and was really enjoying it. He just left his legs in the Chair - it's such a big fence, and I think another horse knocked him as well."
Graham Lee (Amberleigh House - pulled up 21st): "Old Father Time just caught up with him, that's all, and the ground cut up too much for him."
Richard Johnson (Therealbandit - pulled up 27th) :"He's given me a great ride, but didn't really stay. He was going well, but then his stamina just ran out. I think slightly better ground would have helped him. It was just a bit tacky out there."
Timmy Murphy (It Takes Time - pulled up 29th): "It was too soft for him."
Garrett Cotter (Garvivonnian - pulled up 17th): "It was disappointing, and I've no obvious excuses although he did get a bit worked up in the preliminaries. He jumped alright, but didn't take to it as well as he did in the Becher Chase."
Alan Dempsey (Just In Debt - fell 6th): "He was jumping lovely early on and we were in a great position going into Becher's, but he just didn't get his landing gear out going over it and that was it."
Carl Llewellyn (Baron Windrush - fell 3rd): "He dropped his back legs in the ditch and that was it."
JP McNamara (Heros Collonges - unseated 15th): "We were going fantastically until the Chair - he was jumping brilliantly and loving it. But as we went to the Chair the horses in front slowed up and he went into the back of them, and there was nothing I could do, it was no fault of his and that's the Grand National for you."
Tommy Treacy (Nil Desperandum - 4th): "He jumped great, but unfortunately the rain came and the ground was a bit too tacky for him. He didn't handle it that well and just stayed on. But he ran a cracker, and if he came back on better ground he would have a serious chance."
Noel Fehily (Risk Accessor - 5th): "He gave me a great ride and jumped brilliantly. I thought we might win crossing the Melling Road, but he didn't quite get the trip."
Andrew Tinkler (Shotgun Willy - pulled up 18th): "He just got tired too quick and so I pulled him up."
Tony Dobbin (Direct Access - pulled up 19th): "I was never really happy. He probably didn't take to the place."
AMBERLEIGH RETIRES
With a superb record over the Aintree fences that included a three-length success in the 2004 Grand National at his third attempt, Amberleigh House, now 14-years old will look forward to taking life easier after Graham Lee pulled the gedling up at the 21st fence in the 2006 John Smith's Grand National meeting earlier today.
Donald McCain, who is due to take over the trainer's licence from his father Ginger, said: "He's going to have a very, very honourable retirement. He has an admirable record here. He's as fresh as paint, he enjoyed himself today and didn't have a hard race. He's lost a bit of speed now but he's in the racecourse stable with his ears pricked."
TYNEANDTHYNEAGAIN
Tyneandthyneagain initially appeared to be fine following his fall. However, a serious spinal injury was diagnosed and he was put to sleep.
No Enquiry on False Start
There was a false start to the John Smith's Grand National and the race started five minutes after the scheduled off time of 4.15pm.
Having looked at all the angles, in conjunction with the starter Peter Haynes, the stewards have taken the view that the only horse whose head was over the tape was Ross Comm, ridden by Dominic Elsworth. The starter said that the horse, "lunged at the tape as if he wanted to bite it".
The starter took the view that the action was beyond the jockey's control and the stewards agreed and no further action will therefore be taken.
Carberry and Craine Injured In Grand National
Stephen Craine, who rode Ebony Light in the John Smith's Grand National, was taken to hospital with a suspected broken collar bone, the injury incurred when the horse fell at the fifth fence.
Paul Carberry was stood down for the second time in two days following his fall on Sir Oj at Bechers, the second time round.
Carberry, who was stood down on Friday after a bruising fall in the John Smith's and Spar Topham Chase, had a sprained left ankle.
Neither jockey had any further booked rides in the final two races of the meeting.
John Smith's Grand National High Point Of A Grand Meeting
"I think it's the best three days racing I have ever been to," said Charles Barnett, managing director of Aintree Racecourse.
"There were 21 terrific races over the three days, but as ever the high point was the John Smith's Grand National, which really was a contest to savour," said Barnett.
Barnett was also extremely pleased with the new winner's enclosure. "I think it was very exciting as it gives the public the opportunity to see the winners, and the cheers for all the horses coming in has been much greater than ever before," he said.
"Everybody has worked hard to make this year's John Smith's Grand National such a success, but organising the meeting is rather like painting the Forth Bridge; as soon as the last racegoer leaves tonight we have to start planning for next year, when we hope to have two new state-of-the-art stands in place," said Barnett. [more]