Cheltenham 2006 / running order /
THE WILLIAM HILL TROPHY HANDICAP CHASE
1st (12) Dun Doire 7-1
2nd (4) Juveigneur 16-1
3rd (1) Irish Hussar 66-1
4th (8) Model Son 14-1
21 ran
Also: 10-3 Fav Moulin Riche
NR: Little Big Horse
Irish Hussar


© racing-images.co.uk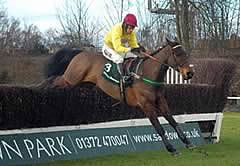 DUN DOIRE A SECOND WINNER FOR IRELAND
Dun Doire provided the Irish with their second winner of the day when landing the William Hill Trophy Handicap Chase.
Tony Martin's charge came from off the pace under Ruby Walsh to prevail by two lengths from Juveigneur record a memorable Festival triumph, the second for Martin following Xenophon in the 2003 Coral Cup.
The winning handler commented: "Touch wood, the drop of rain we had this morning came just in time.
"This horse has serious stamina - he's a real old-fashioned chasing type.
"He had to come from off the pace today, he's too slow to ride any other way.
"The original plan was to go for the four-miler with him this year but we thought he could go for this race after he won the Thyestes Chase at Gowran so well.
"As a novice, he was really weak but has really come to himself this year.
"I don't know where we will go after this, he is in the Whitbread but it is too soon to make a decision yet.
"I have his full-brother at home who is a four-year-old."

HENDERSON ONE-TWO IN SECOND AND THIRD
Nicky Henderson seemed likely to train the first and second in the William Tropy Handicap Chase, until Juveigneur and Irish Hussar were passed by Ireland's Dun Doire inside the final 50 yards.
After Mick Fitzgerald had steered Juveigneur into the runner-up spot, and Marcus Foley had ridden into third on Irish Hussar, Henderson said: "I'm delighted with both of them. Irish Hussar has run an amazing race with 11st 12lb after he's been missing all year, and Juveigneur's been off all year. Just when you think, 'ruddy hell, this is going to come off', you go and get mugged.
"They're both exposed horses and had a lot of weight so they've run great races - and if the Irish ever complain about handicapping again I'll kill 'em!
"You think you've done everything right and then this other flippin' horse comes and does them, but they've done nothing wrong. We'll look at Aintree and lots of other races, but the main thing is they've both come back and run great races."
Patrick Haslam, trainer of fourth-placed Model Son, said: "We're very pleased with the horse. He's young and only a novice and it looks very good for the future. I'm not sure about plans at the moment - the Irish National has been mooted, but I'm thinking more of the Aintree meeting."
WILLIAM HILL TROPHY - DUN DOIRE - WINNING JOCKEY
RUBY WALSH (JOCKEY)
"Tony [Martin] said to be the last one to arrive - he said take your time, don't get him on his head, sneak away, and if it happens it happens.
"Horses do come home well here - there's a big hill to get up. He stays really well and was just outpaced a bit early on.
"You take your chance and sometimes it works, more times than not you look like a fool, but it worked today!"

WILLIAM HILL TROPHY HANDICAP CHASE
GRADE 3 (class 1) 3m 110y Old Course £80,000 guaranteed For 5yo+ Weights raised 3lb Minimum Weight 10st Penalties: after February 26, a winner of a class 3 chase 3lb; of a class 1 or 2 chase 6lb (no penalty to increase a horse's weight above 11st 12lb) Irish Hussar's handicap mark 146 Entries 104 pay £100 Confirmed 48 pay £300 Penalty Value 1st £45,616 2nd £17,112 3rd £8,568 4th £4,272 5th £2,144 6th £1,072
1 DUN DOIRE (IRE) (Dunderry Racing Syndicate) Tony Martin IRE 7-10-09 Ruby Walsh 7/1
2 JUVEIGNEUR (FR) (Trevor Hemmings) Nicky Henderson 9-11-05 Mick Fitzgerald 16/1
3 IRISH HUSSAR (IRE) (Major Christopher Hanbury) Nicky Henderson 10-11-12 Marcus Foley 66/1
4 MODEL SON (IRE) (P J Hughes Developments Ltd) Pat Haslam 8-10-08 Paddy Merrigan (5) 14/1
5 BOB THE BUILDER (Mr & Mrs Peter Orton) Nigel Twiston-Davies 7-10-06 Antony Evans
6 FORK LIGHTNING (IRE) (Mr & Mrs F Welch) Alan King 10-11-02 Robert Thornton
7 ALDERBURN (Mrs D Flory) Henry Daly 7-10-10 Richard Johnson
8 DESAILLY (The Team) Jonathan Geake 12-10-05 Mark Bradburne
9 SEEBALD (GER) (The Macca & Growler Partnership) Martin Pipe 11-11-09 Tom Scudamore
10 MIXSTERTHETRIXSTER (USA) (Tracy Barfoot-Saunt) Tracey Barfoot-Saunt 10-10-06 Joe Tizzard
11 BLACK DE BESSY (FR) (Mrs Derek Fletcher) David Elsworth 8-10-06 Robert Walford
12 VA VAVOOM (IRE) (Raymond Mould) Nigel Twiston-Davies 8-10-01 Tom Siddall
13 MADE IN JAPAN (JPN) (Terry Evans) Philip Hobbs 6-11-05 Paddy Brennan
14 NO HALF SESSION (IRE) (R Murphy) Noel Meade IRE 9-10-06 Paul Carberry
15 SHARDAM (IRE) (Howard Parker) Nigel Twiston-Davies 9-10-09 Carl Llewellyn
16 CLASSIC CAPERS (Richard Collins) Malcolm Jefferson 7-10-07 Graham Lee
F A GLASS IN THYNE (IRE) (J Dale) Ben Pollock 8-11-03 Andrew Thornton
P KORELO (FR) (David Johnson) Martin Pipe 8-10-12 Timmy Murphy
P MOULIN RICHE (FR) (J Seroul) Francois Doumen FR 6-10-12 Tony McCoy 100/30f
P EUROPA (Trevor Hemmings) Ferdy Murphy 10-11-06 Jason Maguire
P DUNBRODY MILLAR (IRE) (Dundon Else Partnership) Peter Bowen 8-10-05 Tom Malone (3)
Non-runner: Little Big Horse
21 ran
Time: 6m 11.83s
Distances: 2, 1 1/4, 1.5, 4, 1.5, 3.5, 3/4, nk, 2,.5, 1, 1, 18, 1, 17
Breeder: Sarah Martin
Breeding: b g Leading Counsel (USA) - Yes Boss (IRE)
Tote: Win; £6.70 Places; £ 1.80, £3.90, £16.70, £2.80 Exacta; £240.40