Cheltenham 2006 / running order & results /
THE RYANAIR CHASE
1st (9) Fondmort 10-3 Jt Fav
2nd (11) Lacdoudal 20-1
3rd (3) Impek 10-3 Jt Fav
11 ran
Also: 14-1 My Will 4th
Impek


© racing-images.co.uk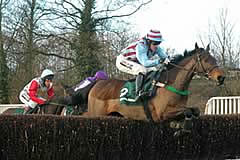 FITZGERALD AND HENDERSON SO FOND OF MORT
Trainer Nicky Henderson and jockey Mick Fitzgerald were full of praise for Fondmort after the Cheltenham specialist landed his biggest career success in the Ryanair Chase.
"He means everything to me," said Fitzgerald. "He's one of those people you'd like to be and you'd pull yourself out of a hospital bed to ride him. He may not be the best I've ridden but he's one of my favourite horses of all time.
"AP (McCoy on Impek) was trying to pull up the race to suit his horse but I wasn't having that and kicked on quite early because I knew that there were doubts about Impek's stamina. I was running on empty at the end but we were in front by then."
Henderson added: "He mightn't be a Best Mate or an Arkle but he loves Cheltenham, he's a different horse here to everywhere else. I don't know why some horses like certain courses so much, it's like he has home games and away games - he plays his home games here.
"You never give up with this horse, he doesn't know how to put a foot wrong and his jumping is ridiculously accurate. He's won a Paddy Power and whatever here but he really deserved the Festival win.
"We had to get a run into him behind Our Vic at Lingfield last time on atrocious ground and I wasn't too concerned about taking the winner on again at Cheltenham.
"He might run over two and a half miles at Aintree but I don't know, it's not Cheltenham."
MICK FITZGERALD (JOCKEY)
"What can I say about this horse? He's just unbelievable!
"Me and the boss both thought in our heart of hearts that Fondmort was the one to get out us out of trouble this week. He just never lets you down.
"He got beat by a very good horse in this race last year and ran the race of his life then - there was nothing of the quality of Thisthatandtother in today."
NICKY HENDERSON (TRAINER)
"He's a very, very special and loves this place more than anything else in the world. His whole performance was unreal.
"We struggled to win a hurdle race with him but we learned years ago he's as tough as you can get.
"He's a different horse round here. He loves the place and he loves the atmosphere - it's like a home match for him!
"The bigger the day the bigger the horse. And when he gets in a fight he'll fight his way out of it.
"In the last few days I've never known him to be in better form. You can never be confident at Cheltenham but I have to say I was extra hopeful."
Race 2 - Ryanair Chase - Placed Quotes
KNIGHT NOT HAPPY
Henrietta Knight was left fuming after Impek finished third in the Ryanair Chase.
The West Lockinge handler was unhappy with the starting procedure, which saw Impek become very wound-up while she was unable to get to the start and try to placate him.
She said: "I usually go down to the start with him but took a long time to get there today as I wanted a bucket of water to take down to keep him cool.
"I had trouble finding a bucket and had to borrow one from the catering staff.
"We had to go down to the start cross-country and by the time I was there, he had already thrown Tony (McCoy) off once and his brain had gone.
"He was very upset and worked up at the start and the starter would not wait for him, despite Tony pleading with him to wait while I tried to calm the horse down.
"I am very unhappy with the way the starter has handled this today and I think overall the starting procedures have been very bad this week for what is a championship meeting - I shall be speaking to the stewards.
"It takes a lot to make me angry, but this incident really has.
"He has run a good race considering and will now go to Aintree, for either the Melling Chase or the Betfair Bowl. Tony thinks he will get three miles."
LACDOUDAL PLEASES CONNECTIONS
Roger Skan, owner of the second Lacdoudal, said: "I was not excited today, I'd really written him off because the papers - what do they know? - had hardly mentioned him but look what he's done.
"Another 100 yards and he would have beaten the lot of them and look at the the names in the race.
"After last year when he was second in the Jewson it would have been nice to win but being second is just as good I'm telling you."
Trainer Philip Hobbs added: "With another 100 yards he would have done it and has finished like a train.
"Last time in the Racing Post Chase he ran his only bad race but today he has done us proud."
RYANAIR CHASE
Grade 2 (Class 1) 2m 5f New Course £150,000 guaranteed For 5yo+ Weights 5yo 10st 9lb; 6yo+ 11st Penalties after September 30, 2004, a winner of a Grade 2 chase 3lb; of a Grade 1 chase 5lb Allowances mares 7lb Entries 54 pay £175 First forfeit 39 pay £350 Confirmed 17 pay £175 Penalty value 1st £85,530; 2nd £32,085; 3rd £16,065; 4th £8,010; 5th £4,020; 6th £2,010
1 FONDMORT (FR) (Bill Brown) Nicky Henderson 10-11-00 Mick Fitzgerald 100/30jf
2 LACDOUDAL (FR) (Carol Skan) Philip Hobbs 7-11-00 Richard Johnson 20/1
3 IMPEK (FR) (Jim Lewis) Henrietta Knight 10-11-03 Tony McCoy 100/30jf
4 MY WILL (FR) (The Stewart Family) Paul Nicholls 6-11-03 Ruby Walsh
5 HAND INN HAND (Patrick Burling Developments Ltd) Henry Daly 10-11-00 Robert Thornton
6 HI CLOY (IRE) (Mrs S McCloy) Michael Hourigan IRE 9-11-05 Andrew McNamara
7 CALLING BRAVE (IRE) (Sir Robert Ogden) Nicky Henderson 10-11-00 Marcus Foley
8 SEE YOU SOMETIME (J Meaden) Seamus Mullins 11-11-03 Andrew Thornton
9 OUR VIC (IRE) (David Johnson) Martin Pipe 8-11-05 Timmy Murphy
F SIR OJ (IRE) (Brian Keenan) Noel Meade IRE 9-11-03 Paul Carberry
P ARMATURK (FR) (Trevor Hemmings) Paul Nicholls 9-11-00 Christian Williams
11 ran:
Time: No official time
Distances: 1 1/4, hd, 9, 1 1/4, 2 ½, 17, 2 ½, dist
Breeder: Hubert Carion
Breeding: b g Cyborg (FR) - Hansie (FR)
Tote: Win; £3.90 Places;£1.80, £5.30, £1.80 Exacta; £91.10
Year Winner Age/Wt Jockey Trainer Owner SP Ran
2005 Thisthatandtother 9-11-03 Ruby Walsh Paul Nicholls Graham Roach 9/2 12
RYANAIR CHASE - Past Results
2005-WINNER-THISTHATANDTOTHER 9-11-03 Owner-Graham Roach; Trainer-Paul Nicholls; Jockey-Ruby Walsh; SP-9/2
2ND-Fondmort 9-11-00 Owner-Bill Brown; Trainer-Nicky Henderson; Jockey-Mick Fitzgerald; SP-9/1
3RD-Rathgar Beau 9-11-03 Owner-One-O-Eight Racing Club; Trainer-Eamon Sheehy IRE; Jockey-Shay Barry; SP-9/2
12 ran, Time-5m 11.90s Dist: .5, 2.5 7/4 Fav Our Vic (Pulled-Up)
RYANAIR CHASE - Facts & Figures
1. The Ryanair Chase was introduced to The Festival in 2005. It replaced the Cathcart Chase, although the conditions of the race changed slightly with it being open to all horses rather than being restricted to first and second season chasers.
2. The Daily Telegraph backed the inaugural contest, with Irish airline Ryanair taking over the sponsorship for 2006.