Cheltenham 2006 / running order & results /
SMURFIT KAPPA CHAMPION HURDLE
1st (5) Brave Inca 7-4 Fav
2nd (13) Macs Joy 13-2
3rd (9) Hardy Eustace 11-2
18 ran
Also: 8-1 Al Eile 4th

BRAVE INCA WINS SMURFIT KAPPA CHAMPION HURDLE
Hardy Eustace


© racing-images.co.uk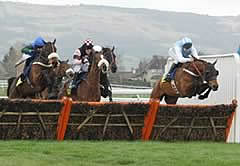 MURPHY - INCA IS "SUPERSTAR"
Trainer Colm Murphy billed Brave Inca as a "superstar" after the eight-year-old battled up the Cheltenham hill under Tony McCoy to capture the Smurfit Kappa Champion Hurdle.
"It was so close last year when he was a second-season novice," recalled Murphy, "But we've had a rollercoaster this year, winning the AIG and then this, which is very much the icing on the cake. This is what we really wanted.
"When I saw how he had developed after a summer at grass, there was never any chance that he would be going chasing, I thought in my heart that there was a Champion Hurdle in him. I think he's too good to go over fences now.
"Everything has just gone to plan this year, then his rivals like Harchibald and then our own Feathard Lady dropped by the wayside.
"He's too good to go over fences, Feathard Lady is back in light work again but there is a lot of water under the bridge before next year's Champion - please God we have both here next year. He's a superstar and she's not far behind.
"Replacing his former rider Barry Cash with Tony McCoy wasn't a decision you'd want to make. Barry made this horse, he did all the schooling and we wouldn't be here today without him.
"Tony McCoy is as tough as old nails, just like this horse. As Ted Walsh said, the horse would have to be dead two days to stop battling and McCoy would carry on riding if he had no arms or legs.
"What makes it even sweeter is to have been involved with a horse like this since he was three, to know all his problems and go the long road with him."
As for the future, Murphy added: "He'll have an entry at Liverpool but he's had a hard race today, I'd say it's more likely that he'll go to Punchestown."
The winner is owned by the seven-person Novices' Syndicate headed by racecourse bookmaker Ciaran O'Tierney.
"This is our first horse and when he won the Supreme Novices' I thought it was a once in a lifetime occasion but now it's twice in a lifetime," said Tierney, who owns the horse with his brothers Eoin and Fionan as well as their father Fergus along with Tony Crean and his sons Oran and Ronan.
"We've awful lot of people to thank including Colm, especially Barry Cash, James Kirwan who has done all the work at home and P J Colville, who rode him in bumpers," added Tierney.
"We had some very large offers for him but I think the fact that we are a syndicate means that they were easier to turn down."
NONE BUT THE BRAVE
After Tony McCoy had given Brave Inca a stunning ride to win the Smurfit Kappa Champion Hurdle, the horse's trainer, Colm Murphy said: ;"It's great to win this after getting so close last year [the horse was third under Barry Cash]. It's something else. I was fairly happy from the top of the hill that it would take a good one to beat him. Tony was very strong on him - I'm sure the horse will lay down tonight!
"He'll have a long summer's grass, but more than likely he'll be back here next year. He'll have entries at Punchestown, but he probably won't go to Aintree.
"To win the Supreme Novices' Hurdle here was special [with Brave Inca in 2004] but this is special. I'm delighted for the horse and everyone connected with him at home. They've all put so much into the horse - and it's a big syndicate that owns him, and it's growing!
"As they crossed the line I just felt relief. It's been such a long year and this was always the plan. To pick up a Christmas Hurdle and an AIG Hurdle on the way was great, but this is the icing on the cake.
"I was afraid of the ground because he never seems to jump or gallop as well on it, but when it's ding-dong down the hill it would be a good one to go by him. He sticks his head out and anything that went by would know he's had a race. Hardy Eustace has run a cracker and beat us a couple of times last year so I was worried when he was alongside."
Tony McCoy said: "When I left Leopardstown [after he and Brave Inca had won the AIG (Europe) Champion Hurdle) I was convinced he'd win this race.
"Conor [O'Dwyer on third-placed Hardy Eustace] was travelling well down the hill, but I didn't want him to have it all his own way, so I thought if we get in a battle and get beaten at least we have no excuses.
"Brave Inca is a horse that waits for others to come to him - he never goes away from another horse without waiting, but he keeps pulling out more when you ask him."
Bookmakers united in making Brave Inca favourite for next year's race, but while Paddy Power went 7-2, Boylesports 4-1 and Ladbrokes 5-1, Cashman's offered 12-1.
Race Three - Smurfit Kappa Champion Hurdle Challenge Trophy
HARRINGTON AND HUGHES BOTH DELIGHTED
Both Jessica Harrington and Dessie Hughes expressed their satisfaction with Macs Joy and Hardy Eustace, second and third respectively in the Smurfit Kappa Champion Hurdle.
Macs Joy, beaten a length by the winner in second, improved significantly on his effort in 2005, when he finished fifth.
Mrs Harrington commented: "I am absolutely thrilled by that and it was certainly a big improvement on last year. He's come here a fresher horse this year and our horses have come back to form lately.
"Barry Geraghty produced him superbly and did well to sit and wait for so long. I thought briefly that we could maybe win going to the last but Brave Inca was always going to be a very difficult horse to pass.
"Macs Joy is a cracking little horse. He may now go to Punchestown.
"Hopefully, this augurs well for Moscow Flyer tomorrow."
Hardy Eustace was seeking to become the sixth horse to win a third Smurfit Kappa Champion Hurdle.
After racing prominently throughout, he eventually finished third, beaten four and a half lengths.
Trainer Dessie Hughes said: "He's run another terrific race and while I don't want to take anything away from the winner, who was brilliant, you would have to say he might well have finished closer with a better preparation.
"I'm pleased with him. At least now he is fit for Punchestown. He could also possibly go to Aintree - after we lost today we have to chase all the scraps!"
ARCALIS - BEST OF THE BRITISH
Graham Wylie, the owner of the fifth Arcalis, said: "Graham (Lee) thought he had a chance three out but when they quickened he could not go with them. It was probably the ground that was against but Arcalis has come out best of the British."
MORE WINNER QUOTES - SMURFIT KAPPA CHAMPION HURDLE - BRAVE INCA
TONY McCOY (JOCKEY)
"He's an absolute machine in every way. He's a bit lazy - but there's a big difference between being lazy and slow! He was dying to hang in behind them, and I kept squeezing him alongside Conor. I got in a bit deep at the second-last, but he pricked his ears going to it, and I thought, 'you've got loads left'. As Muhammad Ali said - you've got to have the will and the skill and the desire, and this lad's got everything. I love him!"
COLM MURPHY (TRAINER)
"I'm relieved! It's been such a long year and this has always been the plan. To pick up a Christmas Hurdle and an A.I.G. along the way is something else. I was afraid of the ground today - he never seems to jump or travel as well on this sort of ground. Our lad sticks his head out and stays at it really well. Whoever got by him today would have known they'd had a race. To win a Champion Hurdle here is the icing on the cake - it's unreal."
CONOR O'DWYER (JOCKEY OF THIRD HARDY EUSTACE)
"Take nothing away from the winner, my lad's run his heart out, and I'm delighted. We were at it from three out really - both horses gave everything. I think my lad just on the day needed that run but that's the way it goes. We're delighted to be back here and he's run a big race."
SMURFIT KAPPA CHAMPION HURDLE CHALLENGE TROPHY
GRADE 1 (class 1), 2m 110y, Old Course £340,000 guaranteed For 4yo+ Weights 4yo 11st 2lb; 5yo+ 11st 10lb Allowances fiillies and mares 7lb Entries 35 pay £385 First Forfeit 23 pay £770 Second Forfeit 1 pay £17,000 Confirmed 19 pay £385 Penalty Value 1st £202,683.30 2nd £76,032.89 3rd £38,069.77 4th £18,981.56 5th £9,526.33 6th £4,763.16
1 BRAVE INCA (IRE) (Novices Syndicate) Colm Murphy IRE 8-11-10 Tony McCoy 7/4f
2 MACS JOY (IRE) (Mac's J Racing Syndicate) Jessica Harrington IRE 7-11-10 Barry Geraghty 13/2
3 HARDY EUSTACE (IRE) (Laurence Byrne) Dessie Hughes IRE 9-11-10 Conor O'Dwyer 11/2 2f
4 AL EILE (IRE) (M Ryan) John Queally IRE 6-11-10 Timmy Murphy
5 ARCALIS (Andrea & Graham Wylie) Howard Johnson 6-11-10 Graham Lee
6 BRIAREUS (Emma Lambourne) Andrew Balding 6-11-10 Mr Tom Greenall
7 KAWAGINO (IRE) (K Pike) Seamus Mullins 6-11-10 Jamie Moore
8 FAASEL (IRE) (Jim Ennis) Nicky Richards 5-11-10 Tony Dobbin
9 THE FRENCH FURZE (IRE) (Jim Ennis) Nicky Richards 12-11-10 Brian Harding
10 ROYAL SHAKESPEARE (FR) (J Webb) Steve Gollings 7-11-10 Tom Scudamore
11 INTERSKY FALCON (Interskyracing.com & Jacqui O'Neill) Jonjo O'Neill 9-11-10 Mick Fitzgerald
12 ADMIRAL (IRE) (Willie McKay) Richard Guest 5-11-10 Paul O'Neill
13 ASTONVILLE (FR) (Fergus Wilson) Phillippe Cottin FR 12-11-10 Ben Hitchcott
14 FIEPES SHUFFLE (GER) (Stall Jenny) Christian Von Der Recke GER 6-11-10 Paul Carberry
F PENZANCE (Elite Racing Club) Alan King 5-11-10 Robert Thornton
F ASIAN MAZE (IRE) (Mrs C Moore) Tom Mullins IRE 7-11-03 Ruby Walsh
P LEO'S LUCKYMAN (USA) (Mrs S Brookhouse) Roger Brookhouse 7-11-10 J P McNamara
P TURNIUM (FR) (Fergus Wilson) Phillippe Cottin FR 11-11-10 James Davies
18 ran
Time: 3m 50.31s
Distances: 1, 3.5, 6, 3/4, 9, sh, 3/4, sh, 8, 6, 15, dist, dist
Breeder: D W McCauley
Breeding: b g Good Thyne (USA) - Wigwam Mam (IRE)
Tote: Win;£2.70 Places;£1.30, £2.50, £2.40 Exacta; £12.00
HARDY EUSTACE CHASING HISTORIC THIRD SMURFIT CHAMPION HURDLE SUCCESS 16/01/2006
Hardy Eustace, winner of the Smurfit Champion Hurdle for the past two years, heads the 35 entries for this year's renewal, run on the opening day of The Festival 2006, Tuesday, March 14.
The Dessie Hughes-trained nine-year-old will be attempting to become the sixth horse to land hurdling's greatest prize three times, following on from Hatton's Grace, Sir Ken, Persian War, See You Then and Istabraq. Hardy Eustace recently confirmed his well-being with a comfortable success on his seasonal reappearance at Punchestown on New Year's Eve.
Both Harchibald and Brave Inca, second and third respectively behind Hardy Eustace in 2005, giving the Irish a 1-2-3, are entered again and are among 13 entries hailing from Ireland this year. Other prominent contenders from the other side of the Irish Sea are the two mares Feathard Lady, winner of the Christmas Hurdle at Sandown and recently described as recovering well from a setback, Asian Maze, a Grade One winner at Aintree last season who was expected to bid for the longer Ladbrokes World Hurdle, Al Eile, another Grade One scorer at Aintree last season, and Essex.
France is represented by five entries at this stage, the pick of which are undoubtedly Arnaud Chaille-Chaille pair of Ambobo, successful at Cheltenham a year ago in the Grade Two Royal Gloucestershire Hussars Novices' Hurdle and Sunspot, third in Grade One company at Auteuil in November. Christian Von Der Recke supplies the one German contender, Fiepes Shuffle.
Heading the home-trained challenge is Howard Johnson's Arcalis, victorious last season in the Anglo Irish Bank Supreme Novices' Hurdle at The Festival and an impressive winner on his seasonal reappearance in the Fighting Fifth Hurdle at Newcastle in November. Other leading British contenders include the Jonjo O'Neill-trained Lingo, impressive when taking the Greatwood Hurdle at Cheltenham's Open Meeting in November, as well as Penzance and Faasel, who were separated by just a head in last season's JCB Triumph Hurdle at The Festival.
Edward Gillespie, Cheltenham's Managing Director, commented: "The hand of history is on Hardy Eustace as he bids to add another chapter to Smurfit Champion Hurdle history and become the sixth triple winner of hurdling's greatest prize.
"He is sure to face strong competition, with both established rivals and several exciting younger contenders among this year's 35 entries."
Smurfit Champion Hurdle - Analysis
The Smurfit Champion Hurdle has attracted a top-class entry of 35 horses, the same number as last year, including 13 entries from Ireland, who dominated last year's contest, five from France and one from Germany.
Hardy Eustace has won the Smurfit Champion Hurdle for the past two seasons and will bid to join the select list of three-time winners that comprises Istabraq (1998-2000), See You Then (1985-1987), Persian War (1968-1970), Sir Ken (1952-1954) and Hatton's Grace (1949-1951). The Dessie Hughes-trained nine-year-old has only had one race this season, when winning a three-runner race at Punchestown on New Year's Eve, and will be out to confirm his status as the best two-mile hurdler in training.
The dual-champion could be re-opposed by the two horses that chased him home last year, headed by the enigmatic Harchibald. A hugely talented individual, Noel Meade's star has won two races this term, including the Grade Two totesport Bula Hurdle at Cheltenham in December. He is currently sidelined with an injury and Meade has made no secret of the fact that it is a race against time to get him to Cheltenham on March 14.
The Colm Murphy-trained Brave Inca, who finished third behind his two Irish compatriots last year, has also been in good form this season, beating Harchibald by three lengths last time in the Grade One bewleyshotels.com December Festival Hurdle at Leopardstown last month. He is already a Festival winner, having lifted the Anglo Irish Bank Supreme Novices' Hurdle in 2004.
Brave Inca could be joined in this contest by stablemate Feathard Lady, unbeaten in seven starts and a decisive winner of the Christmas Hurdle at Sandown on Boxing Day. She was thought to be in danger of missing the Smurfit Champion Hurdle although Murphy has recently issued a more upbeat prognosis.
Macs Joy, trained by Jessica Harrington, John Queally's Al Eile, and Essex from the Michael O'Brien stable all ran in last year's race and will be looking to get closer to Hardy Eustace this time round.

The Irish entries are completed by prolific winner Asian Maze, trained by Tom Mullins, although she is more likely to head for the Ladbrokes World Hurdle, Mick Halford's Golden Cross, a runner-up to Solerina on his latest start, John Murphy's Newmill, third in the bewleyshotels.com December Festival Hurdle last time, Willie Mullins' Sadlers Wings, Noel Meade's novice Arch Rebel, and Tolpuddle, trained by Tommy Stack, who has yet to run over hurdles but won the 2004 Irish Lincolnshire Handicap and has twice scored in Listed company.
The home challenge is spearheaded by the Howard Johnson-trained Arcalis, last year's Anglo Irish Bank Supreme Novices' Hurdle victor, who looked better than ever when running away with the Fighting Fifth Hurdle at Newcastle in November on his only start this season.
Intersky Falcon


© racing-images.co.uk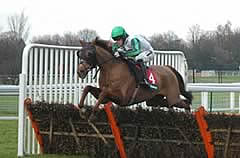 Lingo, for the powerful team of trainer Jonjo O'Neill and owner J P McManus, put up a great performance to take the Greatwood Hurdle at Cheltenham on November 13 but has not been seen since, while the consistent Royal Shakespeare, trained by Steve Gollings, claimed the Elite Hurdle at Wincanton on November 5, defeating Intersky Falcon by a length and a half.
Alan King's Penzance and Faasel from the Nicky Richards stable finished first and second in last season's JCB Triumph Hurdle at The Festival and look to step up on their juvenile form, as does the Richard Guest-trained Admiral, while Len Lungo's novice Rasharrow has won both his starts over hurdles, having also finished third to Missed That in the Weatherbys Champion Bumper at last year's Festival.
Evergreen 12-year-old The French Furze is the second of Nicky Richards' two entries and looked in grand from when defeating Mighty Man at Cheltenham on New Year's Day in the Steel Plate & Sections Hurdle. The Venetia Williams-trained Chief Yeoman has shown decent form in handicap company this season but would have to make improvement to figure, as would Dusky Warbler, trained by Gary Moore, who acquitted himself well in some decent novice contests last season, including when third to Arcalis in the Anglo Irish Bank Supreme Novices' Hurdle.
Sh Boom, now in the care of Steve Brookshaw, has competed in the Ladbrokes World Hurdle for the past two seasons, while Perle De Puce, trained by Nicky Henderson, has failed to reproduce his decent hurdle form in three runs over fences this season.
An interesting entry is United, trained by Lucy Wadham, who is unbeaten in three starts over hurdles but who has not raced since winning a Grade One hurdle race at Punchestown back in April. She is likely to return in the totesport Gold Trophy at Newbury in February. The Seamus Mullins-trained Kawagino and Roger Brookhouse's Leo's Luckyman complete the home defence but both look outclassed in this championship contest.
The French-trained possibles include two from the La Palmyre yard of Arnaud Chaille-Chaille, in Ambobo and Sunspot, both owned by Sean Mulryan. The former has not been seen out since landing the Grade Two Royal Gloucestershire Hussars Novices' Hurdle at Cheltenham in January, 2005, while the latter last ran at Auteuil in November, finishing third to Millenium Royal.
High Moon, trained by Richard Chotard, and the Phillippe Cottin-trained pair of Astonville and Turnium represent owner Fergus Wilson and complete the French entry.
The German-trained entry is Fiepes Shuffle, in the care of Christian Von der Recke, a Group race winner over seven furlongs on the Flat in Germany. He has also won twice over hurdles and twice over fences.
The German handler reported: "Fiepes Shuffle had a problem with a leg and had a wind operation, but he has come back since and won emphatically on the Flat. I would like to send him to Sandown for the Agfa Hurdle on Saturday, February 4, and if he runs into the frame there he will go for the Smurfit Champion Hurdle."
1. The Champion Hurdle was inaugurated in 1927, with a value to the winner of £365. The race was abandoned in 1931 due to persistent frost, in 1943 and 1944 because of the Second World War and in 2001 because of foot and mouth disease.
2. There have only been two sponsors of this great race since its inception. This statistic conceals a dramatic turn of events in 1990, when a major banking group, whose intended sponsorship was to raise the added value of the race by 66 per cent to £120,000, withdrew before its first running. The Smurfit Group stepped in at that point and has remained a loyal sponsor ever since. In 2006, the race will have total prize money of £340,000, up from £300,000 in 2005.
3. The largest field has been 24 (1964 and 1991) and the smallest three (1932). The first five runnings of the race saw a total of only 24 runners between them.
4. The Champion Hurdle is a contest for multiple winners. Peter Easterby won the race most often as a trainer, with five victories from three horses, Saucy Kit (1967), Night Nurse (1976 and 1977) and Sea Pigeon (1980 and 1981). Vic Smyth and Fred Winter both had four wins, and a further five trainers have captured the hurdling crown on three occasions.
5. Among jockeys, Tim Molony won the race most often with four victories, on Hatton's Grace (1951) and Sir Ken (1952, 1953 & 1954). Fred Winter, Jimmy Uttley, Steve Smith Eccles and most recently Charlie Swan were each successful three times.
6. The most successful owner is still Dorothy Paget, who won the race four times thanks to Insurance (1932, 1933), Solford (1940) and Distel (1946).
7. Istabraq, successful in the three Champion Hurdles from 1998 to 2000, was retired after failing to become the first horse to win the race four times in 2002. The four other three-time winners are Hatton's Grace (1949-51), Sir Ken (1952-54), Persian War (1968-70) and See You Then (1985-87).
8. The race has been won seven times by entires, but only twice by mares - Dawn Run (1984) and Flakey Dove (1994).
9. Four greys have won, the most recent being Rooster Booster in 2003. The others were Kribensis in 1990, Victor Nornian in 1936, and Our Hope in 1938. Only one roan horse has won the Champion Hurdle, Anzio in 1962.
10. Istabraq's success in 2000 in a time of 3 minutes 48.1 seconds beat the previous Champion Hurdle record time, set by Make A Stand in 1997, of 3 minutes 48.4 seconds.
11. Dessie Hughes, who trained Hardy Eustace to win in 2004 and 2005, is only the fourth person to have both ridden and trained a Smurfit Champion Hurdle winner, having partnered Monksfield in 1979. The others to have achieved this double are Fred Winter, Fred Rimell and Gerry Wilson.