Derby glory for Sir Percy
Sir Percy
© racing-images.co.uk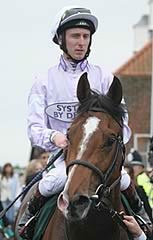 After a year of frustrations, Sir Percy repaid his trainer Marcus Tregoning's patience with a victory in racing's most sought after prize when getting up by a short-head in a fantastic finish to the Vodafone Derby.
4.20pm VODAFONE DERBY
Class 1, Group One, Epsom Downs, Total Prize Fund £1,304,500, 4.20pm Saturday, June 3, 2006, one mile, four furlongs and about 10 yards. Weights: colts 9st; fillies 8st 11lb, closed December 1, 2004 (639 entries), first forfeit stage February 28, 2006 (136 entries remained - five officially withdrawn subsequently), £8,000 second entry stage April 5, 2006 (12 added - making 143 entries in total going forward), second forfeit stage May 19, 2006 (33 remain - five officially withdrawn subsequently), £75,000 supplementary entry stage May 29, 2006 (one supplementary entry- Papal Bull), five-day confirmation stage noon, May 29, 2006 (22 go forward), final declaration stage 10am June 1, 2006 (18 runners).

1) SIR PERCY
(Anthony Pakenham) Marcus Tregoning 3-9-00 Martin Dwyer [10] 6/1

2) DRAGON DANCER
(John Pearce) Geoff Wragg 3-9-00 Darryll Holland [11] 66/1

3) DYLAN THOMAS (Sue Magnier/Michael Tabor) Aidan O'Brien IRE 3-9-00 Johnny Murtagh [18] 25/1

4) HALA BEK (IRE)
(Sheikh Ahmed Al Maktoum) Michael Jarvis 3-9-00 Philip Robinson [5] 9/1
5) VISINDAR
(HH Aga Khan) Andre Fabre FR 3-9-00 Christophe Soumillon [8] 2/1 Fav
6) BEST ALIBI
(Gainsborough Stud) Sir Michael Stoute 3-9-00 Ryan Moore [17] 33/1
7) SIXTIES ICON
(Susan Roy) Jeremy Noseda 3-9-00 Shane Kelly [4] 66/1
8) MOUNTAIN (IRE)
(Derrick Smith/Sue Magnier/Michael Tabor) Aidan O'Brien IRE 3-9-00 Seamus Heffernan [13] 50/1
9) LINDA'S LAD
(Sean Mulryan) Andre Fabre FR 3-9-00 Frankie Dettori [16] 9/1
10) PAPAL BULL
(Sue Magnier/Derrick Smith/Michael Tabor) Sir Michael Stoute 3-9-00 Robert Winston [14] 11/1
11) CHAMPIONSHIP POINT
(John Livock Bloodstock Ltd) Mick Channon 3-9-00 Ted Durcan [7] 12/1
12) SEPTIMUS
(Derrick Smith/Sue Magnier/Michael Tabor) Aidan O'Brien IRE 3-9-00 Michael Kinane [9] 17/2
13) BEFORE YOU GO
(Tina Smith) Terry Mills 3-9-00 Ian Mongan [3] 100/1
14) SIENNA STORM
(IRE) (Beryl Lockey) Mark Tompkins 3-9-00 Michael Hills [6] 200/1
15) ATLANTIC WAVES
(Jaber Abdullah) Mark Johnston 3-9-00 Joe Fanning [1] 25/1
16) SNOQUALMIE BOY
(Jeff Smith) David Elsworth 3-9-00 John Egan [2] 150/1
17) NODDIES WAY
(Wayne Cox) John Panvert 3-9-00 Robert Miles [12] 500/1
PU) HORATIO NELSON
(Sue Magnier/Diane Nagle) Aidan O'Brien IRE 3-9-00 Kieren Fallon [15] 11/2
18 ran
Breeder: The Old Suffolk Stud
Breeding: b c Mark Of Esteem (IRE) - Percy's Lass (Blakeney)
Time: 2m 35.23s Distances: sh, hd, sh, 2, 1, 2, 1 1/4, 1 1/4, 3/4, 1 1/2, 1 1/4, 1 3/4,1/2, 4, 2 1/2, 10
Tote Win: £7.40 Places: £2.80; £10.50; £5.90 Exacta: £500.40

DWYER PRAISES TRAINER
Martin Dwyer, the rider of 2006 Vodafone Derby winner Sir Percy, said: "There is only one man to thank for this - Marcus (Tregoning - the trainer).
"Sir Percy came back with an injury (after finishing second in the 2000 Guineas) and Marcus and the team have done a great job to get him here in good form - I just sat on him.
"It was a rough race - I had to go where there was room. He pulled a muscle and was very sore indeed and missed a fair bit of work.
"They have all done a great job - the physio and everyone. I did not see the horse until last week when I did a couple of pieces of work on him.
"He is an exceptional horse with a tremendous turn of foot. It is fantastic."
THE WINNING TRAINER
Marcus Tregoning, the trainer of Sir Percy, was stopped for speeding on the way to Epsom Downs today.
He said: "It was my worst nightmare after the 2000 Guineas as Sir Percy was not quite sound behind.
"We thought it might be better to go to France (for the French Derby) where the track is flatter. The physiotherapist Sarah Pilkington from France did an amazing job - coming over several times. She did a superb job and got the muscle built up again. And my vet Nicole Jones is a genius and thanks to all the staff at home.
"Full credit to the team and I want to say many thanks to Sheikh Hamdan for allowing me to train Sir Percy from his yard and his gallops. He helped me so much and helped me build the place I train from. He has been really interested in Sir Percy, asking me what work he has done and was it enough."
"I got stopped for speeding coming here. Although I told the policeman that I had the third favourite in the Derby, he said that had nothing to do with it and I should steady up. Luckily he let me go."
Victoria Packenham, wife of the winning owner Anthony, said: "Unbelievable - I am still pinching myself - to have a finish like that and wait for the photo.....
"The one thing we knew was that Sir Percy had a turn of foot - I was glad he did not go too soon because we weren't sure he would stay.
"I saw him come up the rail and thought would wow he might just do it. It is absolutely sensational - what an amazing thing Marcus's team have done - the problems after the Guineas and they have done everything to turn around the horse."
Martin Dwyer commented: "Sir Percy dug deep to get there. I wasn't certain I had won and Darryll (Holland on the second Dragon Dancer) wasn't either. I just put my head down and was hoping that I had got there. Sir Percy was really tough and determined.
"He is pretty versatile - we were beaten by an exceptional horse in the Guineas but he has more than made up for it today."

TREGONING'S DELIGHT
After a year of frustrations, Sir Percy repaid his trainer Marcus Tregoning's patience with a victory in racing's most sought after prize when getting up by a short-head in a fantastic finish to the Vodafone Derby.
"He's a streetfighter and a battler and every credit to the horse. This is a huge day for me, my family and the team and I'd particularly like to thank my principal owner Sheikh Hamdan, who has always been so interested in what's happened with this horse.
"We've always known we had a very good horse but we were struggling before the Guineas although I don't think he'd have beaten the winner," said Tregoning.
"I spoke to Ian Balding last week and he told me how disappointed he'd been when Mill Reef was beaten in the Guineas but that I shouldn't be disheartened.
"I was concerned at one stage that he seemed to be getting slower at home but perhaps he was just telling us he wanted further.
"We've won the Derby so we have plenty of time to reflect on what we do next but we know we have a seriously high-class tool. He's still maturing but I'll chat with the Pakenhams before committing.
"Martin Dwyer has always filled me with a lot of confidence as a jockey. He's extremely confident and competent."
Victoria Pakenham, who owned the winner with her husband, was full of praise for the late racing journalist George Ennor, who died on New Year's Eve.
"I owned a horse called Pelorus with George and the very last conversation I had with him was whether Percy was a Guineas or Derby horse," said Mrs Pakenham. "I think he was looking down and made the difference of that short-head.
"It's a magnificent training performance by Marcus and really unbelievable for us. I've had shares in a lot of horses over the years but The Dark Lord was pretty much the first proper one we've had and this is the second. We are so lucky."
Sir Percy, who was bred by photographer Harry Ormesher at his Old Suffolk Stud near Newmarket, was bought as a yearling at Tattersalls for 16,000 guineas by bloodstock agent Angie Sykes.

MARTIN DWYER REACTION
Jockey Martin Dwyer produced Sir Percy with a confidently-timed late challenge to get up in a photo to land the Vodafone Derby.
"It was a rough race but I really enjoyed it. I had to take chances by going up the inside and hope the gaps would come,I thought I'd get beat if I came round the outside," said Dwyer. "I wasn't sure I'd got up and neither was Darryll (Holland) on Dragon Dancer. I just kept my head down and hoped.
"I was a bit worried when he was reluctant to go in at the start, the excitement probably just got to him, but the rest is history."
Dwyer had a fall at Bath last night and admitted: "I was very worried when I hit the ground but it was only slight brusiing. Nothing was going to stop me riding today.
"Every jockey wants to win a Derby and you've only got to look at Frankie, who has had 14 rides without winning, to see how lucky I am. I can tell you that once you've had one you just want more and more."

BITTER SWEET FOR DYLAN CAMP
Dylan Thomas ran a tremendous race to finish third in the Vodafone Derby, but a serious injury to his stablemate, Horatio Nelson, ruined the occasion for Aidan O'Brien's Ballydoyle Stable.
Horatio Nelson stumbled near the two-furlong marker and was immediately pulled up by jockey Kieren Fallon. Vets and a horse ambulance were on the scene within minutes, but it transpired that the colt had sustained a broken near fore leg.
He was taken from the course by horse ambulance, and his joint-owner, John Magnier, who also jointly-owns Dylan Thomas, said of the stricken Horatio Nelson: "He's seriously injured, but he's getting the best possible treatment, and we'd like to thank everybody for that. Kieren did a great job in pulling him up as quickly as he did, but I can give you little more detail other than to say it's serious.
"Our vet, John Halley, is dealing with the local people and I can't stress enough how grateful we are for the help given by the racecourse."
Horatio Nelson was trotted around at the start by Fallon, a sign that the horse was giving some concern about its soundness. Magnier said: "I was up in the grandstand and wasn't aware of that, but whatever happened, if there was something, it was checked by the people down there and they passed it so there's no point in blaming that on it."
Asked about Dylan Thomas, Magnier was keen to compliment the winner, Sir Percy. He said: "Dylan Thomas ran a good race and we're delighted with him, but all praise to Sir Percy."

SO NEAR, SO FAR FOR DANCER
The maiden Dragon Dancer came within a short-head of giving trainer Geoff Wragg a second Vodafone Derby winner, following his 1983 victory with Teenoso. The Newmarket-based trainer also saddled Most Welcome to finish second in 1987.
Wragg said: "So near yet so far. He's run as well as I expected and I felt sure he could get a place. He's run better than that.
"From his draw we had to be handy and we knew he'd get the trip very well, so we had to make a bit of use of him early on to get a position - that was the plan. It nearly worked out. I'll have to speak to the owner about the future, but the horse is not in the Irish Derby - I'm not sure whether I should supplement him for it. He's entered in the King Edward VII Stakes [Gr.2] at Royal Ascot, but that would be going downhill after this. We'll go home and make plans."
Hala Bek took fourth place for Michael Jarvis's stable, and John Ferguson, bloodstock advisor to the colt's owner, Sheikh Ahmed Al Maktoum, said: "We're delighted with the way he's run. He came to win his race, but just swerved off a line, which may be something to do with his inexperience on the racecourse.
"It was only his second run and we couldn't be more pleased with him. He ran a superb race and might have been even closer. Michael felt sure he would run a good race and he has done. He's got plenty of entries, but Michael and Sheikh Ahmed will decide on that."

JARVIS RUES LATE GLITCH
Michael Jarvis, trainer of Vodafone Derby fourth Hala Bek, said: "I don't know what he did inside the last half a furlong. He went and changed his legs or took a funny stride and it's cost him the race. It just stopped his momentum. So unlucky."
Mick Channon, trainer of 11th Championship Point, said: "He has run a good race. He has done nothing wrong. Ted Durcan said the horse just didn't come down the hill as well as he wanted. But apart from that, no excuses, he got beaten fair and square."
Mark Johnston, trainer of 15th Atlantic Waves, said: "I'm very disappointed. He was very keen early on. We were determined not to go too fast up the hill early on. But he has bounced him out of the stalls and suddenly he has taken him there without it being intentional. He has not come down the hill particularly well. In the end it looked like he didn't stay - time will tell."
David Elsworth, trainer of 16th Snoqualmie Boy, said: "He got a little buzzed up at the start. He ran probably freer than he wanted to. Having said that, he ran like a horse that perhaps a mile-and-a-half was further than he wanted to go. He ran like a mile-and-a-quarter horse. But another day if he settled, he might well get a mile-and-a-half."
Terry Mills, trainer of 13th Before You Go, said: "He just got knocked up in the air at the top of the hill and never handled the ground. The ground was too quick."
Christophe Soumillon, rider of fifth Visindar, said: "He ran a good race. He needs a bit more experience for the future."
Frankie Dettori, rider of ninth Linda's Lad, simply said: "No show."
Robbo on his Derby disappointment
It was the Vodafone Derby that got away for jockey Philip Robinson, rider of Hala Bek.
The colt showed his inexperience when jinking right with the Classic up for grabs and he ended up going down less than half-a-length.
Robinson said: "It's one of those things; inexperience, it's only his second run.
"It's a shame - there's only one Vodafone Derby.
"I think it was just the big occasion, the crowd and everything. I'm going to have to go back and look at the film.
"I felt he was just about to go by to the front. Going to the front there was when he jinked away. He's seen the occasion and the crowd."
When asked if the jink cost Hala Bek the race, Robinson replied: "Without a doubt. It stopped all momentum. If there had been another 50 yards we would have got back up."
Webbon on Horatio Nelson
Horatio Nelson was humanely put down after everything was done to save the colt after he was transported to the racecourse veterinary treatment area
Horseracing Regulatory Authority chief executive Peter Webbon outlined the details pertaining to the injury sustained by the son of Danehill approximately two furlongs out in the Derby and the ensuing veterinary procedure.
Webbon said: "Horatio Nelson has been put down. He had damage all the way around his off-fore fetlock joint; the cannonbone was fractured, the sesamoid bone was fractured and the joint itself was dislocated.
"As the injury happened, the skin itself was broken, so you've got a direct contamination of the fractured bone, which means you've got to deal with infection as well as everything else.
"The other major problem was there was damage to the collateral ligaments of the joint but more importantly, probably, there was damage to the blood vessels which run over that joint. And if you don't have a decent blood supply to an area, it will not heal."
Webbon also outlined that the decision to humanely put down Horatio Nelson was taken promptly following the prognosis of the damage.
He said: "It was done quite quickly. One of the reasons was because the x-ray equipment is all digital. It's not like the old days when you had to develop films.
"They were able to take about 10 or 12 x-ray pictures in probably a couple of minutes. As soon as the x-rays were seen, you could then see the extent of the damage.
"The question, then, was really to make certain that everybody that needed consulting had been. The owners' own veterinary surgeon spoke to the owners on the phone; the trainer was there.
"So it took quarter-of-an-hour, 20 minutes in all - to look at the x-ray pictures again, consider all the various options; consider how treatment would be carried out; what the horse would be capable of doing when treatment had been completed.
"I have to say the chances of treatment being successful were pretty remote. It would probably have had a five per cent chance of being turned into a horse that, really, would have had problems for the rest of his life."
Webbon also remarked upon the situation before the Derby, which saw Horatio Nelson given the green light to take his place in the race.
Webbon said: "At the start, the racecourse veterinary surgeon examined the horse. The trainer was also at the start. Both of them, having watched the horse trot up, discussed whether they thought the horse was fit to compete and both were satisfied that he was."
THE VODAFONE DERBY WINNER -SIR PERCY (GB) FACTFILE
3 b c Mark Of Esteem (IRE) - Percy's Lass (Blakeney)
Form: 1111-21 Owner: Anthony Pakenham
Trainer: Marcus Tregoning Breeder: The Old Suffolk Stud Jockey: Martin Dwyer

Sir Percy
Sir Percy, last season's top-rated British-trained juvenile, is by 2000 Guineas and Queen Elizabeth II Stakes winner Mark Of Esteem, out of the classy but temperamental Percy's Lass, and won all four starts at two. A maiden win at Goodwood in May, 2005, was followed by a minor success at Salisbury, where he defeated Don't Dili Dali by one and a quarter lengths over six furlongs. A return to Goodwood and a step into Group Two company proved fruitful with victory in the Vintage Stakes in July. Sir Percy ran on well that day to score a neck verdict over Cool Creek in the seven-furlong race, which was run on soft going. He then enjoyed a break before heading to Newmarket on October 15, for a first crack at Group One level in the Darley Dewhurst Stakes. He proved himself a two-year-old of the highest class as he held the previously unbeaten Horatio Nelson by a neck in a strong renewal of the seven-furlong contest. On his sole start this season, Sir Percy finished a gallant second to George Washington in the Stan James 2000 Guineas at Newmarket on May 6, running on well over the Rowley Mile but only able to get within two and a half lengths of the impressive winner. He overcame training troubles to win today's Vodafone Derby by a short-head.
Race Record: Starts: 6; Wins: 5; 2nd: 1; 3rd: 0; Win & Place Prize Money: £1,013,343
Anthony Pakenham
A retired solicitor, Anthony Pakenham was born on August 23, 1952. He and his wife Victoria live near Newmarket and spend their winters in France. Both were brought up with very strong racing emphasis from their parents. Trainer Dick Hern's wife Sheilah was a cousin of Mrs Pakenham's mother. Victoria Pakenham credits the Herns for providing many of her earliest racing memories. Mrs Pakenham, who works part-time in alternative investment management, has been involved in racehorse ownership since the late 1980s. The best horse she was previously associated with was the useful handicapper, Pelorus - her first involvement. She became great friends with the late racing journalist George Ennor, who was also in the Pelorus syndicate and helped to further Mrs Pakenham's knowledge of racing. Pelorus was indirectly responsible for the Pakenhams identifying Sir Percy as a potential purchase, via a formline with Braiswick, a half sister to his dam Percy's Lass. After failing to secure Sir Percy as a foal (he was sold to Will Edmeades for 20,000 guineas), Marcus Tregoning, helped by agent Angie Sykes, purchased him for 16,000 guineas as a yearling. Mr Pakenham's first horse in his own name was The Dark Lord, trained by Lucy Wadham and a useful hurdler/chaser. Sir Percy is only his second horse. The couple decided to start registering horses in Anthony rather than Victoria's name as they hoped it might bring a change of luck! Anthony Pakenham had only previously been involved with the Goodwood Racehorse Owners Group. Sir Percy was considered a long-term jump prospect before making a mockery of his sales price with a sequence of four wins from four juvenile starts, culminating with Group One success in the Darley Dewhurst Stakes. Mr Pakenham, who named the colt after Sir Percy Blakeney, otherwise known as the Scarlet Pimpernel, considers Sir Percy to be the horse of a lifetime and turned down several lucrative offers after the Group One victory at Newmarket. Sir Percy is the second horse they have bought who was bred by the Old Suffolk Stud, the first being a Wolfhound colt called Pagan Wolf who failed to win in 2002 and 2003 when in training with William Jarvis. Pagan Wolf is now Anthony Pakenham's hack.
Vodafone Derby Record: 2006-1 SIR PERCY
Marcus Tregoning
Born in Cornwall on July 31, 1959, Marcus Tregoning has been involved in the racing industry for most of his life. He had a grounding in the bloodstock world that included spells at Jocelyn Hambro's Waverton Stud, the National Stud, Danny Van Clief's Virginia stud and the farm of vet and trainer Jim Wallace in New Zealand. He spent 14 years as assistant to the late Dick Hern, initially at the historic West Ilsley stables, and then at Sheikh Hamdan Al Maktoum's purpose-built Kingwood House Stables near Lambourn. Tregoning was a useful amateur rider, winning several point-to-points, often on Bespoke, who became one of the yard hacks. Hern's retirement from training saw Tregoning take over the licence at Kingwood House in 1997. His major flagbearers to date include Nayef, who won the 2001 Group 1 Dubai Champion Stakes, the 2002 Dubai Sheema Classic, and the 2002 Juddmonte International at York, and stable stalwart Mubtaker, runner-up in the 2003 Prix de l'Arc de Triomphe and a three-time winner of the Group Two Geoffrey Freer Stakes, as well as last season's top British-trained two-year-old Sir Percy who this year was second in the first colts' Classic, the Stan James 2000 Guineas at Newmarket in May. Other notable horses he has trained include triple Group Three winner Ekraar, the 2000 Group Two Rockfel Stakes heroine Sayedah, the Group Two King's Stand Stakes heroine Dominica, and 2003 Royal Lodge Stakes winner Snow Ridge. Tregoning, who had his best-ever year in 2003 with 56 successes and had 49 last year, has 113 horses listed in training in 2006, principally for Sheikh Hamdan Al Maktoum, although other owners include Sheikh Mohammed, Sheikh Ahmed Al Maktoum, Gainsborough Stud and Ballymacoll Stud Farm Ltd as well as the Pakenhams.
Vodafone Derby Record:
2002 Tholjanah (10th); 2004 Elshadi (13th); 2006-1 SIR PERCY
Martin Dwyer
Liverpool-born Dwyer, who was born on June 28, 1975, rides regularly for Andrew Balding, to whose father Ian he was apprenticed. He finished third in the 2002 Vodafone Oaks on Shadow Dancing, trained by another strong supporter, Marcus Tregoning, and enjoyed his biggest success when winning the fillies' Classic aboard the Andrew Balding-trainer Casual Look in 2003. His other major successes include the Grade One Canadian International, Dubai Sheema Classic and Hong Kong Vase on Phoenix Reach, and he was the great Persian Punch's final regular partner, winning the Jockey Club Cup in 2002 and 2003 and the Goodwood Cup. He has enjoyed good relationships with Tregoning's High Accolade, Sir Percy and recently won on old campaigner Mubtaker in the John Porter Stakes at Newbury. This season he has taken over from Willie Supple as second jockey to owner Hamdan Al Maktoum whose first jockey is Richard Hills.
Vodafone Derby Record: 2004 Elshadi (13th): 2006-1 SIR PERCY
---

Visindar Heads 33 Going Forward For The Vodafone Derby 19/05/06
The Andre Fabre-trained Visindar heads 33 horses going forward for the £1,250,000 Vodafone Derby, run at Epsom Downs on Saturday, June 3, following today's forfeit stage, which represents a healthy increase on the 27 horses engaged in Europe's richest race at this stage in 2005 and the 25 in 2004. [more]
---

VODAFONE DERBY CONTENDERS BOOSTED BY 12
11/04/06
The premier colts' Classic, the Vodafone Derby, has attracted 12 colts at the second-entry stage, it is announced today, Tuesday, April 11, 2006. [more]
---

SIR PERCY AMONG 136 VODAFONE DERBY HOPEFULS AFTER FIRST FORFEIT STAGE 22/03/06
The 2006 Vodafone Derby, run at Epsom Downs on Saturday, June 3, promises plenty after 136 horses stood their ground at the initial forfeit stage - the first there has been since the yearling entry in 2004. [more]