COVENTRY STAKES (GROUP 2) (CLASS 1) (2yo)
16/06/09



1 Canford Cliffs 7/4 Fav
2 Xtension 20/1
3 Rakaan 28/1
13 ran
Canford destroys Coventry rivals
Canford Cliffs


© racing-images.co.uk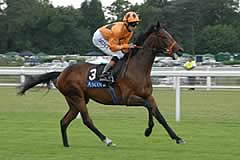 Canford Cliffs streaked home for a six-length victory in the Coventry Stakes to leave his excited trainer dreaming of next year and Guineas glory. The son of Tagula was quoted at 8/1 for next season's 2000 Guineas after his highly impressive performance.
Richard Hannon, who was completing a 10.9/1 double on the day after the opening race victory of Paco Boy, said: "The Coventry is a very hard race to win but the way he's won it was fantastic. I love this horse, he's such a laidback character. He's so easy at home - you wouldn't know he was in the yard.
"Richard (Hughes) rode him work one morning and said 'wow, this is a racehorse'. Then he said today that he ran away with him and when he shook the reins he went on again. It would be hard to find another one as good as him.
"We may look at the July Stakes but this horse wants looking after - he could be next year's horse. We're going to have to be careful with him this year. I wish we had two or three more who could go with him.
"If he was on of Aidan's ('Brien) horses, he would probably be 4/6 for next year's Guineas!"
He continued: "If we hadn't had a winner today we'd have been a bit shy for the rest of the week. Those were our two big chances."
Richard Hughes teamed up again with his father-in-law to take the winning ride and was full of praise for his mount, saying: "I've never ridden a horse like him in my life. I've never known a horse to run away with me and win a race. All I was trying to do was slow him down. He was a little bit lit up going to the start and he jumped really quickly. When the boys came whooshing up beside me he was very keen and I've never known a horse pull that hard in a race.
"The first day I sat on him I knew he was something special. I don't want to talk him up too much but he has gone and done something really special today."
"I rode a few canters on him and liked him a lot. I thought he would be ready in July because he was a bit big and a bit long but I gave him a half-speed one morning and I have never ridden anything like it in my life. I said to the boss that this is something serious.
"He went off 10 lengths in front of two other lads and they got a bollocking because they couldn't lie up with him. It was an unbelievable bit of work.
"We were in the stalls quick and he jumped really quickly and the boys were whooshing up beside me which made him a bit keen. At home he does all of his work in behind.
"He's the best horse I have ever ridden - he's a freak."
Position

Horse
Trainer
Jockey
Weight
Starting Price
Beaten Distance
1

Canford Cliffs
R Hannon
R Hughes
9st 1lbs
7 - 4
Winner
2

Xtension
C G Cox
A Kirby
9st 1lbs
20 - 1
6 lengths
3

Rakaan
B J Meehan
J P Spencer
9st 1lbs
28 - 1
3/4 length
4

Moran Gra
Ms J Morgan
K J Manning
9st 1lbs
20 - 1
1 1/2 length
5

Treadwell
J A Osborne
S W Kelly
9st 1lbs
33 - 1
Nose
6

No Hubris
P F I Cole
Martin Dwyer
9st 1lbs
11 - 2
1/2 length
7

Red Jazz
B W Hills
M Hills
9st 1lbs
11 - 2
3/4 length
8

Fremont
R Hannon
R L Moore
9st 1lbs
20 - 1
1 1/2 length
9

Alrasm
M A Jarvis
R Hills
9st 1lbs
12 - 1
1 3/4 length
10

Flying Statesman
R A Fahey
P Hanagan
9st 1lbs
16 - 1
2 3/4 lengths
11

Air Chief Marshal
A P O'Brien
J Murtagh
9st 1lbs
11 - 1
1/2 length
12

Raine's Cross
P Winkworth
Jim Crowley
9st 1lbs
16 - 1
3 3/4 lengths
13

Marsh Warbler
M Johnston
L Dettori
9st 1lbs
16 - 1
9 lengths
NonRunner

Walkingonthemoon
Tom Dascombe
R Kingscote
9st 1lbs


XTENSION RAISES HIS GAME
Trainer Clive Cox was all smiles after Xtension came from nowhere to claim second place in the Coventry Stakes, six lengths behind the winner Canford Cliffs.
"The winner's very special, but mine cost 15,000 Euros in a day when a Euro was a Euro," said the trainer.
"He's a lovely horse and we knew he would improve on his first outing [a maiden victory at Goodwood].
"The fantastic things about him is his temperament, he's so quiet. He's lazy at home, but he's a Xaar and I wasn't going to beat him up.
"The dreams have gone up a gear after that, but we are going to gradually see how we go.
"I've got my eye on Pattern races in the autumn," said Cox.