KING'S STAND STAKES
16/06/09
1 Scenic Blast 11/4 Fav
2 Fleeting Spirit 7/2
3 Anglezarke 33/1
15 ran
Scenic Blasts Home
Scenic Blast


© racing-images.co.uk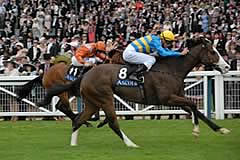 Scenic Blast became the fourth Australian winner of the King's Stand Stakes in seven renewals, when the five-year-old's blistering mid-race burst settled the race early.
"It's fantastic, for everything to go to plan like it did, and everything really has gone to plan," said Dan Morton, the trainer, for whom it was a first Royal Ascot outing.
Not quite everything had gone to plan prior to the race, as the horse arrived at Ascot racecourse without his vaccination certificate, which had to be faxed over from Newmarket, where the horse has been stabled. Without the certificate, he would not have been allowed to race.
Once on the race track, though, Scenic Blast always looked like the winner. "The horse travelled good and it just worked out beautifully. I was really happy in running I could see that Stephen had a handful. He closed on them really easy, and Fleeting Spirit was coming to him at the end and the line couldn't come quick enough for me in the end," said Morton.
"You just sort of dream about these things, you don't believe they'll come off. We're not trailblazers, there's a fair few Aussies have done it before us," he added
When asked if he thought he had the best sprinter in the world, Morton responded: "Today, I do."
Jockey Steve Arnold endorsed the trainer's view. "I've never had a horse with the explosion he has so I wasn't surprised he picked them up so quickly. I went reasonably early and got to the front a long way out," he said.

Scenic Blast will next race in the July Cup at Newmarket on July 10th. "He won't run on Saturday. I had the Jubilee as a back-stop, just in case," said the trainer.
For the owners, Elio Anthony Galante and Partners, a group of property developers from Western Australia, it was also their first runner at Royal Ascot. All but one of the nine owners had travelled over to watch the race, and Galanta himself, was almost overcome with emotion.
"Words can't describe it, they can't. He's just an amazing horse. He's travelled halfway round the world and done this. That's my fourth Group One winner of the year; Scenic Blast has won three and City Trots has won one," said Galante, who received his trophy from the four-time Olympic champion Matthew Pinsent.
Position

Horse
Trainer
Jockey
Weight
Starting Price
Beaten Distance
1

Scenic Blast
D Morton
Steven Arnold
9st 4lbs
11 - 4
Winner
2

Fleeting Spirit
J Noseda
R L Moore
9st 1lbs
7 - 2
3/4 length
3

Anglezarke
T D Easterby
D Allan
8st 9lbs
33 - 1
2 3/4 lengths
4

Captain Gerrard
B Smart
T Eaves
9st 4lbs
66 - 1
1/2 length
5

Borderlescott
R Bastiman
P Cosgrave
9st 4lbs
10 - 1
Neck
6

Cannonball
W A Ward
J Velazquez
9st 4lbs
33 - 1
1 1/4 length
7

Dandy Man
S Suroor
L Dettori
9st 4lbs
20 - 1
1/2 length
8

Equiano
B W Hills
M Hills
9st 4lbs
14 - 1
1/2 length
9

Wi Dud
K A Ryan
A Munro
9st 4lbs
66 - 1
1 1/2 length
10

Amour Propre
H Candy
Dane O'Neill
8st 12lbs
4 - 1
Head
11

Mythical Flight
S G Tarry
K Shea
9st 4lbs
20 - 1
1/2 length
12

Spin Cycle
B Smart
R Mullen
8st 12lbs
33 - 1
Neck
13

Hoh Hoh Hoh
R J Price
R Winston
9st 4lbs
33 - 1
1 1/2 length
14

Tax Free
D Nicholls
A Nicholls
9st 4lbs
12 - 1
4 lengths
15

Rievaulx World
K A Ryan
N Callan
8st 12lbs
66 - 1
8 lengths
FILLIES CHASE HOME AUSSIE STAR AND FLEETING SPIRIT MAY BE BACK FOR MORE
Fleeting Spirit


© racing-images.co.uk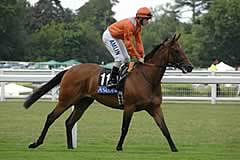 Two fillies laid down the biggest challenge to Australian sprinter Scenic Blast with Fleeting Spirit and three-year-old Anglezarke chasing him home to take second and third in the King's Stand Stakes.
Andy Stewart is better known for his association with jump racing and horses such as Big Buck's, My Will and Celestial Halo but he enjoyed his foray into the flat with a game second place for the filly in whom he has a share, Fleeting Spirit. The Jeremy Noseda-trained four-year-old finished three-quarters of a length behind the Australian raider.
Stewart said: "We're delighted with her. She's finished very close to an Australian superstar. That's good for racing and good for Ascot. Ryan Moore said he didn't know how quickly one (his draw) was going compared to 15 (Scenic Blast) but equally 15 didn't know how fast one was going. Well done to the Australians.
"We'll look at our options and see how she is - it's a big ask for a filly to come back on Saturday (for the Golden Jubilee Stakes) but we won't rule it out just yet. We'll talk to Jeremy and see how she is tomorrow."
Tim Easterby, trainer of third-placed Anglezarke said: "She ran a cracker. She's always been good and has just got better. I think she'll get better still. We've brought them here before and we know what it takes - I really felt she'd run a very good race and she has."
Dane O'Neill, rider of Amour Propre, who finished tenth, said: "He just didn't quite fire today. He didn't pick up like he can do for whatever reason but I think the winner is top class."