Queen Mary Stakes
17/06/09
1 Jealous Again 13/2
2 Misheer 9/1
3 Ceedwell 12/1
13 ran
Jealous Again Romps to Queen Mary Victory
Jealous Again


© racing-images.co.uk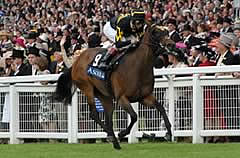 Just 24 hours earlier, trainer Wesley Ward had warned that Jealous Again was much better than his Windsor Castle Stakes winner Strike The Tiger and the two-year-old Trippi filly proved these were not empty words when bolting from the gate to forge instantly clear of her rivals before kicking on again for a facile five-length victory.

Sent off at 13/2, from a morning price of 16/1, Jealous Again never saw another rival as she sprinted home to become only the second American-trained winner ever at the Royal Meeting.

"This is such an honour to be here and to have two winners is just fantastic," said Ward. "When Cannonball got invited to his race I thought I'd bring over a few two-year-olds and target some of your races as at this time of year there are not really that many opportunities for stakes races at home. So far they've both won and I'm very proud of my horses.

"She ran brilliantly and Johnny (Velazquez) rode a great race. In America we train for speed and that's one of the reasons I came over - I thought I could maybe get a jump on the other trainers and other horses as I train to get my horses out nice and early and take advantage of the early races. Your horses are bred more for longer distances and ours are bred more for speed."
Ward still has three juveniles to run at the Royal Meeting - his homebred Yogaroo in the Norfolk Stakes, Aegean in the Albany and Honor In Peace in the Chesham - and he is set to back up Cannonball in Saturday's Golden Jubilee Stakes.
He continued: "Yogaroo has got a big chance also. I own the sire (Bring The Heat) and he throws sprinters. Aegean is better than this filly (Jealous Again). She's a lovely filly, she's fantastic, that's all I can say."
Paying tribute to jockey Rene Douglas, who was partially paralysed in a race fall just a few weeks before the meeting, the trainer added: "One thing I would like to say is that Rene Douglas was scheduled to come here to ride them and he was so excited about it. I feel so bad that he's not here but I'm delighted that Johnny was able to ride."
Velazquez said: "It's an easy job for me as Wesley had them ready to go. I wasn't surprised at her today. She was impressive and I knew she would be very fast. She was fast out of the gates and I just kept her running once she got away from them. The only question I had was how she would handle the ground but Wesley did well to bring them over early to Newmarket and work them on the grass.
"Ascot is a beautiful place to come to, so prestigious. It's a dream come true to ride two winners. I came here in 2000 and I have always looked at it since then and have been very impressed. When the offer came to come here I said 'yes I'd love to' and having two winners is the icing on the cake. I'd love to come here every summer for this event. I have prior commitments back in America otherwise I'd have been staying for Saturday too."
Position

Horse
Trainer
Jockey
Weight
Starting Price
Beaten Distance
1

Jealous Again
W A Ward
J Velazquez
8st 12lbs
13 - 2
Winner
2

Misheer
C E Brittain
N Callan
8st 12lbs
9 - 1
5 lengths
3

Ceedwell
B Smart
T Eaves
8st 12lbs
12 - 1
2 lengths
4

Capercaillie
M Johnston
L Dettori
8st 12lbs
4 - 1
Nose
5

Chantilly Creme
R Gibson
S Pasquier
8st 12lbs
16 - 1
Nose
6

Lady Of The Desert
B J Meehan
Martin Dwyer
8st 12lbs
11 - 2
3 1/2 lengths
7

Rose Blossom
R A Fahey
P Hanagan
8st 12lbs
5 - 1
2 lengths
8

Crown
R Hannon
R Hughes
8st 12lbs
20 - 1
3/4 length
9

High Spice
R M H Cowell
E Ahern
8st 12lbs
25 - 1
Neck
10

Don't Tell Mary
Tom Dascombe
R Kingscote
8st 12lbs
11 - 2
3 1/4 lengths
11

Grand Zafeen
M R Channon
A Culhane
8st 12lbs
33 - 1
1 1/4 length
12

Itwasonlyakiss
J W Hills
M Hills
8st 12lbs
40 - 1
8 lengths
13

Lady Royal Oak
M Botti
R L Moore
8st 12lbs
33 - 1
11 lengths
BRITTAIN AND SMART FULL OF HOPE FOR FUTURE
Misheer


© racing-images.co.uk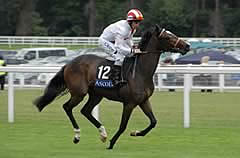 Trainers Clive Brittain and Bryan Smart, represented by runner-up Misheer and third-placed Ceedwell, have big hopes for their fillies after they finished behind the sensational American raider Jealous Again in the Queen Mary Stakes.

"I knew we'd beat the best of the English and we did," said Brittain. "OK, she didn't beat the lightening speed, but she stayed on and she has now performed on three different surfaces and three different tracks.

"We're not finished yet and the jockey said she wanted six furlongs but I'd have no qualms going over another two furlongs and go up to seven."
Ceedwell


© racing-images.co.uk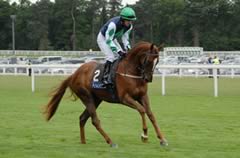 Smart said of the Willie Carson-bred Ceedwell: "The Cheveley Park Stakes and six furlongs is what she wants as long as the ground is on our side.

"The winner was obviously exceptional on the day but our's was the only one galloping home at the end and the jockey couldn't stop her to pull up.

"I think this was the best Queen Mary for four or five years and if anything our filly was rushed to get here. I've said for a while that she's the best filly I've had for a long time and she is."