Equiano Reclaims King's Crown for Hills Team
15/06/10
1 Equiano 9/2
2 Markab 14/1
3 Borderlescott 16/1
Equiano, successful in the same race in 2008 when only a three-year-old, proved he still has what it takes to mix it with the best sprinters in the world when winning the King's Stand Stakes by a length and a half despite stumbling from the stalls.

Equiano


© racing-images.co.uk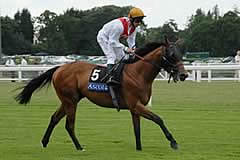 Barry Hills, who was in hospital for last year's Royal Meeting, was delighted to be back in the Ascot winner's enclosure. He said: "He's a very fast horse and I thought he was going to win today. I was in hospital last year but it's great to be back, this is the best party there is."

The trainer's son Michael, who was on board Equiano, said: "He's so quick out of the gates but he lost his footing and stumbled. Once he got back up he really turned the engine on. I went to the rail and he took off again at about the three-furlong mark.


"We just didn't quite get him right last year. He never disgraced himself in a race but he was never 100 per cent. But he's been training well this year and basically from his first start we knew we had him back again. He hasn't put a foot wrong in his last three starts."

The jockey added: "He'll stick to five furlongs and probably go for the Nunthorpe and then the Abbaye. I've won two Nunthorpes but this fella is so fast and goes so well from the start. Royal Applause (Equiano's grandsire) was the same but he was a six-furlong horse and this horse is a five-furlong specialist. It was a real thrill going that quick. Someone beeped a car horn at the three-furlong pole and it made him go even faster!"

Referring to his father's recovery from illness, Michael said: "It makes it very special. We all work extremely hard and the team at home are brilliant. We came here last year and the boss wasn't here so we had to do it ourselves. It worked and he was leading trainer and this year we've started out on the right foot again."

The horse's owner James Acheson, who has struck a deal with Newsells Park Stud to stand Equiano next year, added: "Barry's done a really good job with him. Even though he stumbled at the start he was still right up there. He's going to stud next year so this was his last chance at Royal Ascot."
Position

Horse
Trainer
Jockey
Weight
Starting Price
Beaten Distance
1

Equiano
B W Hills
M Hills
9st 4lbs
9 - 2
Winner
2

Markab
H Candy
P Cosgrave
9st 4lbs
14 - 1
1 1/2 length
3

Borderlescott
R Bastiman
N Callan
9st 4lbs
16 - 1
Neck
4

Nicconi
D Hayes
L Dettori
9st 4lbs
10 - 3
3/4 length
5

Bould Mover
F Brennan
G Gibbons
8st 12lbs
66 - 1
Head
6

Kingsgate Native
Sir Michael Stoute
R L Moore
9st 4lbs
5 - 2
1 1/4 length
7

Spin Cycle
B Smart
R Mullen
9st 4lbs
25 - 1
Neck
8

Amour Propre
H Candy
Dane O'Neill
9st 4lbs
25 - 1
2 lengths
9

Blue Jack
Tom Dascombe
R Kingscote
9st 4lbs
33 - 1
1 3/4 length
10

Gold Trail
G Portelli
Michael Rodd
9st 4lbs
10 - 1
5 lengths
11

Total Gallery
J S Moore
R Hughes
9st 4lbs
9 - 1
5 lengths
12

Mister Manannan
D Nicholls
A Nicholls
8st 12lbs
25 - 1
8 lengths
CANDY AND BASTIMAN PLEASED
Trainer Henry Candy was very satisfied with the performance of Markab, who filled the runner-up spot in the Group One King's Stand Stakes, going down by one and a half lengths to Equiano.
The Wantage-based handler said of the seven-year-old, a 14/1 shot: "That was a brilliant run.
"He has shown today that he is a proper Group One beast and I think we will probably now look at the Prix Maurice de Gheest for him now. That race can sometimes be a bit strange but the return to six and a half furlongs should suit him. He was flat out all the way today.
"He won't go for the July Cup."
Borderlescott, a 16/1 chance, was a neck back in third and the eight-year-old seems as good as ever, with a bid to win York's Nunthorpe Stakes for a third time firmly on the agenda.
His trainer Robin Bastiman said: "He is such a genuine animal.
"As he has shown in the past, he is not at his best at this time of year - he keeps his best for later in the season.
"We were drawn a bit wide today and Pat (Cosgrave) just had to switch him but I am not making excuses - Equiano did it well.
"He will be aimed at the Nunthope once again and it would be wonderful if he could win it for a third time.
"At lot of these sprinters are finished when they are about six but he is still as good as ever at eight. He still has the heart for it."
NICCONI LIKELY TO BE RETIRED
Nicconi failed to add to the excellent recent record of Australian challengers in the King's Stand Stakes, coming home in fourth place, and the five-year-old is now likely to be retired to stud in his homeland.
Trainer David Hayes said: "Frankie (Dettori) said he probably could have got a place but the horse just didn't travel. He needed six or seven furlongs today.
"We will sleep on it, but I think he will probably be retired now. He is a tremendous stallion prospect back home.
"Obviously, I am disappointed that he didn't win, but at the same time he didn't run terribly."
Michael Rodd, rider of the second Australian challenger Gold Trail, who finished tenth, said: "He hadn't run on a straight course before and was just looking for a turn. He didn't perform up to his best which is disappointing."