racing news /

Camelot Set to Make History
26/07/12

Camelot could make history in this year's Ladbrokes St Ledger as he looks to become the first horse to win the Triple Crown since 1970. It was Nijinsky that last managed to do this and now the three-year-old is the favourite to write his name in the history books.

QIPCO 2000 Guineas - Camelot (J O'Brien) wins from French Fifteen (O Peslier)
© Racehorse Photos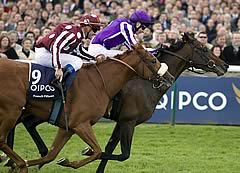 The Aiden O'Brien trained horse has brushed aside his opponents so far this year and looks set to win the Ladbrokes St Ledger, which has 36 entries this year.
Camelot won the QIPCO 2,000 Guineas at Newmarket in early May and then put in a stunning performance at Epsom Downs in the Investec Derby, winning by five lengths.
Only 16 horses have managed to win these two classics and the Ladbrokes St Ledger in the past and Camelot has good memoires at Town Moor, which is where the race will be held. He managed an easy victory in October last year, which saw him become the joint European Champions two-year-old.
Those spending more time on http://www.casinosonline.com might like to note that this race is ran over a mile, six furlongs and 132 yards and is the world's oldest classic. The prize money this year is £550,000.
It could be a historic day for O'Brien too, who could become the first trainer to win five of Britain's classics in a year.
Managing director at the Doncaster Racecourse Mark Spincer is clearly looking forward to this event which could live long in the memory.
He said: "We are very excited that the 2012 Ladbrokes St Leger is panning out to be a moment in history, with the unbeaten Camelot aiming to become the first Triple Crown winner since Nijinsky 42 years ago."
Spincer then added: "The quality and breadth of the entries is very pleasing. John Gosden, trainer of the Ladbrokes St Leger winner for the last two years, has made five entries for the 2012 Classic, including the in-form Great Heavens, Michelangelo and Shantaram.
"It is also excellent news to see an entry, Estimate, from Her Majesty The Queen and we would be delighted to welcome the owner at Doncaster."
The Doncaster Racecourse is sure to be packed to the rafters for the race in September and Mike Dilon of Ladbrokes is delighted with the number of horses taking part: "To have 36 entered - the same number as last year - when everyone knows that Camelot is going for the Triple Crown is marvellous." He said.
This is certainly one of most eagerly anticipated events of the horse racing calendar and is not to be missed.