Hedgehunter top weight for Grand National
12/04/07
The 2005 Grand National winner Hedgehunter has been handed the top weight for this year's big race at Aintree.
Hedgehunter
© racing-images.co.uk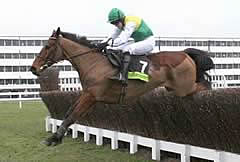 Irish trainer Willie Mullins' top-rated horse will go with 11st 12lbs, followed by champion trainer Paul Nicholls' Eurotrek at 11st 8lbs.
The 40-horse field also includes last year's winner Numbersixvalverde and the current market leader Joes Edge, who was a winner at the 2005 Scottish Grand National and has prepared well with a win from 50-1 at last month's Cheltenham Festival.
Many punters were sweating on the Ferdy Murphy-trained horse's inclusion as he was initially listed outside the first 40 entries. However, the withdrawals of Fota Island, Armaturk and Iris Royal pushed the horse up the order.
Clan Royal, another popular choice at the tote, is also listed – carrying 10st 9lbs.
He has been a perennial competitor at Aintree over the past few years, finishing second behind Amberleigh House in 2004 and getting third place in 2006. He was also leading when taken out by a loose horse two years ago.
Irish-trained horses make up the majority of the field and have won five times in the last eight years.
Willie Mullins is the most represented trainer in this year's National with four horses, while English trainer Paul Nicholls has three in the main 40 and one on the reserve list.
THE 2007 JOHN SMITH'S GRAND NATIONAL
Class 1, Grade 3, £700,000 total Prize Fund. Aintree, Saturday, April 14. For six-year-olds old and upwards which are allotted a rating of 110 or more by the Senior BHB Jumps Handicapper following a review of the horses entered and after taking account of races run up to and including February 11, 2007. Horses which are not qualified for a rating in Great Britain or Ireland at January 31, 2007, may also be entered. Such horses may be eligible for a weight providing the Handicapper is satisfied that the horse's racecourse performances to February 11, 2007, would merit a minimum rating of 110. To qualify horses must have run at least three times in Steeple Chases run under the Rules of Racing of the same Recognised Turf Authority up to and including February 11, 2007. At the Handicapper's discretion such horses may be allocated a rating. The decision of the Senior BHB NH Handicapper shall be final. No penalties after publication of the weights. Entries closed January 31, entries revealed February 1 (119 entries), weights revealed February 13, first forfeit stage March 6 (106 remained), second forfeit stage March 27 (81 remain). Six-day confirmation stage April 9, final declaration stage 10.00am, April 12. Form figures supplied by Wetherbys and are correct up to and including the racing of Monday, March 26, 2007.
Form Horse Age/Wgt Trainer Jockey
1. 04222-50 HEDGEHUNTER (IRE) 11-11-12 Willie Mullins IRE Ruby Walsh
2. P/411P-1 EUROTREK (IRE) 11-11-08 Paul Nicholls Liam Heard
3. 243-53420 L'AMI (FR) 8-11-08 Francois Doumen FR Tony McCoy
4. 2643-344 MONKERHOSTIN (FR) 10-11-06 Philip Hobbs Richard Johnson
5. 14/3F-2520 THISTHATANDTOTHER (IRE) 11-11-05 Paul Nicholls Sam Thomas
6. 410U-513 BILLYVODDAN (IRE) 8-11-04 Henry Daly Leighton Aspell
7. B4431-404 NUMBERSIXVALVERDE (IRE) 11-11-03 Martin Brassil IRE Niall Madden
8. 324-26UU IDLE TALK (IRE) 8-11-02 Donald McCain Jnr Jason Maguire
9. F00-65036 ROYAL AUCLAIR (FR) 10-11-01 Paul Nicholls Joe Tizzard
10. 3/-0FP10F CLOUDY BAYS (IRE) 10-11-00 Charles Byrnes IRE Andrew McNamara
11. 1F22300 KNOWHERE (IRE) 9-10-13 Nigel Twiston-Davies Tom Doyle
12. 06-10302P2 KELAMI (FR) 9-10-12 Francois Doumen FR Mick Fitzgerald
13. 1-P04B133 POINT BARROW (IRE) 9-10-12 Pat Hughes IRE Philip Carberry
14. 124420-P CELTIC SON (FR) 8-10-11 David Pipe Timmy Murphy
15. 11-52611 SIMON 8-10-11 John Spearing Andrew Thornton
16. U20P5P0 BALLYCASSIDY (IRE) 11-10-09 Peter Bowen Denis O'Regan
17. 313-6FP CLAN ROYAL (FR) 12-10-09 Jonjo O'Neill Mr J T McNamara
18. 1125-130 GALLANT APPROACH (IRE) 8-10-09 Charles Egerton Jimmy McCarthy
19. 50442250 LIVINGSTONEBRAMBLE (IRE) 11-10-09 Willie Mullins IRE Davy Russell
20. 110-0F251 DUN DOIRE (IRE) 8-10-08 Tony Martin IRE Paul Carberry
21. 0410-010 KANDJAR D'ALLIER (FR) 9-10-08 Alan King Robert Thornton
22. 2-33P3F5 SLIM PICKINGS (IRE) 8-10-08 Tom Taaffe IRE Barry Geraghty
23. 540-232 ZABENZ (NZ) 10-10-08 Philip Hobbs Barry Fenton
24. 236P-420 BEWLEYS BERRY (IRE) 9-10-07 Howard Johnson Paddy Brennan
25. P146/0-1 LONGSHANKS 10-10-07 Kim Bailey Tony Dobbin
26. 5115UP BOTHAR NA (IRE) 8-10-06 Willie Mullins IRE David Casey
27. 2163-53U GRAPHIC APPROACH (IRE) 9-10-06 Charles Egerton Paul Moloney
28. 233-0F11 HOMER WELLS (IRE) 9-10-06 Willie Mullins IRE David Condon
29. U5014-400 LIBERTHINE (FR) 8-10-06 Nicky Henderson Mr Sam Waley-Cohen
30. /4PPF-0242 SILVER BIRCH (IRE) 10-10-06 Gordon Elliott IRE Robbie Power
31. BP21P6-0 PHILSON RUN (IRE) 11-10-05 Nick Williams Daryl Jacob
32. 0/60-5520P PUNTAL (FR) 11-10-05 David Pipe Tom Scudamore
33. 3-41R21PP THE OUTLIER (IRE) 9-10-05 Venetia Williams Paul O'Neill
34. 2000-0440 TIKRAM 10-10-05 Alan King Wayne Hutchinson
35. U2-41061 MCKELVEY (IRE) 8-10-04 Peter Bowen Tom O'Brien
36. 0411530P NAUNTON BROOK 8-10-04 Nigel Twiston-Davies Noel Fehily
37. U0-000402 JACK HIGH (IRE) 12-10-03 Ted Walsh IRE Richard McGrath
38. 11PP0-5120 SONEVAFUSHI (FR) 9-10-03 Venetia Williams Mr Tom Greenall
39. 4006-001 JOES EDGE (IRE) 10-10-02 Ferdy Murphy Graham Lee
40. 2UU-0043 LE DUC (FR) 8-10-02 Paul Nicholls Dominic Elsworth
No non-runners were announced by 9.30am this morning (Friday) so none of the reserves will be utilised.
RESERVES
R1. 2SR550-33 RISK ACCESSOR (IRE) 12-10-02 Jonjo O'Neill Brian Harding
R2 1-U2P00551 UNDENIABLE 9-10-01 Sue Smith David O'Meara
R3. PS3344402 DUNBRODY MILLAR (IRE) 9-10-01 Peter Bowen Seamus Durack
R4. 00-12100 LOU DU MOULIN MAS (FR) 8-10-00 Paul Nicholls -
THE THREE HORSES TO COME OUT YESTERDAY
1222-565 FOTA ISLAND (IRE) 11-11-09 J P McManus Mouse Morris IRE
P63-22U30 ARMATURK (FR) 10-11-05 Trevor Hemmings Paul Nicholls
0F5P-2U IRIS ROYAL (FR) 11-10-03 Sir Robert Ogden Nicky Henderson
Latest betting ( William Hill
13/04/07)
Joes Edge 8/1
Point Barrow 9/1
Hedgehunter 12/1
Numbersixvalverde 14/1
L'Ami 14/1
Dun Doire 14/1
Simon 16/1
Idle Talk 16/1
Eurotrek 16/1
Billyvoddan 16/1
Mckelvey 20/1
Bothar Na 20/1
Bewley's Berry 20/1
Monkerhostin 25/1
Longshanks 25/1
Clan Royal 25/1
Silver Birch 28/1
Slim Pickings 33/1
Liberthine 33/1
Jack High 33/1
Homer Wells 33/1
Royal Auclair 40/1
Kelami 40/1
Zabenz 50/1
Philson Run 50/1
Gallant Approach 50/1
Ballycassidy 50/1
Thisthatandtother 66/1
Lou Du Moulin Mas ( Reserve 4 ) 66/1
Livingstonebramble 66/1
Le Duc 66/1
Kandjar D'allier 66/1
Graphic Approach 66/1
Undeniable ( Reserve 2 ) 100/1
The Outlier 100/1
Tikram 100/1
Risk Accessor ( Reserve 1 ) 100/1
Puntal 100/1
Naunton Brook 100/1
Knowhere 100/1
Dunbrody Millar ( Reserve 3 ) 100/1
Cloudy Bays 100/1
Celtic Son 100/1
Sonevafushi 200/1
1/4 Odds Place 1, 2, 3, 4