Grand National Winning
Jockey, Niall Madden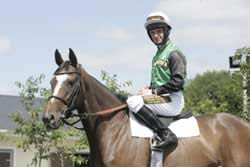 Aintree and John Smith's to Sponsor Grand National Winning Jockey
28/07/06
Aintree Racecourse and John Smith's have teamed up with Grand National winning jockey, Niall Madden, to deliver an innovative new sponsorship and further develop their links in the racing industry with the John Smith's Grand National meeting.
The sponsorship will include 20-year-old Madden wearing branded breeches up to and including the 2007 John Smith's Grand National meeting. Madden, who is currently riding in both flat and jump races in Ireland, will carry John Smith's Grand National Winning Jockey' branding in all races he competes.
Charles Barnett, Managing Director of Aintree Racecourse said: "We are delighted to be supporting Niall throughout his Grand National winning year. We are incredibly fortunate to have John Smith's as a fantastic sponsor for racing and through their association, has enabled us to provide the funding to support Niall.

"The growth of the Grand National meeting in recent years has included the attraction of many leading horses from Ireland. Many of these have been ridden by young Irish jockeys who would have been relatively unknown in the UK. Niall is a classic example, although the ride that he gave Numbersixvalverde in this year's John Smith's Grand National will ensure that he will become well-known to racegoers in this country."
This sponsorship will be an integral part of the promotional activity being carried out by Aintree and John Smith's within Ireland. This, coupled with an increase in the numbers of airline carriers travelling into Liverpool Airport from Ireland, will help grow the attendance figures further for the 2007 Grand National meeting.