1st (33) Comply Or Die 7-1 Jt Fav
2nd (27) King Johns Castle 20-1
3rd (16) Snowy Morning 16-1
4th (12) Slim Pickings 10-1
40 ran
Also: 7-1 Jt Fav Cloudy Lane
Comply Or Die Completes Pipe Dream
05/04/08
Comply Or Die
© racing-images.co.uk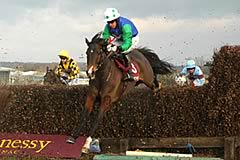 The well-backed 7/1 joint-favourite Comply Or Die was produced with a perfectly time-run by jockey Timmy Murphy to land the John Smith's Grand National by four lengths from King John's Castle.
Trainer David Pipe - whose father Martin won the 1994 race with Miinnehoma - was landing the John Smith's Grand National in only his second season with a licence and admitted that he was hopeful beforehand.
"The horse and jockey were fantastic out there but I knew he had all the right credentials and with a little luck in running we'd have the right result today. He ran well at Haydock, then looked tailormade for this after winning the Eider, which may not have been the greatest race, and there was every reason to think he would take to it, he had schooled very well at home," said Pipe.
"He had leg trouble and does lots of swimming and we've always looked after him. Sometimes they take a long time to get back from injury and DJ (owner David Johnson) has been very supportive. He had a lot of luck in running, which you have to have, and galloped all the way to the line. There were a few well in at the weights, but things have to go right for you and fortunately it did for us.
"He was a good novice and has always been a horse bred to jump and stay - a lot of good's been done by the team at home.
"I had told a few people tongue in cheek beforehand to come to the party after the race and there will be some sore heads tomorrow. The horse deserves a long rest now, he'll be aimed at all the long-distance chases next year and they don't come any better than this.
"Grandad was the one that set us all up. He bought the yard and set Dad up, who was a great teacher to me. I don't have any overheads and have had a very priviliged upbringing and really appreciate it. It's an ambition everyone will always have and to fulfil it in my second season is amazing."
Timmy Murphy added: "It's everyone's dream to win the National and the punters aren't as happy as I am. I built a little National fence at home as a child which I fell from more than I've ever fallen here! This is the highlight of anybody's career, when you think of all the great jockeys that have never won the National. You never really rest on your laurels in the National and even over the last it's a long way.
"He jumped fantastically all the way and I was praying going to the last, concentrating on getting his stride right, but it's the same at every single fence in the race. I was worried because Paul Carberry was behind me and he's not someone you like to see peering at you from behind.
"Mine popped the first and got into a nice rhythm. I usually try and wait for as long as I can and the plan was to be handy and to then get into a nice rhythm, I always planned not to get there too soon. But once we got to the elbow I thought it was time to finish it!
"When the horse was a novice he almost jumped a bit too clean, he was giving them too much height, but I was happy today after the first ditch today, that can really test them."
Owner David Johnson, who has around 70 horses in training, said: "Martin got me placed in the race a few times and David has a very good assistant now! The Pipe yard is a family yard with Martin, Carol and David and they are a close family and very professional
"I didn't back the horse, the occasion was fantastic enough and I've got back a bit of the money we gave to Tom Costello for him! I thought he was a bit close at the second but otherwise he never got a stride wrong.
"Timmy was fantastic and it still amazes me that he doesn't get more outside rides. When he became my retained rider he was the natural choice - Richard Johnson was attached to Hobbs, Ruby was with Nicholls, Barry Geraghty couldn't do the weight and Timmy was just the right choice. He's a good horseman, just a good jockey."
Martin Pipe was proud of his son and added: "Comply Or Die was professionally prepared for this race - Jonathon Lower built some National fences at home and he had schooled very well over them. It was great we had the two young lads - David and Donald McCain - taking each other on and they two are very professional people."
NO EXCUSES FOR RUNNER-UP KING JOHNS CASTLE
Trainer Arthur Moore offered no excuses after King Johns Castle finished a gallant second in the John Smith's Grand National, four lengths adrift of the winner Comply Or Die.
The Irish handler said: "For a few strides after the last I thought we might do it, but the winner just kept battling and had more reserves than us.
"Paul (Carberry) has given him a great ride, a real peach. He always had the leaders in his sights and came through with the perfect challenge."
The nine-year-old grey definitely has the John Smith's Grand National in his sights for 2009 and Moore is looking forward to returning next year.
He continued: "There will be nothing else on his agenda next year apart from coming back here again.
"Now that he has proved he can act around Aintree, there is no point in going anywhere else although that might have been his best chance out there today."
Frank Berry, Racing Manager to owner J P McManus, added: "The horse ran a blinder and jumped like a buck.
"That was a great ride from Paul.
"Timmy was out in front and he had plenty of horse under him, we were never quite getting there.
"He ran an honest race and we were simply beaten by a better horse on the day."
SNOWY AND SLIM DO THEIR TRAINERS PROUD
Snowy Morning
© racing-images.co.uk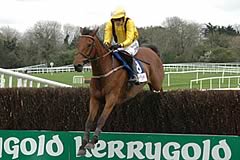 Snowy Morning, who finished third in the John Smith's Grand National, and fourth-placed Slim Pickings, delighted their trainers.
Willie Mullins, trainer of Snowy Morning, said: "I'm absolutely delighted - he did what I hoped he would do. He seemed to love it round there and I'm looking forward to coming back next year.
"I couldn't understand why he became friendless after one middling run [on his previous outing]. That race came too soon after an earlier run when he won the Hennessy Cognac Gold Cup, but there was no other race a week later so we had to take our chance.
"On the home turn today I was hoping, but I could tell the winner was going better. It's a long straight and hope was all I had. Now I'm hoping we can come back next year."
Tom Taaffe's Slim Pickings was third last year and fourth this time. Taaffe said: "Absolute magic - he ran a cracker. He was third last year, and this time a little more weight took its toll, but I'm only too delighted and we'll be back again next year.
"Barry [Geraghty] said he suffered a bit of interference once or twice and had some luck on other occasions, but the horse jumps so well and from Becher's he just nursed him along the rail quietly getting into contention. He had every chance but wasn't good enough on the day."
HEMMINGS REACTION
Cloudy Lane (right)
© racing-images.co.uk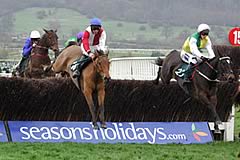 Trevor Hemmings, the owner of Cloudy Lane the 7/1 joint favourite who finished sixth, Hedgehunter who came 13th and Idle Talk who was 14th, said: "I'm delighted that they all finished. Obviously, you'd like to come in number one, but I would love all of the horses to get round and I think I've got three good horses all come home who have given us a lot of fun and you can't have more than that.
"I had a bit of banter with David Johnson afterwards and they are all a good team and I'm delighted for him. He puts a big investment into racing and it's lovely to see him being so successful. It's nice for him, Timmy Murphy and David Pipe. We get on together and from my point of view, I've seen all my three horses get round, I don't know their final positions.
"I think Cloudy Lane came sixth and Jason didn't want to give him any bangs as he said he had done enough. Ruby said Hedgehunter had a big weight, made one mistake and it's hard to recover from that at this level. Idle Talk has surprised us all. We were getting worried at one stage that we might have been backing the wrong horse!"
McCAIN PROUD DESPITE CLOUDY LANE DEFEAT
Trainer Donald McCain said he was "proud" of Cloudy Lane after the 7-1 joint favourite finished sixth in the John Smith's Grand National.
McCain said: "He was still involved at the second-last and for a moment I thought he was going to be fourth.
"He's done nothing wrong and he jumped great. It's hard to say he didn't stay the trip, because he didn't completely stop, but neither did he pick up."
McCain also saddled Idle Talk, who finished 14th. The trainer said: "Idle Talk ran really well, too and Brian Harding gave him a hell of a ride."