Watering Continues at Aintree
02/04/09
Going update - Thursday
Today's going at the John Smith's Grand National Meeting is
GOOD on the Mildmay and Hurdle Courses
and
GOOD, GOOD TO SOFT IN PLACES on the Grand National Course
Snowy Morning (25/1)
© racing-images.co.uk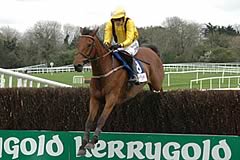 "There's been no change to the official going overnight and we have been selectively watering the Mildmay Course since 6am this morning. We will review the situation later on as to whether we water again overnight after racing," said Aintree's Director of Racing and Clerk of the Course Andrew Tulloch.
The forecast is for a dry, sunny day today with a maximum temperature of 17 degrees, with cloud increasing overnight.
Friday's forecast is for a dry day with sunny spells, a maximum temperature of 15 degrees and variable amounts of cloud. Some rain is anticipated overnight after racing on Friday with most expected to fall between 3am and 8am on Saturday morning.
On Saturday, John Smith's Grand National Day, it is expected to be dry by late morning with skies brightening by lunchtime to give a sunny afternoon. There is a low risk of a few light showers during the afternoon.
Latest totesport Grand National betting:
My Will 15/2, Butler's Cabin 9/1, Rambling Minster 11/1, State Of Play 12/1, Black Apalachi 14/1, Hear The Echo 14/1, Big Fella Thanks 16/1, Comply Or Die 16/1, Southern Vic 16/1, Parsons Legacy 16/1, L'Ami 20/1, Darkness 20/1, Irish Invader 20/1, Kilbeggan Blade 25/1, Snowy Morning 25/1, Himalayan Trail 25/1, Brooklyn Brownie 25/1, Chelsea Harbour 33/1, Cloudy Lane 33/1, Cornish Sett 33/1, Offshore Account 33/1, Can't Buy Time 40/1, Preists Leap 40/1, Battlecry 50/1, Golden Flight 50/1, Idle Talk 50/1, Knowhere 50/1, Mon Mome 50/1, Silver Birch 50/1, Eurotrek 66/1, Fleet Street 66/1, Arteea100/1, Fundamentalist 100/1, Kelami 100/1, Musica Bella 100/1, Ollie Magern 100/1, Reveillez 100/1, Stan 100/1, Zabenz 100/1, Cerium 200/1.
RESERVES: Maljimar 25/1, Companero 50/1, Patsy Hall 66/1, Iron Man 100/1.