John Smith's Topham Chase 2009
1st (27) Irish Raptor 8/1
2nd (19) Oodachee 20/1
3rd (30) Cossack Dancer 40/1
4th (7) Always Waining 25/1
Twiston-Davies Aims Irish Raptor at 2010 Grand National
03/04/09
Irish Raptor put in a impressive effort to take the John Smith's Topham Chase over the big Aintree fences by two and a quarter lengths and his trainer Nigel Twiston-Davies is hoping to return to Liverpool in 12 months' time for the John Smith's Grand National.
Irish Raptor (left)
© racing-images.co.uk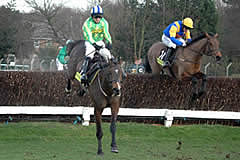 The 10-year-old had also finished runner-up in last year's John Smith's Topham Chase but would need an increase in his rating to get into the big race next year.
"He just eats these fences for breakfast," said Twiston-Davies. "Hopefully it's the National next year. He doesn't run very well anywhere else so he goes down in the handicap but I am sure that the handicapper will let us in the National next year.
"He stays, jumps and is the absolute perfect National horse. This is a great race to win but he was too low in the handicap to run in the National but next year he shouldn't be.
"I know he needs to go up the weights a lot but I think he could do with the National factor. (Handicapper) Phil Smith isn't asked to put horses up in the ratings very often."
Twiston-Davies has four runners in tomorrow's big race - Battlecry, Fundamentalist, Knowhere and Ollie Magern - and is hopeful of the good run continuing.
"These are happy days and we'll win the National tomorrow!," said the trainer. "Battlecry is the young one in there but we don't have a main contender as such, they are all in the handicap. I've got a crafty plan for overtaking Ginger's four Nationals - we are going to have a four-way dead-heat."
Jockey Paddy Brennan added: "I should have been on the floor twice over the first 10 fences because I was brain-dead on his back and he just said just leave it to me. I got a breather into him just after Becher's when the others fell and I was safe, safe, safe. There were a couple of fences where he really bailed me out. He's deserved this because he has been an unlucky horse and it's probably one of the best thrills I have had in racing.
"I'm just happy to get one on the board for the trainer, who's supported me brilliantly and I've had to watch what I've eaten for the past few days to do this weight.
"He was masterful today and I thought he was my best ride of the meeting beforehand. Hopefully, one day he might win the National if he got the right ground."
Position

Horse
Trainer
Jockey
Weight
Starting Price
Beaten Distance
1

Irish Raptor
N A Twiston-Davies
P J Brennan
10st 0lbs
8 - 1
Winner
2

Oodachee
C F Swan
D J Casey
10st 0lbs
20 - 1
2 1/4 lengths
3

Cossack Dancer
M Bradstock
Matthew Batchelor
10st 0lbs
40 - 1
13 lengths
4

Always Waining
P Bowen
T J O'Brien
10st 7lbs
25 - 1
2 1/2 lengths
5

Private Be
P J Hobbs
R Johnson
10st 5lbs
16 - 1
1 length
6

Bob Bob Bobbin
C L Tizzard
J Tizzard
10st 0lbs
25 - 1
8 lengths
7

Too Forward
Jamie Snowden
D Jacob
10st 2lbs
40 - 1
5 lengths
8

New Little Bric
P F Nicholls
Nick Scholfield
10st 9lbs
10 - 1
9 lengths
9

Oneway
M G Rimell
W Hutchinson
10st 2lbs
100 - 1
2 1/2 lengths
10

Consigliere
D Pipe
T Scudamore
10st 2lbs
16 - 1
9 lengths
11

Finger Onthe Pulse
T J Taaffe
B J Geraghty
11st 0lbs
11 - 1
2 1/2 lengths
12

Nozic
P F Nicholls
Harry Skelton
11st 12lbs
33 - 1
19 lengths
13

The Hollow Bottom
N A Twiston-Davies
David England
10st 0lbs
33 - 1
3/4 length
14

Le Toscan
D Pipe
S P Jones
10st 0lbs
100 - 1
14 lengths
15

Bishop's Bridge
Miss E C Lavelle
Jack Doyle
10st 8lbs
33 - 1
distance
16

Ellerslie George
J Howard Johnson
B Hughes
10st 0lbs
33 - 1
distance
17

Milan Deux Mille
D Pipe
J W Farrelly
10st 0lbs
50 - 1
distance
Fell

Bible Lord
Andrew Turnell
M D Grant
10st 3lbs
20 - 1

Fell

Gwanako
P F Nicholls
R Walsh
11st 7lbs
6 - 1

Fell

Frankie Figg
J Howard Johnson
J E Moore
10st 0lbs
33 - 1

Fell

Ping Pong Sivola
Miss V Williams
A Coleman
10st 3lbs
5 - 1

Fell

The Sawyer
R H Buckler
W Kennedy
10st 1lbs
12 - 1

PulledUp

Iron Man
P Bowen
S E Durack
10st 0lbs
33 - 1

PulledUp

Billyvoddan
H D Daly
A Tinkler
10st 2lbs
100 - 1

PulledUp

Bagan
M Todhunter
B Harding
10st 0lbs
50 - 1

PulledUp

Buck The Legend
N A Twiston-Davies
Paul Moloney
10st 6lbs
25 - 1

PulledUp

Soleil Fix
N J Gifford
Mr D H Dunsdon
10st 0lbs
66 - 1

PulledUp

Boomshakalaka
N J Henderson
M Foley
10st 0lbs
40 - 1

UnseatedRider

Moncadou
Jonjo O'Neill
R P McLernon
10st 0lbs
50 - 1

NonRunner

Mr Pointment
P F Nicholls
S Thomas
10st 10lbs


NO EXCUSES FROM SWAN, BRADSTOCK THRILLED
Trainer Charlie Swan was very happy with the performance of Oodachee, the two-and-a-quarter length runner-up behind Irish Raptor in the John Smith's Topham Chase over the Grand National fences.
Swan said of the 20/1 chance: "It was a great run. He has been a bit of an unlucky horse as he has been placed many times, including in the Galway Plate.
"He is a lovely horse and jumped brilliantly. There are no excuses, we were just beaten by a better horse.
"He has been a great old horse for the syndicate. He has run at all the big festivals - here, at Cheltenham and at Galway. he has also won on the Flat.
"We will probably take him to Punchestown for a handicap chase now and then give him a break before going for the Galway Plate."
Looking ahead to tomorrow's John Smiths Grand National, where Swan saddles Offshore Account, the trainer said: "Offshore Account is in great form and should love the ground. Oodachee's run today will have given David (Casey, jockey) plenty of confidence."
Thirteen lengths back but running on well to the line for third was Cossack Dancer, who was at the head of the field for much of the race.
His delighted trainer Mark Bradstock said: "We have to be thrilled with that. He's always been a bit of a fool. He's a quirky character but we're absolutely chuffed to bits.
"I always have to go down to the start with him so the ridiculous thing is I haven't even seen the race but everyone tells me he jumped like a stag. It's a first time for him over these fences and the first time for Mattie (Batchelor), too, so they've both done a wonderful job."
Enjoying his first spin over the National fences, jockey Mattie Batchelor joked: "Some of the lads went down to The Chair - I said I'd give them a shout and I did. In the back of your mind you're always thinking about Becher's (Brook) but The Chair is massive. I'm only a little guy and it looked like a block of flats to me!"