John Smith's All Round at Red Alligator
26/11/10
Hello Bud's cracking win in the totesport.com Becher Chase on November 21 naturally had everyone at Aintree looking ahead to the John Smith's Grand National itself.
Hello Bud


© racing-images.co.uk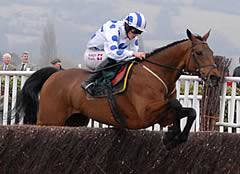 As the gallant gelding's connections discovered upon Hello Bud's arrival in the winner's enclosure on that Sunday, the Aintree public has a special affection for any horse that can triumph over those famous spruce fences and if the 12-year-old were to repeat the trick in the big one on April 9, his popularity would climb faster than a Beatles hit on iTunes. Not only would his name enter horseracing folklore, he might even get a pub named after him!
He certainly wouldn't be the first Grand National winner to have his victory acclaimed in such a manner. The Horse And Jockey at Hipley in Hampshire was so named to mark the victory of The Lamb and his gentleman rider Mr George Ede in the 1868 Grand National.
A little over a century later, Highland Wedding's 1969 win resulted in his trainer Toby Balding's local, the Fyfield Arms, being renamed The Highland Wedding, although the pub is now a residential property rather than a welcome watering hole for weary travellers and thirsty stable staff.
And then we have the greatest Grand National legend of them all. Aintree locals will be familiar with the old Sefton Arms, now transformed into the Red Rum Bar & Grill. Red Rum's fame, quite rightly for the only three-time Grand National winner, reaches well beyond Merseyside and by establishments as far afield as the Mediterranean and Australia. The Red Rum in Alcudia, Majorca, is a British pub and restaurant run by an expat from Rotherham, while the Red Rum Restaurant offers Italian food in Sydney.
Brian Fletcher rode Red Rum to the first two of his record three Grand National wins in 1973 and 1974 before giving way to Tommy Stack (1977), but the jockey enjoyed his first triumph in the great race back in 1968 aboard Red Alligator, trained in his native County Durham by Denys Smith.
Red Alligator had finished third to Foinavon after remounting in the 1967 Grand National when all bar the winner came a standstill at the 23rd fence, and highlighted how unlucky he had been that year when storming to victory 12 months later.
In 1973, Red Alligator's win was commemorated by the local brewery, which renamed the Crown And Anchor, located within half a mile of Smith's farm at South Church on the outskirts of Bishop Auckland.
Smith, now in his 80s, is still a regular at the Red Alligator, which continues as a thriving pub restaurant under the watch of landlord David Hughes and his partner Angela Graham, who took over the reins in April of this year.
"Denys still comes in every day without fail and has some good stories from the days when he was training," revealed Hughes.
"Red Alligator's stable was just a couple of hundred yards away so we have a great affection for the horse and there are pictures of him all over the pub.
"I follow racing and I've been quite lucky over the years. Rhyme And Reason and Rubstic are just two Grand National winners I remember backing."
But the big question - does The Red Alligator serve the Grand National's favourite ale?
"We do serve John Smith's," said Hughes, "And it's very popular with the punters!"