grand national 2011 / result / reaction
Reaction to Ballabriggs Winning the 2011 Grand National
09/04/11
Ballabriggs was an emotional winner of the John Smith's Grand National for Donald McCain, son of Aintree legend Ginger McCain, the trainer of Red Rum.
Ballabriggs' trainer Donald McCain reflected: "It's fantastic. I'm very lucky to have been involved with the Grand National all my life. We'd been involved with one winner (when assistant to his father Ginger after Amberleigh House won) and I'm not greedy, I'm just happy to be able to train nice horses. It genuinely didn't matter, everyone knows the way it's been going for us and I'm just happy with that.

"The thing with us and Aintree is I guess as much about coming from the North West. We've got a little bit Cheltenham-obsessed if anything but you only have to come here this week to realise what this place is all about. There's nothing quite like it but you try not to build yourself up before the Grand National.

"We were always going to be fairly positive with the horse, drop him out nice and handy, and once he was away sit in behind them and ride our race. He did the right thing, stay out of trouble enjoying himself and it was just a matter if he lasted it out. I was thrilled watching him going round there and I'd have been delighted if he'd been fourth or fifth.

"You only have to look at him to see that he's a quality staying chaser and if you train for Mr Hemmings' there's always a hope that it might be an Aintree horse, especially with us as a family. I remember Jason getting off him after he was beaten in a novice chase at Catterick and saying he could be an Aintree horse one day. I just can't believe it has all gone so smoothly to get here.

"Only the press and bookmakers were disappointed when he got beaten at Kelso last time, we were running a Grand National horse over two miles and six furlongs. I wanted to make sure he was ready for today. He quickened up from the second last at Kelso and I can't believe one horse came past him.

"It's been a rough old winter and we've got a hard-working team at home. We want to be around nice horses and nice people and it was great for a first-season trainer to get the support of someone like Mr Hemmings."

Jockey Jason Maguire said: "My biggest problem was to get him to relax. I didn't want to lose my position early on so we probably did too much in the early stage.

"He was going in to attack every fence and even two out I was still hanging on to him. But once he was off the bridle and straightened up he really dug deep and was always going to hang on. He was very tired afterwards and it's incredible to win on a horse people thought was a doubtful stayer.

"I had a fall on Thursday and just got a couple of stitches in my hand but I'm fine. It will take a while for it to sink in."
"IT MUST BE IN THE GENES" - HEMMINGS

The McCain family are as much a part of Aintree as Becher's Brook, and Trevor Hemmings, celebrating his second John Smith's Grand National success with Ballabriggs, following Hedgehunter in 2005, reckons that "it is in the genes".


He said: "Donald has done a brilliant job with Ballabriggs, and he clearly learned plenty from Ginger as they now have five National trophies on their mantlepiece.

"I was confused when Hedgehunter won, and I was not ready for it. Don't get me wrong, I loved every minute of it, but I only half got it.

"In contrast, today I lived every second of it, and, though I have been kicked, pushed and trodden on with everyone wanting to congratulate me, I absolutely loved it.

"I never thought that I had won my National and that a second one would not come. I had faith in Ballabriggs, and Donald has trained him brilliantly, bringing him along gradually, and he peaked just when we wanted him.

"My only worry was that something might bring us down or we'd get involved in traffic problems, but Jason (Maguire) has ridden a brilliant race, though if he had listened to Donald he would not have won.

"Donald told Jason to hang on to the elbow and not to let him go earlier as there was some doubt whether Ballabriggs would stay the trip. So when Jason pulled the trigger early, Donald shouted in my ear 'he's let him go, he's let him go'.

"I watched the race on the big screen in the paddock, so that I would be nice and close to collect the trophy if the impossible happened.

"Now the dream has become reality we can start planning a party. We will have three, one in Ireland, where Ballabriggs started his career, one in Cheshire, where Donald trains, and one in the Isle of Man with the family."
'PHENOMENAL' SEASON CONTINUES FOR WALEY-COHENS AS OSCAR TIME BAGS RUNNER-UP FINISH

This season he's won the King George V! Chase and the Cheltenham Gold Cup and amateur rider Sam Waley-Cohen came very close to achieving a third major race success when he and Oscar Time finished second by two and a quarter lengths to Ballabriggs in the John Smith's Grand National.


Oscar Time


© racing-images.co.uk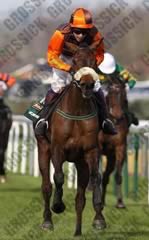 His proud father Robert Waley-Cohen, who part-owns Oscar Time, said: "That was a fantastic ride; right place, right time, he came with a run at the right moment but there was just one too good. It was a fabulous race, I couldn't have enjoyed it more - well only if we'd won but that was great!

"There's always a great story in the National and I'm thrilled for the winner."

Former BHA chairman Sir Martin Broughton, who co-owns Oscar Time with his brother Steve and Waley-Cohen, said: "Sam gave him a brilliant ride. We couldn't have asked for more.

"Just as they came up to the elbow I thought he might just get there - he seemed to be closing in but Ballabriggs just pulled away again."

Trainer Martin Lynch, who was saddling his first runner in the John Smith's Grand National, was also delighted with his charge's efforts. He said: "I'm thrilled to have him back in one piece. It was a great race. We were just beaten by a better horse.

"He got a little bit close to the second last but otherwise it was a perfect round. He didn't put a foot wrong and neither did Sam. Maybe next year.

"If he's in one piece it would be lovely to bring him back. We've seen he acts round here and he really took to the fences. There's a tinge of disappointment to be second but that's just me being competitive."

Rider Sam Waley-Cohen said: "It's been a phenomenal season and it's an honour to be riding in such big races.

"The plan was to come with a smooth run through the race. He has a huge jump and I tried to just get him popping, trying to save ground."

He added: "He gave me a phenomenal ride. The Grand National is a race where if your horse takes to the fences he gives you the best ten minutes of your life."
THIRD AND FOURTH-PLACED QUOTES

Jonjo O'Neill, trainer of third-placed Don't Push It who won last year, said: "He has run an absolute blinder and it couldn't get much better. It's like everything, he's another year older but it was just a great run.

"I'm delighted to have been able to get him back here in great shape and I'm thrilled for Trevor Hemmings and the McCains, it's brilliant for them."

Don't Push It's rider Tony McCoy added: "He ran his heart out and made no mistakes out there. He did nothing wrong the whole way round. I just wish every horse I got to ride in the Grand National was as nice as him to ride. To win and finish third in a National on him is amazing and I'm thrilled for Trevor Hemmings and the McCains, it's a great story."

Paul Moloney, rider of fourth-placed State Of Play, in the frame for the third successive year, said: "Age is catching up with him and I was just taken off my feet a bit. I got a lovely start and I could have done with slower ground. I think in another 100 yards I'd have been third. What a horse. I'll never ride another horse like him, to have done that in three Nationals is incredible."