cheltenham festival / 2009 news /
Imperial Commander Storms to Ryanair Glory
12/03/09
1 (2) Imperial Commander 6-1
2 (10) Voy Por Ustedes 4-5 Fav
3 (8) Schindlers Hunt 22-1
Voy Por Ustedes (left) - mistakes were costly
© racing-images.co.uk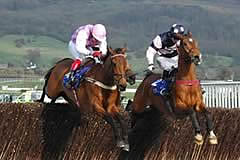 Imperial Commander landed his fifth - and most significant - success at Cheltenham when fending off Voy Por Ustedes with a terrific performance to take the Ryanair Chase. He was prominent before going to front after the ninth fence.
The eight-year-old, winner of the Paddy Power Gold Cup at Cheltenham in November, was given a confident ride by Paddy Brennan to come home two lengths clear of the 4/5 favourite.
"That was a very pleasant experience," said winning trainer Nigel Twiston-Davies. "Voy Por Ustedes made a mistake but you just don't know what would have happened otherwise. But mine jumps, he battles and they came to take him on and he battled well.
"He comes up the hill here very well and hopefully we can come back here for the Gold Cup next year. I'm hoping the extra distance of that race would improve. But he gallops and is a proper jumper.
"He kept pulling out a bit more and I was worried that the fact he hadn't run for a bit might catch him out but it didn't.
"There's no specific reason why he hasn't been out since Boxing Day, just that we couldn't find the right race with the right ground at the right time.
"Paddy's brilliant, it was his idea to force the pace and it took the sting out of the others."
Brennan added: "He jumped super and just loves Cheltenham. He's a brilliant performance. I thought I had Choc (Thornton on Voy Por Ustedes) beaten turning in but then Schindlers Hunt appeared on my outside but we fought him off although we were getting a bit tired going to the line.
"I believe in the horse. I just wanted to get Voy Por Ustedes off the bridle and Choc came alongside me turning in and I saw he wasn't travelling. I was really happy because I felt we would stay up the hill. He's tough - they came at him one by one but he keeps a little bit. He's very, very good and I am just so happy.
"I opened my mouth after the Paddy Power Gold Cup and told everyone how good he was and I am thrilled that he has proved me right. I has been a frustrating year but I promise you this is worth 40 winners.
"This meeting has all I've been thinking about all season and to win this makes up for everything.
"When you are at Cheltenham, you feel like there is actually nobody in the crowd until you past winning line and you take it all in - it's the best feeling in the world.
"Nigel's so supportive and he's the best boss in the world. He's just proved it again there that he's the best trainer in the country - what a horse! He always seem to pull one out of the bag here and I thought I had missed it with yesterday's winner. Two victories for him now and the horses are in great form."
Position

Horse
Trainer
Jockey
Weight
Starting Price
Beaten Distance
1

Imperial Commander
N A Twiston-Davies
P J Brennan
11st 10lbs
6 - 1
Winner
2

Voy Por Ustedes
A King
R Thornton
11st 10lbs
4 - 5
2 lengths
3

Schindlers Hunt
D T Hughes
P W Flood
11st 10lbs
22 - 1
3/4 length
4

Tidal Bay
J Howard Johnson
Denis O'Regan
11st 10lbs
13 - 2
4 1/2 lengths
5

Gwanako
P F Nicholls
R Walsh
11st 10lbs
16 - 1
1 1/2 length
6

Monet's Garden
N G Richards
D J Condon
11st 10lbs
20 - 1
6 lengths
7

Mister McGoldrick
Mrs S J Smith
D Elsworth
11st 10lbs
40 - 1
3 lengths
8

Knight Legend
Mrs J Harrington
A D Leigh
11st 10lbs
100 - 1
17 lengths
na

Our Vic
D Pipe
T J Murphy
11st 10lbs
9 - 1

na

L'Antartique
Ferdy Murphy
G Lee
11st 10lbs
33 - 1

VOY'S ERROR COSTLY
Voy Por Ustedes, who had been supported all day down to 4/5 favourite for the Ryanair Chase, failed in his bid for a third success at the Cheltenham Festival, the horse a strong-finishing second behind Imperial Commander.
Trainer Alan King felt an error at the fourth-last fence probably cost his horse the race.
"I think the mistake hasn't helped - it happened at the wrong time. Choc [Robert Thornton] had been very happy with him until then. But there you go, they are there to be jumped and he didn't today. We'll freshen him up and go to Aintree."
King is compiling a catalogue of near-misses at this year's Festival, Voy Por Ustedes was his third second-placed horse this week, and the trainer has also had three third places.
"It could be worse, couldn't it? We will hopefully get a winner before the week is out. They're running bloody well, you know, it's when they tail off you start worrying. I've still got a few more to fire off and we'll see what happens," said King.
SCHINDLERS DIDN'T QUITE GET HOME ON THE GROUND
TIDAL BAY WILL BE A DIFFERENT HORSE AT AINTREE
Trainer Dessie Hughes felt that Schindlers Hunt just didn't quite get home as the 22/1 chance finished a fine third in the Grade One Ryanair Chase.
Hughes said: "I was hopeful between three out and two out, but the hill has just found him out on that ground. The ground was just a bit too tacky for him today.
"The distance was fine for him, it was just the ground. He really is a good ground horse.
"We will look at taking him to Punchestown now."
Tidal Bay, last year's The Irish Independent Arkle Trophy Chase victor, stayed on from off the pace to take fourth and his trainer Howard Johnson was very happy with the eight-year-old, a 13/2 shot .
The County Durham handler reported: "I am over the moon. He has run on up the hill like a rocket.
"Considering the problems he had in his build-up, he has run a great race.
"He now go for the Melling Chase at Aintree. I think you will see a different horse in three weeks time."
Last year's winner Our Vic was pulled up and his trainer David Pipe said: "Timmy said the horse put down at a couple and didn't travel as well as last year. He's back in one piece and I can't really comment further than that."
THE RYANAIR CHASE
Class 1, Grade 1, 2m 5f, £220,000 Total Prize Fund. 2.40pm, Cheltenham, Thursday, March 12, 2009. For 5yo+ which are allotted a rating of 130 or more by the BHA Head of Handicapping following a review of the horses entered and after taking account of races run up to and including March 5 - horses which are not qualified for a rating in GB, IRE or FR may also be entered & such horses may be eligible providing the Handicapper is satisfied that the horse's racecourse performances up to and including March 5 would merit a minimum rating of 130 (the decision of the BHA Head of Handicapping shall be final). Weights: 5yo: 11st 9lb; 6yo+ 11st 10lb. Allowances: mares 7lb. Entries closed January 6, entries revealed January 8 (48 entries), scratchings deadline February 10 (35 remain), £11,500 supplementary entry stage March 6, six-day confirmation stage March 6. Final 48-hour declaration stage, 10.00am, March 10. Form figures supplied by Weatherbys and are correct up to and including the racing of Monday, February 9.
| No. | Form | Horse | Age | Wt | Trainer | Jockey |
| --- | --- | --- | --- | --- | --- | --- |
| 1 | 321-U12 | Gwanako (FR) | 6 | 11,10 | P F Nicholls | R Walsh |
| 2 | 3/114-16 | Imperial Commander (IRE) | 8 | 11,10 | N A Twiston-Davies | P J Brennan |
| 3 | 7-13925 | Knight Legend (IRE) | 10 | 11,10 | Mrs J Harrington | A D Leigh |
| 4 | 11647-5 | L'Antartique (FR) | 9 | 11,10 | Ferdy Murphy | G Lee |
| 5 | 5P37P5 | Mister McGoldrick | 12 | 11,10 | Mrs S J Smith | D Elsworth |
| 6 | 3246-71 | Monet's Garden (IRE) | 11 | 11,10 | N G Richards | D J Condon |
| 7 | 3/2211-P | Our Vic (IRE) | 11 | 11,10 | D Pipe | T J Murphy |
| 8 | 055512 | Schindlers Hunt (IRE) | 9 | 11,10 | D T Hughes | P W Flood |
| 9 | 11-1223 | Tidal Bay (IRE) | 8 | 11,10 | J Howard Johnson | Denis O'regan |
| 10 | 221-431 | Voy Por Ustedes (FR) | 8 | 11,10 | A King | R Thornton |
10 runners
VOY POR USTEDES (left)
© racing-images.co.uk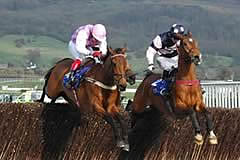 LATEST TIMEFORM RATINGS
VOY POR USTEDES (FR) 170
OUR VIC (IRE) 170
TIDAL BAY (IRE) 168
MONET'S GARDEN (IRE) 161
SCHINDLERS HUNT (IRE) 158
IMPERIAL COMMANDER (IRE) 156+
MISTER MCGOLDRICK 154
GWANAKO (FR) 153+
L'ANTARTIQUE (FR) 150?
KNIGHT LEGEND (IRE) 148
Voy Por Ustedes Profile
Age: 8
Form: 221221-431
Owner: Sir Robert Ogden
Trainer: Alan King
Expected jockey: Robert Thornton
Cheltenham Odds: Ryanair Chase ante-post – 11/8
Another Cheltenham Festival regular, who has been at the very top of the steeplechasing tree for three seasons, winning the Arkle Chase in 2006 and Queen Mother Champion Chase in 2007 and two further Grade Ones subsequently. Doesn't quite have the face he used to have over two miles and now best over further, for example when flooring Master Minded over two and a half miles at Aintree last April. Slightly disappointing when tried over three miles in the King George VI Chase behind Kauto Star, but bounced back with an effortless win at Ascot last month and must have a fine chance of securing another big-race success in the Ryanair Chase. "I got myself in a terrible state worrying about the ground at Ascot, but in fact he has produced one of his best-ever performances – I can see no point taking on Master Minded over two miles so he's got to have a great chance in the Ryanair," reports the trainer.
RYANAIR CHASE - Past Results
2008-WINNER-OUR VIC 10-11-10 Owner-David Johnson; Trainer-David Pipe; Jockey-Timmy Murphy; SP-4/1
2ND-Mossbank 8-11-10 Owner-Gigginstown House Stud; Trainer-Michael Hourigan IRE; Jockey-Davy Russell; SP-4/1
3RD-Turko 6-11-10 Owner-The Stewart Family; Trainer-Paul Nicholls; Jockey-Ruby Walsh; SP-7/1
9 ran, Time-5m 10.24s Dist-5, 7 100/30 Fav The Listener (5th)
2007-WINNER-TARANIS 6-11-00 Owner-Mrs A B Yeoman & C R Whittaker; Trainer-Paul Nicholls; Jockey-Ruby Walsh; SP-9/2
2ND–Our Vic 9-11-05 Owner-David Johnson; Trainer-David Pipe; Jockey-Timmy Murphy; SP-7/2
3RD–Billyvoddan 8-11-00 Owner-Trevor Hemmings; Trainer-Henry Daly; Jockey-Richard Johnson; SP-20/1
9 ran, Time-5m 10.60s Dist-nk, ½ 7/4 Fav Monet's Garden (4th)
2006-WINNER-FONDMORT 10-11-00 Owner-Bill Brown; Trainer-Nicky Henderson; Jockey-Mick Fitzgerlad; SP-100/30 Jt Fav
2ND-Lacdoudal 7-11-00 Owner-Carol Skan; Trainer-Philip Hobbs; Jockey-Richard Johnson; SP-20/1
3RD-Impek Owner-Jim Lewis; Trainer-Henrietta Knight; Jockey-Tony McCoy; SP-100/30 Jt Fav
11 ran, Time-5m 3.00s Dist-1¼, hd
2005-WINNER-THISTHATANDTOTHER 9-11-03 Owner-Graham Roach; Trainer-Paul Nicholls; Jockey-Ruby Walsh;
SP-9/2
2ND-Fondmort 9-11-00 Owner-Bill Brown; Trainer-Nicky Henderson; Jockey-Mick Fitzgerald; SP-9/1
3RD-Rathgar Beau 9-11-03 Owner-One-O-Eight Racing Club; Trainer-Eamon Sheehy IRE; Jockey-Shay Barry; SP-9/2
12 ran, Time-5m 11.90s Dist: ½, 2½ 7/4 Fav Our Vic (PU)