cheltenham festival / 2009 news /
Wichita Lineman Wins William Hill Trophy
10/03/09
1st (13) Witchita Lineman 5/1
2nd (19) Maljimar 14/1
3rd (20) Nenuphar Collonges 17/2
4th (4) Dear Villez 16/1
5th (21) The Sawyer 33/1
Witchita Lineman
© racing-images.co.uk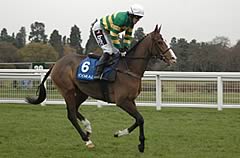 For about three miles of the three miles and half a furlong of the William Hill Trophy Chase, Wichita Lineman looked a very unlikely winner. "We may have given up," said trainer Jonjo O'Neill to the owner J P McManus, "But Tony won't have."
And if ever perseverence paid off it did for McCoy, who was there on Wichita Lineman when the Nick Williams-trained Maljimar, having looked to have the race in the bag wilted in the final 110 yards, being caught close home to go down by a neck.
For McManus, the winner's enclosure turned into a private party as the crowd sung "Happy Birthday" to celebrate the owner's 58th birthday today. "What a lovely way to celebrate, it's the biggest crowd to have ever sung happy birthday for me!" he said.
It was hardly surprising that McManus was generous with his compliments for McCoy, who had kept Wichita Lineman up to his work despite the horse being under considerable pressure from early on. "Words can't describe his dedication to the game and his will to win, and the other side of him, his sympathetic nature. As long as he kept asking the horse, the horse kept responding to his urgings."
Wichita Lineman was competing in his first handicap and McManus admitted that he didn't think that the William Hill Trophy was necessarily the right race for the horse at The Festival.
"Jonjo persuaded me to go for this race. I thought the four-miler might be a better option, but in his own way he [Jonjo] wasn't having any of it."
Trainer Jonjo O'Neill also enthused about the jockey's performance. "That's what McCoy is all about. He was just magic, brilliant"
"The horse made a few mistakes throughout the race which didn't help him but I knew when he gave him a few belts at the top of the hill that there was a bit left in the tank - AP wouldn't be doing that if he thought that he didn't have a chance - and I thought that they had gone a fair gallop and there was every chance that they might come back a little bit. Even going to the last I thought that he had too much to make up but he's a magic man and it's a magic horse."
Jockey Tony McCoy said: "I knew at the bottom of the hill at the second last that there was loads left in him. I lost my pitch on the first circuit a little bit but this is Jonjo's winner, not mine.
Position

Horse
Trainer
Jockey
Weight
Starting Price
Beaten Distance
1

Wichita Lineman
Jonjo O'Neill
A P McCoy
10st 9lbs
5 - 1
Winner
2

Maljimar
Nick Williams
D Jacob
10st 5lbs
14 - 1
Neck
3

Nenuphar Collonges
A King
R Thornton
10st 9lbs
17 - 2
1/2 length
4

Dear Villez
P F Nicholls
R Walsh
11st 3lbs
16 - 1
6 lengths
5

The Sawyer
R H Buckler
W Kennedy
10st 3lbs
33 - 1
13 lengths
6

Lacdoudal
P J Hobbs
R Johnson
10st 8lbs
25 - 1
3/4 length
7

Comply Or Die
D Pipe
T J Murphy
11st 5lbs
33 - 1
4 lengths
8

Ollie Magern
N A Twiston-Davies
T Molloy
11st 5lbs
66 - 1
1 1/4 length
9

Wind Instrument
A King
W Hutchinson
10st 2lbs
16 - 1
1 1/2 length
10

Tot O'Whiskey
J M Jefferson
P Kinsella
10st 3lbs
16 - 1
1 1/4 length
11

Reveillez
Jonjo O'Neill
N Fehily
10st 13lbs
33 - 1
7 lengths
12

Golden Flight
N J Henderson
B J Geraghty
10st 12lbs
25 - 1
7 lengths
13

Oedipe
N J Henderson
A Tinkler
10st 5lbs
33 - 1
2 lengths
14

Cailin Alainn
C Byrnes
D N Russell
10st 13lbs
13 - 2
6 lengths
15

Billyvoddan
H D Daly
S E Durack
10st 6lbs
50 - 1
3 lengths
16

Possol
H D Daly
M Bradburne
10st 12lbs
7 - 1
1 3/4 length
17

Millenium Royal
F Doumen
F Keniry
11st 1lbs
10 - 1
21 lengths
na

Simon
J L Spearing
A Thornton
10st 12lbs
20 - 1

na

Patsy Hall
A J Martin
P Carberry
10st 3lbs
10 - 1

na

Fundamentalist
N A Twiston-Davies
P J Brennan
10st 12lbs
66 - 1

na

Hot Weld
Ferdy Murphy
G Lee
10st 8lbs
40 - 1

Non Runner

Lothian Falcon
P Maddison
R Walford
10st 2lbs


Non Runner

Hobbs Hill
C R Egerton
J A McCarthy
11st 0lbs


Non Runner

Star De Mohaison
P F Nicholls
R Walsh
11st 12lbs


MALJIMAR MUGGED BY McCOY
A brilliant ride by Tony McCoy meant Wichita Lineman got up in the final strides of the William Hill Trophy Handicap Chase, denying Maljimar what had looked certain victory.
The Nick Williams-trained Maljimar was two lengths clear at the last, and not stopping under jockey Daryl Jacob, but McCoy's powerful assistance meant Wichita Lineman cut into the lead and forged to the front when it mattered by a neck.
Jacob was distraught when walking back to the weighing room, while Williams said: "I thought we had that - I'm gutted. Gutted. We've had a year of seconditis. Cornas was just touched off [in a Grade 2 chase] at Sandown last month and that's how it has gone.
"Daryl did nothing wrong. He had to be where he was at the last. He'd come through from the back and couldn't have waited any longer. To me it was a perfect ride in a big, competitive handicap."
Maljimar has not been seen in public since the Paddy Power Gold Cup at this track in November, and Williams said: "He's had every problem under the sun - just niggly problems, mainly with his feet. I ducked out of a race in the mud at Chepstow because I didn't want to ruin his chance for this.
"It's ironic, neither he nor Cornas [unplaced in the Irish Independent Arkle Trophy] wanted rain, yet the horses we have later in the week wouldn't mind it."
Those horses include Diamond Harry, strongly-fancied for tomorrow's Ballymore Novices' Hurdle, who Williams reported as: "Fine and in good shape, but we're on a bad run, aren't we."
Of Maljimar he added: "He's in the [John Smith's] Grand National, and this race isn't a bad stepping stone for it. He's got 9st 11lb so he'll need a few to come out."
Trainer Alan King said of third-placed Nenuphar Collonges: "His jumping was very good and I was thrilled with him, he has run his race. I'll let the owners decide where he goes next - they do a better job placing him than me!"
WILLIAM HILL TROPHY HANDICAP CHASE – Past Results
2007-WINNER-JOES EDGE 10-10-06 Owner-Chemipetro Limited; Trainer-Ferdy Murphy; Jockey-Davy Russell; SP-50/1
2ND-Juveigneur 10-11-09 Owner-Trevor Hemmings; Trainer-Nicky Henderson; Jockey-Mick Fitzgerald; SP-7/1Co Fav
3RD-Distant Thunder 9-10-11 Owner-Old Moss Farm; Trainer-Noel Chance; Jockey-Andrew McNamara; SP-7/1 Co Fav
4TH-Mon Mome 7-11-01 Owner-Vida Bingham; Trainer-Venetia Williams; Jockey-Liam Treadwell; SP-16/1
23 ran, Time-6m 15.94s, Dist-sh, sh, 8 7/1 Co Fav New Alco (6th)
2006-WINNER-DUN DOIRE 7-10-09 Owner-Dunderry Racing Syndicate; Trainer-Tony Martin IRE; Jockey-Ruby Walsh; SP-7/1 2ND-Juveigneur 9-11-05 Owner-Trevor Hemmings; Trainer-Nicky Henderson; Jockey-Mick Fitzgerald; SP-16/1
3RD-Irish Hussar 10-11-12 Owner-Major Christopher Hanbury; Trainer-Nicky Henderson; Jockey-Marcus Foley; SP-66/1
4TH-Model Son 8-10-08 Owner-P J Hughes Developments Ltd; Trainer-Patrick Haslam; Jockey-Paddy Merrigan; SP-14/1
21 ran, Time-6m 12.10s, Dist-2, 1.25, 1.5 100/30 Fav Moulin Riche (PU)
2005-WINNER-KELAMI 7-10-02 Owner-Halewood International Ltd; Trainer-Francois Doumen FR; Jockey-Robert Thornton; SP-8/1
2ND-Keen Leader 9-11-12 Owner-Adair Catherwood; Trainer-Jonjo O'Neill; Jockey-Barry Geraghty; SP-28/1
3RD-Irish Hussar 9-11-07 Owner-Major Christopher Hanbury; Trainer-Nicky Henderson; Jockey-Mick Fitzgerald; SP- 33/1
4TH-Chives 10-11-13 Owner-Trevor Hemmings; Trainer-Sue Smith; Jockey-Dominic Elsworth; SP-33/1
20 ran, Time-6m 08.60s, Dist-1.25, 2, .75 11/2 Fav Iris Bleu (9th)
2004-WINNER-FORK LIGHTNING 8-10-05 Owner-Fred and Sue Welch; Trainer-Alan King; Jockey-Robert Thornton; SP-7/1
2ND-Shardam 7-10-07 Owner-Howard Parker; Trainer-Nigel Twiston-Davies; Jockey-Carl Llewellyn; SP-11/2
3RD-Royal Auclair 7-10-09 Owner-Clive Smith; Trainer-Paul Nicholls; Jockey-Ruby Walsh; SP 7/1
11 ran, Time-6m 12.30s, Dist-2, 9 100/30 Fav Haut Cercy (8th)
2003-WINNER-YOULNEVERWALKALONE 9-10-11 Owner-J P McManus; Trainer-Christy Roche IRE; Jockey-Barry Geraghty; SP-7/1
2ND-Haut Cercy 8-10-00 Owner-The Wiggin Partnership; Trainer-Henry Daly; Jockey-Richard Johnson; SP-10/1
3RD-Ad Hoc 9-11-00 Owner-Sir Robert Ogden; Trainer-Paul Nicholls; Jockey-Ruby Walsh; SP-5/1 Jt Fav
4TH Maximize 9-10-01 Owner-Lady Vestey; Trainer-Henrietta Knight; Jockey-Jim Culloty; SP-20/1
18 ran, Time-6m 16.90s, Dist- .75, 9, 1.25 5/1 Jt Fav Joss Naylor (11th)
2002-WINNER-FRENCHMAN'S CREEK 8-10-05 Owner-Rory Sweet and Panda Wilson; Trainer-Hughie Morrison; Jockey-Paul Carberry; SP-8/1
2ND-Carbury Cross 8-10-02 Owner-Anne, Duchess of Westminster; Trainer-Jonjo O'Neill; Jockey-Liam Cooper; SP-25/1
3RD-Ad Hoc 8-11-07 Owner-Sir Robert Ogden; Trainer-Paul Nicholls; Jockey-Ruby Walsh; SP-7/1
4TH-You're Agoodun 8-11-00 Owner-Jeff Lammiman; Trainer-Martin Pipe; Jockey-Johnny Kavanagh; SP-20/1
23 ran, Time-6m 12.10s, Dist-3, 16, .75 4/1 Fav Gunther McBride (6th)
2001 - No Race (Foot and Mouth)
2000-WINNER-MARLBOROUGH 8-10-03 Owner-Robert Ogden; Trainer-Nicky Henderson; Jockey-Mick Fitzgerald; SP-11/2
2ND-Beau 7-10-02 Owner-Sylvia Tainton; Trainer-Nigel Twiston-Davies; Jockey-Carl Llewellyn; SP-5/1 Jt Fav
3RD-Star Traveller 9-10-00 Owner-Jill Griffith & Liz Strachan; Trainer-Henry Daly; Jockey-Andrew Thornton; SP-6/1 12 ran, Time-5m 59.70s, Dist-2.5, .5 5/1 Jt Fav Spendid (5th)
1999-WINNER-BETTY'S BOY 10-10-02 Owner-Ted Benfield and Bill Brown; Trainer-Kim Bailey; Jockey-Norman Williamson; SP-25/1
2ND-Island Chief 10-10-01 Owner-George Dilger; Trainer-Peter Beaumont; Jockey-Brian Storey; SP-10/1
3RD-Nahthen Lad 10-10-10 Owner-Jim Shaw; Trainer-Jenny Pitman; Jockey-Richard Dunwoody; SP-25/1
4TH-Macgeorge 9-11-08 Owner-Mr & Mrs J H Watson; Trainer-Richard Lee; Jockey-Adrian Maguire; SP-16/1
18 ran, Time-6m 22.6s, Dist-5, 2, 2.5 4/1 Fav Kadou Nonantais (fell)
1998-WINNER-UNGUIDED MISSILE 10-11-10 Owner-David Harrison; Trainer-Gordon Richards; Jockey-Paul Carberry; SP-10/1
2ND-Glitter Isle 8-10-02 Owner-Mrs Timothy Pilkington; Trainer-Josh Gifford; Jockey-Philip Hide; P-20/1
3RD-Even Flow 9-10-07 Owner-Andrew Wates; Trainer-Terry Casey; Jockey-Mick Fitzgerald; SP-7/2 Fav
13 ran, Time-6m 11.6s, Dist-7, .5
1997-WINNER-FLYER'S NAP 11-11-02 Owner-Jim Tory; Trainer-Robert Alner;Jockey-David Bridgwater; SP-20/1
2ND-Stormtracker 8-10-00 Owner-Tim Davis; Trainer-Colin Weedon; Jockey-Mark Richards; SP-25/1
3RD-General Command 9-11-02 Owner-Robert Ogden; Trainer-Gordon Richards; Jockey-Jamie Osborne; SP-9/4 Fav 14 ran, Time-6m 13.8s, Dist-1.5, .75
1996-WINNER-MAAMUR 8-10-00 Owner-Jean Wood; Trainer-Tim Forster; Jockey-Andrew Thornton; SP-13/2
2ND-Unguided Missile 8-10-10 Owner-David Harrison; Trainer-Gordon Richards; Jockey-Richard Dunwoody; SP-11/4 Fav
3RD-Chatam 12-10-02 Owner-Adrian Nolan and Dr B Nolan; Trainer-Martin Pipe; Jockey-David Bridgwater; SP-28/1 10 ran, Time-6m 22.9s, Dist-7, 13
1995-WINNER-ROUGH QUEST 9-10-03 Owner-Andrew Wates; Trainer-Terry Casey; Jockey-Mick Fitzgerald; SP-16/1
2ND-Antonin 7-11-08 Owner-G R Bailey Ltd (Baileys Horse Feeds); Trainer-Sue Bramall; Jockey-John Burke; SP-14/1
3RD-Cache Fleur 9-10-06 Owner-Brian Kilpatrick; Trainer-Martin Pipe;Jockey-Richard Dunwoody; SP-6/1
4TH-Grange Brake 9-10-10 Owner-Jenny Mould; Trainer-Nigel Twiston-Davies; Jockey-David Bridgwater; SP-14/1 16 ran, Time-6m 32.9s, Dist-9, sh, .75 7/2 Fav Couldnt Be Better (11th)

WILLIAM HILL TROPHY HANDICAP CHASE ROLL OF HONOUR
(William Hill Trophy Handicap Chase since 2005, William Hill National Hunt Handicap Chase 1998-2004, Astec Buzz Shop National Hunt Handicap Chase 1997, Ritz Club National Hunt Handicap Chase 1981-96, National Hunt Handicap before 1981)

Year Winner Age/Wt Jockey Trainer Owner SP Ran

2008 An Accordian
2007 Joes Edge 10-10-06 Davy Russell Ferdy Murphy Chemipetro Limited 50/1 23
2006 Dun Doire 7-10-09 Ruby Walsh Tony Martin IRE Dunderry Racing Syndicate 7/1 21
2005 Kelami 7-10-02 Robert Thornton Francois Doumen FR Halewood International Ltd 8/1 20
2004 Fork Lightning 8-10-05 Robert Thornton Alan King Fred and Sue Welch 7/1 11
2003 Youlneverwalkalone 9-10-11 Barry Geraghty Christy Roche IRE J P McManus 7/1 18
2002 Frenchman's Creek 8-10-05 Paul Carberry Hughie Morrison Rory Sweet and Panda Wilson 8/1 23
2001 No Race (Foot and Mouth)
2000 Marlborough 8-10-03 Mick Fitzgerald Nicky Henderson Robert Ogden 11/2 12
1999 Betty's Boy 10-10-02 Norman Williamson Kim Bailey Ted Benfield and Bill Brown 25/1 18
1998 Unguided Missile 10-11-10 Paul Carberry Gordon Richards David Harrison 10/1 13
1997 Flyer's Nap 11-11-02 David Bridgwater Robert Alner Jim Tory 20/1 14
1996 Maamur 8-10-00 Andrew Thornton Tim Forster Jean Wood 13/2 10
1995 Rough Quest 9-10-03 Mick Fitzgerald Terry Casey Andrew Wates 16/1 16
1994 Antonin 6-11-05 John Burke Sue Bramall Michael Stanners 4/1F 11
1993 Givus A Buck 10-10-08 Paul Holley David Elsworth Kevin Costello 11/2 7
1992 Tipping Tim 7-10-00 Carl Llewellyn Nigel Twiston-Davies Jenny Mould 20/1 17
1991 Seagram 11-10-11 Nigel Hawke David Barons Sir Eric Parker 6/1 14
1990 Bigsun 9-10-11 Richard Dunwoody David Nicholson John Horn 15/2 14
1989 Dixton House 10-11-00 Tom Morgan John Edwards Peter S Hill 13/2 16
1988 Aquilifer 8-10-12 Paul Croucher David Murray-Smith Brian Kilpatrick 9/2 16
1987 Gainsay 8-10-05 Ben de Haan Jenny Pitman Errol Brown 10/1 12
1986 Charter Party 8-10-10 Peter Scudamore David Nicholson Claire Smith 12/1 16
1985 West Tip 8-10-13 Richard Dunwoody Michael Oliver Peter Luff 6/1 20
1984 Tracys Special 7-11-01 Steve Knight Andy Turnell Major Jack Rubin 5/1 12
1983 Scot Lane 10-11-07 Craig Smith Martin Tate T Isherwood 20/1 19
1982 Scot Lane 9-10-12 Craig Smith Martin Tate T Isherwood 15/2 18
1981 Current Gold 10-10-07 Neale Doughty Gordon Richards A Picken 10/1 16
1980 Again The Same 7-11-01 Mr Jim Wilson John Edwards G D Smith 10/1 16
1979 Fair View 9-10-04 Ridley Lamb George Fairbairn Michael Shone 12/1 13
1978 No race (Abandoned because of snow)
1977 Gay Vulgan 9-11-04 Bill Smith Fulke Walwyn Mrs W Pilkington 4/1F 12
1976 Barmer 8-10-03 Jimmy McNaught Robin Blakeney Richard Dean 20/1 14
1975 King Flame 9-10-06 John Francome Richard Head Lord Head 12/1 14
1974 Cuckolder 9-10-13 Andy Turnell Bob Turnell Bob Turnell 6/1 11
1973 The Chisler 7-10-10 Michael Dickinson Tony Dickinson J Haggas 6/1 13
1972 Jomon 6-10-12 David Mould Tom Jones Mrs W Jones 8/1 15
1971 Lord Jim 10-10-08 Johnnie Haine Fulke Walwyn Gilbert Dudley Jnr 8/1 14
1970 Charter Flight 8-11-09 Andrew Turnell Bob Turnell John Rogerson 100/8 16
1969 Chancer 7-11-00 Pat McCarron Charlie Hall A H P Hope 6/1F 13
1968 Battledore 7-10-10 Kit Stobbs Arthur Stephenson W Morton 3/1F 8
1967 Different Class 7-11-13 David Mould Peter Cazalet Gregory Peck 13/2 16
1966 Arkloin 7-12-05 Pat Taaffe Tom Dreaper IRE George Ansley 5/2F 12
1965 Rondetto 9-11-10 Johnnie Haine Bob Turnell A B Mitchell 11/2 20
1964 Prudent Barney 10-10-11 Terry Biddlecombe Bobby Renton Lurline Brotherton 10/1 10
1963 Team Spirit 11-11-04 Willie Robinson Fulke Walwyn Ronald B Woodward 100/8 24
1962 Longtail 7-11-00 Stan Mellor Dick Curran Arthur Dickinson 100/7 18
1961 Ravencroft 8-10-03 Fred Winter Fulke Walwyn Larch Loyd 9/2 10
1960 Isle Of Skye 9-10-05 Tony Keen Alec Kilpatrick Sir Thomas Pilkington 100/8 12
1959 Winning Coin 7-11-07 Dave Dick George Beeby Lord Bicester 100/9 14
1958 Sentina 8-11-07 Tom Taaffe Tom Dreaper IRE Duchess of Westminster 7/1 14
1957 Sentina 7-10-04 Pat Taaffe Tom Dreaper IRE A Craigie 3/1F 12
1956 Kerstin 6-10-05 George Milburn Verly Bewicke G H Moore 100/9 14
1955 Limber Hill 8-11-02 Tim Molony Bill Dutton John Davey 7/1 19
1954 Holly Bank 7-10-13 Mr Peter Brookshaw Fred Rimell S H Brookshaw 7/2F 12
1953 Four Ten 7-10-07 Tommy Cusack John Roberts A Strange 4/1 12
1952 Royal Tan 8-11-06 Mr Phonsie O'Brien Vincent O'Brien IRE Joe Griffin 7/2JF 11
1951 Land Fort 7-11-08 Johnny Bullock Fred Rimell H Oliver 8/1 14
1950 Silver Fame 11-12-07 Martin Molony George Beeby Lord Bicester 5/4F 11
1949 Frere Jacques II 7-10-06 Ted Vinall Fred Rimell Mrs A Simmons 20/1 13
1948 Cavaliero 7-11-10 Ted Vinall Fred Rimell W R Porter 7/1 21
1947 No race (Abandoned because of snow and frost)
1946 Dunshaughlin 8-10-10 Bobby O'Ryan Charlie Rogers IRE Dorothy Paget 7/1 18