cheltenham festival / 2010 news /
Big Zeb Takes Two-Mile Championship Crown
17/03/10
1 Big Zeb 10/1
2 Forpadydeplasterer 10/1
3 Kalahari King 9/2
9 ran
Big Zeb
© racing-images.co.uk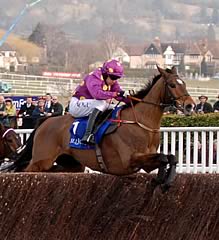 Big Zeb put in a superb performance to lead home a St Patrick's Day 1-2 for Ireland in today's feature Seasons Holidays Queen Mother Champion Chase when storming home six lengths clear of Forpadydeplasterer, winner of last season's The Irish Independent Arkle Chase.

It was another top level success for trainer Colm Murphy, who landed the 2006 Smurfit
Kappa Champion Hurdle with Brave Inca, and he admitted the victory was not a total surprise.

"It's has been plain to see that he has had his bad days - he has done stupid mistakes - but everything kind of went well this year. We got a little bit of greedy fingers and went to Sandown when we probably shouldn't have but it's turned out fine. Everyday we are learning something about him," said Murphy.

"It was the manner that he did it that was so great today, the way that he just tracked down the hill.

"Everything went right for him today and he jumped very well. We've been learning all year about him but he's a proper horse now. It was always going to be difficult last year as a second-season novice taking on older horses but I think coming here last year helped him grow up.

"In all fairness to Barry (Geraghty), he was very bullish about beating Master Minded at Punhestown last year, and I thought he was a little bit mad. He was dead right and he has struck up a really good relationship with the horse. He takes a bit of knowing but Barry knows him now.
"Everyday you are living with the horse, it's like bread and butter, and it's unbelievable to have him from day one and do this.
"We bought him as a three-year-old at the Goffs Land Rover Sale and he was a hell of a big horse who was always going to take his time but fortunately his owner was patient."
"After Brave Inca, it's just great to be able to come back here with a fellow like this to win another championship race."
Jockey Barry Geraghty added: "It was great performance. He has jumped well all year - he ran no race at Sandown but other than that he has been very good. He didn't jump well that day but then he didn't travel then.

"I always knew I had enough horse under me and I that it was going to take a very good one to get by. He had a good look around after the last and I thought that he was going to pull himself up but he found plenty when he needed it.
"I knew that Master Minded was coming because I had a peek and saw the sheepskin but I had a lot of horse and kicked for home.

"I wouldn't say he's as good a horse as Moscow Flyer but today was certainly as good a performance as Moscow put in.
"I was always pretty happy I was on the right horse before the race and I know Master Minded was good when he won at Newbury, but he beat Mahogany Blaze, who was a 100/1 shot today. He really should have beaten him by a furlong."
Owner Patrick Redmond added: "We always thought that he could do it, that he had a big day in him. He was unlucky here last year but definitely today was his day and we were 100 per cent behind him all the way.
"We think that he had a little problem with his leg at Sandown and he was treated for it. There was definitely a problem because he came great at Punchestown after that run."
Position

Horse
Trainer
Jockey
Weight
Starting Price
Beaten Distance
1

Big Zeb
C A Murphy
B J Geraghty
11st 10lbs
10 - 1
Winner
2

Forpadydeplasterer
T Cooper
A P McCoy
11st 10lbs
10 - 1
6 lengths
3

Kalahari King
Ferdy Murphy
G Lee
11st 10lbs
9 - 2
3 1/4 lengths
4

Master Minded
P F Nicholls
R Walsh
11st 10lbs
4 - 5
1/2 length
5

Oh Crick
A King
W Hutchinson
11st 10lbs
66 - 1
2 3/4 lengths
6

Golden Silver
W P Mullins
Paul Townend
11st 10lbs
33 - 1
22 lengths
7

Well Chief
D Pipe
T J Murphy
11st 10lbs
33 - 1
3/4 length
na

Twist Magic
P F Nicholls
R Thornton
11st 10lbs
8 - 1

na

Mahogany Blaze
N A Twiston-Davies
P J Brennan
11st 10lbs
66 - 1

PLASTERER PRODUCES ANOTHER FINE FESTIVAL EFFORT
Forpadydeplasterer
© racing-images.co.uk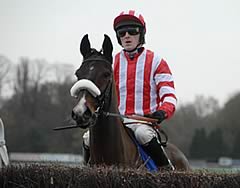 Forpadydeplasterer, winner of last year's Irish Independent Arkle Chase, stepped up to senior level and ran a fine race to finish runner-up in this two-mile championship.
Ridden by Tony McCoy who wore the colours of The Goat Syndicate, a Dublin-based group of friends, Forpadydeplasterer is trained by Tom Cooper, who said: "It's strange, but I'm happy to win and sad to be beaten. He had a very mixed preparation for this but it had nothing to do with today's defeat.

"I would have liked a stronger gallop - I think it made the difference between winning and losing - but the ground was ideal for him. Tony said the faster horse beat us on the day. We wanted a lead and hoped Twist Magic would do that job, but it didn't work out like that.

"He'll be out again this season, either at Punchestown or Aintree."
Goat Syndicate member Brian Gleeson said: "To finish in the first three was a dream and we've done that. We're a bunch of lads who all drink together and we've had a wonderful time with this horse. We've beaten the hot favourite of the day [Master Minded, who was fourth] and hopefully we'll be back next year to go one place better."
Goat Syndicate colleague Henry Cleary said: "We've been a syndicate for about three and a half years and some of us also own Son Amix, a French-bred who runs in the Fred Winter later today. Most of us are here for the week - Tom's had a third and a second today, now we're hoping for a first. We've had this horse backed for the past three or four weeks and got the best price out of it."
KALAHARI KING DELIGHTS CONNECTIONS
Kalahari King has become a regular in the winner's enclosure at The Festival. By finishing third behind surpise winner Big Zeb, the Ferdy Murphy-trained horse made his third visit in three years to the enclosure.

With red-hot favourite Master Minded not looking like the winner some way out, connections could have been excused for wishing better than third - Kalahari King was the clear second favourite at 9/2 - but there were no such feelings.

"He jumped right which he's never done before which is a little problem, but it was a great race. I think he ran his race. The ground was fine, there were no excuses at all really. We'll take him home and see how is and take it from there," said Murphy.

The owners, Neil and Julie Morgan, enthused about their horse's performance.

"How can we be disappointed with a horse that's just come third in the Champion Chase? If we'd have been offered that at the beginning of the season, we would have taken it. We are absolutely delighted with him, he's a proper Grade One horse.
"You can't be worrying about what others are doing, when the race is on you're watching your own horse," said Neil Morgan.
WE WERE BEATEN FAIR AND SQUARE - NICHOLLS ON MASTER MINDED
Master Minded failed in his attempt to become only the second three-time winner of the Seasons Holidays Queen Mother Champion Chase with the 4/5 favourite faring no better than fourth.
His trainer Paul Nicholls said: "We were beaten fair and square.
"I was concerned with the drying ground over the past couple of days and Ruby (Walsh, jockey) said he didn't let himself down. I could see that too after a couple of fences. He didn't perform at his best today.
"He is a big, heavy horse and on ground like this something just stops him letting himself down. He is a hard horse to train, unlike Kauto Star.
"As Ruby said, the horse has won two Champion Chases and today we have a new champion - that's what racing is all about."
SEASONS HOLIDAYS QUEEN MOTHER CHAMPION CHASE ROLL OF HONOUR
(Seasons Holidays Queen Mother Champion Chase since 2007, Queen Mother Champion Chase 1980-2006, previously National Hunt Two Mile Champion Chase from when first run in 1959)
Year Winner Age/Wt Jockey Trainer Owner SP Ran
2009 Master Minded 6-11-10 Ruby Walsh Paul Nicholls Clive Smith 4/11F 12
2008 Master Minded 5-11-10 Ruby Walsh Paul Nicholls Clive Smith 3/1 8
2007 Voy Por Ustedes 6-11-10 Robert Thornton Alan King Sir Robert Ogden 5/1 10
2006 Newmill 8-11-10 Andrew McNamara John Murphy IRE Mary Hayes 16/1 12
2005 Moscow Flyer 11-11-10 Barry Geraghty Jessica Harrington IRE Brian Kearney 6/4F 8
2004 Azertyuiop 7-11-10 Ruby Walsh Paul Nicholls John Hales 15/8 8
2003 Moscow Flyer 9-12-00 Barry Geraghty Jessica Harrington IRE Brian Kearney 7/4F 11
2002 Flagship Uberalles 8-12-00 Richard Johnson Philip Hobbs Elizabeth Gutner/Michael Krysztofiak 7/4F 12
2001 No Race (Foot and Mouth)
2000 Edredon Bleu 8-12-00 Tony McCoy Henrietta Knight Jim Lewis 7/2 9
1999 Call Equiname 9-12-00 Mick Fitzgerald Paul Nicholls Mick Coburn,Paul Barber,Colin Lewis 7/2 13
1998 One Man 10-12-00 Brian Harding Gordon Richards John Hales 7/2 8
1997 Martha's Son 10-12-00 Rodney Farrant Tim Forster Paddy Hartigan/Michael Ward-Thomas 9/1 6
1996 Klairon Davis 7-12-00 Francis Woods Arthur Moore IRE Chris Jones 9/1 7
1995 Viking Flagship 8-12-00 Charlie Swan David Nicholson Roach Foods Ltd 5/2F 10
1994 Viking Flagship 7-12-00 Adrian Maguire David Nicholson Roach Foods Ltd 4/1 8
1993 Deep Sensation 8-12-00 Declan Murphy Josh Gifford Robin Eliot 11/1 9
1992 Remittance Man 8-12-00 Jamie Osborne Nicky Henderson Jim Collins Evs F 6
1991 Katabatic 8-12-00 Simon McNeill Andrew Turnell Pell-Mell Partners 9/1 7
1990 Barnbrook Again 9-12-00 Hywel Davies David Elsworth Mel Davies 11/10F 9
1989 Barnbrook Again 8-12-00 Simon Sherwood David Elsworth Mel Davies 7/4F 8
1988 Pearlyman 9-12-00 Tom Morgan John Edwards Valerie Shaw 15/8F 8
1987 Pearlyman 8-12-00 Peter Scudamore John Edwards Valerie Shaw 13/8F 8
1986 Buck House 8-12-00 Tommy Carmody Mouse Morris IRE Mrs Phil Purcell 5/2 11
1985 Badsworth Boy 10-12-00 Robert Earnshaw Monica Dickinson Doug Armitage 11/8 5
1984 Badsworth Boy 9-12-00 Robert Earnshaw Michael Dickinson Doug Armitage 8/13F 10
1983 Badsworth Boy 8-12-00 Robert Earnshaw Michael Dickinson Doug Armitage 2/1 6
1982 Rathgorman 10-12-00 Kevin Whyte Michael Dickinson J Lilley 100/30 9
1981 Drumgora 9-12-00 Frank Berry Arthur Moore IRE D Monahan 25/1 9
1980 *Another Dolly 10-12-00 Sam Morshead Fred Rimell Ian Urquhart 33/1 7
1979 Hilly Way 9-12-00 Mr Ted Walsh Peter McCreery IRE J W Sweeney 7/1 9
1978 Hilly Way 8-12-00 Tommy Carmody Peter McCreery IRE J W Sweeney 7/1 10
1977 Skymas 12-12-00 Mouse Morris Brian Lusk IRE Mathew Magee 7/2 8
1976 Skymas 11-12-00 Mouse Morris Brian Lusk IRE Mathew Magee 8/1 7
1975 Lough Inagh 8-12-00 Sean Barker Jim Dreaper IRE A Martin 100/30 8
1974 Royal Relief 10-12-00 Bill Smith Edward Courage Edward Courage 6/1 6
1973 Inkslinger 6-12-00 Tommy Carberry Dan Moore IRE Mrs M Jenney 6/1 6
1972 Royal Relief 8-12-00 Bill Smith Edward Courage Edward Courage 15/8 5
1971 Crisp 8-12-00 Paul Kelleway Fred Winter Sir Chester Manifold 3/1 8
1970 Straight Fort 7-12-00 Pat Taaffe Tom Dreaper IRE George Ansley 7/4F 6
1969 Muir 10-12-00 Ben Hannon Tom Dreaper IRE Waring Willis 15/2 11
1968 Drinny's Double 10-12-00 Frank Nash Bob Turnell Paul Mellon 6/1 5
1967 Drinny's Double 9-12-00 Frank Nash Bob Turnell Paul Mellon 7/2 8
1966 Flyingbolt 7-12-00 Pat Taaffe Tom Dreaper IRE Mrs Jean Wilkinson 1/5F 6
1965 Dunkirk 8-12-00 Dave Dick Peter Cazalet Bill Whitbread 8/1 6
1964 Ben Stack 7-12-00 Pat Taaffe Tom Dreaper IRE Anne, Duchess of Westminster 2/1 5
1963 Sandy Abbot 8-12-00 Stan Mellor George Owen Mrs J D McKechnie 5/1 5
1962 Piperton 8-12-00 Dave Dick Archie Thomlinson Archie Thomlinson 100/6 7
1961 Fortria 9-12-00 Pat Taaffe Tom Dreaper IRE George Ansley 2/5F 5
1960 Fortria 8-12-00 Pat Taaffe Tom Dreaper IRE George Ansley 15/8F 7
1959 Quita Que 10-12-00 Bunny Cox Dan Moore IRE Mrs D R Brand 4/9F 9
*Another Dolly finished second to Chinrullah, who was subsequently disqualified after failing a post-race urine test