cheltenham festival / 2012 news /
Sprinter Sacre Heads 10 for Arkle Chase
07/03/12
There have been few more impressive winners this season than Sprinter Sacre who waltzed to a facile six-length success against seasoned rivals in the rescheduled Grade Two Game Spirit Chase at Newbury on February 17. The Nicky Henderson-trained six-year-old is one 10 contenders remaining in the £130,000 Grade One Racing Post Arkle Chase run over two miles on The Festival's opening day, Champion Day, Tuesday, March 13.
Cue Card


© racing-images.co.uk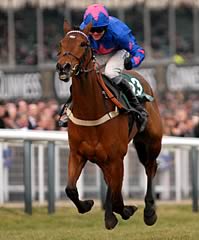 With a weight-adjusted Timeform rating of 174p, he is currently rated 1lb behind last year's William Hill Supreme Novices' Hurdle victor Al Ferof with Cue Card on 168.
Cue Card has Cheltenham Festival form in the book which is always a huge pointer to further success at the greatest jumps meeting on the calendar. In 2010, at the tender age of 4, Colin Tizzard's charge slammed his older rivals by upwards of 8-lengths to win the Champion Bumper with Al Ferof second and the Irish challengers nowhere. The following winter, a pair of effortless novice hurdle wins (one at Cheltenham) saw him move to unbeaten in four runs. Menorah halted that dominance when beating Cue Card into second, again at Cheltenham but that did not prevent Cue Card going off as 7/4 favourite for the Supreme Novices' in March. Although he ran to his previous level on the ratings, it was disappointing that he could manage no better than 4th to Al Ferof and although some excuses were put forward in the press, he looked beaten on merit. A 13-length beating at Aintree didn't recover his lofty reputation either but Colin Tizzard was upbeat, citing that the switch to novice chasing would see the horse in a much better light. It hasn't all gone to plan this season but his latest win was impressive and in that sort of form, he would take some beating.
Menorah won 3 from 4 over hurdles round Cheltenham and was a top-class novice, winning the 2010 Supreme before finishing fifth in the 2011 Champion Hurdle behind Hurricane Fly. That proven liking for Cheltenham and especially the festival form places Menorah high on the list of horses to be interested in come March 2012. There is a worry though in that he has not really been fluent on any of his chasing starts thus far, despite meeting only 2-rivals on no less than three occasions. Now a 7-y-o as well and a little more experienced than his market rivals so there are warning signs posted in the ground near to Menorah and it will be a good effort if he can jump round fluently enough to hold his chance in this.
The grey Al Ferof was well-backed to beat his more experienced rivals in the Victor Chandler and having watched him finish third to Somersby, I was initially less than impressed. On reflection though, he was still a novice taking on top class experienced chasers and given the RPR awarded was a career best, my initial judgment was perhaps harsh. Has the all important festival form on his record; a second in the Bumper and a win in the Supreme Novices' and at 7/1, he may yet prove good value.
Paul Nicholls' Cristal Bonus has also been left in.
Peddlers Cross has, as expected, been taken out, with the Jewson Novices' Chase now his aim.
Willie Mullins has left in Blackstairmountain, although he has removed Sir Des Champs from contention.
The other Irish challengers are Tony Martin's Nearest The Pin and the John Ryan-trained Foildubh.
Nigel Twiston-Davies' Astracad and Kid Cassidy, trained by Nicky Henderson, complete the list of 10 possibles.
THE RACING POST ARKLE CHALLENGE TROPHY CHASE
Class 1, Grade One, Total Prize Fund £130,000, 2.05pm, Cheltenham, Tuesday, March 13, 2012, two miles. For novice 5-y-o & upwards, two miles. Weights: 11st 7lb. Allowances: mares 7lb. Entries closed January 24, entries revealed January 26 (27 entries), scratchings deadline February 21 (15 remained), six-day confirmation stage March 7 (10 remain), final declaration stage 10.00am, March 12. Form figures supplied by Weatherbys and are correct up to and including the racing of Monday, February 20, 2012. May not include some overseas form.
| | | | | |
| --- | --- | --- | --- | --- |
| Form | Horse | Age | Owner | Trainer |
| 111-113 | AL FEROF (FR) | 7 | John Hales | Paul Nicholls |
| 60-1321 | ASTRACAD (FR) | 6 | Raymond Mould | Nigel Twiston-Davies |
| 0-26115 | BLACKSTAIRMOUNTAIN (IRE) | 7 | Susannah Ricci | Willie Mullins IRE |
| 16250-1 | CRISTAL BONUS (FR) | 6 | Robin Geffen | Paul Nicholls |
| 42-1U21 | CUE CARD | 6 | Jean Bishop | Colin Tizzard |
| 323132 | FOILDUBH (IRE) | 8 | John Ryan | John Ryan IRE |
| 32-1F11 | KID CASSIDY (IRE) | 6 | J P McManus | Nicky Henderson |
| 4U411F | MENORAH (IRE) | 7 | Diana Whateley | Philip Hobbs |
| 122326 | NEAREST THE PIN (IRE) | 7 | Sox Syndicate | Tony Martin IRE |
| 113-111 | SPRINTER SACRE (FR) | 6 | Caroline Mould | Nicky Henderson |
10 entries remain after March 07 six-day declarations
3 Irish-trained
THE RACING POST ARKLE CHASE FACTS AND FIGURES
1. The Racing Post Arkle Chase was inaugurated in 1969, after Arkle's three wins in the Cheltenham Gold Cup (1964- 66). In its first year, the race was worth £1,365, and was won by Chatham (10/1), trained by Fred Rimell and ridden by Terry Biddlecombe. The 2012 running has total prize money of £130,000. It was known as the Cotswold Chase before 1969.
2. The Racing Post, which backs the Arkle Chase for the first time in 2012, is only the race's fourth sponsor. The Irish Independent was the sponsor from 2000 to 2011, Guinness sponsored from 1994 until 1999 and Waterford Cystal supported the race between 1991 and 1993.
3. The Racing Post Arkle Chase has always been a fiercely contested event, and the following winners have gone on to other Championship victories at The Festival:
2010 Sizing Europe (sportingbet.com Queen Mother Champion Chase 2011)
2006 Voy Por Ustedes (Queen Mother Champion Chase winner 2007) 2003 Azertyuiop (Queen Mother Champion Chase winner 2004)
2002 Moscow Flyer (Queen Mother Champion Chase winner 2003 & 2005)
1999 Flagship Uberalles (Queen Mother Champion Chase winner 2002)
1995 Klairon Davis (Queen Mother Champion Chase winner 1996)
1991 Remittance Man (Queen Mother Champion Chase winner 1992)
1978 Alverton (Cheltenham Gold Cup winner 1979).
Alverton is the only horse to have won both the Racing Post Arkle Chase and Betfred Cheltenham Gold Cup.
4. The lowest number of runners has been eight (1979, 1984 & 1993) and the highest 19 (1987 & 2005) as the Arkle Chase - there were 25 runners in the Cotswold Chase in 1960. The current safety limit is 20.
5. The Racing Post Arkle Chase has seen several trainers and jockeys run up strings of wins. Martin Pipe notched up successive wins with Or Royal in 1997 and Champleve in 1998 before Well Chief in 2004 and Contraband a year later gave him another brace of victories. Peter Easterby trained three winners - Alverton 1978, Clayside 1981 and Ryeman 1983. Among current trainers, Nicky Henderson leads the way with three successes (Remittance Man 1991, Travado 1993 and Tiutchev 2000), while both Paul Nicholls (Flagship Uberalles in 1999 and Azertyuiop in 2003) and Alan King (My Way De Solzen in 2007 and Voy Por Ustedes in 2006) both boast a pair of victories. Among jockeys, Jamie Osborne won three times, via a hat-trick between 1992 and 1994 on Young Pokey, Travado, and Nakir for three different trainers, Oliver Sherwood, Nicky Henderson and Simon Christian. A P McCoy equalled Osborne's three wins in 2004 when scoring on Well Chief, having also been aboard Or Royal (1997) and Champleve (1998).
6. Irish trainers have won the Racing Post Arkle Chase 11 times, including five of the last 15 runnings with Klairon Davis (1995), Ventana Canyon (1996), Moscow Flyer (2002), Forpadydeplasterer (2009) and Sizing Europe (2010).
7. The longest-priced winner was Gala's Image, successful at 25/1 in 1987, while Pendil (1972) and Chinrullah (1979) were the shortest-priced scorers at 10/11. Six other favourites have won - Canasta Lad (1974), Clayside (1981), Bobsline (1984), Remittance Man (1991), Klairon Davis (1995) and Azertyuiop (2003).
8. The fastest time for the two miles of the Racing Post Arkle Chase was 3m 46.5s by Tiutchev in 2000, beating the previous best of 3m 52.5s set by Or Royal in 1997.
9. Until 1980, the Racing Post Arkle Chase was always run on the Wednesday of the The Festival. It now takes place on the opening day, Tuesday.
THE RACING POST ARKLE CHALLENGE TROPHY CHASE
Previous Results
2011-WINNER-CAPTAIN CHRIS 7-11-07 Owner-Diana Whateley; Trainer-Philip Hobbs; Jockey-Richard Johnson; SP-6/1 2ND-Finian's Rainbow 8-11-07 Owner-Michael Buckley; Trainer-Nicky Henderson; Jockey-Barry Geraghty; SP-7/2 3RD-Realt Dubh 7-11-07 Owner-Des Sharkey; Trainer-Noel Meade IRE; Jockey-Paul Carberry; SP-17/2
10 ran, Time 3m 51.68s Dist-2 3⁄4, 6 11/4 Fav Medermit (4th)
2010-WINNER-SIZING EUROPE 6-11-07 Owner-Ann & Alan Potts Partnership; Trainer-Henry de Bromhead IRE; Jockey-Andrew Lynch; SP-6/1 2ND-Somersby 6-11-07 Owner-Camilla Radford; Trainer-Henrietta Knight; Jockey-Robert Thornton; SP-4/1 3RD-Osana 8-11-07 Owner-Thomas Barr; Trainer-Edward O'Grady IRE; Jockey-Andrew McNamara; SP-14/1 12 ran, Time-3m 52.60s Dist-•, 1 • 5/2 Fav Captain Cee Bee (8th)
2009-WINNER-FORPADYDEPLASTERER 7-11-07 Owner-Goat Racing Syndicate; Trainer-Tom Cooper IRE; Jockey-Barry Geraghty; SP-8/1
2ND-Kalahari King 8-11-07 Owner-Mrs J Morgan; Trainer-Ferdy Murphy; Jockey-Graham Lee; SP-8/1
3RD-Planet Of Sound 7-11-07 Owner-Charles Lloyd-Baker; Trainer-Philip Hobbs; Jockey-Richard Johnson; SP-10/1
17 ran, Time-4m 1.00s Dist-sh, 5 4/1 Fav Tatenan (Fell)
2008-WINNER-TIDAL BAY 7-11-07 Owner-Andrea & Graham Wylie; Trainer-Howard Johnson; Jockey-Denis O'Regan; SP-6/1
2ND-Kruguyrova 5-11-00 Owner-Ronald Brimacombe; Trainer-Charles Egerton; Jockey-Tony McCoy; SP-9/1
3RD-Noland 7-11-07 Owner-John Hales; Trainer-Paul Nicholls; Jockey-Ruby Walsh; SP-7/4 Fav
14 ran, Time-4m 3.40s Dist- 13, 1½
2007-WINNER-MY WAY DE SOLZEN 7-11-07 Owner-Ben Winfield, A Longman, J Wright & C Fenton; Trainer-Alan King; Jockey-Robert Thornton; SP-7/2
2ND-Fair Along 5-11-02 Owner-Alan Peterson; Trainer-Philip Hobbs; Jockey-Richard Johnson; SP-100/30 Fav
3RD-Jack The Giant 5-11-02 Owner-Hanbury Syndicate; Trainer-Nicky Henderson; Jockey-Mick Fitzgerald; SP-14/1
13 ran, Time-3m 51.70s Dist-5, 1
2006-WINNER-VOY POR USTEDES 5-11-02 Owner-Sir Robert Ogden; Trainer-Alan King; Jockey-Robert Thornton; SP-15/2
2ND-Monet's Garden 8-11-07 Owner-David Wesley Yates; Trainer-Nicky Richards; Jockey-Tony Dobbin; SP-8/1
3RD-Foreman 8-11-07 Owner-J P McManus; Trainer-Thierry Doumen FR; Jockey-Tony McCoy; SP-5/1
14 ran, Time-3m 52.30s Dist-1¼, 4 9/2 Fav Racing Demon (7th)
2005-WINNER-CONTRABAND 7-11-07 Owner-David Johnson; Trainer-Martin Pipe; Jockey-Timmy Murphy; SP-7/1
2ND-Ashley Brook 7-11-07 Owner-Elizabeth Ellis; Trainer-Kevin Bishop; Jockey-Paddy Brennan; SP-20/1
3RD-River City 8-11-07 Owner-Mrs S Rowley-Williams & Partners; Trainer-Noel Chance; Jockey-Tom Doyle; SP- 10/1 19 ran, Time-3m 53.10s Dist-1, 4 11/4 Fav War Of Attrition (7th)
2004-WINNER-WELL CHIEF 5-11-03 Owner-David Johnson; Trainer-Martin Pipe; Jockey-Tony McCoy; SP-9/1
2ND-Kicking King 6-11-07 Owner-Conor Clarkson; Trainer-Tom Taaffe IRE; Jockey-Barry Geraghty; SP-7/2
3RD-Le Duc 5-11-03 Owner-Judy Stewart; Trainer-Paul Nicholls; Jockey-Joe Tizzard; SP-25/1
16 ran, Time-3m 55.80s Dist-1, 7 5/2 Fav Thisthatantother (f)
2003-WINNER-AZERTYUIOP 6-11-08 Owner-John & Lisa Hales; Trainer-Paul Nicholls; Jockey-Ruby Walsh; SP-5/4 Fav
2ND-Impek 7-11-08 Owner-Jim Lewis; Trainer-Henrietta Knight; Jockey-Jim Culloty; SP-6/1
3RD-Isio 7-11-08 Owner-Sir Peter & Lady Gibbings; Trainer-Nicky Henderson; Jockey-Mick FitzGerald; SP-10/1
9 ran, Time-3m 56.70s Dist-11, 1
2002-WINNER-MOSCOW FLYER 8-11-08 Owner-Brian Kearney; Trainer-Jessica Harrington IRE; Jockey-Barry Geraghty; SP-11/2
2ND-Seebald 7-11-08 Owner-The Macca and Growler Partnership; Trainer-Martin Pipe; Jockey-Tony McCoy; SP-5/2 Fav
3RD-Armaturk 5-11-03 Owner-Barry Marshall; Trainer-Paul Nicholls; Jockey-Timmy Murphy; SP-8/1
12 ran, Time-3m 50.50s Dist-4, 13
2001 - Cancelled
2000-WINNER-TIUTCHEV 7-11-08 Owner-The Liars Poker Partnership; Trainer-Nicky Henderson; Jockey-Mick FitzGerald; SP-8/1
2ND-Cenkos 6-11-08 Owner-Judy Stewart; Trainer-Oliver Sherwood; Jockey-David Casey; SP-10/1
3RD-Decoupage 8-11-08 Owner-Decoupage Partnership; Trainer-Charles Egerton; Jockey-Norman Williamson; SP-7/4 Fav 12 ran, Time-3m 46.5s Dist-8, 8
1999-WINNER-FLAGSHIP UBERALLES 5-11-00 Owner-Elizabeth Gutner & Michael Krysztofiak Racing; Trainer-Paul Nicholls; Jockey-Joe Tizzard; SP-11/1
2ND-Tresor De Mai 5-11-00 Owner-Joe Moran; Trainer-Martin Pipe; Jockey-Richard Dunwoody; SP-14/1
3RD-Nipper Reed 9-11-8 Owner-Graham Piper; Trainer-Rod Simpson; Jockey-Adrian Maguire; SP-10/1
14 ran, Time-3m 58.1s Dist-2½, 14 4/1 Fav His Song (5th)
1998-WINNER-CHAMPLEVE 5-11-00 Owner-David Johnson; Trainer-Martin Pipe; Jockey-Tony McCoy; SP-13/2
2ND-Hill Society 6-11-08 Owner-Pat Garvey; Trainer-Noel Meade IRE; Jockey- Richard Dunwoody; SP-8/1
3RD-Mandys Mantino 8-11-08 Owner-John Plackett ; Trainer-Josh Gifford; Jockey-Philip Hide; SP-25/1
16 ran Time-3m 55.1s Dist-sh, 1½ 11/2 Fav Kadastrof (10th)
1997-WINNER-OR ROYAL 6-11-08 Owner-David Johnson; Trainer-Martin Pipe; Jockey-Tony McCoy; SP-11/2
2ND-Squire Silk 8-11-08 Owner-Robert Ogden; Trainer-Andrew Turnell; Jockey-Jamie Osborne; SP-11/2
3RD-Celibate 6-11-08 Owner-Stamford Bridge Partnership; Trainer-Charlie Mann; Jockey-Jamie Railton; SP-13/2
9 ran Time-3m 52.5s Dist-½, 6 11/10 Fav Mulligan (f)
1996-WINNER-VENTANA CANYON 7-11-08 Owner-Philip Myerscough; Trainer-Edward O'Grady IRE; Jockey-Richard Dunwoody; SP-7/1
2ND-Arctic Kinsman 8-11-08 Owner-Rosie Hambro and D Milne; Trainer-Nigel Twiston-Davies; Jockey-Carl Llewellyn; SP-13/2
3RD-Super Coin 8-11-08 Owner-George and Joan Brookes; Trainer-Richard Lee; Jockey-Pat McLoughlin; SP-66/1 16 ran, Time-4m 0.5s Dist-20, 8 7/2 Fav Draborgie (p.u.)
THE RACING POST ARKLE CHASE ROLL OF HONOUR
(The Irish Independent Arkle Chase 2000-2011, Guinness Arkle Chase 1994-99, Waterford Crystal Arkle Chase 1991-93, no sponsor 1969-90, Cotswold Chase before 1969)

Year Winner Age/Wt Jockey Trainer Owner SP Ran


2011 Captain Chris 7-11-07 Richard Johnson Philip Hobbs Diana Whateley 6/1 10
2010 Sizing Europe 6-11-07 Andrew Lynch Henry de Bromhead IRE Ann & Alan Potts Partnership 6/1 12
2009 Forpadydeplasterer 7-11-07 Barry Geraghty Tom Cooper IRE Goat Racing Syndicate 8/1 17
2008 Tidal Bay 7-11-07 Denis O'Regan Howard Johnson Andrea & Graham Wylie 6/1 14
2007 My Way De Solzen 7-11-07 Robert Thornton Alan King Ben Winfield, A Longman, J Wright & C Fenton 7/2 13
2006 Voy Por Ustedes 5-11-02 Robert Thornton Alan King Sir Robert Ogden 15/2 14
2005 Contraband 7-11-07 Timmy Murphy Martin Pipe David Johnson 7/1 19
2004 Well Chief 5-11-03 Tony McCoy Martin Pipe David Johnson 9/1 16
2003 Azertyuiop 6-11-08 Ruby Walsh Paul Nicholls John and Lisa Hales 5/4F 9
2002 Moscow Flyer 8-11-08 Barry Geraghty Jessica Harrington IRE Brian Kearney 11/2 12
2001 No race (Foot and Mouth disease)
2000 Tiutchev 7-11-08 Mick FitzGerald Nicky Henderson Liars Poker Partnership 8/1 12
1999 Flagship Uberalles 5-11-00 Joe Tizzard Paul Nicholls Elizabeth Gutner/Michael Krysztofiak 11/1 14
1998 Champleve 5-11-00 Tony McCoy Martin Pipe David Johnson 13/2 16
1997 Or Royal 6-11-08 Tony McCoy Martin Pipe David Johnson 11/2 9
1996 Ventana Canyon 7-11-08 Richard Dunwoody Edward O'Grady IRE Philip Myerscough 7/1 16
1995 Klairon Davis 6-11-08 Francis Woods Arthur Moore IRE Chris Jones 7/2F 11
1994 Nakir 6-11-08 Jamie Osborne Simon Christian Jim Lewis 9/1 10
1993 Travado 7-11-08 Jamie Osborne Nicky Henderson Mrs Michael Ennever 5/1 8
1992 Young Pokey 7-11-08 Jamie Osborne Oliver Sherwood Maurice Oberstein 4/1 11
1991 Remittance Man 7-11-08 Richard Dunwoody Nicky Henderson Jim Collins 85/40 F 14
1990 Comandante 8-11-08 Peter Hobbs Josh Gifford Maurice Pinto 9/2 14
1989 Waterloo Boy 6-11-08 Richard Dunwoody David Nicholson Michael Deeley 20/1 14
1988 Danish Flight 9-11-08 Mark Dwyer Jimmy FitzGerald A F Budge (Equine) Ltd 11/2 12
1987 Gala's Image 7-11-08 Richard Linley Mercy Rimell Sheikh Ali Abu Khamsin 25/1 19
1986 Oregon Trail 6-11-08 Ronnie Beggan Simon Christian Henry Ponsonby 14/1 14
1985 Boreen Prince 8-11-08 Niall Madden Andrew McNamara IRE William Lenehan 15/2 16
1984 Bobsline 8-11-08 Frank Berry Francis Flood IRE R H Kelsey 5/4F 8
1983 Ryeman 6-11-08 Alan Brown Peter Easterby D Slater 16/1 16
1982 The Brockshee 7-11-08 Tommy Carberry Arthur Moore IRE T Murray 12/1 19
1981 Clayside 7-11-08 Alan Brown Peter Easterby Mrs D Grant 5/2F 13
1980 Anaglogs Daughter 7-11-08 Tommy Carberry Bill Durkan IRE A Durkan 9/4 9
1979 Chinrullah 7-11-08 Dessie Hughes Mick O'Toole IRE Mrs R Eastwood 10/11F 8
1978 Alverton 8-11-08 Graham Thorner Peter Easterby Snailwell Stud Co Ltd 5/2 12
1977 Tip The Wink 7-11-08 Dessie Hughes Pat Taylor Michael Simmonds 15/2 10
1976 Roaring Wind 8-11-08 Reg Crank Roy Cambidge S Jones 11/1 16
1975 Broncho II 6-11-11 Colin Tinkler Tony Dickinson Frank Tyldesely 8/1 12
1974 Canasta Lad 8-11-11 Jeff King Peter Bailey Mrs R Hague 2/1F 10
1973 Denys Adventure 8-12-01 Graham Thorner Tim Forster Mrs Robert Henriques 8/1 10
1972 Pendil 7-12-01 Richard Pitman Fred Winter Mrs C Kinney 10/11F 10
1971 Alpheus 6-11-08 Eddie Wright Tom Dreaper IRE Lord Donoughmore 15/1 11
1970 Soloning 5-11-00 Paul Kelleway Fred Winter Mrs C E Thornton 4/1 13
1969 Chatham 5-11-00 Terry Biddlecombe Fred Rimell C Knott 10/1 10
1968 The Hustler 6-11-12 Barry Brogan Earl Jones Mrs D E Crouch 20/1 11
1967 Arctic Stream 7-12-02 Ben Hannon P Rooney IRE J A Duffy 8/1 9
1966 Arctic Sunset 6-12-06 George Milburn Ken Oliver J R McNair 3/1 9
1965 Flyingbolt 6-12-04 Pat Taaffe Tom Dreaper IRE Mrs Jean Wilkinson 4/9F 13
1964 Greektown 8-11-08 Michael Scudamore Willie Stephenson Lionel Ensten 13/2 16
1963 Ben Stack 6-12-01 Pat Taaffe Tom Dreaper IRE Duchess of Westminster 13/8F 17
1962 Prudent Barney 8-12-01 Johnny East Bobby Renton Lurline Brotherton 20/1 9
1961 Mountcashel King 6-12-04 Pat Taaffe Tom Dreaper IRE John Glyn 2/5F 12
1960 Mazurka 6-11-12 Ron Harrison Ron Smyth Mrs Chris Barnes 10/1 25
1959 Flame Gun 8-12-04 Fred Winter Charlie Mallon Michael Sobell 7/2 14
1958 Fortria 6-12-01 Tom Taaffe Tom Dreaper IRE A Craigie 7/2 17
1957 Ballyatom 5-11-04 Mr Bob McCreery George Beeby David Evans-Bevan 8/1 13
1956 Sir Ken 9-12-03 Tim Molony Willie Stephenson Maurice Kingsley 5/4F 17
1955 Manuscrit 5-11-00 Johnny Bullock Fulke Walwyn Mme Peggy Hennessy 10/1 20
1954 Armorial III 5-11-05 Rene Emery Fulke Walwyn Mrs M de Pret-Roose 7/2F 17
1953 Bramble Tudor 5-11-12 Tim Molony Stewart Wight Lord Joicey 11/4 9
1952 Nautical Print 5-11-00 Tommy Cusack Gerry Wilson Lt Col J F Harrison 6/1 15
1951 Red Steel 5-11-00 Dick Francis Frank Cundell Hugh Sumner 4/1F 15
1950 High Level 5-11-04 Johnny Bullock Fred Rimell T E Ward 9/2 14
1949 Grand Refrain 5-11-05 Glen Kelly Bobby Norris Lord Abergavenny 9/4F 12
1948 Top Cash 6-12-05 Glen Kelly Bobby Norris Lord Abergavenny 3/1 9
1947 No race (abandoned due to snow and frost)
1946 Bright Penny 6-11-12 Glen Kelly Bobby Norris Lord Penrhyn 5/1 15