478 for the 2012 Derby Including Sea The Stars' Half-Brother
15/12/10
The 233rd Investec Derby, which will take place at Epsom Downs on Saturday, June 2, 2012 with a total prize fund of at least £1,250,000, has attracted a yearling entry of 478, the highest figure in the last five years. The number of entries received at the yearling stage in the last five years for the Investec Derby is: 2012-478; 2011-444; 2010-388; 2009-474; 2008-465.
Probably the most eye-catching entry is Born To Sea, an Invincible Spirit half-brother to the brilliant 2009 Investec Derby hero Sea The Stars. Like his illustrious sibling, Born To Sea was bred by the Tsui family's Sunderland Holdings and is owned by Christopher Tsui. He has entered training on the Curragh in Ireland with Sea The Stars' handler John Oxx, who also saddled Sinndar to win the Investec Derby in 2000.
Sea the Stars


© racing-images.co.uk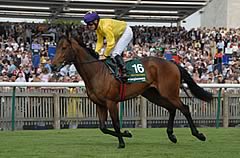 Sea The Stars rewrote the record books in 2009 during a perfect campaign that enveloped six stunning Group One victories, chief among them being the Investec Derby at Epsom Downs in which he slammed subsequent wide-margin Irish Derby victor Fame And Glory and future champion miler Rip Van Winkle.

Oxx plotted the Cape Cross colt's route to racing immortality, including that famous Classic triumph at Epsom Downs that saw him become the first horse since Nashwan 20 years earlier to add the Investec Derby to victory in the 2,000 Guineas. In going on to win the Coral-Eclipse Stakes, Juddmonte International, Tattersalls Millions Irish Champion Stakes and Qatar Prix de l'Arc de Triomphe, Sea The Stars became the first horse to annex that spectacular sextet of premier races.

Sea The Stars followed his half-brother Galileo (2001) in winning the Investec Derby, making their dam, Urban Sea, only the second mare to produce two Derby winners. Windmill Girl, responsible for the brothers Blakeney (1969) and Morston (1973), is the other.

Urban Sea could yet take that record outright with her final foal, the Invincible Spirit colt Born To Sea, being among two entries for Tsui, who has also engaged the Oxx-trained English Night.

John Clarke, racing advisor to the Tsui family, revealed: "Born To Sea is a sensational looking yearling and has all of the attributes you would look for in a top-class horse, but it is too early to know whether he has any ability yet. He is as good looking as Sea The Stars was at this stage of his development but, being a yearling, he is far from the finished article.

"He has settled in nicely at John's. He has been there a couple of months now and he is doing everything right so far.

"He has to be entered for the Derby. With two out of Urban Sea having won the Derby it would be very wrong not to at least have him entered at this point in time."

The second Tsui entry, English Night, is a Dalakhani half-brother to US Grade Three winner Dress Rehearsal, out of the Night Shift mare Sassenach.

Clarke added: "I haven't seen English Night for quite some time but he was a very nice looking yearling. The dam produced a Grade Three winner in America, so hopefully this colt will make the grade - only time will tell."

John Oxx, whose 24 entries include 16 for his main patron the Aga Khan, also has five engaged for prominent Australian owner Lloyd Williams, whose navy blue and white colours are a famous sight Down Under. Williams, along with his wife Suzy, has owned racehorses for over 40 years and has won the Emirates Melbourne Cup on three occasions with Just A Debt (1981), What A Nuisance (1985) and Efficient (2007). Williams also owns the remarkable nine-year-old Zipping, a Group One-winning regular in the Melbourne Cup and victorious in the past four renewals of the Group Two Sandown Classic.

The quintet comprises two colts by Galileo, one being out of Lyrical, a half-sister to 2000 Oaks heroine Love Divine, and a further two are by 2002 Investec Derby winner High Chaparral.

Yearlings owned by Michael Tabor, Sue Magnier or Derrick Smith either singly or in partnership account for 63 entries. The Coolmore team is seeking a third Investec Derby success following Galileo and High Chaparral.

The individual owner with the largest number of yearling entries is Sheikh Mohammed, responsible for 46 of those engaged, while the Maktoum family's Godolphin operation has 34 entries. Further Maktoum involvement comes from Sheikh Mohammed's brother Sheikh Hamdan Al Maktoum, owner of previous Investec Derby winners Nashwan (1989) and Erhaab (1994), who has 42 entries, while another brother Sheikh Ahmed Al Maktoum has two entries.

Khalid Abdulla landed the Investec Derby for a third time when Workforce took the premier Classic in record-breaking time in 2010 and among the Juddmonte draft of 22 for the 2012 Investec Derby is a Halling half-brother to Workforce and a full-brother to champion two-year-old Frankel, current favourite for the 2011 Investec Derby.

Other siblings to past Investec Derby winners include Galileo three-parts brothers to High Chaparral and Authorized.

The most successful current owner in the Investec Derby is the Aga Khan, who has enjoyed four victories courtesy of Shergar (1981), Shahrastani (1986), Kahyasi (1988) and Sinndar (2000). Among his draft of 26 for the 2012 renewal is a Dalakhani half-brother to the brilliant unbeaten filly Zarkava, winner of the Prix de l'Arc Arc de Triomphe in 2008. The Aga Khan's daughter, Princess Zahra Aga Khan is also represented with two entries, including a Smart Strike colt out of the triple Group One winner Mandesha.

Other Investec Derby-winning owners who could be represented again in 2012 include Ballymacoll Stud (three entries) , Anthony & Victoria Pakenham (one entry) and the Royal Ascot Racing Club (one entry). Lord Derby has one entry in the race named after his ancestor, a Monsun colt out of the outstanding Ouija Board, winner of the Investec Oaks in 2004. Andrew Tinkler, one of the biggest investors at the yearling sales in 2010, has 13 entries while syndicates operated by Highclere Thoroughbred Racing account for nine entries.

The next chance to enter the Investec Derby is at the second entry stage on April 3, 2012, for a cost of £8,000 while there is a final opportunity at the £75,000 supplementary entry stage on Monday, May 28.

Andrew Cooper, Director of Racing at Epsom Downs Racecourse, commented: "It is pleasing to see an increase in the yearling entry for the 2012 Investec Derby and there are a number of eye-catching pedigrees at this very early stage.

"I would like to extend thanks to the owners both large and small who continue to utilise the yearling entry process - it remains the most cost-effective way of having a runner in the Investec Derby."

Please find attached as a PDF file the entries for the 2012 Investec Derby, sorted by owner.

BREAKDOWN OF ENTRIES BY SELECTED OWNERS IN THE 2012 INVESTEC DERBY WITH PAST SUCCESSES

63 Entries

Michael Tabor, Sue Magnier or Derrick Smith - either singly or in partnership (2001 Galileo, 2002 High Chaparral)

46 Entries

Sheikh Mohammed

42 Entries

Hamdan Al Maktoum (1989 Nashwan, 1994 Erhaab)

34 Entries

Godolphin

26 Entries

H H Aga Khan (1981 Shergar, 1986 Shahrastani, 1988 Kahyasi, 2000 Sinndar)

22 Entries

Khalid Abdulla (1990 Quest For Fame, 1993 Commander In Chief, 2010 Workforce)

13 Entries

Andrew Tinkler

9 Entries

Highclere Thoroughbred Racing

5 Entries

Lloyd Williams

Niarchos Family

Sir Robert Ogden

4 Entries

Moyglare Stud Farms

George Strawbridge

3 Entries

Bill Gredley

Ballymacoll Stud (2004 North Light)

2 Entries

Lady Bamford

Sheikh Ahmed Al Maktoum

Christopher Tsui (2009 Sea The Stars)

Princess Zahra Aga Khan

1 Entry

Lord Derby

Anthony & Victoria Pakenham (2006 Sir Percy)

Lady Lloyd-Webber

The Royal Ascot Racing Club (2005 Motivator)