Ballabriggs On Course for Second Crack at John Smith's Grand National 18/01/12
Trainer Donald McCain is hopeful that Ballabriggs can become only the eighth horse to win the John Smith's Grand National on more than one occasion as the 11-year-old steps up his preparation for the world-famous chase at Aintree on Saturday, April 14.
Ballabriggs


© racing-images.co.uk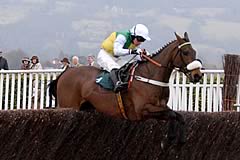 Trevor Hemmings' chaser is set to have one or two starts ahead of this year's John Smith's Grand National, which carries record prize money of £975,000, as he aims to emulate the last horse to record back-to-back successes in the race, Red Rum (1973 & 1974), who was trained by Donald's late father Ginger and gained a record-breaking third victory in 1977.
Speaking at a media day at Bankhouse Stables in Cheshire, which are full with 106 horses in training, McCain revealed: "We have gone very quietly with Ballabriggs so far this season. He's just stepping back up into full work now with the view to having one or two runs before the John Smith's Grand National.
"Ballabriggs has done plenty of cantering and he starts fast work this week. We will see how quickly he comes to. There is no benefit of staying over hurdles now with him.
"Going back to Kelso for the Premier Chase (March 3) is Plan A and that will be his final run before Aintree, but I don't know whether he will have another run before then. We will just wait until we get a bit closer before deciding. Ideally, he would have two runs but it would not bother me if he didn't.
"The Kelso race is over two miles and six furlongs which is ideal before the National. He is a 160 chaser and there are not many places you can go with him.
"Mr Hemmings said that the whole season would be geared around one day, which was always going to be the plan anyway. It's nice to know that you have got a free hand and you can do what you think is best to get there.
"I always presumed that we would be top-weight for the John Smith's Grand National this year but when I spoke to Phil Smith the other day he said that Synchronised would be if he turned up for the race.
"I would be fine with Ballabriggs being top-weight - my father always told me 'wouldn't it be fantastic to have the top-weight in the Grand National every year because it means that you've got the best horse'. We've just got to make sure that we get him spot on for the big day.
"Winning the John Smith's Grand National is a realistic dream. If you've got a horse who is capable of winning one Grand National, you've got a horse who is capable of winning two. It's not easy - everybody knows that it's a very hard task - but he has a realistic chance.
"We have nothing to find out with Ballabriggs - we know he stays and has taken to Aintree. It is just finding the best route to the National."
Ballabriggs' superb victory over Oscar Time in last year's John Smith's Grand National, when he carried 11st, came as little surprise to McCain, who had earmarked the chaser as a potential Aintree horse years beforehand.
He continued: "You never expect to win a John Smith's Grand National but we expected Ballabriggs to run very well and we always thought that he would take to the place.
"There was a little question mark over him getting the trip and you never know how they are going to cope with Aintree until they run there. It was smashing when it came off because we had been aiming him there for a long time.
"It goes without saying that, if there is one race that we would always choose to win, it would be the John Smith's Grand National - it's the greatest race in the world. It was smashing to do it for Mr Hemmings with a horse who we had thought might be an Aintree horse for so many years because he has put a lot of faith in us.
"From the moment that Ballabriggs came into the yard, we always hoped that he would be an Aintree horse one day - it was literally that long in the planning. The way he did everything meant that we always had the Grand National in the back of the mind and that's what made winning it all the more special.
"He is the most gorgeous old-fashioned chaser but not short of speed either which is also needed for Aintree."
Ballabriggs finished tired at the end of last year's John Smith's Grand National but recovered quickly.
The trainer explained: "He looked a million dollars the next morning. He was a fit horse and had done his best to win the race.
"It was extremely hot and he was tired after giving everything. A fit horse will recover quickly and the next morning he looked outstanding with not a scratch on him.
"Aintree is the most forward-thinking course in the country when it comes to looking after horses. They do absolutely everything for them. Aintree tried to keep everything transparent last year and it backfired for them a bit. There were lines of water up the track for the horses and even oxygen.
"The changes to the course are not severe enough to make a huge difference to the Grand National - it is what it is - I am hoping we can draw a line in the sand and say that is the Grand National and leave it alone.
"I have grown up with the Grand National. You don't have to be a genius to know to know it is the greatest race in the world."
Last year's winning owner attended the media day at McCain's stables today and Hemmings, 76, reflected: "I now have three Grand National trophies - the two I have won with Hedgehunter and Ballabriggs plus the one Fred Pontin won with Specify in 1971.
"He said I would never win one so he left me his trophy in his will. It was from those days in the 1970s that I got the ambition to win a Grand National trophy myself - I did not want him to be right all the time!
"I was very proud of Ballabriggs last year. Most horses I go for have to have a glint in their eye of where Liverpool is.
"Hedgehunter is lovely - you would think he is a four-year-old not a 16-year-old. Ballabriggs came out to the Isle of Man, where Hedgehunter spends his retirement, in the summer and they spent four months together - they were like twins. They would not go anywhere without each other.
"Winning the first time was something special - winning the second time was different as I had already experienced one winner. I was more prepared to meet and greet people after Ballabriggs won.
"It was special because Ginger was there to see his son train the John Smith's Grand National winner. We have lost Ginger McCain but he was so emotional at the time, in tears - it was lovely."
Entries for the 2012 John Smith's Grand National close on Tuesday, January 31, (announced the following day - Wednesday, February 1) and changes to this year's race conditions include the stipulation that horses entered must be aged seven or above and must have been placed first, second, third or fourth in a chase of three miles or more before March 20, 2012.

Weights for the 2012 John Smith's Grand National will be announced on Tuesday, February 14.
BALLABRIGGS (IRE) FACTFILE
THE 2011 JOHN SMITH'S GRAND NATIONAL WINNER
b g Presenting - Papoose (IRE) (Little Bighorn)
Age: 11
Form: 50220/6S22F212/0/3111/1121-
Owner: Trevor Hemmings
Trainer: Donald McCain
Breeder: Mrs S Jackson
Jockey: Jason Maguire

Ballabriggs was born in Ireland on April 27, 2001. John Brady paid £IR12,000 for him as a foal at Ireland's Goffs Sale in December, 2001, and sold the youngster on to Highflyer Bloodstock, acting for owner Trevor Hemmings, for 32,000 euros at Tattersalls Ireland the following November. Ballabriggs was allowed to develop in his own time at two of Hemmings' studs, firstly at Monymusk Stud in Ireland and then at Gleadhill House Stud near Chorley in Lancashire. Ballabriggs was named after a property on Hemmings' estate in the Isle of Man. The horse went into training with Ginger McCain in Cheshire at the end of 2005 and by the time Ballabriggs made a low-key racecourse debut Donald McCain had taken over responsibility for the licence from his father. That first run resulted in fifth place in a Uttoxeter bumper in May, 2006. He finished 10th of 14 on his hurdle bow at the same course that December. The big gelding by Presenting contested four more hurdle races before switching to fences, finishing runner-up twice over two and a half miles, but failing to win. He slipped up on a bend on his first chase start at Bangor in December, 2007, and subsequently posted three seconds at around two and a half miles plus a first fence fall before breaking his duck in an extended three-mile beginners' chase on soft ground at Bangor in March, 2008. He enjoyed another runner-up finish in a valuable novices handicap chase at Ayr in April that year, behind subsequent Scottish Grand National hero Merigo. After a below-par effort in a handicap chase on his reappearance at Haydock in November, 2008, when heavily eased down Ballabriggs was off the course for over a year until returning with a third in a handicap hurdle at Uttoxeter in December, 2009. He then proceeded to string together three straight wins over fences in handicap chases. There were easy triumphs at Catterick (January 22, 2010) and Ayr (February 13, 2010) followed by a much tougher task in the Fulke Walwyn Kim Muir Challenge Cup at the 2010 Cheltenham Festival where he prevailed by half a length on March 18. That was his final start of the campaign and, with the John Smith's Grand National firmly on the agenda, he made a belated return to action last season with two novice hurdle triumphs at Wincanton (two and three quarter miles - January 8) and Ayr (two and a half miles - January 31) in January, 2011. His final start before Aintree came in the totesport.com Premier Chase over an extended two and three quarter miles at Kelso on March 5, when he finished a length and three quarters second to Skippers Brig, to whom he was conceding 4lb, after leading most of the way. The run put him spot on for Aintree where he achieved a two and a quarter length success over Oscar Time. He raced prominently throughout and held off the challenge of the second on the long run from the last fence. The 14/1 winner gave his owner a second John Smith's Grand National victory, following on from Hedgehunter in 2005. Ballabriggs has not seen a racecourse since that memorable success, but trainer Donald McCain is hoping to run him in the Premier Chase at Kelso again before attempting a repeat success in the John Smith's Grand National at Aintree.
Race Record: Starts: 22; Wins: 7; 2nd; 7; 3rd: 1; Win & Place Prize Money: £608,115