Sprinter Sacre Sublime in Melling Chase
05/04/13
1 Sprinter Sacre 1/3 Fav
2 Cue Card 7/1
3 Flemenstar 7/1
6 ran Distances: 4½l, 19l, 4l
TIME 5m 6.20s (slow by 18.20s)
The most impressive chaser of this season, probably of this millennium and possibly to challenge the mighty Arkle and Flyingbolt in terms of greatness, added to his reputation in brilliant style at Aintree today.
Seven-year-old Sprinter Sacre stepped up to two and a half miles for the first time in the Grade One John Smith's Melling Chase and brushed aside top-class rivals Cue Card, Flemenstar and Finian's Rainbow who finished in that order. He won easily by four and a half lengths and 19 lengths, but there were no excuses for the beaten rivals who all jumped slickly yet were powerless to match the winner's pace when it mattered.
Relieved trainer Nicky Henderson said: "Now it's over it's a joy to watch. We had to make up a bit of ground on Cue Card [in the home straight] who is a very good horse, but it didn't seem too difficult.
"I haven't had a chance to talk to Barry at any length but he said that is probably as far as he needs to go. I don't think we'll be thinking of the King George [over three miles] at this particular moment – you've seen how good he is at two miles. He's so electric at that trip why go and press something you don't have to. We did it with Remittance Man and he nearly won it [the King George], and you might get away with it with a horse of this talent, but I think we'll stick to what we know.
"I've got to finally admit he's top of my pile [the horses trained by Henderson], but I'm not going to compare him to other people's horses. Somebody wrote a lovely piece about Corky Browne the other day [in the Racing Post] and he talked about Killiney who I remember. We all thought he was going to be one of the great horses of all time and we know what happened to him [killed in a race at Ascot]. I'm just the curator of a spectacular horse and today was another test for him.
"He's here to be seen by people and he's a spectacular horse. I'm not ruling out a visit to Punchestown at this stage, but I'm not sure. He's only run four times this season and he loves doing what he's doing. I am conscious now that he's something to be enjoyed.
"It was only when I rang Barry three days ago and said, 'do you think I'm doing the right thing in running him at Aintree' and he said 'why didn't you ring me three days earlier because there's no problem'."
Few jockeys will have been in the position of being able to take a casual look between their legs after jumping the last against top competition in a Grade One race, but few jockeys have had the privilege of riding a horse like Sprinter Sacre.
The Nicky Henderson-trained son of Network extended his winning sequence over fences to nine with a facile victory over Cue Card in the John Smith's Melling Chase with his jockey Barry Geraghty allowing him to saunter home on the bridle four and a half lengths ahead of Colin Tizzard's valiant runner-up.
"He did what we thought he'd do," said Geraghty. "We've come to expect great performances from him and he gave us a great performance.
"He was brilliant. I could have done with them going a little bit quicker – he travelled a bit too well – because I had to take him back a few times and couldn't really let him use his jumping.
"He is very manageable and he is never one to do anything stupid and tear off with you. He is a real gentleman.
"He is a brilliant jumper and when you can let him loose like at the second last, he does it so easily."
Referring to Sprinter Sacre's successful first attempt over the increased race distance of two and a half miles, the jockey added: "I had no concerns about the trip – he won the Victor Chandler over two miles and a furlong on heavy ground. I didn't want to be getting to the front too soon and I was happy to hold on to him."
John Smith's Melling Chase (Grade 1)
£200,000 added, 5yo plus, 2m 4f, Class 1
6 ran
Going: Good-Good to Soft in plcs
Position

Horse
Trainer
Jockey
Weight
Starting Price
Beaten Distance
1

Sprinter Sacre
N J Henderson
B J Geraghty
11st 10lbs
1 - 3
Winner
2

Cue Card
C L Tizzard
J Tizzard
11st 10lbs
7 - 1
4 1/2 lengths
3

Flemenstar
P Casey
A E Lynch
11st 10lbs
7 - 1
19 lengths
4

Finian's Rainbow
N J Henderson
A P McCoy
11st 10lbs
16 - 1
4 lengths
5

For Non Stop
Nick Williams
N Fehily
11st 10lbs
33 - 1
42 lengths
RefusedToRace

Mad Moose
N A Twiston-Davies
S Twiston-Davies
11st 10lbs
80 - 1

Cue Card


© racing-images.co.uk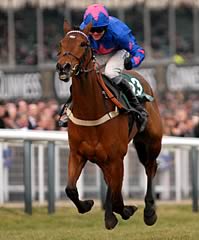 THE AEROPLANE JUST TOO GOOD

For a heartbeat Joe Tizzard thought he may have halted Sprinter Sacre's progress, but only for a heartbeat. "I wanted to make it a test for him," he said, "and after I sent my lad on again in the straight I thought the plan might have worked. Then he came upsides me cruising and I knew that was it.

"I'm proud as hell of Cue Card. But Sprinter Sacre is a properly serious horse. He really is an aeroplane."

Trainer Colin Tizzard was equally proud of Cue Card, but has finally decided to give best to his rival after a third unavailing effort. "I don't think we'll be rushing to take him on again," he said. "He'd win over any trip, wouldn't he?"

Third-placed Flemenstar's trainer Peter Casey was not present. His son and assistant Francis said: "It's always disappointing to lose a race but the plain and simple truth is that he was just not good enough. We were very happy with the way he ran and there are no excuses and Andy [Lynch] gave him just the right ride.

"The horse jumped great and in a rhythm – that's his great strength, though there was just one moment when he hit a flat spot and Andy had to hold him together for a few strides when Finian's Rainbow went on, then he picked up again and stayed on well to get third.

"He's come up against two very good horses and Colin Tizzard must be even more upset than us that his horse is around at the same time as Sprinter Sacre. I think Sprinter Sacre is dishing out a bit of revenge for what Arkle did when he came over here!

"We'll see how our lad is when he gets home but there were no issues with him travelling from Ireland – he had a five-horse lorry to himself and he ate and drank fine and lay down and had a sleep on the ferry. He'll have a couple of days off and some time on the beach and if all is well with him he'll run in the two-miler at Punchestown."

FININAN'S SPARKLE FADES

Finian's Rainbow, who won this race last year but has only managed two previous runs this season, registering a fourth and sixth palce, finished fourth to an impressive Sprinter Sacre, also trained by champion trainer elect Nicky Henderson.

AP McCoy, who rode the Tiraaz gelding, said: "He just petered out a bit, I thought he would have kept going better than he did. He wants the ground as quick as you can get it. He probably showed a bit more sparkle than he has been showing.

"When I jumped the last down the back the only reason I set him alight was to try and get some life into him. It did for a little bit but it just petered out."