So Easy for Yeats in Goodwood Cup
31/07/08
1st 1 Yeats 8/15 FAV
2nd 11 Tungsten Strike 33/1
3rd 9 Sagara 33/1
Non Runners 2 Allegretto 6 Mad Rush 7 Peppertree Lane
Treacherous weather in Ireland may have grounded trainer Aidan O'Brien and owners John and Sue Magnier and David and Diane Nagle, but there was no stopping Yeats confirming his standing as one of the greatest stayers of all time as he waltzed to a flawless seven-length victory in the Group Two £100,000 Royal Bank Of Scotland Goodwood Cup.

Allegretto


© racing-images.co.uk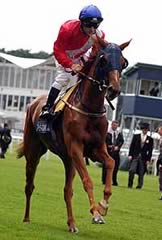 Partnered by Johnny Murtagh, the Sadler's Wells horse picked up the pace-setter Tungsten Strike entering the final quarter mile and there was never any doubt to as to the result as Yeats powered right away. As Yeats entered the winner's enclosure, he received a fabulous reception from the Goodwood crowd and must have been the most-photographed horse of the week.
J P Magnier, son of John and Sue Magnier, commented: "He's been a great servant for everyone and hopefully he'll keep going. They made up their mind after the last day to run in today's race. As long as he's happy, there's no harm in racing him and decide his future at the end of the year.
"This horse is seven now and if you look at him today, he looks as good as ever.
"I have definitely followed him because he goes to all of the big race meetings so we all have a little bit of fun. A few of the lads went with him to Melbourne a couple of years ago and it was great fun.
"My father and Aidan's plane couldn't take off because of fog so the B team were sent to represent today."
Johnny Murtagh said: "He is a great horse. He is a true warrior and fair dues to the owners for keeping him in training. The crowd has turned out to see him today and he did not let them down. He often does more on the gallops!
"He was a little bit fresh at Ascot but today was much better. There was a more even pace while at Ascot , I was always trying to hold my position because we went so slow.
"He has a very high cruising gear. When he gets into top gear he can maintain it consistently. He's a truly great stayer.
"Seamus who rides him at home said he had improved since Ascot.
"I was always in control today. He cruised all the way and hit top gear at the two-furlong marker and picked up the leader in a matter of strides. He is a great galloper, relentless. He had so many horses beaten even at the top of the hill. He is better than any other stayer I have ridden in that he just has that bit of class. I think he could run over a mile and a half and go round in top gear all the way."
Murtagh continued: "I would hate to get beaten on him now!
"He equalled Sagaro's record at Ascot and I know lots of people come to the races just to see him."
Paying tribute to his absent boss, Aidan O'Brien, Murtagh continued: "Aidan is a gentleman. The way you see him at the races is the way he is all the time. He is a family man and is good for racing.
"He set the tone. It is not by accident that the yard is so successful. Aidan is very dedicated and the whole team is just wonderful. There is no secrecy or whispering at the yard, everyone is involved.
"We just have to maintain the momentum and make sure there are no backward steps."
TUNGSTEN STRIKE RUNS RACE OF LIFE
The seven-year-old Tungsten Strike put up one of the best performances of his career when finishing seven lengths behind the brilliant Yeats when runner-up in the Royal Bank of Scotland Goodwood Cup.

"It's great that Yeats was here but a tragedy for our horse because he has run the race of his life," said the runner-up's trainer Amanda Perrett.

"I wanted to go for the mile and six handicap this week but fair play to his owner Mr (Connolly) who wanted to run in this.

"We're trying to pick up an easy lead with him and Johnny (Murtagh on Yeats) was the only one that kept tabs on him.

"I should think he'll come back here for the March Stakes then maybe something like the Fenwolf Stakes at Ascot and the Jockey Club Cup at Newmarket. I doubt he'll go to Melbourne again."
Ted Durcan, rider of third-placed Sagara, said: "He's run well, he was much better today and if the ground had been softer he would have been second. If you take out the winner, it was a good effort.

Frankie Dettori, who partnered Regal Flush to come fifth, added: "He didn't really stay the two miles."

CECIL RETIRED
Sergeant Cecil, one of the most popular horses of recent years, has been retired after finishing last in the Royal Bank Of Scotland Goodwood Cup.

The nine-year-old was trained by Rod Millman to win 10 races including the 2006 Group 1 Prix du Cadran at Longchamp although it was an amazing staying handicap treble the previous year that first endeared him to the racing public. After landing the Northumberland Plate at Newcastle, he went on to take the Ebor at York and Cesarewitch at Newmarket.
He was voted Horse of the Year at the 2005 Racehorse Owners Association Awards after that victory.

"For me that Cesarewitch is the race that stands out," said jockey Alan Munro, who partnered Sergeant Cecil to many of his major successes. "I couldn't believe he would win that but he was always a Group horse running in those handicaps."
Munro, who famously partnered Generous to win the 1991 Derby, added: "He is my favourite out of all the horses I have ridden - to have been Horse of the Year as a handicapper says it all. I love him to pieces and he did so much for me. I'm a lot older now and so Generous and those sort of horses seem very distant."
MILLMAN PAYS TRIBUTE TO CECIL
Trainer Rod Millman paid tribute to his stable star Sergeant Cecil, who was retired after finishing last in today's Royal Bank of Scotland Goodwood Cup.
"He has been wonderful and has taken us to places we never dreamed of going," said Millman.
"Him winning the Cadaran on Arc weekend was probably the most memorable day, along with his win in the Cesarewitch. We have had some great days with him and he helped to establish Alan Munro again in this country.
"He has been a credit to the girls who have looked after him but he is now nine, isn't getting any quicker and is racing against the best group of stayers there has been.
"Coming here today I was day dreaming in the car thinking that if Yeats wasn't quite right we could stalk him and come through and beat him, but obviously we got tired. It has been a great ride and I want to thank all of the public for their interest in him."
3.30pm ROYAL BANK OF SCOTLAND GOODWOOD CUP (GROUP TWO)
£100,000 guaranteed, 2m, For 3yo+ Weights 3yo colts and geldings 8st 4lb; fillies 8st 1lb; 4yo+ colts and geldings 9st 7lb; fillies 9st 4lb Penalties after September 1, 2007, a winner of a Group 2 race 3lb; of a Group 1 race 5lb (races won at 2yo not to count for penalties) Entries 16 pay £500 Penalty Value 1st £56,770; 2nd £21,520; 3rd £10,770; 4th £5,370; 5th £2,690; 6th £1,350
1 YEATS (IRE) (Sue Magnier & Diane Nagle) Aidan O'Brien IRE 7-9-12 Johnny Murtagh [9] 8/15f
2 TUNGSTEN STRIKE (USA) (John Connolly) Amanda Perrett 7-9-7 Darryll Holland [6] 33/1
3 SAGARA (USA) (Godolphin) Saeed bin Suroor 4-9-7 Ted Durcan [4] 33/1
4 DISTINCTION (IRE) (Highclere Thoroughbred Racing Ltd) Sir Michael Stoute 9-9-7 Jimmy Fortune [10]
5 REGAL FLUSH (Godolphin) Saeed bin Suroor 4-9-7 Frankie Dettori [1]
6 HONOLULU (IRE) (Derrick Smith) Aidan O'Brien IRE 4-9-7 Seamie Heffernan [3]
7 BULWARK (IRE) (Dr Marwan Koukash) Ian Williams 6-9-7 Jim Crowley [7]
8 SERGEANT CECIL (Terry Cooper) Rod Millman 9-9-7 Alan Munro [11]
8 ran
Non-runner:2 Allegretto, 6 Mad Rush, 7 Peppertree Lane Distances: 7, 1 1/4, 3 1/2, 5, 3 1/2, 1/2, 11 Time: 3m 25.75s
Breeder: Barronstown Stud & Orpendale Breeding: b h Sadler's Wells (USA) - Lyndonville (IRE) (Top Ville)
Totes: Win: £1.40 Places: £1.02, £8.10, £6.60 Exacta: £30.20