RESULT OF THE 2004 AINTREE GRAND NATIONAL
THE 2004 MARTELL COGNAC GRAND NATIONAL
Class A, Showcase Handicap, Total Prize Fund £600,000, Aintree, Saturday, April 3, 2004. Four Miles & Four Furlongs (Over the Grand National Course).
1st (17) Amberleigh House 16-1
2nd (27) Clan Royal 10-1 Co Fav
3rd (33) Lord Atterbury 40-1
4th (2) Monty's Pass 20-1
39 ran
Also: 10-1 Co Fav Bindaree, Joss Naylor, Jurancon II
NR: TyneandthyneagainWIN £15.50
Ex £124.50 CSF £671.86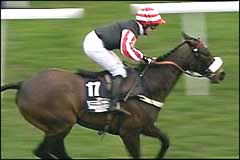 Amberleigh House recorded a famous victory in the £600,000 Martell Cognac Grand National at Aintree.

Trained by Ginger McCain, the man responsible for Red Rum in the 1970s, Amberleigh House grimly stayed on up the run-in to catch Clan Royal.

Lord Atterbury was third, with last year's hero Monty's Pass in fourth.
Third last year, Amberleigh House (16-1) was given a perfect ride by Graham Lee as he come home in one of the most exciting finishes imaginable.

Hedgehunter led the field almost from the start but crashed out at the last fence as Clan Royal jumped it in front with Lord Atterbury.
Clan Royal was getting very tired, though, and was virtually legless approaching the elbow.

He tried valiantly for Liam Cooper, but Amberleigh House would not be denied.
How they finished :
1 Amberleigh House
2 Clan Royal - 3 lengths behind
3 Lord Atterbury - 2l
4 Monty's Pass - 29l
5 Spot Thedifference - 1l
6 Smarty - 3żl
7 Ardent Scout - 17l
8 Bear On Board - 8l
9 Kingsmark - 18l
10 The Bunny Boiler - Neck
11 Davids Lad - Distance
FENCE ONE
Fell: Artic Jack, Luzcadou
Brought down: Kelami
FENCE THREE
Unseated: Shardam
FENCE FOUR
Fell: Jurancon II
FENCE SIX (Becher's Brook)
Fell: Akarus, Bounce Back, Montreal
Unseated: Risk Assessor, Skycab
Brought down: Whats Up Boys, Bindaree
Refused: Blowing Wind, Bramblehill Duke
FENCE NINE
Pulled up: Exit To Wave
FENCE 15 (The Chair)
Unseated: Takagi
FENCE 16
Pulled up: Mantles Prince
FENCE 18
Fell: Alexander Banquet
Pulled up: Southern Star, Gunner Welburn
FENCE 19
Unseated: Puntal
Pulled up: Joss Naylor
FENCE 22 (Becher's Brook)
Unseated: Le Coudray
FENCE 23
Unseated: Just in Debt
FENCE 25 (Valentine's)
Pulled up: Alcapone
FENCE 28
Pulled up: Wonder Weasel
FENCE 29
Pulled up: Royal Atalza
FENCE 30 (last)
Fell: Hedgehunter