Brilliant George powers to Guineas glory
06/05/06
George Washington lit up the NatWest Rowley Mile course with a fantastic performance to land the Stan James 2000 Guineas in style.
George Washington


© racing-images.co.uk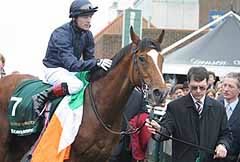 Jockey Kieren Fallon had the Danehill colt covered up in the early paces before the pair imposed themselves on the race.
Aidan O'Brien's charge came there to win two furlongs out and he settled the issue in a matter of strides.
As the field approached the final 220 yards, it was clear there was only going to be one winner and George Washington roared home with two-and-half-lengths to spare.
O'Brien said: "He's unbelievable. It's that raw ability, that raw power and speed he has.
"Even though he's very mature physically, mentally he's only probably starting to grow up.
"He's open to anything. I couldn't believe that he was going to get a mile. When you see a horse going through his work the way he does - it's raw speed.
"We've never had a horse that showed this kind of speed and get that kind of a trip. Those kind of speed horses don't usually get very far.
"Kieren was so confident. Last Tuesday, I said to him, 'there's races after this if this horse gets beat'.
"I never had to say that to anyone riding a horse before. Kieren just could not see defeat.
"I don't know how far he'll get. He's that kind of a horse who could get any trip."
Before today O'Brien had yet to have a three-year-old colt win on the turf this year but the Ballydoyle camp weren't overly concerned.
O'Brien added: "Kieren was riding them all and he was very happy all the time. Everyone was happy at home.
"Everything that was running, was running okay. Kieren never said that he wasn't happy."
THE STAN JAMES 2000 GUINEAS
Class 1, Group 1 Race, £330,000 Total Prize Fund. Newmarket, Saturday, May 6, 2006, NatWest Rowley Mile. For three-year-olds only, entire colts and fillies. Weights: Colts 9st; fillies 8st 11lb. Entries closed March 1. Entries released March 7 (78 entries), forfeit stage April 25 (23 remain), £25,000 supplementary entry stage May 1, five-day declaration stage noon (18 remain), May 1; final declaration stage 10:00am (14 remain), May 4. Penalty Value 1st-£187,374; 2nd-£71,016; 3rd-£35,541; 4th-£17,721; 5th-£8,877; 6th-£4,455
1. GEORGE WASHINGTON (IRE) (Sue Magnier, Michael Tabor & Derrick Smith) Aidan O'Brien IRE 3-9-00 Kieren Fallon (6) 6/4Fav
2. SIR PERCY (Anthony Pakenham) Marcus Tregoning 3-9-00 Martin Dwyer (4) 4/1
3. OLYMPIAN ODYSSEY (Bill Gredley) Barry Hills 3-9-00 Jamie Spencer (2) 33/1
4. ARAAFA (IRE) (Saleh Al Homaizi & Imad Al Sagar) Jeremy Noseda 3-9-00 Christophe Soumillon (1) 66/1
5. MISU BOND (IRE) (Reg Bond) Bryan Smart 3-9-00 Tony Culhane (14) 66/1
6. FINAL VERSE (Saeed Suhail) Sir Michael Stoute 3-9-00 Robert Winston (5) 50/1
7. AMADEUS WOLF (Duddy, McDonald, Heeney, Irish National Stud) Kevin Ryan 3-9-00 Neil Callan (12)
8. HORATIO NELSON (IRE) (Sue Magnier & Diane Nagle) Aidan O'Brien IRE 3-9-00 Michael Kinane (11)
9. ASSET (IRE) (Highclere Thoroughbred Racing XXVI) Richard Hannon 3-9-00 Richard Hughes (9)
10. CLOSE TO YOU (IRE) (Miss J Leighs) Terry Mills 3-9-00 Ian Mongan (7)
11. KILLYBEGS (IRE) (John Grant & D James) Barry Hills 3-9-00 Michael Hills (8)
12. RED CLUBS (IRE) (Ron Arculli) Barry Hills 3-9-00 Richard Hills (3)
13. FROST GIANT (USA) (Michael Tabor, Derrick Smith & Sue Magnier) Aidan O'Brien IRE 3-9-00 Johnny Murtagh (10)
14. OPERA CAPE (Godolphin) Saeed bin Suroor t3-9-00 Frankie Dettori (13)
14 ran Distances: 2.5, 1.5, 3/4, .5, .5, 3/4, nk, sh, hd, 1, 3/4, 9, 1.5.
Time: 1m 36.86s
Breeder:Lael Stables
Breeding: b c Danehill - Bordighera (Alysheba)
Tote: Win; £2.70 Places; £1.50, £2, £7, Exacta; £11
Best Stan James 2000 Guineas Since 2000
06/05/06
BHB handicapper Dominic Gardiner-Hill believes the 2006 Stan James 2000 Guineas will be rated the best since 2000.
Gardiner-Hill had expressed the view before this season's first Classic that it "had the potential to be the strongest for several years".

He said at that stage: "The top six colts from last season are in the field and all the key two-year-old races are represented.
"The quality is high and there is plenty of strength in depth, so going into the race you have to hope it will throw up a serious horse."
Afterwards, he added: "George Washington appears to have run to a mark of at least 121, which is the highest I've got recorded in the race since King's Best ran to 124 in 2000.
"I don't think it will be possible to rate George Washington up to the level achieved by King's Best in the Guineas because, while he's beaten Sir Percy comprehensively, I don't think the second has quite run up to his Dewhurst Stakes figure."
Gardiner-Hill continued: "George Washington has the potential to rate a lot higher, and I didn't really think the race was run to suit him.
"Once he came through to win, however, he quickly established a decent lead and won going away.
"It was an impressive performance and I'm sure he's a very good horse, but the ratings of several of those just outside the first three hold the overall win-figure down.
"The likes of Araafa and Final Verse went into the Guineas rated on the same sort of figure - 106 or 107 - and my final assessment will have to take that into account.
"I'm sure they will be put up a little after today, but not by an enormous amount, so that demonstrates my thinking on the race as a whole.
"It was obviously a very high-class event, which has produced a very high-class winner, but the race-rating itself won't result in an increase on George Washington's two-year-old mark of 124."
CONNECTIONS THRILLED AFTER WASHINGTON'S GUINEAS SUCCESS
John Magnier and Michael Tabor, two of the owners of George Washington besides Derrick Smith, both paid tribute to the Danehill colt after his stunning success in the Stan James 2000 Guineas.
Magnier said: "Just listening to people, I think they were pretty impressed.
"We've always known that he was a brilliant horse; it's just for everything to go right on the day, which it did.
"If we're not delighted after that, we shouldn't be in the game at all.
"They've always thought a lot of him - right from the word go."
As for the future, Magnier added: "All the options are open. It looked like if he (Kieren Fallon) had held on to him a bit longer, he'd have won further, I guess."
Tabor said: "I'm just a little bit in awe. My impressions of him are, what we always thought he was - a very special horse
"He did it on the track today as he did as a two-year-old. It was what we always expected but sometimes you don't get what you expect in this game. I am absolutely thrilled."
Successful jockey Kieren Fallon said: "I was hoping he'd take me further - at least until the two-furlong marker.
"But you disappoint horses if you sit there too long. I'm very thrilled...relieved would be a better word, I think!"
GEORGE WASHINGTON (IRE) FACTFILE
3 b c Danehill (USA) - Bordighera (USA) (Alysheba (USA))
Form: 31111-1 Owner: Sue Magnier, Michael Tabor & Derrick Smith
Trainer: Aidan O'Brien IRE Jockey: Kieren Fallon Breeder: Lael Stables
George Washington
A 1,150,000 guineas yearling purchase and the most expensive of his generation in Europe, George Washington had a lot to live up to. A half-brother to multiple 10-furlong Group One winner Grandera, he repaid that outlay with a spectacular juvenile campaign that saw him collect four victories from five starts, and end the season as the top-rated two-year-old in Europe. A debut defeat at Newmarket in May, 2005, was followed by four straight victories at The Curragh, commencing with a maiden win later that same month. In June he stepped up in class and duly defeated Amigoni in the Group Two Railway Stakes over six furlongs. He then scored a brace of stunning Group One wins, firstly when defeating stablemate Amadeus Mozart by eight lengths in the Phoenix Stakes, and latterly in the National Stakes over an extra furlong on September 18, when he overcame a slow start to take victory by two lengths from Golden Arrow. George Washington is almost certain to go off favourite for today's Stan James 2000 Guineas and has been a steadfast ante-post favourite for some while. Trainer Aidan O'Brien has described his Stan James 2000 Guineas candidate, who has yet to race this season, as having "exceptional speed" although this attribute does throw up a slight concern as to whether he will stay a mile and we will only know after the first British classic which he won sensationally.
Race record: Starts: 6; Wins: 5; 2nds: -; 3rds: 1; Win & place prize money: £504,723