Newmarket 1000 Guineas 2007
06/05/07
1st (8) Finsceal Beo 5-4 Fav
2nd (1) Arch Swing 10-1
3rd (18) Simply Perfect 9-1
21 ran
Also: 14-1 Treat 4th
NR: Bicoastal, Sander Camill
Finsceal Beo in 1000 Guineas Masterclass
Finsceal Beo (Kevin Manning) pulverising the opposition in quite devastating style to win the 1000 Guineas in record time.
© racing-images.co.uk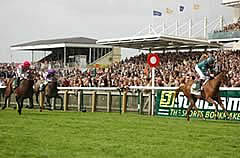 Wild scenes more reminiscent of Cheltenham and Aintree followed an awesome victory for Irish-trained 5-4 favourite Finsceal Beo in the Stan James 1000 Guineas, with owner Michael Ryan and his team treating the big Newmarket crowd to a rendering of 'Dungarvan - My Home Town' on the winner's rostrum.

"That was fantastic - we have a super filly and a super trainer, and we'll drink every pub dry of Guinness between here and Stansted Airport tonight," declared Ryan, who also has that top-class hurdler Al Eile.

Finsceal Beo bolted up by two and a half lengths from fellow Irish challenger Arch Swing, clocking the fastest time of any Guineas winner of either sex, but the ease of the triumph did not surprise her trainer Jim Bolger one bit.

"This is a brilliant filly, and I expected her to win like that," said Bolger. "The traumas of Teofilo are history and we have moved on, but fortunately Finsceal Beo enjoyed a trouble-free preparation.

"In early March we maybe weren't getting after her enough, but when we stepped up her work she responded superbly and took everything we threw at her and got herself fit.

"She has always been a very special filly, and the plan now is the Irish 1,000 Guineas followed by the Coronation Stakes at Royal Ascot and then the Pretty Polly Stakes at The Curragh."
Reflecting on what has been a nightmare week for the Carlow stable, following the injury which ruled out Teofilo from the Stan James 2000 Guineas yesterday, Bolger added:"Our problems were miniscule compared to other things happening in the world, but, contrary to what John McCririck is suggesting, Teofilo worked brilliantly last Saturday week and it was only that last minute setback which knocked us out of the race.

" We just have to be patient, and the horse will get all the time he needs, and we won't be able to make a decision on his future for another couple of weeks."
However, Bolger would not be drawn into claiming that Teofilo would have won. He added: "Take nothing away from Cockney Rebel, who was a good winner of a good Guineas. I was delighted for Geoff Huffer and also for Aidan O'Brien, whose horses ran so well."
Winning jockey Kevin Manning, celebrating his first Classic success, said:"Finsceal Beo did it very easily and she would have won at any distance.

"She is very special, and I was going so well that I thought 'if anything is travelling better than me in behind then she must be exceptional'. My filly ticks all the right boxes, and Mr Bolger has done a brilliant job."
Position

Horse
Trainer
Jockey
Weight
Starting Price
Beaten Distance
1

Finsceal Beo
J S Bolger
K J Manning
9st 0lbs
5 - 4
Winner
2

Arch Swing
John M Oxx
M J Kinane
9st 0lbs
10 - 1
2 1/2 lengths
3

Simply Perfect
J Noseda
J Murtagh
9st 0lbs
9 - 1
1 1/4 length
4

Treat
M R Channon
J P Spencer
9st 0lbs
14 - 1
1 1/2 length
5

Indian Ink
R Hannon
R Hughes
9st 0lbs
17 - 2
Neck
6

Yaqeen
M A Jarvis
R Hills
9st 0lbs
12 - 1
1 length
7

Scarlet Runner
J L Dunlop
K McEvoy
9st 0lbs
14 - 1
1/2 length
8

Puggy
R A Kvisla
S Pasquier
9st 0lbs
150 - 1
1 length
9

Satulagi
J S Moore
S Donohoe
9st 0lbs
200 - 1
3/4 length
10

Theann
A P O'Brien
C Soumillon
9st 0lbs
20 - 1
1 length
11

Cartimandua
E S McMahon
J Fortune
9st 0lbs
200 - 1
1 3/4 length
12

Sweet Lilly
M R Channon
D Holland
9st 0lbs
33 - 1
3 1/2 lengths
13

Vital Statistics
D R C Elsworth
K Darley
9st 0lbs
100 - 1
2 1/2 lengths
14

Princess Valerina
B W Hills
M Hills
9st 0lbs
250 - 1
2 1/2 lengths
15

Barshiba
D R C Elsworth
J F Egan
9st 0lbs
40 - 1
1 1/2 length
16

Darrfonah
C E Brittain
C P Lemaire
9st 0lbs
100 - 1
Neck
17

Fantasy Parkes
K A Ryan
N Callan
9st 0lbs
150 - 1
2 1/2 lengths
18

Miss Beatrix
K Prendergast
D P McDonogh
9st 0lbs
12 - 1
1/2 length
19

Kaseema
Sir Michael Stoute
Martin Dwyer
9st 0lbs
20 - 1
2 1/2 lengths
20

Blue Rocket
T J Pitt
O Peslier
9st 0lbs
33 - 1
Neck
21

Selinka
R Hannon
E Ahern
9st 0lbs
100 - 1
1 1/4 length
NonRunner

Sander Camillo
J Noseda
L Dettori
9st 0lbs


NonRunner

Bicoastal
B J Meehan
Ted Durcan
9st 0lbs


Jockeys' reaction - the Stan James 1000 Guineas
Mick Kinane on the second Arch Swing reported: "I was a little isolated because of her draw but she ran as we expected. The winner looks special, but I'm pleased with my ride."
Johnny Murtagh on the third, Simply Perfect, declared: "We travelled well and stayed on up the hill. A great race. She's very hardy."
Jamie Spencer, the fourth Treat, said: "This was only the fourth race of her life and she looks to be still improving. She wants a bit further."
Kerrin McEvoy said of seventh Scarlet Runner: "She went a little keen and didn't quite see the mile out."
Darryl Holland said of 12th Sweet Lilly: "She's going to get a mile and a half later but that was quite respectable."
Declan McDonogh said his ride Miss Beatrix who finished 18th: "She never fired".

Michael Hills reported that the going was just "Too fast" for his mount Princess Valarina, the 14th home.

Martin Dwyer, who partnered 19th Kaseema, said he was "Very disappointed, I was never happy with her. But she did rear in the stalls and maybe she's hurt her back a little."
Oxx Pleased With Swing
JOHN OXX pointed the way to the Irish 1000 Guineas for Stan James 1000 Guineas runner-up Arch Swing. She was well beaten by Finsceal Beo on the day but her trainer was still delighted with her run.

Oxx said: "I'm very happy with that. She has run very well. She was a little bit on the outside from her 19 draw.

"But the winner was always too good. She had the rail, was travelling strongly and we could never get to her.

"But I'm delighted with mine. One mile is the limit of her stamina. We will go for the Irish 1000 Guineas but fast ground is a priority for her. She is ground dependent."

Jeremy Noseda saw his filly Simply Perfect put up a big effort to take third spot.

He said: "That was a good performance. If everything goes well, we will think about having a tilt at the Oaks - or maybe the French Oaks. I will talk that through with the owners but she will run in an Oaks somewhere."
Asked about possible plans for Sander Camillo - a late withdrawal from the 1000 Guineas - Noseda simply said: "I look forward to the Coronation at Royal Ascot."

Fourth-placed Treat received a rapturous welcome from the Highclere Throughbred Racing partnership that own her.

Highclere's Harry Herbert said: "We are thrilled with her. Jamie (Spencer) says there is tremendous improvement to come from her. For her first run of the year, that was quite something.

"This is the absolute minimum trip for her. She will now probably head for the Oaks. She is in the French Oaks as well so we will have a good think."
Simply Perfect is now 7/1 from 12/1 and Treat 12/1 from 33/1 for the Vodafone Oaks at Epsom Downs on June 1.
Tips, information and sound advice from professional gambler and multi-millionaire Colin Davey that will hopefully tip the odds in your favour when backing racehorses in the UK.