Speciosa - The Dream Fulfilled
07/05/06
Speciosa added a major chapter to her fairytale story by storming to a hugely popular success in the Stan James 1000 Guineas.
Speciosa


© racing-images.co.uk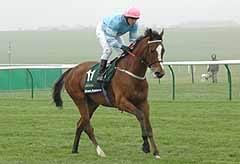 The Danehill Dancer filly made all in thrilling style to scorch to a two-and-a-half length victory in the fillies' Classic.
The victory was rightly greeted as a blow for 'the little man/woman' with trainer Thorney-based Pam Sly having a string of barely 20 horses - and yet bringing down racing's big guns on the grandest of stages.
Sly said: "She's fantastic, isn't she! I'm just over-awed. It's amazing. I'd hoped she'd be in the first four...it's wonderful.
"It's fantastic for racing. It just shows that a small little band of people like us - my girls, the jockey, everybody - it's good for them.
"She spread a plate before she came this morning, so there were frantic phone calls. So we got it plated at 9.15am.
"We'll have to discuss what we'll do next. She is not in the Oaks. The Irish Guineas? I don't think she'd handle the Curragh because of her left-handed tendency.
"I just don't know where we are going to go from here. I think she'll get a mile-and-a-quarter. Whether she'd get a mile-and-a-half, I don't know.
"We had a good draw in three. I'm not religious but somebody must have been with me."
Last autumn Speciosa won the Owen Brown Rockfel Stakes at Newmarket and a couple of lucrative offers were on the table, including one for 1.1 million dollars. But connections refused as they wanted to live the dream and head for the top races.
Sly added: "It has been well documented that we didn't want to sell - and we won't, not just yet."
One of her co-owners and son of Pam Sly, Michael Sly said: "I just don't know when I'm going to wake up. I read fairytales to my daughter and this is magic, pure magic. Sheer fun. To anybody out there, you can live the dream."
Michael Fenton said: "Going into The Dip, I was surprised - I just didn't feel like I was in danger of getting beat.
"The plan was to race handy - that's what she does. You don't want to argue with her, she just likes to get on with it. She went through the ground, easy.
"She's a very good mare to sit on. You've got a few gears under you."
THE STAN JAMES 1000 GUINEAS
Class 1, Group 1 Race, £330,000 Total Prize Fund. NatWest Rowley Mile. For three-year-olds only, fillies. Weights: 9st each Penalty values: 1st: £187,374; 2nd: £73,676; 3rd: £36,188; 4th: £15,740; 5th: £7,220
1. SPECIOSA (Michael Sly/Dr T Davies/Pam Sly) Pam Sly 3- 9-00 Michael Fenton [3]10/1
2. CONFIDENTIAL LADY (Cheveley Park Stud) Sir Mark Prescott 3- 9-00 Seb Sanders [5] 12/1
3. NASHEEJ (Malih Al Basti) Richard Hannon 3- 9-00 Ryan Moore [11] 16/1
4. SILCA'S SISTER (Godolphin) Saeed bin Suroor 3- 9-00 Frankie Dettori [4] 13/2
5. WAKE UP MAGGIE (J Lambton) Chris Wall 3- 9-00 Alan Munro [1] 25/1
6. SPINNING QUEEN (Marston Stud & Cavendish Investing Ltd) Barry Hills 3- 9-00 Michael Hills [13] 50/1
7. RUMPLESTILTSKIN (Sue Magnier/Michael Tabor/Niarchos Family) Aidan O'Brien IRE 3- 9-00 Kieren Fallon [7] 3/1F
8. RACE FOR THE STARS (Sue Magnier) Aidan O'Brien IRE 3- 9-00 Johnny Murtagh [12] 12/1
9. LA CHUNGA (Sir Robert Ogden) Jeremy Noseda 3- 9-00 Darryll Holland [9] 33/1
10. ALEXANDER ALLIANCE (Noel O'Callaghan) Tommy Stack IRE 3- 9-00 Wayne Lordan [8] 9/1
11. FLASHY WINGS (Jaber Abdullah) Mick Channon 3- 9-00 Jamie Spencer [2] 7/1
12. NANNINA (Cheveley Park Stud) John Gosden 3- 9-00 Jimmy Fortune [6] 7/1
13. DONNA BLINI (Mrs T Cunningham) Brian Meehan 3- 9-00 Mick Kinane [10] 16/1
13 ran
Distances: 2.5, 1, 1.5, 1.5, 2, 2.5, 1.5, 3.5, 5, sh, 3, 10
Time: 1m 40.53s
Breeder: K & Mrs Cullen
Breeding: b f Danehill Dancer - Specifically (Sky Classic)
Tote: Win £11.80; Places: £2.90; £3.80; £5.30 Exacta: £139.30
Winning Trainer:- Name: Sly, Pam Based: Thorney, Cambridgeshire Information: Described herself as a "fenland farmer" after Speciosa's Nell Gwyn victory. She part-owns the filly along with her son Michael, and GP Tom Davies, and the trio turned down seven-figure offers for the filly after she won the Rockfel Stakes.Classic Winners (1):Stan James 2000 Guineas (2006 Speciosa) Big Race Wins: Rockfel Stakes (2005 Speciosa) Nell Gwyn Stakes (2006 Speciosa) Horses in training (2005-2006): 13; 18 Wins 2003-2005: 1; -; 10 Wins This Year: 2
Winning jockey:-Name: Fenton, Michael Date of birth: 18/1/72 First winner: Miss Gantlet (Spur EBF Maiden, Navan, April 5, 1989) Apprenticeship: With Michael Bell. Wins (1993-2005): 56, 39, 51, 42, 34, 55, 50, 63, 75, 55, 60, 53 Classic Winners (1):Stan James 2000 Guineas (2006 Speciosa) Big wins: Italian Oaks (2001 Zanzibar), William Hill Cup (1996 Grand Selection), Tote Cambridgeshire (2001 I Cried For You), Molecomb Stakes (2002 Wunders Dream), Flying Childers Stakes (2002 Wunders Dream), Rockfel Stakes (2006 Speciosa), Nell Gwyn Stakes (2006 Speciosa) First Goodwood winner: Duveen (Air Containers Golden Jubilee H'cap, June 4, 1993) Goodwood wins: 9 (2 at July Meeting) Wins this season:17
GREAT RUN FROM CONFIDENTIAL
Confidential Lady


© racing-images.co.uk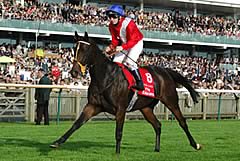 Sir Mark Prescott was magnanimous is defeat after Confidential Lady had finished runner-up behind the Pam Sly-trained Speciosa in the Stan James 1000 Guineas.
He said: "Our filly has run a lovely race, and was given a superb ride by Seb Sanders, but she's just been done by a better horse and a nicer trainer.
"Mrs Sly did me in the Rockfel last season, when Violette was second to Speciosa, and I take my hat off to her for doing it again.
"I told Seb to follow Speciosa, as I thought she would give us a lead up to the final furlong, but she's just quickened away to do it well."
Prescott added: "I'm not sure Confidential Lady will go next, as Cheveley Park Stud also have Nannina to think about, but I may recommend they look at the French Oaks.
"I don't think the extra distance will be to her disadvantage - another furlong or two may even be better for her - so it's worth considering."
Third-placed Nasheej's connections will consider a crack at the Irish 1,000 Guineas and Richard Hannon jnr, assistant to his father, said: "What a great result this is for racing.
"We'd have loved to have won, of course, but, if we couldn't, Mrs Sly would have been our first choice to beat us."
Hannon jnr added: "I think Nasheej might have preferred fast ground, because she came there on the bridle, but just couldn't quicken up.
"We'll take a look at the Irish Guineas next and, if she doesn't go to that, I'd imagine she'd wait for the Coronation Stakes at Royal Ascot."
That latter target is now on the agenda for fourth-home Silca's Sister, trained by Saeed bin Suroor for Godolphin.
Bin Suroor said: "We're very pleased with her - she's run well - but I think she might have been better if the ground had been genuinely good.
"She handled the soft, but it may have been a little too testing in the end, and I'd expect her next run to be in the Coronation Stakes at Royal Ascot."
All Set For Top-Class Showdown In Stan James 1000 Guineas
06/05/06
RUMPLESTILTSKIN and Flashy Wings are set to vie for favouritism in what looks set to be a top-quality renewal of the Stan James 1000 Guineas tomorrow at Newmarket.
Rumplestiltskin, last season's leading juvenile filly, was victorious on five of her six starts.
She finished the campaign with her most impressive display when delivering a withering run inside the final furlong to land the Group One Prix Marcel Boussac at Longchamp.
The daughter of Danehill comes to Newmarket without a 'prep' this spring and was available at a top-priced 9-2 with the sponsors.
Flashy Wings, a general 5-1 chance, completed her two-year-old campaign with a couple of reverses, including her third in the Group One Sky Bet Cheveley Park Stakes here in October.
While that defeat will have come as a disappointment to connections, the flying fashion in which she finished will have softened the blow. The daughter of Zafonic sped up the hill in a manner which suggested she should stretch out and get the mile in the first fillies' Classic.
There are no stamina concerns at all regarding Nannina, who took the Group One Meon Valley Fillies' Mile at Newmarket last autumn.
Her trainer John Gosden transferred his operation from Manton to Newmarket earlier this spring and what better way to celebrate the switch than with a fourth Classic success to add to those of Lahan, Benny The Dip and Shantou.
Apart from Rumplestiltskin, the Irish challenge looks a strong one with O'Brien-trained Race For The Stars and Alexander Alliance deserving plenty of respect.
The former has already triumphed at HQ, having landed the seven-furlong Listed Finnforest Oh So Sharp Stakes in good style in October.
Meanwhile, Alexander Alliance will seek to give Tipperary handler Tommy Stack a second Stan James 1000 Guineas victory to go with Las Meninas's 1994 glory.
She is a half-sister to smart sprinter Ruby Rocket, so her speed isn't in doubt. But connections have aired concerns over whether she will quite stay the mile.
Godolphin put faith in Silca's Sister, who won the six-furlong Group One Prix Morny at Deauville in battling fashion last summer when trained by Mick Channon.
Donna Blini, trained by Brian Meehan, won the Sk Bet Cheveley Park Stakes on her last start and will be reopposed by Chris Wall's Wake Up Maggie, who was second behind her in the six-furlong Group One.
If there is to be a fairytale winner, then look no further than Speciosa, trained on the other side of the Fens by Pam Sly.
The Thorney-based handler - better known for her successes with jumpers - has already tasted victory in illustrious company with her stable star.
By Danehill Dancer, Speciosa bagged the Group Two Owen Brown Rockfel Stakes on the NatWest Rowley Mile course and then returned to the scene to strike in the Group Three Shadwell Nell Gwyn Stakes last month, denting some lofty reputations on the way.
Spinning Queen, trained by Barry Hills, was second to her on that occasion and comes back tomorrow for another crack.
Sir Mark Prescott is set to have his first ever domestic Classic runner in the shape of Confidential Lady. Prescott, 35 years with a trainer's licence, saddles the daughter of Singspiel, who took the Group 3 Prix Du Calvados at Deauville last August.
In a field that has real depth to it, La Chunga represents winning Royal Ascot at York form - the More Than Ready filly won the Group Three Albany Stakes, scalping Rumplestiltskin.
Completing the 13-runner field is Richard Hannon-trained Nasheej, who emerged successful from a photo-finish with Cantabria in the Group Three Fred Darling Stakes at Newbury last month.
Whichever way you look at it, the Stan James 1000 Guineas looks a sparkling event packed full of quality.
13 for Stan James 1000 Guineas
05/05/06
The £330,000 Stan James 1000 Guineas has attracted 13 top quality fillies for the 2006 renewal, run over the NatWest Rowley Mile at Newmarket on Sunday, May 7.
Heading the list of runners for the second Classic is the Aidan O'Brien-trained Rumplestiltskin, a dual Group One scorer in 2005 and ante-post favourite at 4/1 with sponsors Stan James. O'Brien also runs Race For The Stars, successful in the Listed Finnforest Oh So Sharp Stakes at Newmarket last season.
The third Irish runner, Alexander Alliance is supplied by Tommy Stack, who sent out Las Meninas to victory in 1994. She ran twice in 2005, putting up an impressive display to win the Listed Flame Of Tara European Breeders Fund Stakes at the Curragh in October.
Godolphin is represented by Silca's Sister, who was last seen out when defeating the colts in the Group One Prix Morny at Deauville in August. This will be the Inchinor filly's first run for the Maktoum family's operation, having previously been trained by Mick Channon.
Channon, seeking his first British Classic victory, relies on Flashy Wings, a four-time winner in 2005. Her triumphs included the Group Two Queen Mary Stakes at Royal Ascot at York and the Group Two Lowther Stakes at York.
Another trainer also searching a first British Classic success is Brian Meehan. The Manton handler runs Donna Blini, who is already a Group One winner at Newmarket, having collected the the Group One Sky Bet Cheveley Park Stakes in September when she defeated Wake Up Maggie and Flashy Wings.
There would surely be no more popular winner on Sunday than Speciosa, trained at Thorney in Cambridgeshire by Pam Sly. The Danehill Dancer filly has won twice previously on the NatWest Rowley Mile course, having taken the Group Two Owen Brown Rockfel Stakes in October and the Group Three Shadwell Nell Gwyn Stakes on her seasonal reappearance last month.
Other leading contenders include Nannina, victorious in the Group One Meon Valley Stud Fillies' Mile over the NatWest Rowley Mile in September and out to provide John Gosden with a second Stan James Guineas win, following Lahan in 2000. The Richard Hannon-trained Nasheej, third in the Meon Valley Stud Valley Stud Fillies' Mile, is set to reoppose, having won on her seasonal debut in the Fred Darling Stakes at Newbury last month.
Sir Mark Prescott saddles his first British Classic runner in Confidential Lady, a Group Three scorer at Deauville last season while the Heath House handler's former assistant Chris Wall runs Wake Up Maggie, runner-up to Donna Blini in last season's Sky Bet Cheveley Park Stakes.
Completing the field are the Jeremy Noseda-trained La Chunga, successful in the Group Three Albany Stakes at Royal Ascot at York last season and Spinning Queen from the Barry Hills yard, runner-up to Speciosa in the Shadwell Nell Gwyn Stakes at Newmarket on April 18.