Newmarket 2000 Guineas 2007
05/05/07
1st (3) Cockney Rebel 25-1
2nd (23) Vital Equine 33-1
3rd (8) Dutch Art 14-1
24 ran
Also: 4-1 Fav Adagio, 14-1 Duke Of Marmalade 4th
Olivier Peslier and Cockney Rebel win the 2000 Guineas quite comfortably.
© racing-images.co.uk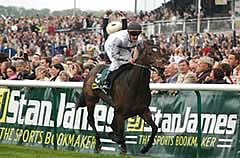 Cockney Rebel sprang a 25/1 surprise in the Group 1 Stan James 2000 Guineas when coming home a length and a half clear of Vital Equine to give his veteran local trainer Geoff Huffer the biggest success of his career.
"He was cantering all the way and could easily win over six furlongs," said Huffer. "He was a big weak horse last year and needed to fill out and develop, which he has done. He was rated 8lb behind Teofilo last year and needed to improve around three lengths but I think he improved by five or six lengths. He's improved with every run, he needed 8lb to catch up and I think he's not just done that but another 8lb again."
Cockney Rebel was quoted at 5/1 for the St James's Palace Stakes by Cashmans and Huffer added: "He's a top-class miler who might stretch to a mile and a quarter but I don't think he's a Derby horse. We'll think about the Irish Guineas but it will probably be the St James's Palace Stakes next and then maybe the Juddmonte International over a mile and a quarter. I'd rather to have a top miler to go to stud than a mile and a half horse.

"I've had a bit of a chequered career and this means everything to me. I've been back training for four or five years and have 25 horses now. I never used to be a small trainer but now I am thankfully."
The winner - like George Washington 12 months ago - had been sold by Paul and Sara Thorman's Hampshire-based Trickledown Stud as a yearling. Whereas George Washington made seven figures as a yearling, Cockney Rebel cost just 30,000gns at Doncaster's 2005 St Leger Sale, from where runner-up Vital Equine (24,000gns) and third-placed Dutch Art (16,000gns) were also bought.

"I thought he was just a lovely moving horse at Doncaster and picked him up for 30 grand," added Huffer. "He's the best I've had and I've had a few good horses, although none of them ever cost a lot. After he won at Newmarket first time out I was quoted in the press saying he was the best I had trained and we wouldn't see the best of him until next year and so it's proved. I was on Sky News this morning and said I thought he would be in the first three but I don't bet. We were going to run him in the Craven but he scoped badly so missed the race."
Jockey Olivier Peslier added: "The draw of 15 is not easy because you can't go to the outside or on the grandstand side. I wanted to ride close to the leader but the trainer said to relax the horse.

"About three furlongs out I thought I couldn't wait any longer and the horse is very generous and just kept going. He was very happy to gallop.
"I did think maybe 'shit, I've come too soon' but the horse just didn't stop and kept going to win well. I didn't want to stop and lose his place, maybe in a handicap you don't want to win too far but this is the Guineas. I hadn't sat on him before today but had watched the tapes."
The winner is named after the backing band of veteran pop star Steve Harley, who was on hand to greet Cockney Rebel. "I've lived one life and just lived another one. This is the best thing to have happened to me," said Harley. "I've owned plenty of horses but would never had had one bred like this so I was happy for them to use the name. I'm usually away on tour when he runs."
Position

Horse
Trainer
Jockey
Weight
Starting Price
Beaten Distance
1

Cockney Rebel
G A Huffer
O Peslier
9st 0lbs
25 - 1
Winner
2

Vital Equine
E J O'Neill
C Catlin
9st 0lbs
33 - 1
1 1/2 length
3

Dutch Art
P W Chapple-Hyam
J Fortune
9st 0lbs
14 - 1
3/4 length
4

Duke Of Marmalade
A P O'Brien
M J Kinane
9st 0lbs
14 - 1
Short Head
5

Eagle Mountain
A P O'Brien
C Soumillon
9st 0lbs
14 - 1
1/2 length
6

Major Cadeaux
R Hannon
R Hughes
9st 0lbs
10 - 1
Head
7

Us Ranger
J-C Rouget
C P Lemaire
9st 0lbs
5 - 1
1/2 length
8

Strategic Prince
P F I Cole
E Ahern
9st 0lbs
8 - 1
1 1/4 length
9

Diamond Tycoon
B J Meehan
J P Spencer
9st 0lbs
15 - 2
1 length
10

Haatef
K Prendergast
D P McDonogh
9st 0lbs
7 - 1
3/4 length
11

Yellowstone
A P O'Brien
J Murtagh
9st 0lbs
50 - 1
Head
12

Adagio
Sir Michael Stoute
K McEvoy
9st 0lbs
4 - 1
Head
13

Al Shemali
Sir Michael Stoute
R Hills
9st 0lbs
200 - 1
2 lengths
14

Tobosa
W Jarvis
P Robinson
9st 0lbs
28 - 1
Neck
15

Sonny Red
R Hannon
S Drowne
9st 0lbs
66 - 1
1 length
16

Jo'burg
Mrs A J Perrett
K Darley
9st 0lbs
200 - 1
Neck
17

Halicarnassus
M R Channon
D Holland
9st 0lbs
66 - 1
1/2 length
18

Fishforcompliments
R A Fahey
P Hanagan
9st 0lbs
200 - 1
1/2 length
19

Truly Royal
Saeed bin Suroor
L Dettori
9st 0lbs
33 - 1
3 1/2 lengths
20

Prime Defender
B W Hills
M Hills
9st 0lbs
66 - 1
1 1/2 length
21

Drayton
M F De Kock
W C Marwing
9st 0lbs
100 - 1
Neck
22

Danum Dancer
N Bycroft
S De Sousa
9st 0lbs
250 - 1
Neck
23

Evens And Odds
K A Ryan
N Callan
9st 0lbs
33 - 1
1/2 length
24

Hurricane Spirit
J R Best
G Baker
9st 0lbs
100 - 1
2 1/2 lengths
COCKNEY REBEL'S JOCKEY AND OWNER
Olivier Peslier, the winning rider of Cockney Rebel, said: "That was very good. I am very happy. He was relaxed and kept going. Maybe I came a bit too soon but the horse has done it well."
The winning owners, Phil Cunningham ,junior and senior, were ecstatic. Phil junior said: "I was up at 5am this morning and walked the course. I cannot believe it. We discussed everything that could happen in the race and then the dreaded thing happened and they split into two groups. I spoke to Olivier afterwards and I think he was a bit undecided which side to go. But what a ride."
Phil senior said: "The man (trainer Geoff Huffer) has worked absolute magic and hopefully he will get a few more horses now. It is a dream for a small owner."
Phil junior explained: "Cockney Rebel is in the Derby. Geoff's preference before today was the St James's Palace Stakes at Royal Ascot but there is only one Derby.

"This has been a marvellous day. Geoff had been telling people that Cockney Rebel would be in the first three. He was the forgotten horse - he was not included among the contenders except on the Morning Line."
O'Neill delighted with Vital
VITAL EQUINE made a bold front-running bid for glory in the Stan James 2000 Guineas - but just found one too good.

Jockey Chris Catlin showed plenty of enterprise from the stalls to get the Danetime colt bowling along at the head of affairs.

But he just didn't have any answer as Cockney Rebel came to collar him just inside the final furlong.

Trainer Eoghan O'Neill said: "He ran as I expected he would.

"We would probably have wanted the ground to be on the softer side but you pay your money and you take your chance. It was his first run of the year and I think he has done very well.

"Chris Catlin gave him a super ride. The plan was to jump out and take the sting out of them.

"We've done that with the exception of one horse. We will probably go to the Irish 2000 Guineas next."
Peter Chapple-Hyam was left ruing the effect of the draw which meant third-placed Dutch Art - from box 18 - was forced to head to the far rail. All the pace was on the stands' rail and the Newmarket-based trainer wished his charge had been handed a low berth.

Still, it was a great comeback after the Medicean colt's credentials - especially those surrounding stamina - had been doubted in the wake of the Greenham in which he was second.

Chapple-Hyam said: "Reputation restored. That was a great run and Jimmy Fortune gave him a great ride.

"Jimmy said we would have won had we been drawn on the other side. Mine was left with nothing to race with. But he is a very good horse and we will head next to the St James's Palace Stakes
"It was an outstanding performance and proved he stays a mile. In fact, Jimmy said he thinks he will stay a mile-and-a-quarter later in the year but we will stay miling for the time being."
Jockeys' reactions after the Stan James 2000 Guineas
Jimmy Fortune said of his ride on Dutch Art (3rd): "If I'd been on the stands' side I'd have beaten them but I had nothing to lead me".

Mick Kinane said Duke of Marmalade (4th) "struggled to half way but stayed on well up the hill".

Richard Hughes said Major Cadeaux (6th) "didn't stay".

Jamie Spencer said of his ride Diamond Tycoon (9th): "Disappointing".

Kerrin McEvoy, on the 4/1 favourite Adagio (12th), said: "I'm not saying we would have won but after a slow start we didn't have the smoothest of passages."
Richard Hills reported that Al Shemali (13th) "wants further".

Kevin Darley said of Jo'burg (16th): "They were a little too good for me".

Frankie Dettori said that his mount Truly Royal (19th) "ran a bit flat".

Weichong Marwing said Drayton (21st) ran "too freely early on and didn't stay".